100 Ways to Live a Better Life
The Ideas Toward a Larger Life
Dukeofsully3/CC
Heading out the door? Read this article on the new Outside+ app available now on iOS devices for members! Download the app.
Back in the '40s, at the tender age of 15, a California teenager named John Goddard—already aware of his sort-of-imminent mortality—decided to pen himself a list. On it, he included 127 adventures that at the time seemed worth having. He enumerated a desire to travel the Nile, to marry and have children, to read all the modern classics, to go skydiving, to study native medicines and bring back useful ones. By age 26, as he approached the delta of the Nile having paddled the river's 4,160-mile length, he'd already explored the Okefenokee Swamp; dived the Caribbean, the Red, and the Aegean; and flown 38 combat missions with the 15th Air Force in World War II — though this, of course, had not actually made his list.
Some years ago, Outside ran a story about Goddard. Since then, we've often considered checking up on him. (We did. He's on item number 108.) Moreover, we've pondered the very idea of a life list and wondered whether everyone shouldn't have one. Not a nebbish actuary's roster of deeds to be checked off — did that, done that, doing that — or a catalog of potential acquisitions both material and experiential, but a simple bundle of goals and attainable epics. An outline for a life well spent, without footnotes. To start you off, we've taken the liberty of assembling … well, if not your 100 essentials for a life fully realized, some damn fine possibilities. Feel free to tinker with them, plagiarize them, be roused by them. So lace up or strip down, because, really, shouldn't you be getting on with it?
---
1. Inflate Your Ego. Bomb the Couloir Extreme.
A nasty elevator shaft, funnel-shaped with a 48-degree pitch. Yet the Extreme, at Whistler, is also strangely forgiving: If you auger in, you simply get spit out the far end — no fuss, just skivvies and a pole or two strewn back up the mountainside. And just so you know, make sure to call it Saudan Couloir. The pitch was originally named for Sylvain Saudan, the first gloryhound to ski an 8,000-meter peak. When Saudan sued Whistler for illegal use of his name, the suits at the resort rechristened it.
2. In an Open Dory, Retrace a Bit of Powell's Western Geographic Expedition.

2. Retrace a Bit of Powell's Western Geographic Expedition.
In May 1869, a former Union officer who'd lost his arm to a minië ball during the Battle of Shiloh set out from Green River, Wyoming, with nine men in four dories to explore the unmapped Green and Grand Rivers. The Grand would later become the Colorado, and by the time John Wesley Powell's trip down it was over, three of his men were dead, rocks and waterfalls had shattered two of his boats, and Powell and company had spent more than six months passing through land even Indians had never seen.
Today, the best way to trace Powell's route remains from a dory: a pointy-nosed, spirited wooden craft that rides atop waves rather than slopping through them as rafts do. Unless you have a spare six months, cut to the chase: Run the Colorado through the Grand Canyon. You haven't truly experienced the canyon until you've looked up at it from the water. The breadth of geologic time carved into its stone virtually guarantees a new perspective on life. It's a cosmic slap upside the head.
The longest-standing outfitter is Grand Canyon Dories, founded by the legendary Martin Litton in 1968. Reserve your spot more than a year in advance; it'll be worth the wait. And go deep: Choose the 16-day expedition ($3,500) that traces the river's entire 280 canyon miles.

3. Get Big Air.
3. Get Big Air.
4. Land Smoothly.
5. Run the Real Marathon.
If you're going to take on 26.2 miles of agony, why not embrace history and head for the very soil where agony was invented? Every year, a race retraces Pheidippides' storied steps from Marathon to Athens, where he proclaimed victory over the Persians in 490 b.c., and then keeled over, dead as a box of hair. Next year's happens October 31, so start polishing your finish-line statement now. But remember: "Rejoice, we conquer!" is already taken.
6. Eat a Durian.
It looks like a cross between a pineapple and an Ewok, and reeks so bad it's banned from buses in Singapore. Yet fans of this green, spiky Southeast Asian fruit get all misty and rhapsodic when they speak of its rich, custardy core. Smells like hell, they say, but tastes like heaven.
7. Touch the Amazon.
8. Do a Through-Hike.
Of course there are the classics, like the Appalachian Trail and the Pacific Crest. But also consider the untested: Last year, a guy named John Brinda strolled from Key West to Cape Gaspë, Quebec, lapping the AT by 2,700 miles. Be creative: a pan-Andean hike South America way — maybe the Darien Gap to Tierra del Fuego? Don't forget to write.
9. Be Prepared to Save a Human Life.
10. Spend a Night in Utter Silence.
Except for maybe your own heartbeat. Smack in the middle of the Makgadikagadi Pans in Botswana's Kalahari Desert, you won't hear so much as a mosquito. And for $365 a night, the good people of Jack's Camp schlepp a king-size bed (complete with down pillows, comforter, and chambray sheets) onto the salt pans — a broad, desiccated, and uninhabited ancient riverbed. Then they split, leaving you alone with the night sky, stars, and unbounded nothingness. No critters, no bugs, no lights.
11.Walk on the Moon.
By Alan Bean
Once on the Moon's surface you'll quickly discover that walking is pretty difficult, while running is easy. So let's talk about your brief run on the Moon.
First the good news. In this gravity, one-sixth of Earth's, you'll feel very strong. You'll feel as light on your feet as you could possibly expect — lighter, even. For example, let's say you weigh, as I do, about 180 pounds on Earth. Suddenly your legs only have to support 30 pounds. That's great!
Now the bad news. You're going to have to wear a 150-pound space suit and backpack to provide breathing oxygen and cooling water in the hard vacuum and blistering environment of the Moon.
But wait … even this bad news is still good news! Despite the bulky space suit, you'll still be supporting only 55 pounds; you'll soon notice that gravity doesn't pull you back to the surface as quickly as it did on Earth. After pushing off on one foot, there will be a long wait until you land on the other, exactly like running in slow motion. The interesting part is that you'll feel your leg muscles relax completely as you glide along, awaiting that next step. Your legs will never seem to tire, no matter how fast you run. (But pay attention to exactly where you point your moon boots. It wouldn't be a good idea to land on a rock or in anything but the smallest crater. A little free advice.) As you run, you'll feel as if you're leaping long, impossible distances. And in fact you are.
It'll all be over much too soon. Your backpack can carry only so much cooling water, and it's advisable not to run out of refrigerant too far from your spaceship.
On the ride home, you won't be the same person who left Earth just five days before. You'll feel more grateful, more blessed simply to be a human. Why? Because nothing else in the universe that we know of has the will and the ability to do what you just did.
Alan Bean walked on the Moon on November 19, 1969, as a crewman on Apollo
12. Take a Year Off.
13. Take Another Year Off
14. Be Competent Outdoors.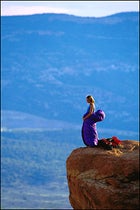 14. Be Competent Outdoors.
Your best tack: Be born to a parent who's a registered Maine Guide. Short of that, there's no shame in a stopover at the National Outdoor Leadership School's Wind River Wilderness program ($2,075). After two weeks in Wyoming's Wind River Range — one of the Lower 48's most dramatic and least populated landscapes — you'll emerge undaunted by backcountry camp setup, rock climbing, backpacking, wilderness first aid, and fly-fishing.
15. Follow the Blues.
From Beale Street in Memphis through the Mississippi Delta to Clarksdale, home of Muddy Waters and Howlin' Wolf, stopping for a shot and a beer at Smitty's Red Top Lounge before heading down Highway 61, along Robert Johnson's orgiastic road to hell, and then drifting through prisons and plantations all the way down to New Orleans, where Louis upped the ante, where losers can still win.
16. Learn to Play Harmonica Well Enough That Friends Find It Entertaining, Rather Than Loathsome.
17. Enter a Junkyard Carrying Nothing but a Toolbox and a Battery. One Week Later, Drive Out.
18. Better Yet, Live for Six Months Without a Car.
19. Get Pretty Fit.
Yeah, sure, your Ironman training starts any day now. In the meantime, these baseline parameters will almost assure you of being able to glance at a mirror without recoiling. Think of them as the Workingman's Quadrathlon.
Do 50 push-ups.
Do 100 crunches (slowly).
Do 10 pull-ups.
Run a six-minute mile.
Extra credit: Bench-press your own weight.
20. Now, Swim Naked.

20. Now, Swim Naked.
Like certain other pastimes, skinny-dipping is more fun when there's a risk of being observed. Peconic Bay on Long Island has few crowds, even in summer, and slipping into the gentle swell under a moon brings out the bioluminescence of the sea, some lonely strollers, and, well, anything else in sight.
21. Attempt Midnight Lightning.
Rarely do history, ambience, and pure animal challenge converge so tidily as at Yosemite's Camp Four, a walk-in campground that still charges just $3 a night. At center sits 40-foot Columbia Boulder, with a chalk graffito identifying the overhanging-granite route for all to see. Though Yvon Chouinard, Doug Tompkins, and others in climbing's Rat Pack scampered around on it in the '60s, not till 1978 did Ron Kauk prove a person could climb it bottom to top. At least he could.
22. Ski the Dachstein by Starlight, One More Time.
By John Skow
I did this once already, in a strange, waking dream, on a moonless spring night years ago. Several Austrian friends and I were doing a skis-and-skins tour, as we did every weekend until a sun-blasted Sunday in mid-June, when by tradition our last runout ended in the middle of a small stream, skis submerged and boots filling with snowmelt. Jah, und …? I am thinking in rough-and-tumble mountaineer's German now, thinking that although what we did that dark night was a long run down a shallow glacier, I may have misplaced the glacier. Memory is a great liar. Does the Dachstein even have a glacier? From three decades' distance, I'm not certain. No matter. Wherever we were, we were there, traversing from one high valley up and over to another, well before dawn. We stripped off climbing skins, locked our heels down (the reinvention of telemarking came a decade later), and shoved off into blackness, one by one. The high, indistinct horizon offered nothing to brace my balance against. Since I could see nothing except a few stars, the only way to judge speed was by the sound of skis on hard corn snow. I was skiing by ear.
This slow, dreamlike descent went on for maybe 10 minutes. Then I realized I no longer heard the scrape of skis on snow. The glacier had flattened, and I had stopped. A cough and the rustle of equipment said that my friends had beached nearby. No one spoke. I reached down and freed my bindings, a man roused from sleep.
John Skow is a regular contributor to Outside.
23. Catch an Eruption.

23. Catch an Eruption.
Popocatepetl, Mexico? Mostly steam and ash — big deal. Lava flow you want? Merapi, Indonesia, is the place, but you could wait around forever for some decent village mayhem. So get to Stromboli, Italy, which has several eruptions a day and gooey "lava blobs" around the crater, seething like alien life.
24. Hunt Hidden Treasure.
There are still some dandies out there, they say: Atahuallpa's golden rope (pure and hundreds of feet long), coiled away in the Andes; that old standby Atlantis. But you can start closer to home, on Oak Island. In 1795, on this outcrop off Nova Scotia, three men found a huge oak with a limb sawed off and a filled-in pit beneath the missing branch. They began digging, and every 10 feet found an oak platform or other blockage. A hundred feet down, the pit filled with seawater. Since then, wild fables of what lurks below have sprouted: Inca gold, pirate loot, Marie Antoinette's jewels … The latest whopper dates to 1972, when an underwater camera is said to have photographed wooden chests and — a priceless detail, authentic or not — a human hand.
25. Go 300 Miles Under Your Own Power, from Your Own Front Door.
26. Make Your Own Steel.
by Ian Frazier
My grandfather, Ray Frazier, worked all his adult life in a steel mill in Cleveland. Much of that time he was a foreman at the Jones & Laughlin plant by the Cuyahoga River in the industrial flats of the city. He worked six-and-a-half days a week, he never took vacations, and he telephoned the plant to check on the blast furnaces first thing when he got up in the morning and last thing before he went to bed. Through the Depression and World War II, he essentially worked himself to death at the mill, and he died in 1951, the year I was born.
I am so post-industrial that I have never set foot inside a steel mill, let alone worked in one. I have almost no mechanical skills, and often must ask for help with tasks like adjusting the position of the driver's seat in my rental car. Nevertheless, I would like one day to make some steel. If I had the time and money, here's what I would do: I would drive a small truck up to the ore deposits around Duluth, Minnesota, obtain (preferably by digging) a half-ton or so of iron ore, and take it to my friend Tim's house in western Massachusetts. He likes the idea of making steel from scratch, and says he thinks it can be done. We would build a small furnace, get or make some coke for fuel, build a smelter … I haven't worked out the details. Mainly what I envision is a period of sweat and grime and minor burns culminating in the final product: an ingot glowing bright red, which cools to my own personal gunmetal-silver slab of raw steel. I would put it on my bookshelf as a totemic object, as an homage to my grandfather, and as a small laugh in the face of industrial decline and the all-conquering service economy.
Ian Frazier, a frequent contributor, is the author of Coyote v. Acme and four other books.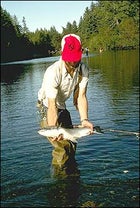 27. Catch a Fish on a Fly You Tied.
27. Catch a Fish on a Fly You Tied.
28. Release an Orphaned Bird of Prey You've Raised.
29. Touch a Haggis.
30. Fast for Two Days.
31. Recreate a Passage from a Novel.
32. Grow a Delicious Tomato.
33. The Rio Santa Maria, in No Particular Hurry.
The beau ideal of whitewater, with all the trimmings: 17 miles of startlingly lucid Class IV water bordering the rainforest of Mexico's San Luis Potosì State, gushing into squeeze-through canyons, plummeting through boulder gardens, warming to 85 degrees, ambling by blinking iguanas and turtles scowling from the bank, and ending in view of a 240-foot waterfall. Call Expediciones Agua Azul for itineraries, 208-863-1100.
34. Trespass.
By Paul Theroux
​There have probably never been more national boundaries than there are today, and I find them all odious. Getting into (or out of) Israel, Syria, Japan, Saudi Arabia, or the Congo could put you off travel forever. "This is the Congo. I make the laws," an immigration officer in Kinshasa told a friend of mine recently, as he extorted money from him.
My dream, my answer, is the ultimate trip: Trespassing, traveling as far as possible without a passport, entering countries secretly and illegally. In this anti-bureaucratic fantasy I have several itineraries. One is London to Australia, crossing Europe — easy enough — to Greece, and sneaking over the Turkish frontier, Iran, and Pakistan, or through former Soviet republics, to India and thence through Bangladesh, Burma, Thailand, and Malaysia, after which fishing boats would be needed, for passage via Borneo to the Philippines, to New Guinea, to Australia. Canada to Buenos Aires is also appealing, and I think possible; and so is a trans-Africa jaunt, or Paris to Vladivostok. There are risks, but it seems that the likelihood of death or jail would sharpen your wits and make you inventive.
For avoiding checkpoints one would have to acquire some climbing, trekking, or swimming skills, since many borders are borders precisely because of a mountain range or a river or a stretch of desert. As for your excuse if you are caught, the most plausible one is insanity. In these circumstances, it might work, because it would be substantially true. No one in his right mind would attempt this.
Paul Theroux's books include The Mosquito Coast and My Secret History.
35. Take a City Kid Camping.
This may sound trite. But probably not to anyone who's actually done it.
36. Hut to Hut.
Skiing above treeline on Colorado's classic 10th Mountain trail, between Betty Bear Hut and Skinner Hut, stopping for the view over Hagerman Pass and the Continental Divide, will put you on God's doorstep.
37. Ride the Trans-Mongolian from Beijing to Moscow.
In winter.
38. See the Full Moon Rise Over Every Continent.

38. See the Full Moon Rise over Every Continent.
Just in case you need incentive, it's a documented fact that watching night fall over the Great Barrier Reef, the Eiffel Tower, the Queen Maud Mountains, Angkor Wat, the Bosporus, Angel Falls, the Manhattan skyline, Kare-kare Beach, Machu Picchu, the Great Wall, Mulu National Park, or Ayers Rock inevitably beats sitting at home watching Ready … Set … Cook! on cable.
39. Climb Mont Blanc.
Ground zero at 15,771 feet: In 1786, a French physician named Michel-Gabriel Paccard and a friend scaled the roof of the Alps, word spread across the continent, and people haven't looked at rock the same way since.
40. Spend the Night in a Tree.

40. Spend the Night in a Tree.
By Katherine Dunn
There are times in every life that demand a modest act of penance — you have made needlessly cutting remarks to your mom or your sweetie, or been caught pretending to know the difference between wines or trout flies or Carolingian poets. When, in short, you've made a petty fool of yourself and are suffering from well-deserved shame, a cheap remedy is to spend the night in a tree. If executed with rigor this exercise offers a graduated out-of-body experience that approximates attending your own funeral. One such interlude should do you for a lifetime.
Avoid rural or wilderness trees, which may ennoble you undeservedly by their surroundings. For the proper effect, choose a large tree in some lively suburb or urban neighborhood. A city park or a cemetery near a lighted thoroughfare might offer the right tree, tall enough, strong, with crotches to straddle and a view of normal human activity. The tree in your own front yard is out of bounds unless you have run away from home and actually want a view of your distraught loved ones calling and searching for you, pacing the floor in agony, etc. We do not condone this selfish practice.
For the true penitent, invisibility is crucial. The view is important but secondary. Dress darkly, and for the weather. Wear a big coat that buttons in front. Bring a six- or eight-foot bungee cord with hooks at both ends. Do not bring food or drink. A single box of Tic Tacs is permissible for moistening the mouth, but carry the mints loose in a pocket to prevent rattling noises.
Climb up well after dark, making sure no one sees you. Get above the reach of car headlights.
Find your perch. Embrace a sturdy branch that can support you. Open your coat and button it around the branch so you won't fall if you doze off. If the branch is too big, strap yourself on with the bungee cord. Hold still. Be quiet. No dropping of twigs, leaves, or bodily fluids on those below is allowed. Watch. Listen to footsteps, conversations, snatches of music from passing cars. At first you feel superior, even scornful of the measly humans below. You delight in your secret spying. This will pass. As the wind rises and your circulation slows, as traffic thins and passersby become rare, you discover the chill of isolation. Confront the vile pettiness that brought you here. Self-pity intrudes. You may think you've had enough and can go home shriven. Resist.
Only at the first stirring of the birds before dawn, allow yourself to climb down carefully. Your eager smiles and greetings may alarm the delivery folk and newsboys on the street who don't recognize an exile returned. Go home and take a long hot shower. Phone those you've offended and apologize. You will already have forgiven yourself.
Katherine Dunn is the author of Geek Love, a novel.
41. Should It Come to That, Be Able to Navigate by the Stars.
42. Having Fathered the Neo-Fauve Movement in European Painting, Move to the Unspoiled Paradise of Tahiti and Paint Lovely Naked Natives.
43. Speak Spanish.
You could just cozy up to a tape deck with Se˜or Berlitz. But immersion doesn't get much sweeter than Mar de Jade, a school/resort 60 miles upcoast of Puerto Vallarta—three hours of class three days a week, for 55 bucks a night plus tuition. And between sessions … extracurriculars! Beach slumming, sea-kayaking, jungle prowling. Plus lots of lab work: "Se˜orita — una mžs cerveza, por favor. íÃndale!"
44. Master the Bowline.
Good for tying off to anything you loop through: grommets in sails or tarps, mooring buoys, etc. Make a loop with the running end over the standing end. Holding that loop in your left hand, thread the running end up through the loop (the rabbit goes out the hole …), underneath the standing end, and back down through the loop. Learn it this time!
45. Kayak the Fjords of Narsarsuaq, Narsaq, and Qaqortoq.
Whether you saddle up in an ocean kayak or Greenland's traditional qajaq — a sealskin-covered hunting craft — the craggy, mostly fjorded seas surrounding the island are some of the world's most remarkable. You'll likely see orcas, icebergs, towering coastal mountains, calving glaciers, and clouds of your own breath, hovering in the crystalline air.
46. Make a Pilgrimage.
47. Teach Your Dog Something Useful.
Like pulling a sled or breaking trail in the snow. Assuming he'll part with some free time.
48. Cross the Golden Triangle.
From Saigon to Rangoon? You'd have to be crazy, say the guides. Catch malaria and die. Laos is a nightmare for foreigners; Cambodia, worse. So you might want to hold off a couple years, until Disney gets a decent toehold.
49.
50. Watch the Army Corps of Engineers Blow Up a Dam.
51. Swim from One Landmass to Another.

51. Swim from One Landmass to Another.
Why? For mental rejuvenation. For the exercise, always more tolerable with a goal on the horizon. For the literary buzz of paddling in the wake of Lord Byron, who crossed the Hellespont. For the memories of summer camp, where the girls' cabins beckoned across the pond. For the sheer hell of it.
52. Drive to Road's End.
Two promising cul-de-sacs:
In Texas's Big Bend National Park, drive up the road ending at the Juniper Canyon approach to the lonely Chisos Mountains. Everywhere you look will be cacti and birds, unpeopled brush, rock, sandy gravel, and a big, empty temptation.
The virtually unvisited national park Kheerman Tsav in southern Mongolia. Depending on how you define it, the road peters out either 100 miles before you reach the park (envision a Zion National Park big as North Carolina) or 400 miles earlier, where the pavement of Mongolia's sole highway ends six miles outside the capital, Ulan Bator.
53. Handicap the Palio.
By Jonathan Harr
Last July, under a fiercely hot Tuscan sun, I met my friend Fred Wessel at the gates of the ancient walled city of Siena. Fred is an artist, a specialist in egg tempera who visits Siena to pay homage to Simone Martini and Lorenzetti, the great 14th-century masters of egg tempera, and also a man with a keen appreciation for the weird. One thing he likes to show visitors is the mummified head of Saint Catherine, dead now 619 years. The head reposes in a small gilt box in the cathedral of San Domenico. In the gloom, one studies it by a dim yellow light that flickers from behind, illuminating the desiccated relic like a jack-o'-lantern. I was deep in morbid contemplation when a commotion out front commanded my attention.
Into the cathedral came a large group of people leading a horse, a big, high-spirited beast that snorted, rolled its eyes, and pawed the marble floor. The throng led the horse to the altar, where, in an instant, it raised its tail and defecated copiously. A roar of approval went up. People gathered at the steaming pile and exclaimed joyously,
The horse, I learned, would race in the Palio that afternoon. For reasons I never understood, its performance in the church was regarded as an exceptionally lucky omen. But then, there is a lot about the Palio that is hard to understand. It is at once an occasion for feasting and high spirits as well as a truly demented race, dangerous to man and beast, the engine for bribery, fistfights, and general mayhem.
The Palio has been run virtually without interruption every year since 1275. Ten of the 17 contrade, or neighborhoods, of Siena compete against one another for victory in the race, which is held in the Piazza del Campo, the central square. The piazza, famous throughout Italy for its beauty, has the shape and contours of a clamshell, and that makes it singularly unsuitable as a racetrack. In the last 30 years, 37 horses have died from injuries sustained at the infamous San Martino turn, a right angle that a sane rider would not attempt at a pace faster than a canter. There are no rules in the Palio. A riderless horse may win, and the jockeys — mostly Sardinians and Sicilians with homicidal tendencies — use horsewhips with great vigor on each other.
The best place to see the race is from a window overlooking the piazza or from the wooden grandstands erected around it. Both are expensive and require reservations well in advance. The true Palio experience occurs in the center of the piazza, behind the barricades. By race time, about five, the crowd is packed in elbow to elbow, frenzied, intoxicated by alcohol and sunstroke, riven by partisanship.
Fred and I chose a neighborhood bar up by San Domenico, a lovely and cool spot where we drank grappa and sat among the old folk watching the race on television. It lasts only a minute-and-a-half. If memory serves (grappa is contra-indicated when it comes to memory), two horses went down at the San Martino corner. Another jockey went over the infield rail, and his horse — the one I saw in San Domenico, I believe — finished second. It would have won had it not taken San Martino a trifle wide.
Jonathan Harr is the author of A Civil Action.
54. Explore Antarctica.

54: Explore Antarctica.
Not on some froufrou cruise liner where the disco blares downstairs while you're trying to commune with penguins, but on a Russian icebreaker, or a 38-passenger ship, or a smaller skippered yacht. For the first two, contact Quark Expeditions or Mountain Travel-Sobek. For a yacht — and a more flexible itinerary — try the French company Croisieres Australes.
55. Take an Epic Ride.
In the Pisgah National Forest near Asheville, North Carolina.
On the slopes of Mammoth Mountain, California.
On the Hermosa Creek Trail near Durango, Colorado.
On the abandoned logging roads of the Ouachita Mountains west of Little Rock, Arkansas.
On the Porcupine Rim Trail outside of Moab, Utah.
56. Distill Your Own Vodka.
Grain, molasses, or corn will do, but potatoes work best. Pressure-cook and grind into a mash; then cool and mix with water. Add malts and enzymes to convert the starch to sugar. Add yeast. Ferment. Distill for about a week, guarded by wolfhounds. Chill. Enjoy.
57. Cape to Cairo.
In the 1970s, before he became a photographer for magazines like Geo, 21-year-old George Steinmetz dropped out of Stanford and spent two years hitchhiking Africa. He traveled by lorry and dhow, learned Swahili and trucker's French, saw the Ngorongoro Crater, attended a wrestling festival in the Sudan, boozed in Nairobi's expat pubs, herded cattle with Dinkas. "I even got amoebic dysentery," he says, "but it was worth it. The kind of self-sufficiency I developed — dealing with everyone from foreign ministers to pygmies — has shaped everything that's come after in my life. Got a hell of a tan, too."
58. Memorize "Jabberwocky," but in German.
Here's your first stanza:
"Verdaustig war's, und glasse Wieben/rotterten gorkicht im Gemank./Gar elump war der Pluckerwank,/und die gabben Schweisel frieben."
59. Overnight in a Fire Tower.
Two options: Rent a decommissioned perch, such as the McCart Lookout in Montana's Bitterroot National Forest or Idaho's Shorty Peak. Or actually sign up to scan for smoke (check with forest offices). In any case, for a megajolt of adrenaline, try to synchronize your visit with a thunderstorm. Seriously.
60. Witness a Big-League Animal Migration.

60. Witness a Big-league Animal Migration.
Sandhill cranes: Half a million return to Nebraska's Platte River each February and March.
Wildebeests: Every July across the Masai Mara — a 200-square-mile plain along Kenya's border with Tanzania — millions move in from the Serengeti.
Monarch butterflies: During the last half of October, unimaginable numbers cross toward Mexico through Texas's Kickapoo Caverns State Park.
Polar bears: From mid-October to mid-November, sometimes hundreds gather in Wapusk National Park, along Hudson Bay, to gorge on seals.
61. Survive a Near-Miss.
By Tad Friend
A few years back I rafted the stern Alsek River, emerging after a fortnight into Alaska's Dry Bay. That's local humor: It had been raining for 10 days. We were soaked and worn out. The DC-3 taking us back to Whitehorse had a plywood floor and an Amelia Earhart fragility, and the gravel runway ran 500 yards dead into the St. Elias. Midway into takeoff, we hit a big standing puddle, spun to the right, and swiped a willow thicket at 100 mph. There was a shocking tearing sound as we shied into the air. The end of the right wing was now a dangling flange trailing willow branches. "A little hedge-trimming," the flight attendant said, with idiotic pluck. Everyone else was silent as the plane fluttered low above snow-topped crags.
After a minute, the pilot sprinted back and stared mutely out my window at the wing, then bolted for the cockpit. Rain hammered at the steel casing. I began an intense study of the seat-back literature, a pamphlet about the Yukon's air-transport companies. A bad idea: Each had failed after all its planes had crashed. So I sat with my hands balled into fists, beaming out commands to the plane — prayers. The old machine droned on into endless gray, wavering, uncertain. At last, a kiss on the undercarriage: the runway in Whitehorse. We walked off gingerly and collected to stare at the broken wing. "Lucky," the pilot said, "goddamn lucky." He walked off with his shoulders hunched. It was sobering — and strangely exhilarating — to realize there was no merit whatsoever to our ultimate survival.
Tad Friend is an Outside contributing editor.
62. Be Able to Take Great Wildlife Photographs, and Then Resist the Urge to Bore People with Them.
63. Dunk.
64. Build a Canoe in Your Basement.
Newfound Woodworks' cedar-strip kits cook up a vessel so fetching you may want to hang it over the mantel rather than float in it ($775 and up). If you'd prefer some coaching and camaraderie in the bargain, consider a week's workshop at the Wooden Boat School in Brooklin, Maine ($500), the Sorbonne of advanced crafting.
65. Use Your Homemade Canoe on the Mackenzie River, from Great Slave Lake to the Arctic Ocean.
With only one nonnative settlement the whole way, this is as close to Lewis and Clark as it gets. More than 1,100 miles long and often two miles broad, fast-flowing, with white-cliffed banks here, jagged Mackenzie Mountains muscling over the horizon there, days of surreal mist and afternoon showers, nights of nodding off on gravel bars, and welcoming committees of mosquitoes and grizzlies reminding you that your niche in the food chain is negotiable. Pack a fly rod: The Mackenzie's thick with lake trout, char, and grayling.
66. Nail a Perfect Cliff Dive.
67. Be Entertaining on Demand.
The tough part about passing time in the wilderness is choosing a diversion. Passion plays, magic acts, and especially operas can turn a moonlit meadow into a scene of profound human suffering. One step into Tennessee Williams can be fatal. Exposed to the wrong entertainment, even the staunchest defender of nature will return to city life with a nihilistic glint in his eye, muttering and flicking lit Marlboros everywhere he walks.
Some travelers insist that amusing stories are a boffo way to liven things up. This is a cruel hoax. First off, campside anecdotes are almost always told by some craggy blowhard who keeps explaining why the story would be funnier "if you'd been there" or "if you knew Walt." The worst thing about telling jokes outside is that, in the long silence after the punchline, everybody can actually hear the sound of crickets.
For top-notch campsite entertainment, scary stories are the only way to go. The key is to make full use of your surroundings. This isn't the place to spin dead-of-night thrillers about indoorsy types like J. D. Salinger. Keep it local. When in Africa, for example, finish your tale by rounding on the weakest listener, then stage-whispering, "And the jackals took the rest!" On the tundra, churn out some of that explorer's-frozen-claw stuff. It practically writes itself!
You may be asking yourself, "Hey, whatever my name is, must every scary story be about getting eaten?" Oddly, it must! In the wild, you play your trump card. There's no "back-seat of the car" to hide that knife-wielding psycho, no "upstairs" where they traced the call to. You don't need monkey's paws or graveyards to scare the shit out of everybody. The fact that you're camping means you're in a place where people used to die routinely. Take advantage!
If Admiral Scott had realized this, he would've ended his journal with a filthy limerick or a harrowing walrus tale, instead of freezing solid in the Antarctic. But Scott was — can we not face it, after all this time? — a lousy entertainer. The final words he scrawled were, "For God's sake, look after our people." Is that supposed to be funny?
Marshall Sella is a longtime Outside contributor.
68. Enroll in Cooking School in Thailand.
Ah, the allure of Thai cuisine. To be adept enough to whip up your own would guarantee a spot in the Renaissance Hep Cat Hall of Fame. Especially if you learn at the Royal Thai School of Culinary Arts, not just Thailand's only such academy that teaches in English, but also perched on the beach in Bang Saen. Tuition starts at $1,700 (011-66-38-748-404). But who can put a price on the expressions of your guests, expecting the usual roast chicken, when you unveil the Khao niew phlaa muck sai moo?
69. Climb a Waterfall.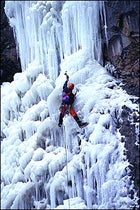 69. Climb a Waterfall.
A frozen one, that is. Spontaneity has its place, but you should learn this the right way. The many schools approved by the American Mountain Guides Association include Washington's American Alpine Institute and New Hampshire's International Mountain Climbing School.
70. Go Phenomenon Bagging.
A sundog
The aurora borealis
The Perseid meteor shower
A comet, with the naked eye
71. Become an Expert on an Outdoor Subject.
Go small, like E. O. Wilson. Or big, like Stephen Hawking. Or obscure, like that guy down the block with the collection of antique flip-flops.
72. Work on a Dig.
72. Work on a Dig.
73. Get Marooned.
This actually happened to a cranky and troublesome Scottish sailor, who was cast away from his ship onto an island 400 miles off of Chile. Later, a novel was written about his experiences, and the place where he spent many years took his fictionalized name, Robinson Crusoe.
Now populated by about 500 souls — mostly fishermen — Isla Robinson Crusoe is accessible in the austral summer by aircraft or boat, in winter by sea only. Ships pass by roughly every three weeks, and you may be able to work your way back to the mainland. From there, only 4,000 miles of hitching through South and Central America to go.
The isla doesn't do it for you? There's always Ellesmere Island (don't forget your mukluks), the Atacama Desert, Alice Springs, Cap Ste. Marie, Death Valley, and, of course, Elba.
74. Take at Least One Safari.
Out of the vehicles, on foot, in situ. As with "The Hunters and the Hunted," an offering from Geographic Expeditions that walks people along the plains of Zimbabwe's Matusadona National Park, eye to eye, more or less, with everything from greater kudus to lions.
75. Bareboat.
76. Bobsled.
A) Take a few lessons — mandatory, as you might expect. B) Hurtle at a death-defying clip down the novices' run at the permanent Olympic site in St. Moritz, Switzerland — call ahead at 011-41-81-833-3117. C) Scream.
77. Bike Your Own Private l'Alpe d'Huez.
Nine miles up at an 8 percent grade with 21 switchback turns. This year, the pros didn't have to brave this ultimate test just east of Grenoble, but you can triumph in your own private leg of the Tour anytime. Right? Right?
78. Hit Mach 1.
You're hankering to speed through the atmosphere faster than most humans will ever go, but you're too old for boot camp. All is not lost. If you have a pilot's license (step one), Larry Salganek, at a New Mexico outfit called Jetwarbird Training Center, can help you log the hours in a MiG 15 that the FAA requires before you can solo (step two). Two cautions: Your MiG time costs about $1,700 per hour. And it's illegal to exceed Mach 1 in U.S. airspace, so watch out for radar traps.
79. Compete in an Endurance Event. Then Again, Finish One.
80. Sink to the Bottom of Truk Lagoon.
In 1944, in Micronesia, the U.S. military bombed into existence a haunting underwater scene: more than 70 coral-enshrouded Japanese shipwrecks, fighter planes still attached to some decks, waiting for sorties that will never come. To join the maximum of six divers allowed on each site at a time, you bunk aboard a ship, such as the palatial S.S. Thorfin (Seaward Holidays Micronesia, 011-691-330-3040). Bon voyage.
81. Bootleg the Hahnenkamm.
Let us count the risks inherent in sneaking onto KitzbÆhel's notorious Hahnenkamm downhill for a kamikaze run: Staying clear of the upending trenches on either side of the course, for one. Or simply maintaining control while rocketing down its preposterously steep, icy surface, for another. And last? If you survive, you'll be arrested.
82. Set a Broken Bone.
See Number 81.
83. On Its Home Turf, Encounter a …

83. On its Home Turf, Encounter a Snow Leopard.
snow leopard
blue whale
Sumatran rhino
silverback gorilla
coelacanth
anaconda
water buffalo
84. Sleep in a Hammock.
85. Master a One-Pot Meal.
Bouillabaisse
2-1/2 pounds fresh fish
4 teaspoons salt
3 cups chopped onion
2 cups chopped bell pepper
4 cups fresh tomatoes, chopped, peeled, and seeded
1 cup chopped celery
1/4 cup chopped garlic
1/4 pound butter
6 bay leaves
1 pound medium shrimp
1/2 cup dry white wine
1/4 cup chopped parsley
Layer veggies, tomatoes, bay leaves, and fish (over melted butter) in covered pot. Cook one hour. Hang leftovers from tree.
86. Race an Iceberg.
The Tatshenshini and its sister prong, the Alsek, pierce the heart of the world's largest protected wilderness, 27 million acres of Canadian and prime Alaskan mountain valleys, then dump into the Pacific at Glacier Bay National Park. In between bouts of Class III froth, watch out for bemused caribou and fugitive bergs. Individual paddlers dot the river in summer and fall; if you don't want to try it unguided, call Alaska Discovery at 800-586-1911.
87. See Petra.
It was hidden by bedouins for 700 years until 1812, when a Swiss explorer heard tales of a glorious city carved into cliffs and connived his way in. Entered through a narrow canyon (remember Indiana Jones and the Last Crusade?), Petra widens to reveal intricate facades of tombs, temples, and homes hewn into the walls. No need to disguise yourself as a pilgrim today; just hop a bus in Amman.
88. Land and Release a Marlin.
Try your luck at Panama's Tropic Star Lodge, overlooking the Pacific and boasting 155 world sportfishing records. Each bungalow scattered around an Old Salt-tinged lodge comes with a garishly begadgeted boat, gear, and crew ($2,250 a person per week). March is best, so start your training in December by reeling in your neighbor's Buick.
89. Go Roadwooding.
I collect roadwood. Why doesn't everybody? I'm driving to my house in the country — and there it is, that yellowish flash: fresh cut. A road crew has sawed up a lightning-struck tree or taken down a bunch of saplings that were threatening to encroach upon traffic, and logs are left on the right-of-way: the people's wood. Ash, looks like, and maple. Thick enough to split.
I have a good two years' worth of free firewood stacked already. But this sweet timber is liable to lie here for months, getting waterlogged. You might be surprised how many eight-foot-long logs you can get into the trunk of a 1990 VW Jetta. Where I carry a 24-inch bow saw and a good sturdy set of … I don't even know what you call them. Stout two-handed clippers strong enough to get through an inch-thick branch. That's how underdeveloped the sport of roadwooding is: no established gear terminology.
You manage to get your car up onto the shoulder enough that you are morally certain it is not a hazard — and yet there is something a bit edgy about roadwood collection, authorities might intervene — and you snip and saw as necessary and you heave the logs in and manage (ideally) to close the trunk (and maybe you slide another choice log or two into the back seat), and then all you need back home is a 36-inch bow saw, two wedges, and a splitting maul. Sure, a chain saw would be quicker. But with these simple tools you can savor putting asunder what God has joined together. Then you reassemble it in stacks of your own devising, to dry. Splashes of soft white birch for contrast with the darker barks, some oak I picked up on I-95 in Georgia …
Roy Blount Jr. is the author of Be Sweet.
90. Dive a National Marine Sanctuary.
The one at Monterey Bay, California, is an underwater Yellowstone: a canyon 10,000 feet deep spread across 5,300 square miles, with hundreds of animal species. In ten-story kelp forests thick as jungle, current, light, and temperature swirl into dozens of different habitats. No grizzlies, but please don't feed the leopard sharks.
91. The Continental Divide by Moonlight.
Dusk: On the day of the full Moon, take Colorado 160 toward Wolf Creek Pass, turn north onto Forest Service Road 402, and follow to the trailhead lot.
10 p.m.: Continue up the lunar-washed Divide Trail, above treeline, the light ghosting the San Juans to the south and north, the delineated ground spilling east and west.
Midnight: Finger a ripple into Archuleta Lake — on this night, the ultimate reflecting pool.
92. Spelunk.
93. Skate a River.
Try the one closest to home. Or, if your timing and your legs hold, a run in the Elfstedentocht, a 124-miler through the Netherlands' province of Friesland that links 11 towns and numerous streams in a Brinkerian bind. It's held whenever conditions allow a perfect freeze — so far just 14 times this century.
94. Motorcycle Iceland.
From any European port, ferry a motorcycle to Reykjavìk. The older the bike, the better. Roam from the glaciers of the Snåfellsnes Peninsula to the midnight sun of the north to the gurgling volcanic lake M þyvatn, an odd and singular and unforgettable ride. Oh, go in summer.
95. Cross the Sahara with a Tuareg Caravan.
Only a handful of researchers and Tuareg nomads can lead you to the just-discovered, 8,000-year-old Niger Sahara rock carvings, which include a spectacular 20-foot rendering of a giraffe, the most exquisite rock art in Africa. The Tuaregs are better guides. (Ever hear a good sand-devil yarn from a bespectacled scientist?) You might barter your way onto one of their camel trains, or Irma Turtle of Turtle Tours, a one-woman company that specializes in such things, can probably arrange for a Tuareg to take you.
96. High Tea in Sri Lanka.
Yes, State Department cautions do apply in some spots. But by and large, the prerequisites for successful tea growing — unrelenting spring coolness, high altitude, and undulating terrain — also make for breathtaking treks.
97. Learn the Trees, Flowers, Wildlife, Geology, and History of Your Place.
98. Find the Perfect Beach.
Ditch the brochures. If you want to do this, then really do it, by flying the Pacific Coast of North, Central, and South America in an antique Grumman Widgeon seaplane. The Widgeon is a belly-lander, just the right size to kiss into any of the secluded coves from Big Sur to the Gulf of California to Puerto Ãngel and beyond. It's also just big enough to carry a surfboard, a full cooler, a few fly rods, and a hammock — plus your dog and one other friend.
99. Give Something Back.
Join the ski patrol.
Stop using pesticides.
Build and encourage habitat diversity in your property, neighborhood, or town.
Volunteer for a search and rescue team.
Return a chicken to the wild.
100. Surf.
Trending on Outside Online