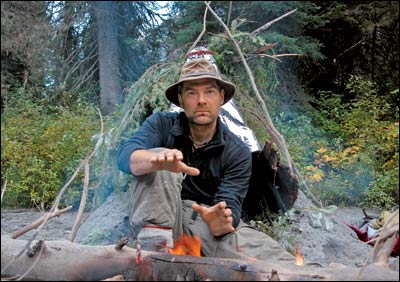 Discovery Channel
Heading out the door? Read this article on the new Outside+ app available now on iOS devices for members! Download the app.
ENOUGH WITH SILLY STUNTS on tropical islands—Survivor is so yesterday. For the real deal in white-knuckle reality TV, check out Survivorman. Each episode of the new Science Channel series—premiering September 16 at 9 p.m. EDT—finds 43-year-old survival expert Les Stroud alone in one of the planet's harshest environments, from the Utah desert to the Arctic tundra of Baffin Island. His mission: to live off the land for seven days with little more than a multitool and his wits—plus 50 pounds of camera gear, to capture it all on film. ANTHONY CERRETANI recently caught up with Stroud—a former backcountry canoe guide in his native Ontario—as he prepared to face a real challenge: negotiating traffic on the 401 freeway in Toronto.

OUTSIDE: How does it feel to be on your own in the middle of nowhere?

STROUD: There's a misconception that it's kind of romantic, kind of sexy—but it's not. You're filthy, you're tired, you're cold, you're hungry, and you barely sleep. My biggest challenge is just to march forward.
What's the worst week you had while filming the show?

The jungle in Costa Rica was brutal. Everything moves. The creepy-crawly factor is really big—and knowing how many of those creepy-crawly things are poisonous adds to it.
Do you ever fear for your life?

Fear for my life, no; accept the inherent risks, yes. That doesn't mean I wasn't nervous when I was in polar bear territory—or when I was swimming with sharks. I'm cautious and careful. Not scared, though.
You've had to eat some pretty slimy stuff out there.

The tastiest thing I've had is roasted grasshoppers. They're like the crispy end of a chicken wing you get at a roadhouse. Seal eyeballs are saved for the children as a delicacy, because they're kind of sweet.
A lot of people would say you're crazy.
I'm an adventure lover. If it comes across like "The guy's crazy, but he's got safety measures put in place; he bumbles and he fumbles, but he portrays honestly what's going on out there," I don't mind that at all.
Trending on Outside Online