American Caver Mark Dickey Calls His Rescue a "Crazy Adventure"
"It is amazing to be above ground again," the grateful U.S. researcher told reporters from a stretcher on Tuesday, September 12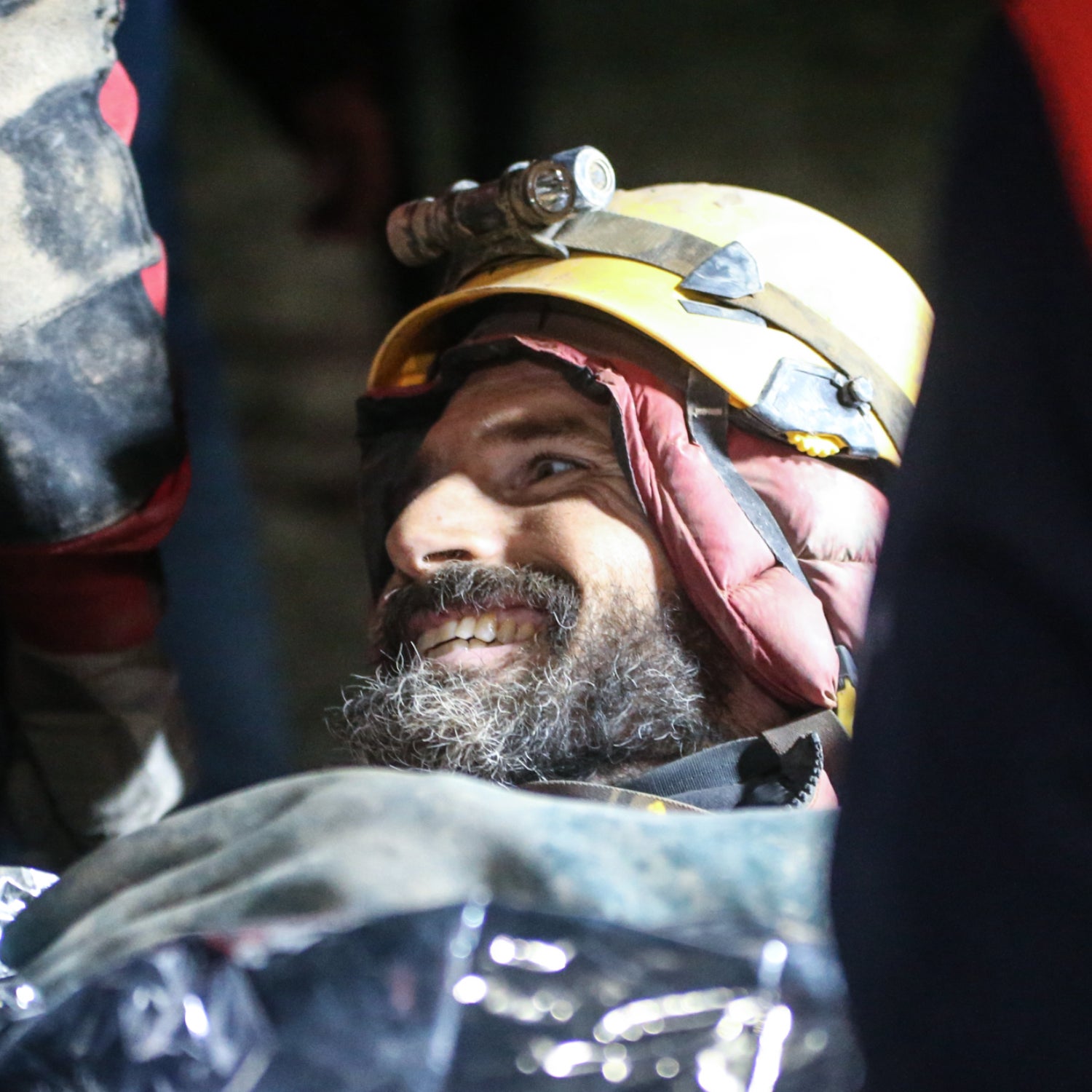 Mustafa Unal Uysal/Anadolu Agency via Getty Images
Heading out the door? Read this article on the new Outside+ app available now on iOS devices for members! Download the app.
As if vomiting blood wasn't bad enough, imagine doing it while stuck in a 3,000-foot deep cave on the other side of the world.
That's what happened to American researcher Mark Dickey during an expedition to explore the Morca cave in Turkey. After spending nearly two weeks underground with severe stomach problems, the 40-year-old was pulled to safety on a stretcher shortly after midnight on Tuesday, September 12, the Speleological Federation of Turkey said in a statement.
"It is amazing to be above ground again," Dickey told reporters on Tuesday. "I was underground for far longer than ever expected…It's been one hell of a crazy, crazy adventure, but I'm on the surface safely. I'm still alive."
The complicated rescue mission involved around 190 experts from across Europe, including doctors, paramedics, and cavers, according to the Associated Press. Many of the rescuers camped near the cave's opening in southern Turkey's Taurus mountains.
The race to save Dickey also generated headlines across the globe. TV crews caught images of him emerging from the cave.
An experienced caver himself, Dickey was on an expedition mapping the 4,186-foot deep Morca cave system for the Anatolian Speleology Group Association when he became ill on August 31. He was unable to leave the cave on his own, according to a New Jersey-based cave rescue group he is affiliated with.
"Only the most experienced of cavers are capable of reaching him to render aid," the New Jersey Initial Response Team said in a statement last week. "The location is very remote and the local water resources are limited."
Starting on Sunday, September 3, doctors began administering IV fluids and blood to Dickey inside the chilly cavern, where the temperature hovered between 39 and 42 degrees Fahrenheit. A team including a doctor and three or four other rescuers took turns staying by Dickey's side. It's unclear what caused Dickey's illness.
After Dickey was medically stabilized, authorities began attempting to extract him on Saturday, September 9.
In order to evacuate Dickey, rescuers had to widen some of the caves' narrow passages, install ropes to hoist him up vertical shafts, and set up camps to rest along the way, the Associated Press reported. The Morca cave is Turkey's third-deepest, reaching nearly .8 miles below ground.
Video of Dickey being pulled from the cave shows him strapped tightly to a litter, as rescuers slowly maneuver him around cramped corners. After he emerged, members of his rescue crew celebrated, and some shared their stories with reporters. Zsofia Zador, a Hungarian anesthesiologist, told the BBC it was her first "big rescue for me as a doctor."
"This is quite a difficult cave because there are some small narrow passages and the shafts are quite muddy so it is not the easiest cave to traverse," Zador said.
In a Facebook post from his hospital bed on Tuesday, Dickey thanked people for "the outpouring of support and well wishes."
"It has been a scary experience and the closest to death I've been yet," Dickey said. "I truly appreciate all the people involved in both saving my life and helping me escape from so deep inside a cave."
Lead Photo: Mustafa Unal Uysal/Anadolu Agency via Getty Images