Indefinitely Wild
Meet the Colorado Runner Who Strangled a Mountain Lion
Watch Travis Kauffman describe the incident in his own words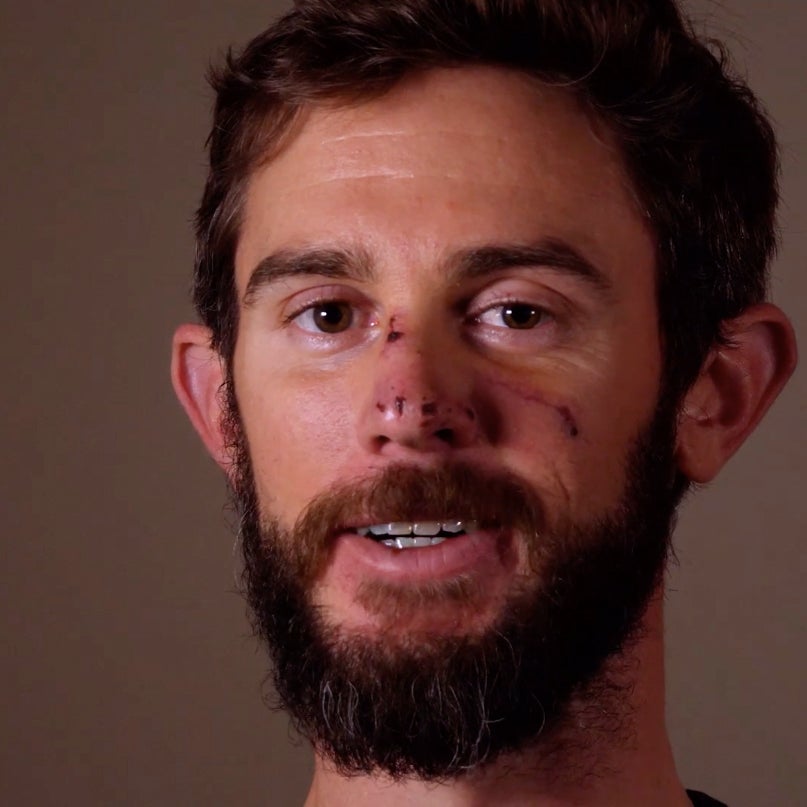 Heading out the door? Read this article on the new Outside+ app available now on iOS devices for members! Download the app.
On Monday, February 4, Travis Kauffman was attacked by a juvenile mountain lion while trail running outside his home in Fort Collins, Colorado. Fighting for his life, Kauffman eventually managed to strangle the lion to death. The incident garnered worldwide attention, but until now, we had very few details and didn't know Kauffman's identity. 
Kauffman is a 31-year-old environmental consultant from Mountain Home, Arkansas, who relocated to Colorado five years ago to pursue a more active outdoor lifestyle. He and his girlfriend, Annie Bierbouer, are experienced outdoor enthusiasts who enjoy activities like skiing, mountain biking, and trail running. 
During a press conference this afternoon, Kauffman stated that he has no experience with martial arts, and the only thing he knew about surviving wild animal attacks was information he'd read in pamphlets, or online. "If it's a black bear or a mountain lion, you fight. If it's a grizzly, you don't," he said, summing up the knowledge he had prior to this incident. 
When I first wrote about the attack last week, I hazarded a guess that the mountain lion was between 20 and 60 pounds. The state has now released its official necropsy report, which estimates that the juvenile animal weighed 35 to 40 pounds. As was stated last week, the animal's carcass was fed on by other mountain lions between the time of its death and when state officials arrived on the scene, so an exact weight measurement wasn't possible. The necropsy reports that no female organs were found, so the animal is likely a male, although that area of the body was extensively fed upon, so again, a definitive conclusion isn't possible. 
While investigating the attack, state wildlife officials found signs of other mountain lions in the area and subsequently trapped two other juvenile lions, which are currently in a rehab facility, pending release to a less populated area of Colorado. The necropsy of the lion involved in the attack notes that only plant matter was found in its stomach, and that the animal had limited fat reserves. In short: it wasn't starving, but hunger likely played a role in the attack, which officials say was predatory in nature. 
Kauffman says his fight with the mountain lion lasted for "probably 10 minutes." It resulted in lacerations and puncture wounds to his face, arms, and legs, but no broken bones or tendon damage. Following the attack, he received 17 stitches on his cheek, six on his nose, two on the right side of his face, and three stitches on his wrist, where the lion clamped down with its teeth. 
Kauffman doesn't credit himself with any superhuman feats, or bear the animal any ill will. He's already returned to the scene with CPW officials, but says it may be another week or so before he starts trail running in the area again. "It was just a man versus nature scenario," he says.