The Most Dangerous Place on Earth to Be an Environmentalist
The assassination of Goldman Prize-winning activist Berta Cáceres last March shocked the global community. But in her home country of Honduras, where more than 100 activists have been cut down in the past five years, it was business as usual.
Heading out the door? Read this article on the new Outside+ app available now on iOS devices for members! Download the app.
Just before two o'clock in the morning on Thursday, March 3, 2016, the phone rang at Tomás Gómez Membreño's home in La Esperanza, 70 miles west of Tegucigalpa, the capital of Honduras. Membreño, a leader of the Council of Popular and Indigenous Organizations of Honduras (COPINH), the country's most prominent environmental-activist group, groped for the receiver. The organization's attorney was on the line, and the news he had was grim.
"The first thing he said was, 'Tomasito, are you OK?' " recalled Membreño, a short, muscular man in his late thirties wearing cutoff jeans and a green T-shirt emblazoned with the words NO IMPUNIDAD—no impunity. "It scared me, because I knew that something must have happened. I said, 'Yes, I'm fine. I was asleep.' He said, 'They shot Berta.' " 
Berta Isabel Cáceres Flores, Central America's most renowned environmentalist and a 2015 winner of the prestigious Goldman Environmental Prize for grassroots activism, had been leading a campaign to stop the construction of the Agua Zarca dam on the Gualcarque River, which the Lenca, the largest of Honduras's nine indigenous groups, consider sacred. The 44-year-old Cáceres had organized protests, road blockages, and other acts of civil disobedience against Desarrollos Energéticos S.A., or DESA, the large Honduran hydroelectric firm that is building the dam with funding from a consortium of development banks. Over the previous two years, the campaign had spiraled into violence. Honduran security forces shot and killed several demonstrators. Two major international backers pulled out of the project under worldwide pressure. Cáceres was harassed, threatened, and forced to defend herself against charges of inciting violence. "People from the dam company would meet us at the river and tell us that we would be killed," Membreño told me. 
In January, at a staff meeting in the same conference room where I was now speaking with Membreño, Cáceres had shared with her colleagues a recent nightmare: a giant snake had leapt out of the ground and pounced on her, suffocating her to death. "The conclusion that we drew," Membreño told me as we sat at a battered wooden table in the luridly decorated room, which was covered with murals of Amazon-like peasant women, giant ears of corn, indigenous battles against conquistadores, and newly painted portraits of Cáceres, "was that this would be Berta's most dangerous year, and her enemies would want to kill her at any moment." 
On that March night, Membreño drove through the deserted streets to Cáceres's home, a small lime green box two miles outside town. The police had already removed her body by the time he arrived. Inside he found Gustavo Castro Soto, 53, a fellow activist from Mexico who'd been staying with Cáceres while he attended a COPINH workshop. 
The gunmen had arrived between 11:30 p.m. and midnight, Castro told Membreño. Hearing noises, Cáceres had gotten out of bed and gone to the back door. "Who's there?" she called out. At that moment, the attackers kicked their way inside and fired four shots at her at close range. One gunman then entered the guest bedroom and fired on Castro. The bullet tore through his hand and took off part of his ear. He fell to the ground and lay still, playing dead. Then the assassins left. A few minutes later, Castro heard Cáceres calling to him weakly from the next room.
"Gustavo, I'm dying," she moaned. 
Castro went and cradled her in his arms. "Stay, Bertita, stay," he said.
Moments later she died.
---
The murder of Berta Cáceres added another prominent name to the long list of environmental activists around the world—from Brazil to the Philippines, Colombia to Thailand, Cambodia to Russia—who have been killed in recent years. At least 767 people died in conflicts against extractive industries and poachers between 2010 and 2015, according to the London watchdog group Global Witness. Last year alone, 185 were slain in 16 countries, the highest annual death toll on record. 
Almost a third of those 767 killings took place in Brazil, earning the vast South American nation a dubious distinction as the most lethal place on earth to be an environmentalist. Running a close second—and a clear number one on a per capita basis—is Honduras, an impoverished country that forms one-third of Central America's violent Northern Triangle, which also includes Guatemala and El Salvador. Between 2010 and 2015, 109 Honduran activists were killed. Last year's per capita rate—eight out of a population of eight million—is about four times that of Brazil's, which saw 50 environmental activists killed out of 200 million. "Hondurans are being shot dead in broad daylight, kidnapped, or assaulted for standing in the way of their land and the companies that want to monetize it," says Billy Kyte, of Global Witness.
Few of the murderers are ever caught, and their crimes are becoming more brazen. In August 2013, three indigenous activists in one small community, Locomapa, in northern Honduras, were mowed down at a roadblock as they protested illegal mining and logging. A year later, Luis de Reyes Marcía, another activist in Locomapa, was found dead with stab wounds in the chest and neck. In May 2015, assailants gunned down Moisés Durón Sánchez, a COPINH organizer working on behalf of 25 indigenous families in the Santa Barbara department, one of Honduras's 18 states. And in July 2016, the body of Lesbia Janeth Urquía, 49, yet another COPINH activist campaigning to stop hydroelectric projects in western Honduras, was found in a garbage dump. In perhaps the nation's bloodiest corner, the Bajo Aguán, a fertile Caribbean valley that was once the fiefdom of the United Fruit and Standard Fruit companies, more than 100 land activists—farmers, union leaders, a Catholic lay preacher—have been killed in the past five years in violence between campesinos and the Dinant Corporation, owned by Honduras's wealthy Facussé family, which has amassed 20,000 acres of the valley's arable land to grow palm oil for margarine and food production. A Dinant spokesman says the idea that the company's security guards or contractors "are killing huge numbers of local farmers" is "utterly absurd." He also claims that 19 security guards have been killed since 2010 and that a Dinant field technician was tortured and assassinated.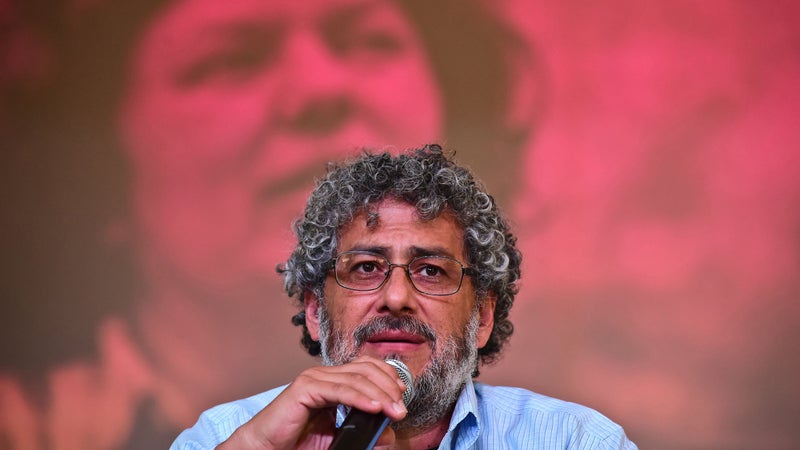 Kyte, of Global Witness, blames the violence on a "collusion of state and corporate actors"—a tight-knit network of oligarchs, corrupt government officials, and high-level officers within the Honduran national police, military police, and army who hire gunmen to intimidate, abduct, and even murder those who stand in their way. Meanwhile, poorly funded, poorly trained, and corrupt public prosecutors fail to investigate the crimes.
Matters have grown considerably worse, Kyte and others say, since a 2009 coup ousted President Manuel Zelaya, a left-leaning populist and wealthy businessman. The three right-wing governments that followed have rolled back land-reform initiatives and pushed hard for the expansion of mining, agribusiness, and large-scale energy projects. These have been especially beneficial to the few powerful Honduran families that control as much as 90 percent of the country's resources. 
Not every clash in Honduras is clear-cut, however. I spent a week traveling the country's trail of blood, finding myself yo-yoed between conflicting versions of reality. Cáceres and her indigenous colleagues, some said, were engaged in a heroic struggle to save their river. No, critics insisted, the activists had wildly exaggerated the dam's environmental impact and bullied any locals who disagreed into submission.
"There are no good guys here," one foreign diplomat assured me, requesting anonymity because of the political sensitivities of her job. Referring to the Bajo Aguán murders, she explained that while landowners and security guards were killing peasants, much of the violence was being meted out by drug traffickers and other criminals who had infiltrated the land-rights movement to grab property for themselves: "They take over these groups. They have them scared to death. It's peasant-on-peasant violence." 
Castro heard Cáceres calling to him weakly from the next room. "Gustavo, I'm dying," she moaned. Castro went and cradled her in his arms. "Stay, Bertita, stay," he said.
Yet the government's own human-rights watchdog disputed this view as whitewash. "Journalists, lawyers, and environmental activists are being killed, and you never find the reason for their killing," says Linda Lizzie Rivera Lobo, an attorney with the country's National Commission for Human Rights, which was created by the Honduran government two decades ago. "There is no credibility in the office of the public prosecutor. It's total impunity."
---
Perched a mile up in the hills of western Honduras, on the edge of Lenca country, La Esperanza ("the Hope") is a tranquil town of cobblestone streets, pastel-colored adobe houses, and old Roman Catholic churches. When I arrived there on a Sunday afternoon two months after Cáceres's death, the town had mostly returned to its normal rhythms following a spasm of angry protests. At the outdoor Sunday market, Lenca women in bright headscarfs called pañuelos sold pottery and produce—bananas, blackberries, mangos, squashes, peppers—while tourists made their way to La Gruta, a cave on a hill overlooking town where, according to legend, the Lenca rebel leader Lempira took refuge from the Spanish conquistadores three decades after Christopher Columbus "discovered" the territory on his fourth New World voyage, in 1502. He named it for the deep waters off the Caribbean coast: honduras means "depths." 
La Esperanza's calm facade belied an undercurrent of fear. I followed a rough asphalt road past red-tile-roofed farmhouses, toward the residential development on the town's outskirts where Cáceres was killed. A motorcycle cop and a soldier guarded her concrete house and small garden, which was roped off with crime-scene tape marked POLICIA NACIONAL. I walked around to the rear and noticed a gaping frame where the back door had been; investigators had removed it to examine a muddy print made by a military boot. It was easy to imagine the killers creeping silently in the darkness across the open field behind her home. The development had been virtually deserted and the house unguarded when the assassins arrived.
Cáceres had purchased the property in Novem­ber 2015 with some of the $175,000 she received as part of the Goldman Environmental Prize. Three miles away, I found her older brother, Gustavo, at the family home in central La Esperanza, a single-story structure hidden from the street by a curtain of bamboo and palms and guarded by another motorcycle cop. Gustavo Cáceres told me that his sister had moved out of the family house without giving any notice. "She left to take danger away from us, especially from my mom," he said. "But being here, surrounded by people, gave her some safety. It would have been harder for them to kill her." 
It was Cáceres's mother, Austra Bertha Flores Lopez, Gustavo explained, who had drawn her daughter into humanitarian work. As a girl, Berta had accompanied her mother, a midwife who later became a Honduran congresswoman, into impoverished Lenca villages, helping deliver babies by candlelight. The experience strengthened her indigenous identity—her maternal grandmother was half Lenca—and spurred her into activism. In her early twenties, she and her future husband, Salvador Zúñiga, the father of her four grown children (they divorced a decade ago), founded COPINH—a grassroots organization that today consists of hundreds of salaried coordinators along with activist volunteers. Together they organized resistance to timber companies harvesting trees from Lenca forests near La Esperanza.
"She was very active, talking about how we had to stop these 'monsters' from exploiting the forest," says Membreño. He remembers sneaking with her past armed guards and occupying a lumber mill in the 1990s, then joining her on a three-month protest in front of the presidential palace in Tegucigalpa that ended only when police tear-gassed the demonstrators. "I was amazed at her ease and confidence," he says. 
Beginning in 2011, Cáceres devoted herself nearly full-time to the cause that would eventually get her killed: the fight against the proposed Agua Zarca dam on the Gualcarque River, in a rugged, mountainous region about 70 miles west of La Esperanza. Backers, including high-ranking members of the Honduran government, promoted the project—one of about four-dozen dam concessions awarded by President Porfirio Lobo Sosa, who took office in 2010—as a model renewable-energy effort that would create hundreds of jobs in one of Honduras's poorest regions. It would generate an average of 21.3 megawatts of electricity per hour, enough to power 120,500 rural households, with initial funding of $40 million.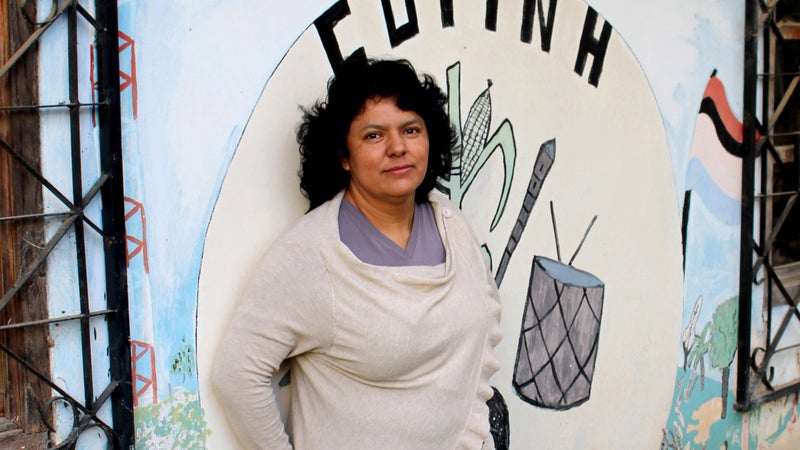 In 2010, DESA, the hydroelectric engineering firm controlled by Honduras's Atala family, won the dam concession. The project would be bankrolled by the Central American Bank for Economic Integration and constructed by the giant Chinese corporation Sinohydro.
Trouble began almost immediately. The region directly affected is Río Blanco, a collection of 12 communities totaling about 3,000 people along the Gualcarque River. DESA obtained the titles to riverside tracts from the mayor of the Intibucá department, of which Río Blanco is a part. DESA says that it obtained the titles legally; activists charge that the mayor fraudulently wrested them from local Lenca who'd possessed them for a century. Then, in 2011, Sinohydro moved in heavy equipment and built an access road to the river through Lenca fields. "When the people asked, 'Why are you doing this?' they lied," Membreño claims. "They said nothing about the dam. They said, 'We are just making a road to the river.' "
Lenca leaders argued that Agua Zarca would be an environmental disaster, flooding their crops and destroying one of the most picturesque corners of the country. "The Lenca are ancestral guardians of the rivers," Cáceres proclaimed after COPINH took up the cause. The river, she said, served "the well-being of humanity and of this planet and should remain pristine."
But the environmental impact would be minimal, the backers insisted. There would be no reservoir. No flooding. Fish species would be protected. Many people in Río Blanco, my diplomatic source told me, actually supported the dam because of the benefits it would bring, including irrigation projects, school supplies, and a microlending program. Critics of the movement say that the anti-dam activists relied heavily on intimidation, branding anyone in favor a stooge.
By 2012, tensions had escalated. According to complaints filed in local courts, DESA employees stampeded cattle through crop fields in a failed scheme to ruin them and force their owners to sell. The company's guards fenced off a spring that one village depended on and rerouted the water to supply a construction camp. They began prohibiting the Lenca from using the river along a several-mile stretch.
In May 2013, hundreds of Lenca, mobilized by Cáceres, blocked the Sinohydro-built road to the construction site from the village of San Francisco de Ojuera. In an indication of the cozy relationship between the dam builders and the Honduran government, army units began acting as DESA's enforcers. Between 15 and 20 soldiers, joined by police driving DESA vehicles, stopped Cáceres and Membreño, searched their car, and claimed they'd found a concealed pistol. Cáceres was charged with illegal weapons possession and released on "conditional freedom" until the beginning of her trial a month later. After she spent eight hours in court, the charges against her were dismissed for insufficient evidence.
That July brought the first death: Tomás Garcia, a protest leader shot by soldiers at a demonstration outside the DESA compound. 
Still, the campaign seemed to be working. In August 2013, Sinohydro pulled out of what had become a highly controversial project, stalling construction.
The violence, however, continued. In March 2014, another COPINH activist, Maria Santos Dominguez, sister of the slain Tomás Garcia, was walking home from making school lunches when seven men with machetes attacked her. Her husband and 12-year-old ran to defend her, and they fractured her son's skull and cut off half of his right ear. Santos Dominguez escaped with serious wounds to her hands and face. It was the second machete attack that her husband, Roque Dominguez, had survived in less than a year.
---
Cáceres had emerged as the single greatest threat to Agua Zarca—a feisty, combative spokeswoman and brilliant organizer who evinced no fear, at least publicly, and had a knack for attracting international attention. She traveled abroad, denouncing Agua Zarca at environmental conferences, and journeyed across Honduras taking up the cause of activists in places like Bajo Aguán.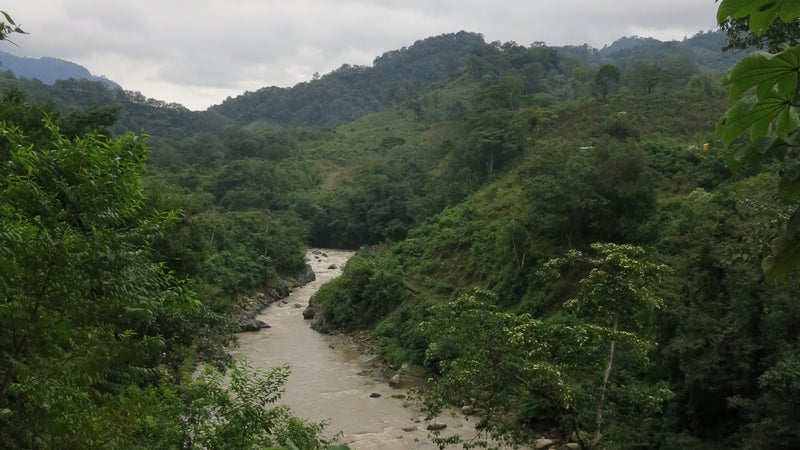 At the same time, her situation at home became more precarious. Two new backers, the Netherlands Development Finance Company (FMO) and the Finnish development bank FinnFund, had stepped in with $20 million in financing, giving hope to DESA that it could resume the project. 
Cáceres kept the protests and road blockages going. Tomas Membreño said that she was threatened repeatedly by DESA guards and officials and began receiving anonymous death threats. Between 2013 and 2015, Gustavo Cáceres said, his sister filed 32 reports with the public prosecutor's office in La Esperanza. Late in 2013, the Honduran government agreed to provide her with a closed-circuit camera outside COPINH's office, as well as occasional police escorts when she traveled to other parts of the country. 
On March 2, 2016, Cáceres drew attention to the sinister links between Honduran security forces and big companies like DESA. "The government has all of these institutions at the service of these companies," she told COPINH trainees, "because these businesses are capable of moving antiterrorism commandos—the military police, the national police, security guards, and hit men." A few hours later she was dead. 
Her assassination left her tight-knit circle bereft—and more fearful than ever. They call frequently to check up on each other, change their routines often, and rarely spend any time alone. On my second evening in La Esperanza, I joined four activists—two American expatriates, an Irishwoman, and a Honduran—for dinner at the town's most popular restaurant, El Fogón, a two-story orange adobe house with a balcony overlooking an alley and walls covered with Lenca ceremonial masks.
Cáceres had eaten here on the night of her murder. "We figured that her enemies would do the proper political calculations to know that murdering Berta Cáceres would have a very high cost," said Karen Spring, coordinator of the Honduras Solidarity Network, an informal group of North American human-rights organizations, who lives here in Honduras. Spring, who had been with Cáceres on the day she died, believes that they decided the move was worth it. "They sent a chilling message that if you speak out against the government, you will be killed. People are terrified." 
One day after Cáceres's death, DESA issued a statement denying that it had anything to do with her murder. Her supporters filled the streets of Tegucigalpa and La Esperanza. The U.S. government—which has given $200 million in military and counter-narcotics aid to Honduras since 2009—called on President Juan Orlando Hernández, Lobo Sosa's successor, to "conduct a prompt, thorough, and transparent investigation and to ensure those responsible are brought to justice." 
Two months later, a newly formed elite unit of the public prosecutor's office, a kind of Honduran FBI created under U.S. pressure, arrested four suspects: the alleged triggermen, Edilson and Emerson Duarte, 25, twin brothers from the region around La Esperanza who had reportedly served in the Honduran military; Sergio Ramón Rodri­guez, a DESA engineer working on Agua Zarca; and former DESA security chief Douglas Geovanny Bustillo, a retired Honduran air-force lieutenant. Mobile-phone records had placed the twins around Cáceres's house on the day she died, and all four men had allegedly engaged in coded phone conversations about the killing. 
"Rodriguez and Bustillo were the ones saying to Berta, 'You old witch, you won't be coming through here anymore,' " Membreño told me. "On several occasions, Rodriguez warned me that I would be killed." All four men are in prison awaiting trial. 
It soon became apparent that the alleged conspiracy reached even higher. Shortly after those arrests, the prosecutorial unit arrested an active army major, Mariano Díaz Chávez—who had reportedly graduated from a U.S. Ranger–supported Honduran special-forces course and had fought beside U.S. troops in Iraq—and charged him with hiring the hit-men brothers. He, like the others, is in custody awaiting trial. (A sixth man, Rápalo Orellana, was arrested in September, while a seventh suspect remained at large.)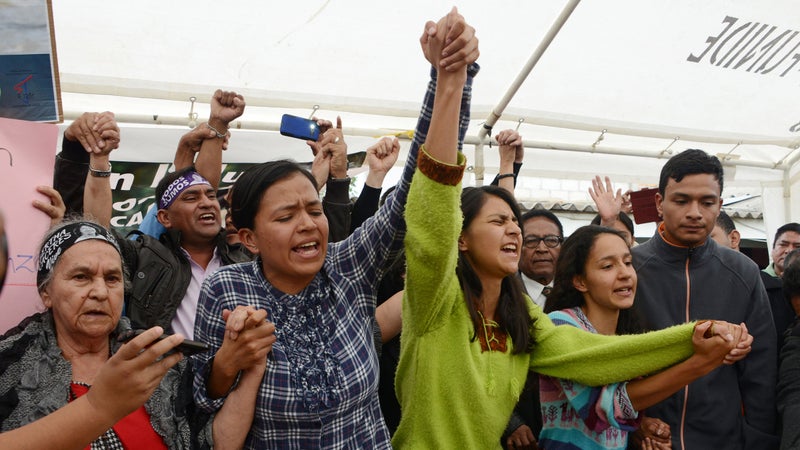 The picture got even murkier in June, when a former Honduran soldier, ex-first-sergeant Rodrigo Cruz, told The Guardian that Cáceres's name had appeared on a hit list of dozens of environmental and land ­activists distributed to a U.S.-trained Honduran military-police unit months before her death. "I'm 100 percent certain that Berta Cáceres was killed by the army," Cruz said. Cáceres herself told a reporter in December 2013, "The army has an assassination list of 18 wanted human rights fighters with my name at the top."
The Honduran army has denied the allegation, but this would hardly mark the first time that the country's security forces have been involved in high-level murders. Earlier this year, a Honduran newspaper published excerpts from a report by the inspector general's office of the Security Ministry, which oversees the Honduran national police, exposing a death squad that had operated from deep inside the police force for several years. Acting on orders from a Caribbean drug baron, the killers had assassinated the country's top antinarcotics chief in 2009 and his security adviser two years later. 
Linda Rivera Lobo of the National Commission for Human Rights said that domestic and external pressure had forced the government to take action after the Cáceres murder. "But there is a limit to how far they will go," she told me. The investigation "points to the material authors, but not the intellectual authors of the crime."
---
Many thought that such a high-profile murder would drive other guns for hire to ground. But just two weeks later, in the town of Peña Blanca, 47 miles north of La Esperanza, another COPINH activist, Nelson García, a 39-year-old dental technician and scrap-metal recycler, was gunned down in broad daylight.
A COPINH activist was walking home from making school lunches when seven men with machetes attacked her. Her husband and 12-year-old ran to defend her, and they fractured her son's skull and cut off half of his right ear.
Peña Blanca is a sleepy town near 111-square-mile Yojoa Lake, Honduras's largest, nestled amid jungled mountains in the heart of tourist country. For all its reputation as a homicidal hellhole, Honduras has long been a magnet for backpackers and other adventurers, drawn to natural treasures like Roatan Island, which sits on the second-longest barrier reef in the world, and archaeological sites like Copan, perhaps the greatest existing example of Maya civilization.
The shores of Yojoa Lake are dotted with low-budget gringo resorts. Not far away, a different reality presents itself: a sea of corrugated-metal and wood shacks filling a gully outside the town of Río Lindo. Shirtless campesinos sweat in the heat as they nail together crude wooden frames. Children wander around broken-down cars eating maize porridge cooked on portable gas stoves. 
Five years ago, a prosperous fish farmer donated 15 acres of forest and farmland adjacent to this shantytown to the municipality of Río Lindo, on the condition that the property be turned over to 180 landless Lenca families. But the mayor allegedly claimed the land for himself. In 2014, Berta Cáceres and her COPINH activists arrived, and the Lenca occupied the ten-acre property, naming the new settlement Río Chiquito.
Nelson García was one of those recruited by Cáceres to join her in the field. He remained by the squatters' side for two years, helping build dozens of neat rows of wooden homes and installing septic tanks and water pumps. "We were living 'illegally,' but we were encouraged by Berta's strength," the community's spokesman, a lanky campesino in his forties named Jorge Alberto Ávila, told me. "Berta came here every couple of months. Nelson came every single day."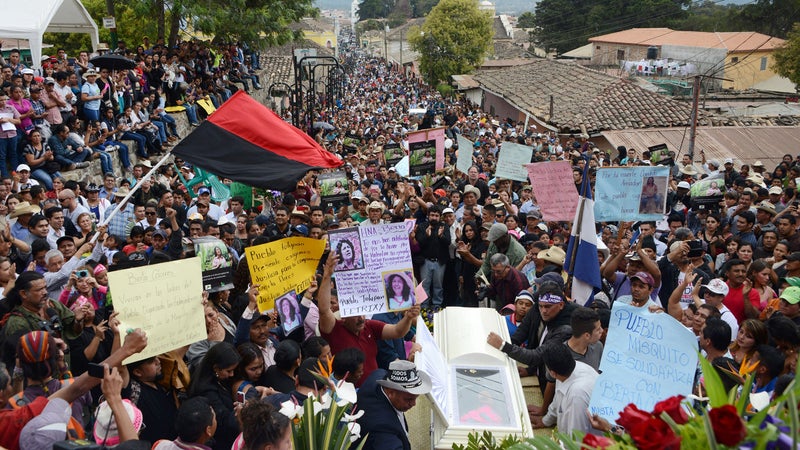 "Nelson told me that he was afraid" after Cáceres's death, his father, Santos Benedicto García, explained to me as we sat beneath an inert ceiling fan in his airless house in Peña Blanca. García's aunt, María García, said that Nelson had received death threats. "I told Nelson that he should take his family away, but he said no," she insisted. "He wouldn't go to the police, because he didn't trust them." García didn't go to Berta's funeral; he was advised by fellow activists to stay away. 
A few hours earlier, beneath a scorching sun, Ávila had led me up a hill to a field enclosed by barbed wire and dotted with the burned, bulldozed remains of houses—all that was left of the squatter settlement of Río Chiquito. On March 15, 2016, twelve days after Cáceres's killing, 100 soldiers and policemen had moved in. "They gave us half an hour to leave," Ávila told me. "Then they brought in a chainsaw and a bulldozer." The 80 remaining Lenca families were now squatting on adjacent public land.
García had spent that morning finding shelter for the evicted families. Then he returned home. At 11:30 a.m., he got into his truck to deliver a load of scrap to a nearby junkyard. His wife noticed a red pickup with two men in it parked across the street. Moments later, as he pulled out of his driveway, the pickup blocked García's vehicle and a gunman opened fire. García's four-year-old son, who was playing outside, watched his father die.
Ordinarily, the killers would back off after taking down their chosen target, but this time the threats continued. "We came back from the burial, and that same day they called his wife and said, 'Take care of yourself, walk on your toes, you will be the next victim,' " García's father told me. During the next week, he claimed, a nephew was shot at four times while staying with García's widow and four children, and an uncle had his horse shot out from under him—"right in the forehead"—while riding down a trail on his finca. 
Two weeks after García's killing, the Honduran national police arrested Didier Enrique "Electric" Ramirez, a member of a local gang, and charged him with murder. He too is awaiting trial.
García's family and friends claim that Ramirez was a hit man sent by higher-ups—municipal officials, they believe—with a message to land activists: help the poor against the country's elite and you will die. But as with so many killings in Honduras, the true motive may never be known. The diplomat I talked to in Tegucigalpa told me the murder "was related to extortion"—García had died for failing to pay a weekly "war tax" to the gang that ruled Peña Blanca. Again, this was a version of events that the National Commission for Human Rights discounted. 
There was no public mourning for Nelson García—as there was for Cáceres—and no offers to help take care of his family. Prosecutors moved them, for their safety, to a village in southern Honduras, where, according to García's father, they were now unprotected and destitute. "Nelson fought hard to put bread on the table, and now the family is in hiding, alone, without money," he told me as darkness fell on Peña Blanca. "The kids are not in school. His wife will never come back here. She wants to leave the country, become a refugee. She will never return."
---
The day after my visit to Río Lindo, I set out for the site of the Agua Zarca dam. The paved highway, running southwest, took us back in the direction of La Esperanza and then veered off into Lenca backcountry. After an hour, the road disintegrated into a rough dirt track, and we switchbacked for two hours through hills thick with pine and oak. In the wide valley far below, a mosaic of maize, bean, and coffee plots, broken by clusters of houses and groves of palms, extended toward the pale blue silhouettes of distant mountains. 
I was traveling to the river for a long-­anticipated meeting that seemed likely to determine the future of the dam. In the wake of Cáceres's murder, both of the project's European backers, FMO and FinnFund, had temporarily suspended their loans. "We strongly believe that all concerns raised in the protests around the project have been met through a thorough design," FinnFund declared in a statement. "We are, however, worried about the possibility of increased tensions in Honduras as a consequence of the murder."
Now FMO was dispatching an investigative commission to San Francisco de Ojuera, the site of the access road to the river.
The meeting was just starting when I arrived. Four human rights and indigenous-land experts—two women and two men in their forties and fifties, including one Honduran and three others who'd flown in from Australia, Chile, and Great Britain—stood in the blazing sun before 100 people who had gathered on a steep hillside. The experts jotted in notebooks as one Lenca after another stepped forward to denounce what they called "the death project." A grizzled septuagenarian described how DESA had bulldozed roads through farms. "They destroyed our corn, our livelihoods," he said. An elderly woman in black accused the company of murder. "DESA sent their people to kill our people. Bertita, our comrade, gave her life for us," she said. A teacher in a New York Yankees cap insisted that the Lenca communities were united in their opposition to the dam: "Of 400 families in my village, only seven were in favor." 
"Who threatened you?" asked the Brit, a gangly man whose skin was turning lobster red in the sun. "The company people? People you didn't know?"
"They were security guards," a young man said. He named Douglas Bustillo, the DESA security chief, one of those arrested for the Cáceres killing, as the group's ringleader. "The guards from that company take photos of us. They've gotten to know us very well." 
When the meeting broke up, I set out down the gravel road to the Gualcarque River. A Lenca grandmother in her sixties advised me not to go by myself. "You never know what can happen here," she said, and offered to accompany me. During a February 2016 protest march along this road, she told me, DESA had sent up drones to monitor and photograph the participants. 
We walked downhill past pine groves and pastures. She pointed to a compound of green-roofed wooden huts in a meadow, the road-construction camp that the Chinese had abandoned. Farther down the hill, we clambered over the debris from a landslide unleashed by the road construction and heard the thundering of the river a hundred feet below. Another turn brought the Gualcarque River into view: a foaming green ribbon cutting through a chasm. I heard the shouts of kids splashing in the water and then reached the riverbank. A few dozen yards upstream, whitewater cascaded over a course of boulders, then squeezed through a channel formed by two jagged outcroppings and widened into a shallow pool. 
After the 2013 violence, DESA had retreated to the opposite side of the river; the company was waiting for tensions to ease so that it could resume construction. All through the past winter, two sharpshooters had stood watch from the top of the cliff with their rifles aimed at Lenca swimming in the river. Finally, COPINH activists stormed the plateau and set fire to the grass, driving out the snipers. Downstream I noticed a yellow hunk of machinery, six feet high by ten feet long, that resembled a giant oilcan. The activists had captured it during their assault of the sharpshooter post and rolled it down the slope. It now sat cockeyed in a pool of water, just before the river gained force again as it hurtled down a steep gradient.
I dove into the pool and took in the jungled hills rising sharply above the river, the white gravel banks, and the olive green water frothing through the gorge. This sublime place surely deserved to remain untouched, I thought. And it appeared likely that it would. Shortly after the investigative commission visited San Francisco de Ojuera, the Dutch bank announced that its engagement with DESA was over. "There is a need for FMO to seek a responsible and legal exit from the project," a spokesman would tell me. The Finns were pulling out as well, leaving the project's largest lender, the Central American Bank for Economic Integration, which had pledged $24 million to the $40 million project, standing alone. Pressure was now mounting on that institution as well, from international human rights organizations, the European Union, and other groups. 
In the end, it seemed, the conspirators who had taken the life of Berta Cáceres had also assured the demise of the Agua Zarca dam. I climbed out of the river, dried myself in the sun, and then, trying to tamp down my nervousness, began the long climb along the deserted, Chinese-built road to my car.
---
Contributing editor Joshua Hammer (@joshuaiveshamme) is the author of four books, including The Bad-Ass Librarians of Timbuktu.
Corrections:
(06/09/2023) During the editing process, a sentence about Tomás Garcia's death was inadvertently removed from this story. That sentence has been restored.
From
Outside Magazine, December 2016
Lead illustration: Edel Rodriguez