Sponsor Content: Polaris
Off-Road Riders Who Inspire
Meet three driven adventurers using off-road vehicles to make the most of their passion for the outdoors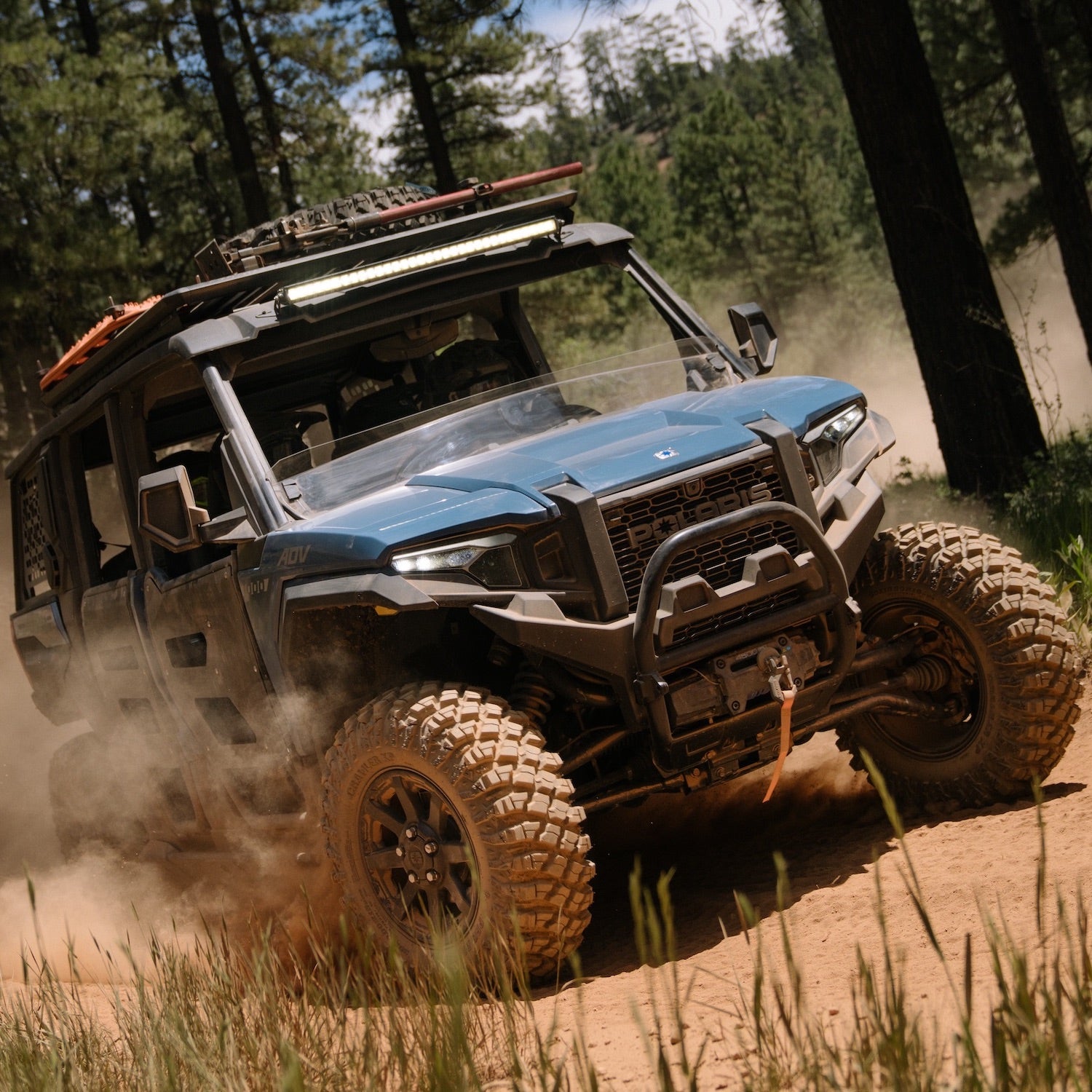 Polaris
 Whether you're new to off-road vehicles or a veteran trailblazer, you'll find that the latest machines deliver greater capability, and more peak adventures, than ever. To make the most of the off-road vehicle (ORV) lifestyle, match the right machine to your riding goals. Determine which type of off-roader that you might be: utilizing your ORV as a multiday camping platform capable of deeper off-road exploration; using the vehicle as a means to adding another activity onto your day-trip ventures; or simply chasing thrills in your day-tripping fun machine. Then, it's time to dream big. Follow the lead of three adventurers who each represent one of these main types of riding—and who have used the right vehicles to unlock new ways to enjoy their favorite outdoor activities.
The Deep Explorer
When Canadian pro mountain biker Brandon Semenuk got his first side-by-side vehicle, it unlocked tons of new terrain that he and his riding buddies had never been able to reach before. "We can get into these farther zones with all the tools and bikes we need, often in areas that wouldn't be possible otherwise," he says. Now, Semenuk has regular access to high-alpine boulder fields as well as forested trails deep in the Canadian backcountry.
Semenuk remains impressed with the machine's ability to handle adverse riding situations that come up on trail. "I'll load mine up with me plus three crew, four bikes, and tools—plus water and food—and it just handles it." 
Over the years, Semenuk has used his vehicles to haul bikes everywhere from British Columbia's North Shore Mountains to the remote deserts of Utah and Arizona. All Polaris machines—including the new Polaris XPEDITION—have the power to carry speed over long stretches of open desert, as well as the torque to crawl over wet logs, roots, and boulders. That performance allows Semenuk to reach more challenging trails faster, regardless of weather. 
"I'm able to get on the bike sooner and spend more time on the bike once I'm there," he explains. "That's helped me become a better athlete." 
The Adventure Connector
As a professional off-road athlete, Casey Currie spends most of his working hours behind the wheel of an ORV. But these days, many of his favorite adventures take place off the race course. "I'm a big family guy," he says. Whenever possible, Currie gets out on the road with his wife and extended family around Corona, California. His four-seat ORV lets him bring the whole crew, and Polaris's top-notch power and performance means he can tackle the technical trails and terrain that catch his eye—even with the vehicle loaded down.  
This summer, the Curries plan to take their GENERAL XP 1000 to the Rubicon Trail for a few weekends of High Sierra camping and exploring. Throughout the season, they'll load their machines with kayaks, rods, and tackle and search for new bass-fishing spots on the Santa Ana River.  
"One of the biggest features for me," Currie adds, "is the way Polaris has developed the shocks. The machine's stability is controlled all the time. So, if you want to drive fast, it'll adapt for faster driving, and if you want to drive slow, the suspension will soften up." It's a welcome function to keep the ride smooth regardless of speed—and to ensure all-day comfort for the full family when there's an added experience beyond the ride.
The Thrill Chaser
When it comes to choosing an ORV, pro off-road racer RJ Anderson says he relies on one essential metric: maximum fun output. That's why two of his six Polaris vehicles are RZR Pro Rs. 
"I have a four-seater Pro R for pre-running courses down in Baja, though these vehicles are so capable that I can pretty much pre-run at race speed," he says. Anderson's other Pro R is a zippy two-seater reserved just for high-octane competition—though that designation hasn't stopped him from getting rowdy with his customized ride in other settings.In 2021, he used his two-seater to jump a series of hair-raising urban obstacles in Long Beach, California, including flights of stairs, other vehicles, and a freeway overpass. In 2022, Anderson drove a RZR Turbo R from the base of Mammoth Mountain—renowned for its steep skiing—to just below the 11,053-foot summit. He went on to rip through the legendary Mammoth Motocross course, becoming the first person to do it in a side-by-side UTV.
"It's not only a beast to drive with great suspension and four-cylinder engine," Anderson says of the stock four-seater Pro R that's his go-to ride, "but it comes with built-in audio and a heads-up display map that I can link up all my friends to. So when I go on these weekend adventures, it's got everything I need to maximize the fun."
---
Always moving, forever searching, never at rest. Our passion for the outdoors unites us, creating a bond that goes beyond the mechanical. Polaris off-road vehicles take you where others can't—from the remote backcountry terrain to the race track in the desert sun and anywhere in between.
Unless noted, trademarks are the property of Polaris Industries Inc.
© 2023 Polaris Industries Inc.
Lead Photo: Polaris