Photographer Lucas Gilman on the Challenges of Shooting Adventure
A Q&A with an Outside in Aspen participant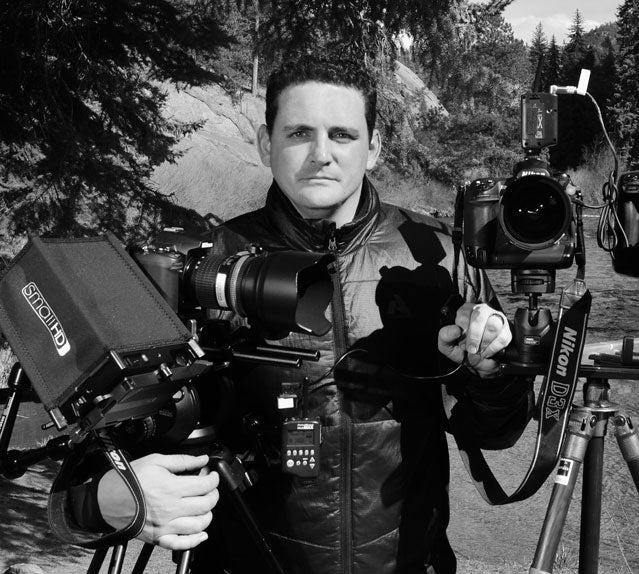 Heading out the door? Read this article on the new Outside+ app available now on iOS devices for members! Download the app.
Lucas Gilman's adventure photography has been featured in various publications, including Outside. His work has taken him on adventures around the globe, including that time he got kidnapped by guys with machetes (more on that later). Gilman will offer an Adventure Sports Photography workshop on Saturday and Sunday at Outside In Aspen.
You graduated from journalism school at Boulder. How has your educational background shaped the way you do photography?
I started out wanting to be a writer, and then figured out that was way too much work, but I was already halfway through journalism school. I'd always been really interested in photography, so I continued getting my writing degree and a photography degree. In my formative years, I worked in newspapers and learned what journalistic integrity was and how things work in that world.
There's an ongoing discussion about photography and truth. How do you manage to take photographs that you feel accurately represent an adventure, even though you're only able to show a very small part?
In every situation with my photography, whether I'm on an expedition or shooting for a commercial project, I try to show everything as true to life as possible. I share my vision of what I saw on the shoot, and hopefully at the end of the day, that vision is interesting to other people as well.

You also do portraits and lifestyle photography, in addition to your well-known adventure shots. Can you tell me a little about the different challenges each presents?
In my action/adventure photography, I'm generally known for small man and large landscape photographs. I basically try to shoot a scenic image that has some sort of interesting action going on in it. The portraits are a way for me to interact with athletes and/or subjects and get to know them as a person a little bit more, whereas with the action shots I'm often way off across the valley on a canyon rim or something, so I'm not even close to the action itself. The portraits are a way for me to catch up with subjects and get to know them and their personality.
You've also done some video work.
Correct. I've recently transitioned into doing video as well. One of my first video projects was the first descent of Abiqua Falls up in Oregon with Jesse Coombs. We did a minute and a half reel that initially was self-motivated, and then some companies ended up using it for commercial purposes. I'm just transitioning into being a well-rounded visual storyteller.
Between videography and photography, is there one you prefer?
They are completely different beasts. The video takes a lot more time to do, obviously. I would say there's not one that I like more. They're both challenging in different ways, and I don't know everything about photography, but the video is new and fresh for me, so I feel like I'm learning it all over again. That's pretty exciting for me to have a new challenge or a new passion. I feel like I'm starting Video 101 and progressing.
Speaking of challenges, what is the toughest photograph you've ever taken? Why was it hard and how did you successfully capture it?
I can't think of the toughest photograph, per se, but I will say the precursory things around photography are tough. For instance, I was actually on an Outside magazine project that was funded by Nikon, So There I Was, and I almost got kidnapped by Zapatistas in the jungle. That was quite interesting; I had to pay them $1,000 bribe, et cetera, et cetera. I would say the most challenging part of photography is getting to the location, whether that's bushwhacking, repelling or climbing, and the second-toughest challenge is generally dealing with people that may not want you to be there.
I was actually going to ask if you'd ever felt like you were in danger on assignment, but I guess that would be an example of that.
Yeah, I was surrounded by 20 Zapatistas with six-foot-long machetes in the middle of nowhere. I actually told them I was Canadian because they really don't like Americans.
Do you think that helped?
I think that allowed me to actually leave in one piece. I don't think they would have let me out if they thought I was American. Everybody likes Canadians I guess, but not that many people like Americans.
What have been some of your other most memorable experiences or places you've traveled to for your adventure photography?
I had a really good experience traveling through India for a month with a group of kayakers. We were in places where people had never really seen Westerners, especially Westerners with kayaks, so that was pretty memorable. It was quite extreme to get there; it was a plane to a train to a Jeep. We got to a point that we thought was a ferry crossing and were looking for boats. They had these canoes tied together and said, "Oh yeah, put the car on there," and we were like, "What?" Basically, you load the car on these canoes and push it across the mile-wide river.
Every trip always has its unique challenges and rewards, and that's really what keeps me coming back to do the trips. I'm continuing to push myself, learn my craft and make visually interesting imagery in locations around the world.
You must be pretty adventurous yourself to follow these guys around photographing them. What are some of your favorite outdoor activities or hobbies besides photography?
Fly-fishing is really one of my passions. It allows me to unwind, and there's a real natural rhythm to it. I also love backcountry skiing. Those are the two things I really enjoy doing. I learned to climb out of necessity, not for any reason other than that. I needed to get to specific spots to photograph things, and there's no way to do that unless you know rigging and all those functional things.
What are you looking forward to in your Adventure Sports Photography workshop at Outside in Aspen this year?
I'm excited to meet with photographers and photo enthusiasts from all walks of life who may be at different places in their photography. Hopefully everybody at the end of the day is taking their photography to the next level; that's really rewarding. I don't know exactly what we'll be photographing yet, maybe some kayaking or cycling or stand-up paddleboarding, but I'll basically be teaching them how to use the gear to make visually arresting images in all kinds of situations.
Do you have any other exciting projects coming up?
I just photographed the largest waterfall ever run in a kayak for a Red Bull project. It had been done before, but this was only the second person to ever do it. I'm also going to Iceland to teach a photography workshop in August, which is sort of cool and will be fun. Then I'll be going to South America for another cool Red Bull project in November at Iguazu Falls. So, you know, I have a few things on the horizon. Something to do, right?
Outside in Aspen, June 8-10, is a weekend filled with outfitter-led adventure, including mountain and road biking, kayaking, rafting, trail running, fly-fishing, hiking, stand-up river paddling, and rock climbing for all skill levels. The weekend also includes parties, a base camp featuring Outside's Gear of the Year, a symposium with professional adventure athletes and Outside personalities.