The Running of the Bulls, Day 5
Our man on the ground at the 2012 San Fermin festival remembers the time he ran with Jimeno Romero, who was gored to death in 2009 and memorialized by his family with a special monument of flowers this year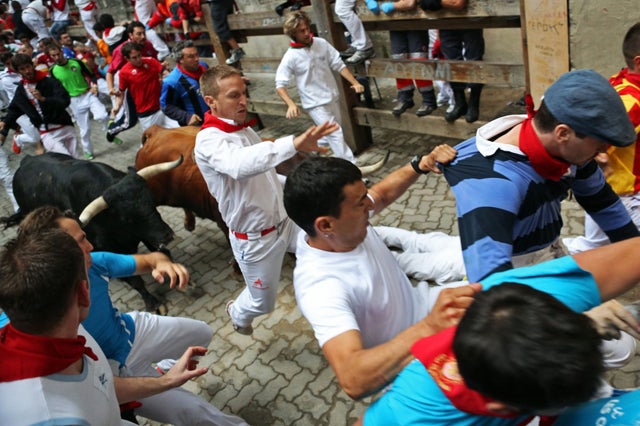 Heading out the door? Read this article on the new Outside+ app available now on iOS devices for members! Download the app.
On July 10, 2009, a bull named Cappuccino from the Jandilla ranch gored Daniel Jimeno Romero to death. As Jimeno attempted to pull himself under a barricade, Cappuccino, a suelto, slammed full speed into him. The bull's horn penetrated Jimeno's thorax and severed his aorta; he bled to death within minutes.
I ran that morning and entered the arena near the horns of a bull. They played the live video of the run on large screens in the arena. After noticing Cappuccino wreaking havoc at Telefonica, I ran back out to the street to help bring him in. Slowly, I worked my way next to him. He swept past me at one point and looked me right in the eye. My entire body froze. Someone distracted the bull and I snapped out of it, running around to help others turn Cappuccino. Then I tripped on someone's feet and dove for the barricades as the bull rumbled close. At that very moment a cop and a paramedic grabbed my outstretched hands and pulled me under and up to my feet.
It wasn't until later that I found out about Jimeno's death. Then I noticed in photos I had been running shoulder to shoulder with him just a few days earlier. Even though we'd never spoken to each other we'd run together and that simple bond, especially for those of us that return to Pamplona year after year, is an incredibly strong one. It was a strange feeling. I assume it was, in part, survivor's guilt. Both of us took to the street that morning and had a close interaction with this fierce bull. Now he was gone and I was preparing for the next run.
Jimeno was a veteran runner who lived in Madrid. His family ran for several generations and he was making them proud on the street each day of Fiesta. His father created a special monument of flowers for his son this morning to mark the third anniversary of his death.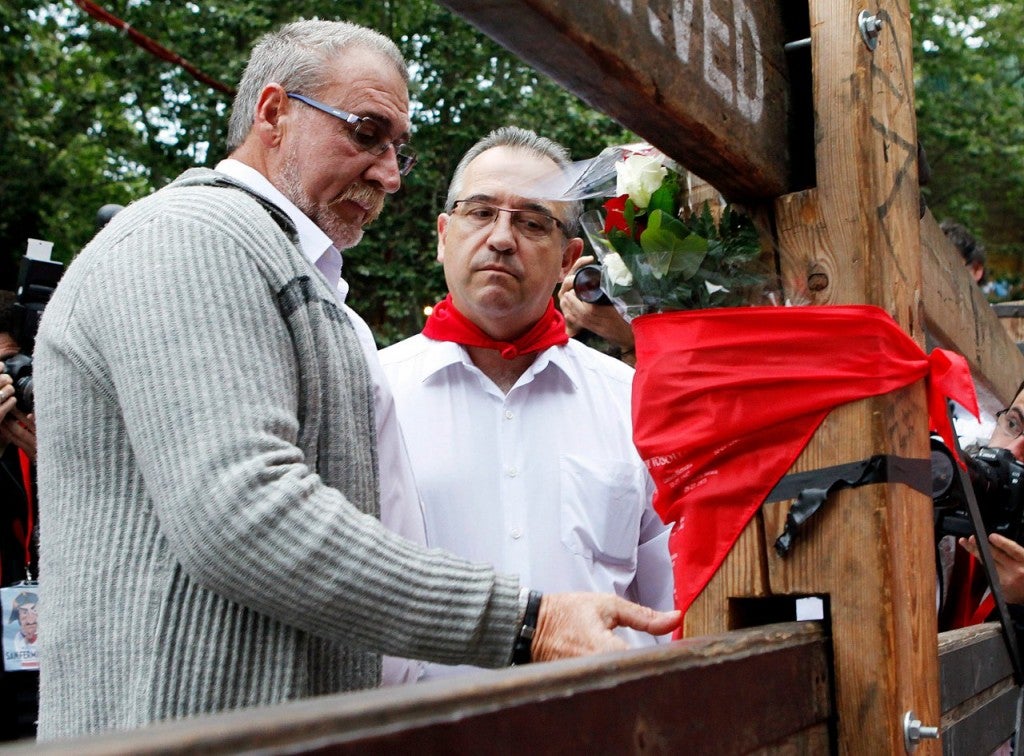 The El Pilar ranch ran a fairly clean run this morning. There were no gorings, but five people were taken to the hospital. The run lasted 2 minutes, 22 seconds.
I fell in the tunnel yesterday. I had a vague memory that there was a bull close behind me when I went down. Then Peter Milligan told me I had an amazing run. I was confused, then found these photos. The bull's horn was a few inches from goring me in the face.
Also in the pack: Aryeh Deutsch. Against orders from his doctors due to the fact that he was gored yesterday, Deutsch ran with the bulls this morning.