The Running of the Bulls, Day 6
After getting yanked under the barricades by a Red Cross medic, our man on the ground at the 2012 San Fermin festival chats with Jesus Muniain, who has been helping runners for 30 years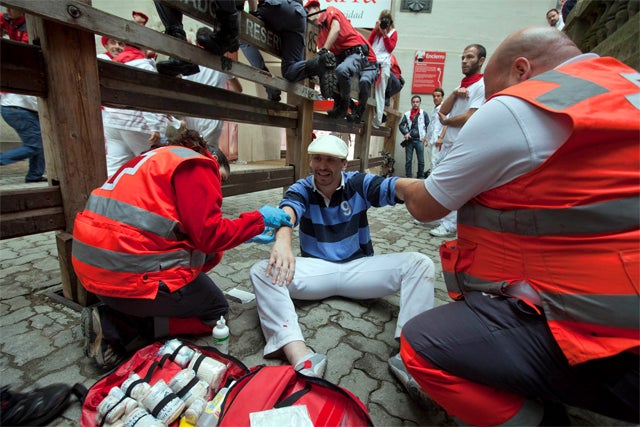 Heading out the door? Read this article on the new Outside+ app available now on iOS devices for members! Download the app.
The Fuente Umbro ran clean this morning. The run sent only two people to the hospital and ended in 3 minutes, 12 seconds.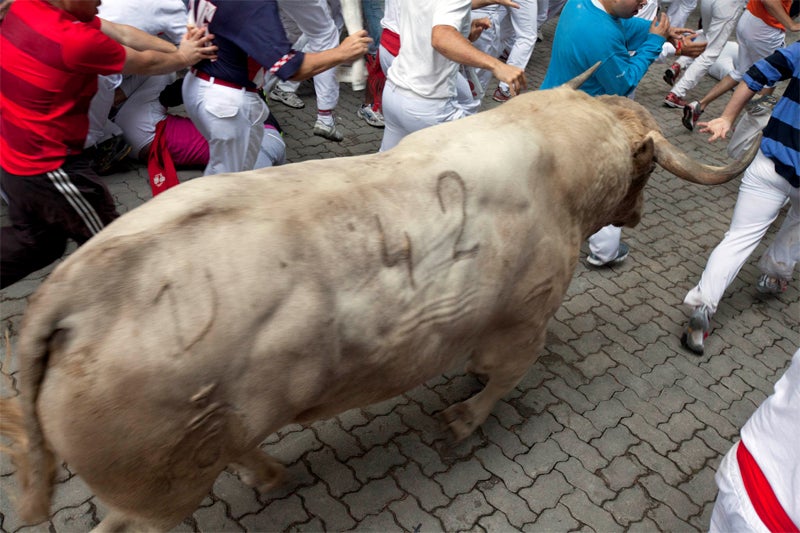 I ran the horns of the lead bull, then tripped on a fallen runner and fell into the barricades. After stabilizing, I looked back as two black bulls swept by. A rare off-white bull called a Jabonero trailed them. I scrambled to catch up with the animal and then positioned myself on the Jabonero's horns. I strode for several yards before tripping, once again, on a fallen runner. This time I slapped the stones. Red Cross medic Jesus Muniain yanked me under the barricades as the last of the herd ambled past. I was fine, but Muniain treated some of my earlier wounds and a few new gashes. Then we started to chat.
Muniain has volunteered as a Red Cross medic at the Encierro at San Fermin for 30 years. "My main job is to stabilize the injured," he said. "If a bull gores a runner, I put pressure on the wound and put him on the stretcher. There are four doctors in this section. They assess the victim then we put them in the ambulance."
I wondered if the job was stressful. "It's not stressful because it lasts just 10 minutes and it's over," he assured me. But Muniain has experienced several terrible moments over the years. "I remember the pile-up in 2004 and the death of Daniel Jimeno," he said.
Muniain's worst memory was made in 2009 when Ermitanio of the Miura ranch nearly killed a runner at the opening of the tunnel. "It was so hard because I was very close and watching it but I couldn't do anything," he said.
The injuries, though, bring more sadness than stress. "The injuries are hard because they're in such a contrast to this great party," Muniain said. "When people get hurt it saddens me."
There are some bright spots in the mornings—"The people who run with crazy costumes really make me laugh!" he said—but the best part of the morning for Muniain is the end. "I just enjoy the days when everything is over and everyone is safe," he said. Well, today was one of those days and Muniain was a very happy medic.