She's Still Out There
Tantalizing new evidence prompts an ambitious search for Amelia Earhart by a group that can't seem to quit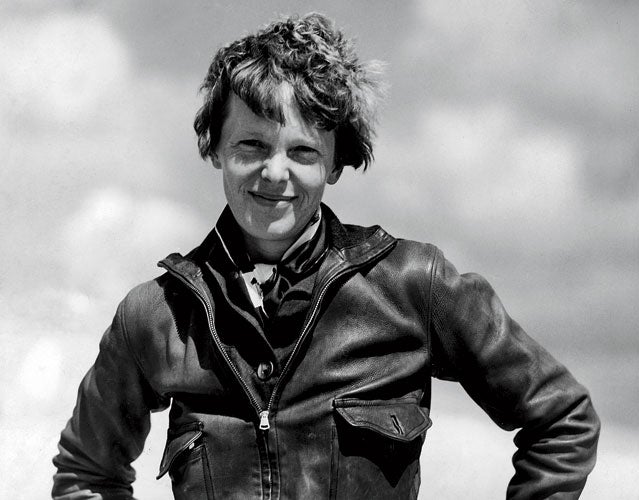 Time & Life Pictures/Getty
Heading out the door? Read this article on the new Outside+ app available now on iOS devices for members! Download the app.
This time Ric Gillespie is sure. The 64-year-old founder of the International Group for Historic Aircraft Recovery, or TIGHAR, has spent the past 24 years searching for the world's most famous missing plane, Amelia Earhart's twin-engine Lockheed Electra. Now Gillespie thinks he has compelling evidence that the aircraft's remains sit 1,000 feet beneath the ocean's surface, just off the tiny Pacific island of Nikumaroro. The smoking gun: a 1937 photo of the island that Gillespie claims shows the landing gear of Earhart's plane sticking out of the water. "The photo gives us a point last seen for the plane," Gillespie says. "It's where it got washed over the edge of the reef and where we can start our search."
Better Luck Next Time
These five clues
keep TIGHAR searching for proof of Earhart's crash site.
This isn't the first occasion Gillespie has proclaimed that victory is at hand. The former aviation-safety specialist launched nine previous expeditions in support of TIGHAR's unconventional theory—first proposed in the 1980s by a pair of retired military officers from Florida—that Earhart and her navigator, Fred Noonan, crash-landed on a Nikumaroro reef in July 1937, rather than in the open Pacific, as most historians believe.
TIGHAR's mix of tantalizing evidence and fundraising hype has been on display since the group's first Nikumaroro expedition in 1989, when researchers found a metal bookcase that Gillespie believed came from Earhart's plane. TIGHAR spent more than a year pushing the idea that the object was, according to Gillespie, "the grail," even soliciting FBI analysis of the box's metal and paint. An FBI investigator said the agency had found nothing to "disqualify this artifact as having come from the Earhart aircraft," which isn't quite the same thing as confirmation. But to Gillespie it sounded like proof. As he told one reporter: "We've got the first artifact ever alleged to be from Earhart's aircraft that has passed muster—passed expert examination." 
Two years later, detailed analysis by TIGHAR showed that the box likely came from a World War II–era bomber. By then, however, Gillespie had refocused public attention on finds from TIGHAR's 1991 expedition: a piece of aluminum aircraft skin and fragments from a 1930s size 9 shoe. "We will present proof that the Earhart mystery has been solved," Gillespie told the Houston Post in advance of a press conference in Washington, D.C. Soon after, engineers tore holes in Gillespie's theory that the aluminum matched Earhart's plane, and the shoe turned out to be about three sizes too large to be Amelia's. Asked about these old instances of crying wolf, Gillespie claims there's still a preponderance of evidence that points to Nikumaroro as Earhart's final destination, saying that "every great scientific thing involves lots of trial and error." 
He also notes that he has cataloged his past failures on TIGHAR's exhaustive 20,000-page website. "We're not afraid to show our mistakes as well as our discoveries," he says. And to TIGHAR's credit, no one has been more persistent in the hunt for Earhart. Whereas other Amelia searchers are secretive about their expeditions, Gillespie announces his months in advance, in order to attract money and volunteers. Gillespie and his wife, Pat Thrasher, are the only paid employees. Most TIGHAR members pay their $55 annual dues and cheer Gillespie's efforts on the group's Facebook page, but some assist with research and even join expeditions. According to Gillespie, "The people who become dedicated TIGHAR members are turned on by the challenge of finding out something and being physically involved in it."
This month, TIGHAR is headed back to Nikumaroro, leaving from Hawaii with a team of 19 aboard the 222-foot research vessel Ka'imikai-o-Kanaloa. The expedition is once again surrounded by big-time fundraising and hoopla, thanks mostly to a March 20 State Department gala in which Secretary of State Hillary Clinton endorsed the trip, saying, "Even if you do not find what you seek, there is great honor and possibility in the search itself." Buoyed in part by this support, TIGHAR raised $2 million for its expedition from donors and corporate sponsors like FedEx and Lockheed Martin.
So which is it? Is Gillespie a dogged researcher on the verge of unlocking one of the world's great mysteries, or a skilled pitchman who has lured the State Department into his personal crusade? The 1937 landing-gear photo could prove to be a game changer, but it also seems to fit TIGHAR's pattern of turning up the volume on evidence that may or may not be significant. Gillespie first came across the image in 1992 while interviewing a former British officer who snapped the shot just months after Earhart's 1937 disappearance during a round-the-world flight. In 2010, TIGHAR's photo analyst, Joe Glickman, noticed that a small object had been cropped out of Gillespie's reproductions of the photo—an object that Glickman thought resembled landing gear. Last year, Gillespie had a chance meeting with Assistant Secretary of State for Asia and the Pacific Islands Kurt Campbell, an Earhart buff; they discussed the image, and Campbell offered to have government photo analysts study it. In a briefing on March 19, the day before the triumphant State Department event, another senior official summarized that analysis: "This is consistent with what looks to be a wheel of an Electra 10E at the time that Amelia Earhart flew." But, the official noted, "this is all highly speculative."
That hasn't stopped Gillespie from sounding the alarm, which, he readily admits, is a key part of the strategy for a non-profit run out of his garage in Wilmington, Delaware. "Amelia's fame is like a faucet I can turn on and off with a press release," he says. 
His willingness to crank that faucet rubs some people the wrong way. "I'm a little jaded that Ric has done these things over and over again," says David Jourdan, the president of Maine-based Nauticos, a TIGHAR competitor that is planning a 2013 expedition elsewhere in the South Pacific to look for Earhart. "He gets everyone spun up about something new—the bones, the photo, whatever. They start with a premise that Amelia made it to this island, and then they seek data that supports it."
Tom D. Crouch, a senior curator at the Smithsonian Air and Space Museum, has long been skeptical of TIGHAR's Nikumaroro theory but can't help admiring the group's approach. "It's worked over a long period of time," says Crouch. "They keep going back to the island, and they're always able to do something new to keep interest alive. Sometimes they make claims that are over the edge, but it keeps the money coming in." 
The only thing missing with TIGHAR, of course, is the discovery—something Gillespie hopes to remedy this month when he sails alongside sonar technicians, TIGHAR volunteers, camera crews, and one generous donor who gave the group $1 million. Also on board will be a 1,000-pound autonomous underwater vehicle that will scan the island's reef slope. If he finds Earhart's plane, Gillespie doesn't plan to retrieve it immediately. "Our objective is to come back with imagery and a location," he says. Eventually, TIGHAR hopes to raise the aircraft from the ocean floor and donate it to the Smithsonian. Crouch, for his part, isn't holding his breath. "I think it could remain a mystery for a lot longer," he says.
Trending on Outside Online