"I Went Through the Ice on Day 47:" The Daily Life of a Polar Explorer
John Huston explored the North Pole, South Pole, and everything in between. Now he's moving into uncharted territory as the father of newborn twins.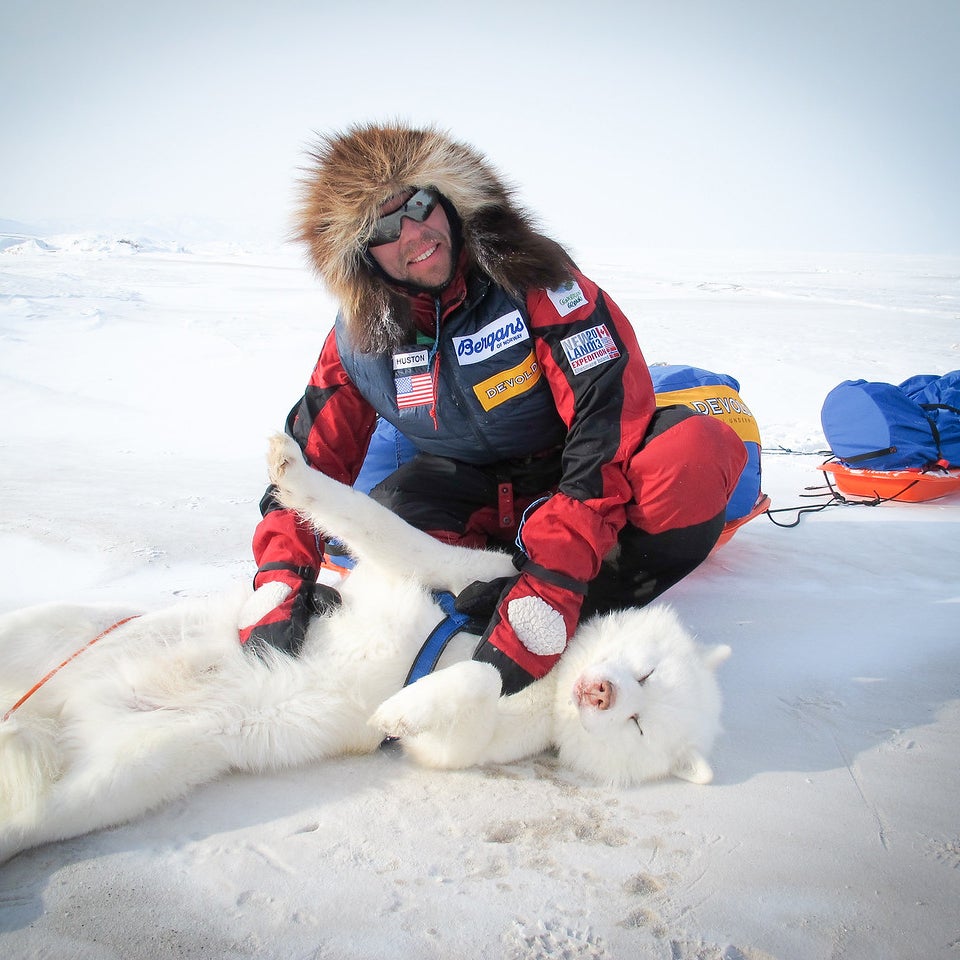 ©Tobias Thorleifsson(Photo)
Heading out the door? Read this article on the new Outside+ app available now on iOS devices for members! Download the app.
John Huston is no stranger to the cold. From northern Minnesota to the arctic wilds of Canada, Greenland, and both poles, this explorer knows how to survive in the most extreme conditions, making (or remaking) history on his expeditions. Now Huston's survival skills are being put to new use as a father to newborn twins.
Age: 40
Hometown: Evanston, Illinois
Day Job: Polar explorer
Expeditions Completed: Greenland; Baffin Island, Canada; South Pole; North Pole (the first American unsupported expedition); Ellesmere Island, Canada.
Coldest Temperature He's Experienced: "I've bottomed out my thermometer at minus 60 degrees Fahrenheit, so I don't actually know my coldest temperature. This wasn't with wind chill; it was standing temperature. It didn't go above minus 50 degrees for the next 48 hours."
Side Jobs: Huston also gives speaking presentations and has a flexible job at Northwestern University as an adviser for a student group that coordinates a backpacking trip for incoming freshmen. He occasionally teaches Outward Bound courses, too.
How to Become a Polar Explorer: "I started out as an Outward Bound instructor in Ely, Minnesota. As soon as I got behind a dogsled, I knew I had found my niche in the outdoor world. I was totally hooked on the immediate consequences and hardiness of working in the cold and working with dogs and how even very popular wilderness areas are desolate in winter. Then I got into polar exploration history, specifically Roald Amundsen's 1911 expedition to the South Pole. That made me want to jump into the pages of the stories I was reading. In 2005, I got drafted by a team of Norwegians to join a rerun of Amundsen's race to the South Pole for a BBC/History Channel documentary. The expedition was in Greenland and was 1,400 miles in 72 days. That catapulted me from northern Minnesota into the Norwegian polar exploring community. And I've kept going."
An Average Expedition Day: "We wake up at 5:30 or 6 a.m. and spend an hour and a half or two hours in the tent—eating breakfast, journaling, tinkering with equipment, posting on the blog, and feeding the dogs, if we have them. Then we're out by 7:30 or 8 a.m. We ski in 90-minute sessions, and then take a break for ten or 15 minutes for food and water. We do that throughout the day. When we get to camp, which might be a flat spot with wind protection, we put up the tent, collect blocks of hard-packed snow or pieces of icebergs for water, and make camp. Depending on how intense the expedition is, we might either start dinner right away or have a snack and go for a side ski to check out some other territory. Finally, we have dinner, relax, and get to bed early enough to have at least eight hours of sleep."
An Average "Office" Day: "I work for myself and set my own schedule, but I have nine-month-old twins, so my work hours are highly variable. Typically, I work 8 a.m. to 4 or 5 p.m. I include workout routines as part of my work schedule, because I need to stay in shape when I'm preparing for an expedition. That can be an hour and a half to two hours a day of tire pulling, biking, running, or strength training."
"Our twins were born in April, and it really reorganized my life priorities, which big expeditions also do. There's a patience that is very similar."
Choosing Expeditions: "Since expeditions are so expensive and take a lot of time away from home, I want to make them count. When I was younger, I was doing expeditions every single year. Now I do them every several years, so I try to pick ones that I'm motivated to do, that are interesting for the right reasons, that will challenge me, that will take me someplace I've always wanted to go.
"I don't have a lot of downtime when planning an expedition, because I'm obsessed with fundraising, training, and getting every detail right before the trip starts. Other aspects of life, whether it's taking vacations or family things, go on hold for a while. For example, when I'm fundraising for an expedition, it's very hard to do any other work, so I'm not going to be earning a lot of money at that time. It's a full-time job, so I put aside income potential there."
Dealing with Desk Work: "I started fundraising two years before the North Pole expedition. It's really about developing relationships with people at companies. We approach companies that make equipment we like and have experience with and pitch our project to them for a sponsorship. It's a lot of work: a lot of knocking on doors, a lot of dead ends, and a lot of figuring out the best way to sell yourself and what you're doing.
"I would love to minimize all that computer work. It's about communication, and I have to do it in order to have a successful expedition. But the physical training and equipment tinkering are still a big part of the trip and parts of my workday. It's pretty cool—if someone told me I'd be at a computer doing what I love but still get to work out for a few hours a day as part of my job, I would've said, 'That sounds like a good job!'"
"We don't choose the highest-tech gear, because how we are able to repair something out there can mean the difference between failure and success."
And Prep: "A lot of prep for polar expeditions is gathering knowledge about where we're going and how we're going to travel there—for example, some places are better to use dogs, some sleds. That also includes talking to people who have been there, going on a training trip in similar areas, reading, and looking at clothing, skiing, and camping systems.
"We have food spreadsheets, equipment spreadsheets, funding spreadsheets, and formal communication chains. Once we're all packed, we go out and make sure we have everything we think we have and make sure we didn't miss a single detail. We come up with a critical-scenario list that we talk about in detail with the rest of the team members."
Handling Emergencies: "I went through the ice on the way to the North Pole on day 47. I tested whether we could ski over a place where the ice had separated and refroze. The test checked out, I got the thumbs-up from my expedition partner, and I started skiing across. It was like an escalator going down, and next thing I knew, I was in the water up to my neck. At first it felt strangely warm, then the water pushed through my clothing and my skin started burning from the cold since the water is about 28 degrees.
"I awkwardly dog-paddled back to my partner, where he was reaching out to me with a ski pole. I'd lost feeling in my hands, and finally, after seven or eight attempts, the ice held and I got out into the 15 mph wind and minus-10-degree temperature. We stripped me nude right there and got me into dry clothing. I dove into a sleeping bag and worked like crazy trying to get feeling back into my hands and feet. I was panicked about getting frostbite. I knew I wasn't going to die—it was terrifying, but we had anticipated one of us going in at some point, so we had practiced this scenario a lot."
Most Invaluable Piece of Gear: "Stoves. We use MSR WhisperLites so we can melt snow and ice to make water. We choose a lot of our gear because we know it well, it's been tested for many years, and we know we can fix it. We don't choose the highest-tech gear, because how we are able to repair something out there can mean the difference between failure and success."
Expedition Diet: "I eat a lot of fat. After ten days or two weeks in the polar environment, it's like a switch is flipped in my stomach. It becomes a fat-burning furnace, and I can't get enough. On an expedition when it's minus 40 degrees and you're skiing ten to 12 hours a day, you go through calories like crazy."
Witnessing Polar Melt: "What we see on an expedition is a snapshot in time. When we compare that with what existed 25 or 30 years ago, we can definitely see how the ice on the Arctic Ocean is thinner, more jumbled, less stable, and more susceptible to melt. We can see how glaciers in certain valleys have receded, how ice that used to cover most of the Arctic Ocean and much of the Canadian archipelago is less and less frequent. We see an image, and when we compare that to historical records, that's when we see the big changes. It's sad."
Balancing Fatherhood with Expeditions—and Their Similarities: "Our twins were born in April, and it really reorganized my life priorities, which big expeditions also do. There's a patience that is very similar. On the ice, we don't control much about our situation, between ice conditions, visibility, and how our teammates behave. Same with parenting: the babies are running the show, and we just have to roll with it and be flexible.
"I'd love to get the twins outdoors as much as possible. We take them outside in all sorts of weather, even though it's still early in their lives. I've slowed down my expeditions and don't have an expedition agenda for a couple years around the birth of the children, but I'll have several trips happening over the next five to seven years. My wife is super supportive. She tells me that I better do some more big trips before I get too old."
Lead Photo: ©Tobias Thorleifsson