Iceman Wim Hof Is being Sued for the Death of a California Teenager
A 2022 lawsuit alleges Hof's breathing exercises caused a 17-year-old girl to drown. The Dutch health guru seeks to dismiss the charge.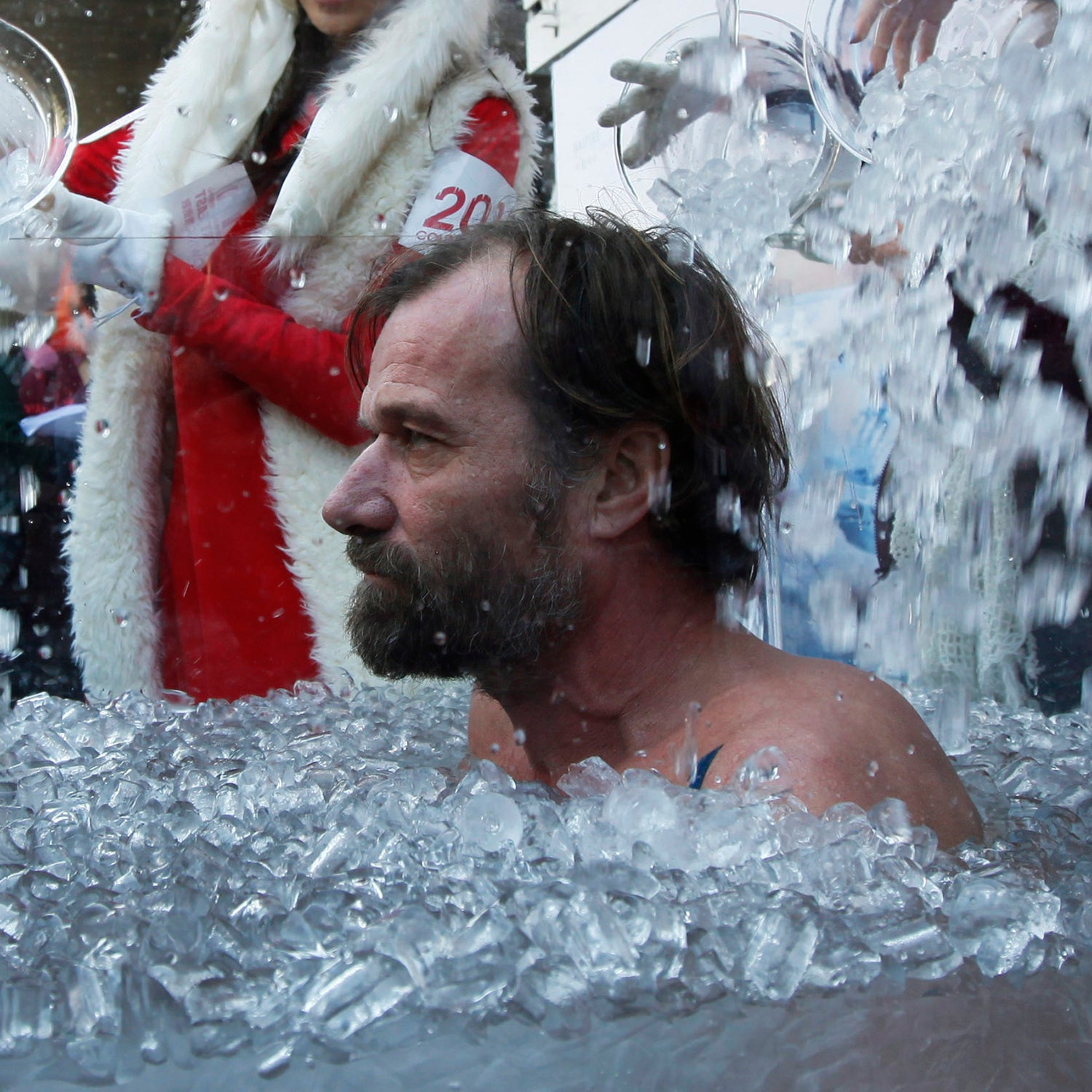 Kin Cheung/AP
Heading out the door? Read this article on the new Outside+ app available now on iOS devices for members! Download the app.
On August 10, 2022, a Southern California lawyer named Raphael Metzger was at his home in Long Beach with his 17-year-old daughter, Madelyn Rose Metzger. After a busy afternoon of phone calls and work, Raphael left his home office to start dinner. He searched the house for Madelyn, eventually walking to the backyard to see if she was taking a dip in the family's swimming pool.
He saw her lying face down in the water, motionless. Raphael attempted CPR to no avail. Paramedics later arrived at the house and also tried to resuscitate her, but she was gone. Two days after the incident, a medical examiner from the Los Angeles County coroner's office told Raphael that Madelyn had died of accidental drowning. Her toxicology tests were clean, they said, and there was no sign of a physical abnormality like heart arrhythmia.
Last December, Metzger filed a lawsuit in a California superior court against Dutch motivational speaker Wim Hof and his company Innerfire BV, accusing both in the wrongful death of Madelyn. Over the last decade, Hof has become a global celebrity for teaching the health benefits of cold plunges, meditation, and breathing techniques. The Wim Hof method asks followers to complete a series of deep inhales and exhales, followed by a prolonged period of holding one's breath.
The lawsuit alleges that Madelyn had performed Wim Hof breathing techniques shortly before her death, and that Hof's exercises caused her to lose consciousness in the pool and drown. The suit states that Madelyn had been recently introduced to Hof's teachings by her mother and Raphael's ex-wife, Tammy Metzger, who is also a defendant in the suit. A tab on Madelyn's computer linked to various Hof training exercises.
"Madelyn put on her bathing suit, went into the pool to cool off and to reduce anxiety following an argument with Tammy Metzger, and she did Wim Hof breathing," the suit states. "She became hypoxic and thereupon drowned in shallow water despite being an excellent swimmer."
The suit accuses Tammy and Hof of negligence in Madelyn's death; it also levies charges of fraudulent concealment, unfair business practices, and false advertisement against Hof and Innerfire BV. "Defendants were either aware of, or culpably indifferent to, unnecessary risks of injury," it states. Raphael Metzger is seeking $67 million in damages, and also asking courts to require Hof to post warnings on his website and promotional materials that the method is dangerous and "should never be done in water due to the risk of drowning and death."
Raphael Metzger declined to speak to Outside. Enahm Hof, Wim's son and the CEO of Innerfire BV, pushed back on the lawsuit, calling the allegations "plainly not true."
"We were shocked to hear that such a young girl drowned," Enham Hof told Outside. "Shocked by the allegations, which don't make any sense to us."
The lawsuit is part of a growing chorus of criticism against Hof, 64, who in recent years has promoted his unorthodox health regimen in books, exclusive teachings, and even on a BBC television series. Hof launched his business after garnering worldwide attention for completing a number of tough-man stunts involving extreme cold, like running up the slopes of Mount Everest in shorts and swimming under ice sheets in Finland. His philosophy is that placing the body under intense stress through hyperventilation, breath holds, and exposure to cold can make an individual more physically and emotionally resilient.
But critics say these actions—specifically the breath work, when performed in water—is dangerous and even deadly. In a recent story published by journalist Scott Carney on his website, he claims that multiple people have contacted him about injuries and even deaths resulting from the Wim Hof method. Carney, who published a 2017 book about Hof titled What Doesn't Kill Us: How Freezing Water, Extreme Altitude, and Environmental Conditioning Will Renew Our Lost Evolutionary Strength, has chronicled more of the criticism in a series of YouTube videos.
"The looming question is why Wim hasn't stopped," Carney told Outside. "The answer comes down to his personality. Maybe he just doesn't want to stop."
Britt Jackson, the executive director of a group called Underwater Hypoxic Blackout Prevention, said her organization was contacted in 2022 by the family of a man who drowned in a backyard ice bath while doing breathing exercises similar to the ones promoted by Hof. Jackson said she watched a Wim Hof video and later contacted Innerfire BV to raise concern that the materials could be dangerous. She said the company responded by citing warnings it publishes on its website to avoid performing the breath work in water.
"From the clips I've seen, they are doing hyperventilation and then submersion, and that's a recipe for an underwater blackout," Jackson says.
Enahm Hof says the company goes to great lengths to warn readers and viewers to never do the breathing exercises before submerging themselves in water. Hof's website does include written and video warnings about the breathing techniques, and Enahm says that pop-up warnings in the Wim Hof mobile app also inform readers of the dangers. "Engaging in these exercises near water increases the risk of shallow water blackout, which can lead to drowning and, tragically, death," one disclaimer reads. Instructors who study under Hof must also agree to avoid publishing their own videos or teachings online, Enahm said, because he and his father worry that the warnings may get ignored.
"We teach the safety protocols in our teacher's academy and clearly describe [them] in our FAQ part of the website," Enahm said. "We even made animation videos about the safety warnings, which we bring forward in our protocols."
But Carney says that some of Wim Hof's videos do show him performing the breathing techniques while submerging himself—and thus send a mixed message to viewers. Having watched a video that is part of Hof's $99 ten-week training course, Carney says Hof hyperventilates on camera before dunking his head into water and staying down for a minute. The video includes a disclaimer in the comments section, Carney says. Enahm Hof said the company has taken down all videos showing Wim Hof doing the breathing exercises prior to entering the water.
Hyperventilation—taking rapid and deep breaths—has been known to cause people to lose consciousness due to low oxygen levels in the brain. Taking quick deep breaths with forceful exhales sends carbon dioxide out of the lungs. But the presence of the gas in our lungs triggers the reflex to take a breath, and if a person has blown off all of their CO2 without taking in enough oxygen, they can run out of air without ever feeling the need to take a breath.
Lifeguards often warn swimmers and surfers about shallow-water blackout, which can happen when hypoxia occurs in water, usually as a result of a person holding their breath in repeated intervals. In 2001, pro big-wave surfer Jay Moriarity died of a shallow-water blackout while doing breath-holding techniques in the Maldives. In 2011, a scuba diver named Scott Brislin died of a suspected shallow-water blackout near his home in San Clemente, California.
"You don't feel like you need to take a breath—instead, you have a feeling of euphoria before it happens," Jackson says.
The Metzger lawsuit states that Madelyn Metzger was unaware that doing Wim Hof breathing methods in water could have led to danger. Enahm Hof said the suit is simply an attempt to blame his father and the company, unfairly, for a terrible tragedy. "It hurts me that Mr. Metzger is using the passing of his daughter to sue his ex-wife and us," he said.
Enahm said he was notified of the lawsuit just three weeks ago. Wim Hof and Innterfire have since filed two motions to have the suit dismissed, and both documents cite jurisdictional reasons for terminating it. One motion says that Hof has no business interests in California and has never marketed or sold products to residents in the state. "Since 2015 I have had approximately four trips to California, for very limited periods, for interviews and speaking engagements," Hof said in a statement included with one of the motions.
Tammy Metzger filed her own legal challenges to the lawsuit, including a cross complaint against her ex-husband. In the document, she says the lawsuit is "another example of the divorce playbook tactics that tortured me and our daughter."
In one of Wim Hof's other legal motions, the Metzger family tragedy is compared to one suffered by the health guru. "Raphael Metzger's complaint tells a tragic story of a young life cut short," it reads. "The complaint alleges that his teenage daughter, Madelyn Rose Metzger, died in a terrible drowning accident in his home pool—something no parent should have to endure. Defendant Wim Hof, who lost his young wife to suicide in 1995, can empathize with the plaintiff and the grief he has had to endure."
Lead Photo: Kin Cheung/AP
Trending on Outside Online