Fire Away
Hunting wolves will soon be legal—exactly what the species needs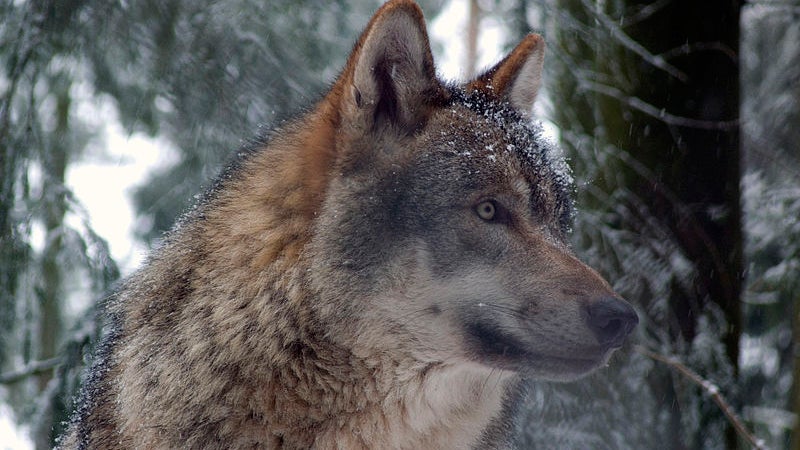 Heading out the door? Read this article on the new Outside+ app available now on iOS devices for members! Download the app.
IN MARCH, ABOUT 1,545 WOLVES in Idaho, Montana, and Wyoming are to be taken off the endangered species list. That means they're going to be hunted. Awful, right? Well, no. A little lead therapy might actually be a good thing.
Gray wolves have made a strong comeback. Their population in Idaho has soared to 800 since 1995, when Wolf B7, a year-old male trapped in Canada, and 14 others were released near the Salmon River. Fourteen more let loose at about the same time in Yellowstone National Park have become 440. And wolves that have moved in from Canada to Montana now number about 390.
For wolf advocates, these figures have been cause for celebration, but now comes the painful realization that recovery means delisting, which means state-controlled management. And state officials have no interest in large wolf populations. Quite the opposite. Wyoming's legislature made wolves shoot-on-sight varmints but was overruled by the U.S. Fish and Wildlife Service, which oversees the reintroduction. In January, Idaho's blowhard governor, C.L. "Butch" Otter, vowed to personally help cull wolf numbers down to 100—the federally mandated state minimum—saying he was "prepared to bid for that first ticket to shoot a wolf."
Not surprisingly, this kind of rhetoric has conservation groups howling. "The government is trying to reverse one of the most successful wildlife-recovery programs in U.S. history," charges Louisa Willcox, a wolf specialist with the Natural Resources Defense Council, which recently sent a letter to members claiming that states are going to "drive . . . wolves back to the brink of extinction." Suzanne Stone, a Boise-based wolf specialist with Defenders of Wildlife, adds that "right now, the wolf population growth is healthy. But if they're knocked back to 300 or less, it won't be sustainable."
Now for the truth. Yes, the moment western states are given authority over their wolf populations, they will allow hunting and trapping. They'll also continue to permit ranchers to shoot wolves that are "harassing" cattle. But, no, this won't result in wholesale wolf slaughter. And it just might be a positive—if unpleasant—step in building a pragmatic relationship with these predators.
The reality is that even if the states want to reduce their wolf populations to 100, rifles and trapping alone won't get them there. Wolves breed too fast: Up to 30 percent of the population could be killed every year without lowering their numbers. Some 670 "problem" wolves have already been killed since B7 made his U.S. debut. Wolves were extirpated in the Rockies only with an aggressive combination of poisoning, pup clubbing, and bounties—none of which would be tolerated today. More important, state game officials know the feds might step back in if they push things too far. "The states are going to be watching wolf numbers carefully," says Dan Pletscher, director of wildlife biology at the University of Montana. "The last thing they want is to see wolves listed again."
Ranchers are a different story. Many of them wouldn't hesitate to shoot the final wolf on earth. That may be hard to understand if you live in a city, where wolves tend to be romanticized. But the thing is, wolves do kill cattle. And even though ranchers are paid for proven wolf kills, that doesn't account for the added stress suffered by the rest of their herds. "Cattle run and scatter, and that takes pounds off them," says Josh Tewalt, of the nonprofit Idaho Cattle Association.
By all means, let the ranchers protect their cattle. We didn't reintroduce wolves so they could eat beef. The packs that wander out of the wilderness will pay the price—just like dumpster-diving bears and cougars that have a taste for poodles.
The hunting of wilderness-dwelling gray wolves is probably the hardest concept for conservationists to stomach. And yet it's the component of the states' plans with the greatest potential to benefit the species in the long run. If the wolf can obtain the status of prized big-game trophy—and many think it can—it will have the most powerful ally of any animal in America: the hunter. As we've seen with elk and migratory waterfowl, having the support of high-caliber advocacy groups like Ducks Unlimited and the Rocky Mountain Elk Foundation is the most effective way, by far, to get adequate protection from government game managers.
Fifty years ago, there were probably only a few lone wolves in the Rockies. Now they're restoring balance to wilderness ecosystems. But it's time for people to start talking about wolves in honest terms. As Carolyn Sime, wolf-program coordinator for Montana Fish, Wildlife & Parks, says, "they're not angels, they're not demons—they're animals. You don't have to love or hate wolves to agree they need to be managed like elk or bear or mountain lions."