Hero Complex
A brash new company is revolutionizing crisis response by sending ex-military to rescue adventurers. So why all the enemies?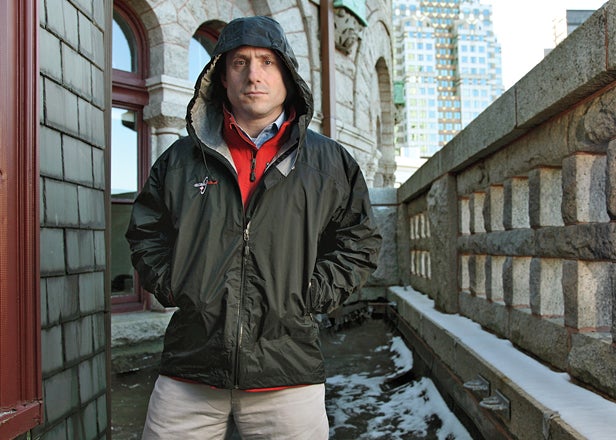 Heading out the door? Read this article on the new Outside+ app available now on iOS devices for members! Download the app.
"WHAT'S THE LATEST on the lion bite in Zimbabwe?"
Global Rescue CEO Dan Richards

"At the end of the day, we represent the red button these people push," says Richards.
Ted Muhlner's commanding voice fills the room, a spacious seventh-floor office in Boston's financial district decorated with ten flatscreen TVs and little else. The place looks like a stockbroker's warren, but it's not. The 37-year-old Muhlner, a former Navy SEAL with an M.B.A. from Harvard, is senior director of operations for Global Rescue, a seven-year-old company that assists adventure travelers and corporate employees who find themselves in dicey situations far from home. At the moment, surrounded by four paramedics and two ex–military personnel, Muhlner is conducting a 20-minute briefing on the day's workload, a checklist of ongoing operations around the world.
One involves a young, wealthy Mexican hunter who had his arm shredded by a lionness in Zimbabwe. The client is still in the bush, about three hours from the capital, Harare, and he's at risk of developing a serious infection. Because he pays an annual membership fee to Global Rescue, it's the company's job to get him to a hospital ASAP.
"We've sent e-mails and made calls," says Matt Arcovio, a 36-year-old Global Rescue medic. "Nothing."
Muhlner tells the medic to contact an air- ambulance service he trusts, which will rush the patient to the Avenues Clinic in Harare, a reputable facility where his wounds will be cleaned and stitched.
Next: an American trekker at 14,000 feet in Tuli Kharka, Nepal, near Mount Everest, is coughing up green crud and experiencing shortness of breath, possible signs of pulmonary edema. Knowing an evacuation is likely, Muhlner reminds the same medic that they have a contract with a local helicopter company.
Listening quietly off to the side, security manager Dan Bayer, another former SEAL who's known around here as the Pit Bull, chomps on a piece of raw broccoli. In an office a few feet away, the company's founder, Dan Richards, a 37-year-old former Wall Street banker, hammers away at his keyboard. It's business as usual.
Chief paramedic Derek Rappaport, 40, a former firefighter with softball-size biceps, turns and addresses me in a thick Boston accent. "We do a lot of bites," he says. "Dog, lion, cobra, monkey."
"Two monkeys," Muhlner reminds him.
Rappaport laughs. "Same girl."
GLOBAL RESCUE fashions itself as a new kind of crisis-response firm: a high-end security blanket with medevac capabilities. While the company occasionally pulls clients out of disaster areas, war zones, and scenes of political turmoil—earlier this year, the team evacuated more than 200 people from Egypt—it works primarily as a medical fixer, quickly arranging for injured travelers to get the care they need. Because of its ability to send medics to, say, the Hima­layas, Global Rescue has become the service of choice for many adventurers. Its diverse client list includes travel outfitter Geographic Expeditions, the U.S. Ski Team, surfers Jordy Smith and Mick Fanning, and mountaineer Ed Viesturs.
"If you're out there in the boonies and you need to get rescued, you never know what it's going to cost," says Viesturs. "I don't know of any other company that does what they do."
The American Alpine Club (AAC) provides Global Rescue medevac coverage to all of its 8,000 members. That came in handy last March for alpinist Steve House when he fell 80 feet off the north face of Mount Temple, in Banff National Park, fracturing his pelvis, spine, and several ribs. After a team from Parks Canada extracted House, Global Rescue sent a paramedic to stay with him at a Calgary hospital, then flew him home to Oregon in a private jet. Global Rescue also recovers bodies—most recently, the remains of American climber Joe Puryear, who died last October on Tibet's 24,170-foot Labuche Kang.
A basic Global Rescue membership with medevac costs $329 per year. Individual security coverage, which includes evacuations from war zones, runs $655. But the company makes most of its money from private firms and government agencies that pay annual retainers, then fork over hefty one-time fees to rescue employees when disaster strikes. Red Bull, the U.S. State Department, and NASA are among the clients. Though it might seem surprising that the State Department would hire a private company to safeguard its employees, doing so may prevent a broken bone from becoming a diplomatic incident.
"We don't fit any of the categories that people apply to us," says Richards, a muscular 215-pound graduate of Middlebury College and Dartmouth's Tuck Business School. "We're certainly not in the insurance business. We're not a security firm—we don't guard static locations. We are in the rescue business. We respond to crises. At the end of the day, we represent the red button these people push."
UNTIL RECENTLY, travelers had few red-button options. Travel insurance has been around in some form since the 1860s, but most plans cover only the basics: lost luggage or the cost of your trip if you get injured before leaving.
In 1985, a French doctor and businessman co-founded the first travel-assistance company, AEA International, specializing in risk mitigation and pre-trip advice for European and Australian corporations operating in Asia. The firm, which is based in London, Philadelphia, and Singapore, changed its name to International S.O.S. in 1998. As global tourism boomed, ISOS expanded into a force that grossed $850 million and handled 1.2 million cases in 2009. (By contrast, Global Rescue handled about 300 cases that year. The company, which is private, declined to reveal revenue.) Travel assistance and crisis response are now a global industry worth billions, and there are no fewer than eight American companies offering those services.
Global Rescue entered the fray in 2004, positioning itself as agile and able to quickly go where other companies wouldn't. (Its motto is "Anytime, anywhere.") Back then, Richards was a 31-year-old hotshot at the Wall Street private-equity firm Thomas Weisel Capital Partners. Starting in 2003, he spent nine months researching the travel-assistance industry as a possible investment. He met with all the major players—ISOS, On Call International, MedjetAssist, Medex—and gained intimate access to the mechanics of their businesses.
Instead of investing, Richards saw an opening: the companies, he decided, were big and impersonal and often operated like insurance carriers, making clients plead the severity of a case before responding. So in fall 2004, he left his job and launched Global Rescue with the help of his father, Stu, a wealthy entrepreneur who now serves as senior vice president.
Richards hired rescue-industry pros, including former SEALs and Air Force paramedics, and established relationships with private jet companies all over the world. (Global Rescue doesn't own any aircraft but says it has access to 3,000 planes.) Richards also negotiated an exclusive partnership with Johns Hopkins Department of Emergency Medicine, which handles traumatic injuries and provides medical care for the Secret Service.
Jim Scheulen, chief administrative officer for the Department of Emergency Medicine at Johns Hopkins, says he agreed to the relationship in part because he was impressed by Global Rescue's nimble operating style. "I thought each call was going to matter more to them because they were smaller," he told me. "And a lot of their competitors will only take you to a hospital in whatever country you're in instead of home to the U.S."
The next step was to build a network of hundreds of contractors in foreign countries: former Special Forces operatives in Lebanon, bush pilots throughout Africa, maritime captains in Greece. Such fixers are what make the crisis-response industry tick, arranging everything from reliable taxis to armed extraction. But while other firms rely exclusively on foreign contractors, Global Rescue usually deploys its own staff to lead difficult operations. Last year after the Haiti earthquake, chief paramedic Rappaport and security chief Bayer—the Pit Bull—led a team that evacuated 50 clients. Richards, who's known for his attachment to fitness and military-style preparedness, takes pride in his staff's ability to get out there, which he believes sets Global Rescue apart from the competition. "We never see anyone else's personnel out in the field," he says.
But some competitors dispute the value of sending a staffer from Boston to oversee a rescue. "Deployment of assets to an injured or ill member will delay the process of getting someone back home," John Gobbels, vice president of Birmingham, Alabama–based MedjetAssist, said in an e-mail. "If I'm ill or injured halfway around the globe, the last thing I want or need is someone 'deploying' to come and assist me."
But the personal touch, as well as the relationship with Johns Hopkins, appeals to many clients. Last year, Jim Sano, president of the travel outfitter Geographic Expeditions, spent months investigating eight evacuation firms before making a decision. "Global Rescue," he says, "is a deeper crisis-response system than we've ever seen."
BECAUSE IT PLACES such importance on having personnel who can handle themselves in the field, Global Rescue puts its employees through rigorous physical challenges. During my visit to Boston, I participated in the company's timed fitness test. Eighteen staff members, including Richards's wife, Melissa—who also serves as the company's general counsel—broke into groups of three and carried 80-pound sacks of wood pellets up and down seven flights of stairs. Then they ran two miles at a race pace and hammered out squat presses in a makeshift office gym that included a swinging pull-up bar, kettle bells, and bunk beds where staffers sleep during overnight shifts. Two days later, I spent the afternoon shooting pistols and automatic weapons at a New Hampshire firing range with a group of employees. It was an odd scene, like a cross between Parks & Recreation and Red.
The macho office culture caused a smirk or two among some of Global Rescue's ex-staffers, who would only speak anonymously about their old boss, citing fear of litigation. "Richards loves to hang around with alpha males who have been there and done that," says a former employee who once served in the U.S. military. "He likes to think he can do it, too. But he cannot.
"I don't recommend Global Rescue to people I associate with because of Dan's tendency to elevate, one, himself, and two, the firm's capabilities above where they actually are," he continues. "He boasted of having a hostage-recovery capability, but it was never viable."
Another former employee mentioned Richards's "strange obsession with belittling the competition. Slandering them almost."
Richards is not swayed by such criticism, maintaining that Global Rescue does "get involved in kidnap, ransom, and detention." And he doesn't claim to be a friendly boss: over the past few years, he's fired at least six people who, he says, "lacked integrity." As for the competition, he's not shy about enumerating their deficiencies. During my visit, Richards described other firms as essentially conducting a prolonged game of telephone tag.
"What they have is a call center," he said, "and then they rely entirely on being able to make a follow-up outbound phone call to someone they might know wherever you happen to be having a problem. It's a wing and a prayer." In another conversation, Richards told me that "in this industry, businesses are incentivized to wait."
That's a bold statement, implying that a crisis-response firm might try to save money by not rescuing a client, instead waiting for a situation to resolve itself. To back up his claim, Richards cites a 1996 incident in which an ISOS client working in Saudi Arabia developed a heart condition and asked whether or not he should be evacuated to the U.S. ISOS asserted that the local care was adequate, but the man died following surgery. His family sued ISOS and settled for an undisclosed sum. Global Rescue now uses the case in its marketing material. "This is public information," says Richards. "We can talk about whatever we want." ISOS declined to comment on Global Rescue for this story.
Richards also points to a 2006 case in which, he claims, a MedjetAssist member fell down a ravine in Peru's Colca Canyon. According to Richards, MedjetAssist wouldn't evacuate the client from the canyon, and the man called Global Rescue, which arranged an airlift. In response, MedjetAssist's Gobbels had this to say in an e-mail: "Mr. Richards and his organization have gained a reputation for spewing rubbish, and this is just another example of that. Allegations like this are slanderous and unconscionable. We treat our members as we would our own family and never discuss their cases publicly."
Richards may be brash, but he has an obvious talent for organizing. In late January, when protestors in Egypt took to the streets and the army sent tanks into Alexandria and Cairo, the airports clogged with Americans and Europeans trying to flee. On January 30, Richards got a call from Michael Geisler, the vice president of languages at Middlebury College, Richards's alma mater. Geisler oversees an Arabic-language-exchange program in Alexandria and needed to evacuate 22 students and two staff members.
Middlebury had a contract with a competing security firm, but the company had been unable to secure an aircraft, leaving the students stranded in the Alexandria airport for more than 24 hours. Global Rescue already had two security officers from Boston en route to Egypt to coordinate another evacuation; the officers showed up in Alexandria within hours of Geisler signing a Global Rescue contract. Soon after, the students flew out on a private jet. "It wasn't cheap," Geisler says, "but it was worth it."
DURING THE THREE DAYS I spent at Global Rescue's offices, I saw the company handle six serious cases. The most intense began with a phone call at noon on the second day. Al Read, a cofounder of Geographic Expeditions and the former president of Exum Mountain Guides, of Jackson, Wyoming, was in Bosnia and Herzegovina scouting the country's adventure-travel potential for a USAID subsidiary called Fostering Interventions for Rapid Market Accelerations, or FIRMA. One morning, Read woke up in his Sarajevo hotel room with a piercing head­ache and e-mailed his colleagues to say he would be late to the FIRMA office.
Seven hours later, a colleague found Read unconscious in his room. A CAT scan revealed that his brain was bleeding and swollen—he'd suffered several subdural hematomas, the result of a fall in the shower ten days earlier. Someone at FIRMA called Read's wife, who alerted Sano, the Geographic Expeditions president. Sano called Global Rescue.
The company's two main orders of business were to assemble enough brain-injury experts to read the scans and decide whether it was safe for Read to fly home and, in the event that it wasn't, to vet hospitals and neuro­surgeons in Sarajevo.
Muhlner called a Johns Hopkins neurosurgeon and Eric Johnson, a Driggs, Idaho–based Global Rescue adviser and past president of the Wilderness Medical Society. Meanwhile, Richards tapped away at his computer, with Muhlner updating him every hour or two.
A records check showed that Global Rescue had already categorized the Sarajevo hospital as a trusted facility with a highly respected neurosurgeon, Nermina Iblizovic. At 6 P.M. in Boston—midnight in Sarajevo—Dr. Iblizovic called to say that Read's condition was worsening. "He's going to die in five hours unless we operate," she told A.J. Kahn, a Global Rescue paramedic.
Global Rescue's doctors advised Read's wife to OK the surgery. Muhlner then sent another Global Rescue paramedic on an overnight flight to Sarajevo to attend to Read.
Back in Boston, two other medics spent most of the night on the phone with the doctors in Bosnia, relaying information to Read's family. The surgery was successful—Dr. Iblizovic drilled three tiny holes in Read's skull to release the blood—but when I arrived the next morning, I didn't know if Read would be alive or dead. I glanced over at Kahn. He flashed a wide grin.
"He's eating chocolate pudding," he said.