Sponsor Content: Travel South Dakota
5 Rare and Exciting Species of Wildlife You Can Find in South Dakota's Badlands
Get the beta on the best places to spot bison, pronghorn antelope, bighorn sheep, and more amid one of America's wildest landscapes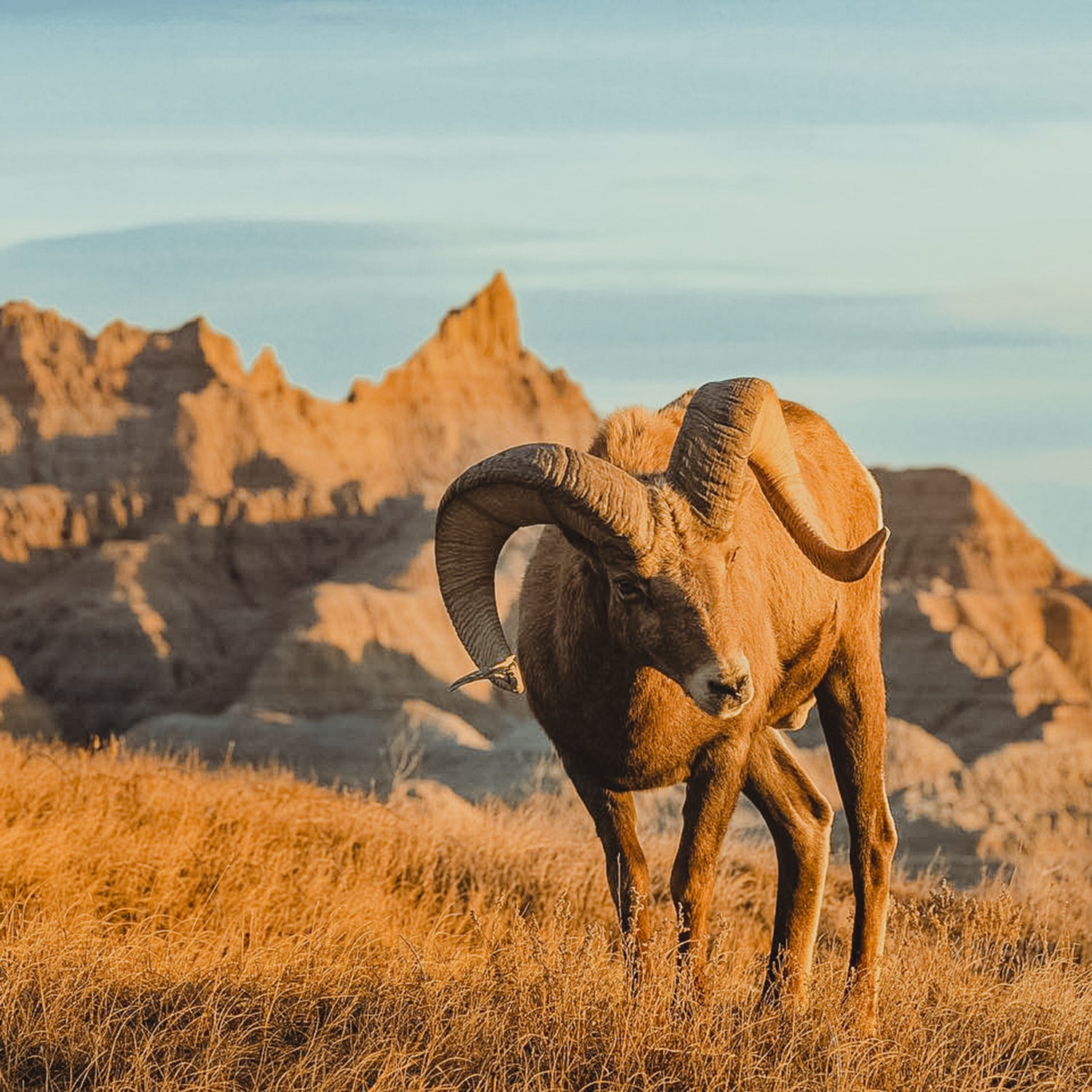 Travel South Dakota
Want to see animals in their element? Your best bet is to visit unfractured wilderness with minimal human interruption. Bonus points for complex ecosystems, which support tons of different species, and wide-open landscapes, which are better for long-range viewing. Badlands National Park ticks all of these boxes, which is why it's one of the best places in the United States to see rare and endangered wildlife.

Located in southwestern South Dakota, Badlands National Park encompasses more than 244,000 acres of preserved wilderness. "It's got a rich mix of habitats and landscapes," explains Mike Pflaum, who lived and worked in Badlands for seven years before he retired as park superintendent in 2022. "It's east meets west, and prairie and plains meet mountains." And the animals that roam this unique intersection of landscapes are as otherworldly as the park's striking geologic features. At dawn and dusk, elk and deer tiptoe into the open, and endangered black-footed ferrets peek from their burrows to hunt. Bighorn sheep pick their way down to watering holes in the morning, and bison close out the day with the thundering of hooves. Here are the uniquely American species that live in the park, plus tips for maximizing your chances of spotting them.   
Bison
The Great Plains were once home to an estimated 60 million bison, but the species was nearly extinct by 1889, when South Dakota became a state. Today, Badlands National Park is home to more than 1,200 bison—mostly descendents of a herd reintroduced to the badlands in the 1860s. "The best place to see bison is from the very scenic Sage Creek Rim Road, in the western portion of the North Unit of the park," says Pflaum. He adds that bison are active year-round, but April, when calves are born, is the best time for photo ops of female bison and their young. "The calves are orange-red in color, and they're just dancing and prancing around," he says. If you have more time in South Dakota, Pflaum recommends stopping in nearby Custer State Park, home to one of the largest publicly owned bison herds. Target the Prairie Trail for some of the best viewing.
Bighorn Sheep
Badlands National Park has historically supported one of the most robust populations of bighorn sheep in the United States, as well as some of the largest rams in North America. While the population usually hovers around 250, the sheep tend to move around the park in smaller herds rather than as one large group. Because bighorn sheep have no natural predators here, they're bold and easy to spot. Pflaum suggests visiting during May, when ewes give birth to their young. "At the Pinnacles Overlook, you can watch the lambs run around in their little nursery groups," he says. For the best chance at seeing rams clash horns, Pflaum recommends planning to arrive during the rut, which usually peaks in November.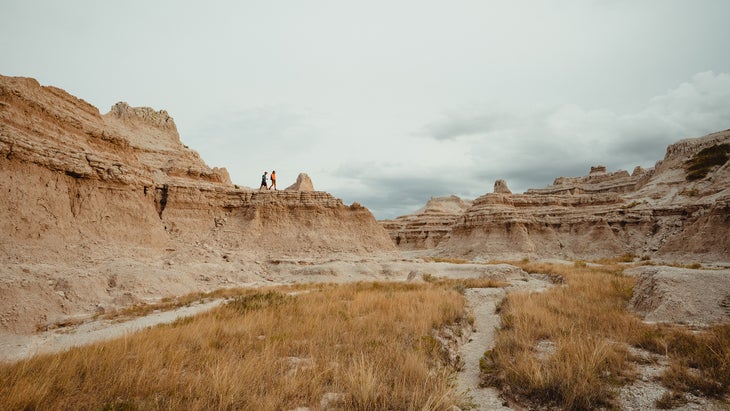 Pronghorn Antelope
Roaming the grasslands of Badlands National Park, pronghorn antelope are distinguishable by their white and russet markings. These animals are active in daytime and congregate north of the Badlands Loop Road or nearby Buffalo Gap National Grassland, which Pflaum says is also home to bison and black-footed ferrets. If a herd of antelope gets spooked while you're observing them, take care not to blink: pronghorns can sustain speeds of 55 mph while running, making them the world's fastest land mammal over long distances. 
Black-Footed Ferrets
Black-footed ferrets are one of Badlands' most elusive creatures, which makes them among the most rewarding species to spot in the park. "They're fascinating animals and one of the most endangered mammals in North America," Pflaum adds. In 1980, the black-footed ferret was considered extinct. That was until a small colony was discovered in Wyoming later that decade. The species was then reintroduced to the park; today, the population currently sits at around 120 ferrets. Though they're occasionally visible at dusk and dawn, they spend most of their time underground in abandoned prairie dog tunnels, Pflaum says, which means you'll need a sharp eye to spot them. Most of the park's ferrets live in the Conata Basin area.
Prairie Dogs
Black-tailed prairie dogs live throughout Badlands National Park, but some viewpoints provide a better vantage than others. Pflaum recommends heading to Roberts Prairie Dog Town, about a ten-minute drive from the park's Wall entrance. Or take your binoculars to the Burns Basin Overlook. Both areas are home to prairie dog colonies—a network of tunnels that act as an underground prairie dog city. "Roberts is the largest prairie dog town in the park," Pflaum says. "It's also home to burrowing owls, which are these really attractive little birds that live in the prairie dog burrows during the summer." For the best chance of seeing prairie dogs in action, head out around dawn. The animals are most active in the hour after sunrise, when they emerge from their burrows to bask in the sun and forage for breakfast. Want to up the cuteness factor? Schedule your trip in mid-June during pup season, as young prairie dog pups come aboveground at just six weeks old.
---
Travel South Dakota enhances the quality of life for South Dakotans and visitors by strengthening the communities, encouraging responsible stewardship, and creating meaningful experiences for all to enjoy. Together, we're here to serve the people of South Dakota and all who come to explore.
Lead Photo: Travel South Dakota