The Eiger, Unroped
Dean Potter talks to Outside's Ryan Krogh about freeBASEing the Eiger.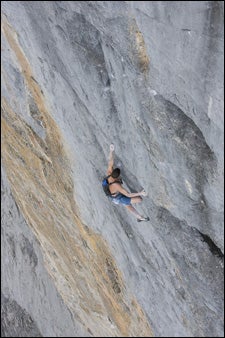 Heading out the door? Read this article on the new Outside+ app available now on iOS devices for members! Download the app.
Back in October 2007, we predicted one of the next milestones of adventure would be a freeBASE, a climb sans ropes with only a BASE parachute as protection against a fall. This August Dean Potter delivered, freeBASEing a 5.12+ route on the north face of Switzerland's Eiger. We caught up with Potter to talk about his accomplishment.
Dean Potter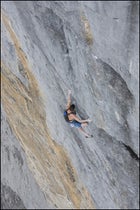 Dean Potter climbs the Eiger
Read the interview and then watch footage of Potter's climb, courtesy of Sender Films.
So, honestly, how scared were you?
I had a lot of anxiety and fear beforehand. And during the climb, big waves of fear just kind of rushed into me as I saw the exposure and saw the consequence of falling. But I get over that by focusing completely on my breath. My whole body was buzzing with energy. It was a sensation I had never felt before.
How do you practice for something like this?
I practiced different dismounts and stuff, but it's hard to really prepare for a fall that you don't know is going to happen. I never really had any of my friends push me off a bridge or something like that. I did practice falling on my back, falling sideways. I felt quite confident that if I did fall, I would right myself.
But you're still falling only a few feet from a rock wall.
If I fell, I would be falling really close to the wall and I'd have to have immaculate control not to strike it. But that is much better than not having anything, because there is still an option of something after the fall. Whereas with free-solo, it's over if you disconnect with the rock.
Why this particular route?
The name, Deep Blue Sea, was what really attracted me to it initially because I could imagine the sky just being a big deep ocean to fall into. And then when I got there and just looked at the route, it was perfect. It was quite steep and we figured out a way where I could traverse in at a safe level for falling. So for the first freeBASE of my life and the first FreeBASE ever, it seemed like a great one because even though it wasn't completely safe, it was a lot safer than some of the other options.
Did having the BASE rig give you any extra confidence while climbing?
The parachute allowed me to be much more loose, and my whole climbing style became much more dynamic and fluid. When I free-solo, I am very locked in my movements and I am very static in my moves, grabbing each hold and making one-hundred percent sure I am not slipping. With this freeBASE, I climbed more like when I am bouldering, I just had flowing movement.
Were you ever expecting to fall?
I had actually decided that I was going to climb in tracking pants, which kind of inflate with air and would have allowed me to propel myself away from the wall if I fell. But then at the last moment I realized they were inhibiting my movement so I decided not to wear them. That was a big thing for me because in my head it changed from this thing where I was more expecting to fall to more of a free-solo with a back-up.
Did you celebrate the climb with a BASE jump?
No, on the hardest part of the climb it actually started to rain. I started feeling drops of rain and I needed to move quickly because I knew a big storm was coming. As I did the crux moves, it was raining, so when I reached some easier ground, I just kind of ran for my tent.
What's next?
I have my eye on some bigger faces, and I've been training a lot. As rock climbing becomes more difficult, it becomes more exposed and smooth, and those are all the things that are dangerous when you fall. But with this, if the rock is smooth and overhanging and you fall, you're more immediately away from it. So it's kind of a switch in my mind where now the most dangerous places and the most difficult faces are seeming as if they are the safest places.
So it's fair to say that we'll be seeing more from you?
I've never been more inspired than I am right now, and I've been pretty inspired.
Trending on Outside Online