Before His Murder, Ron Sanchez Sought Solace on the AT
The 17-year Army vet was stabbed to death when he and another hiker were attacked on a section of the Appalachian Trial last weekend. The trail had been his path to recovery from PTSD.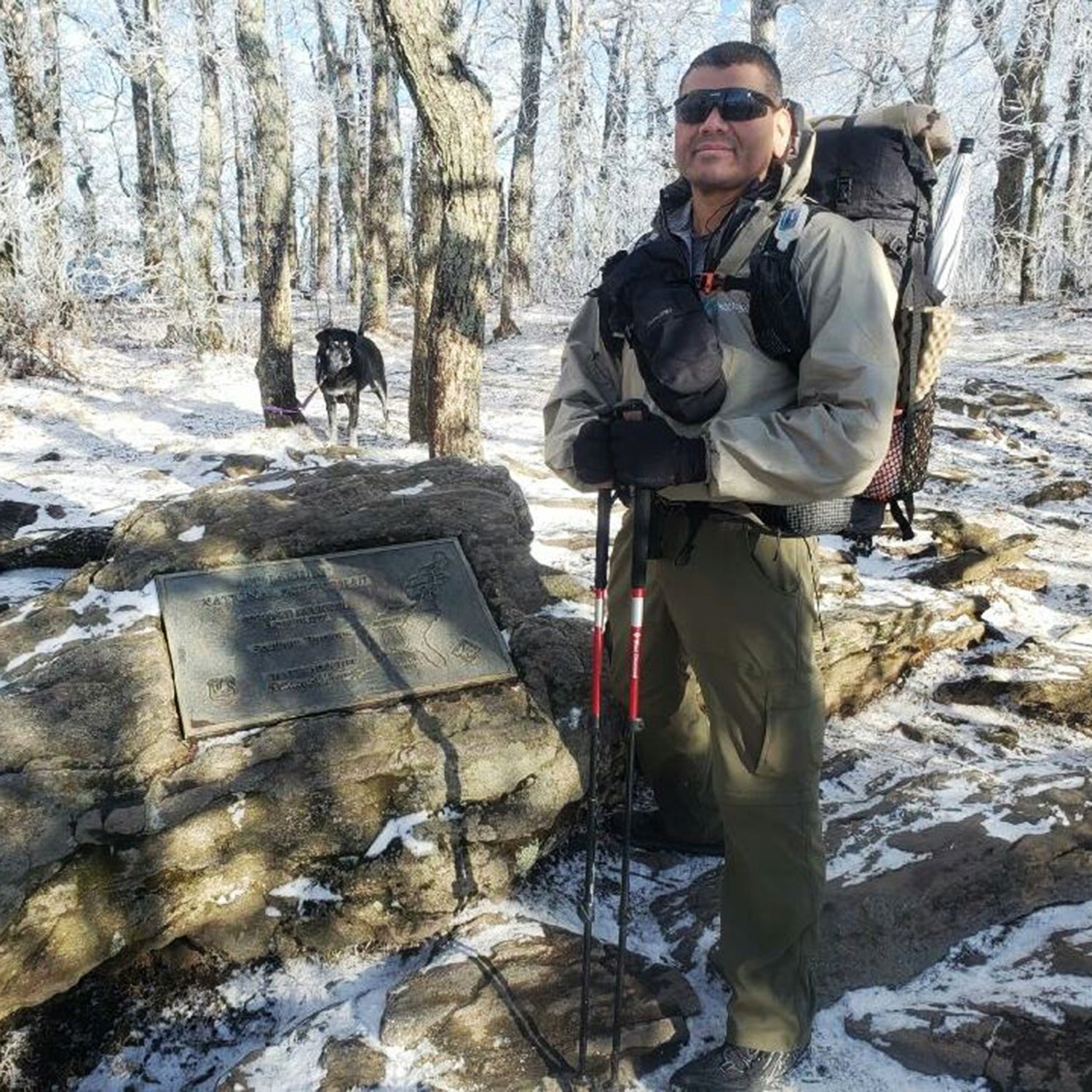 Brenda Kelly(Photo)
Heading out the door? Read this article on the new Outside+ app available now on iOS devices for members! Download the app.
When Ron Sanchez returned from his third tour in Iraq, he was in a self-described "dark place." Growing up in Garden Grove, California, the 35-year-old combat engineer viewed the Army as a way to a better life. But while in Iraq, Sanchez suffered debilitating injuries to his knees and back. He witnessed casualties in his unit, including some of his close friends. Sanchez told the Oklahoman, for an October 2018 story about a VA recreational-therapy program, that he was discharged with PTSD and major depression in 2011, after 17 years in the military.
Reacclimating to life in Oklahoma City proved harder than he could imagine. Sanchez worried about interacting with other people. Unexpected noises frightened him. He began holing up in his apartment for days at a stretch. The only time he'd go out was for groceries, and he'd do so just late at night, when there was less risk of having to interact with anyone. 
"Before the VA, my health was just going downhill," Sanchez said in 2018.  
Weeks became months. Months became a year. Sanchez remained in his apartment. He put on weight and sank deeper into a depression. He knew he was getting worse. But some part of him wanted to get better.
Eventually, Sanchez made his way to the Oklahoma Department of Veterans Affairs, where therapists helped him put a name to what was happening inside his brain. They gave him coping techniques that made it easier to leave the house. And with their encouragement, Sanchez began walking. At first, it was just a few blocks. Then a mile. Then two. Soon enough, Sanchez was logging upward of 20 miles a day around Oklahoma City. 
He began to feel better. He overhauled his diet. At the encouragement of his therapist, he found a local hiking group through the online social-networking site Meetup. Being outside had always resonated deeply with Sanchez—as a boy, he'd loved fishing and off-roading—but group hiking opened up a new world for him.
"He was always positive and always the sweetest person to talk to—especially on a grueling hike."
Sanchez became an enthusiastic regular, leading trips and geeking out over gear with other members on their online forum. He'd alert them when he found good deals in local discount shops. If it seemed like a campground might fill up, he'd offer to head there a couple days early and claim a space. "He was one of the most wonderful, caring, helpful people out there," says Megan Crocker, the group's coordinator. "He was always positive and always the sweetest person to talk to—especially on a grueling hike. Ron was the one who always cheered the rest of us on."
In late October 2017, the group planned a long weekend of hiking and camping at Buffalo National River, in Arkansas. Brenda Kelley, another group member, got lost driving there and arrived late. By then, most everyone had turned in for the night. But Crocker and Sanchez invited her to hang out with them at the campfire. As they sat, Kelley began worrying aloud that her sleeping bag wouldn't be warm enough for the chilly night. Without saying a word, Sanchez ducked into his tent and returned with a stack of hand warmers. "They did the trick," Kelley says. "I was completely toasty. And I was also immediately attracted to Ron."
The two went on their first date a couple of weeks later—a Veterans Day hike in Oklahoma's Wichita Mountains. They began seeing each other regularly. "He was the best boyfriend," she says. "He was thoughtful and giving and patient. I couldn't believe how lucky I was that he was mine."
As their relationship continued to develop, Sanchez became increasingly interested in the idea of thru-hiking the Appalachian Trail. Kelley had made her own attempt in 2002, and she encouraged him. 
Sanchez began watching every YouTube video on long-distance hiking he could find. He bought a food dehydrator and started drying his own fruits and vegetables. And then he found his way to Sandy Bond at the Oklahoma VA, who helped him set short-term goals that would allow him to succeed on the trail. At her recommendation, he joined a veteran's cycling group that Bond had formed and began crewing on an all-vet dragon-boat-racing team. At regattas, he'd show up with coolers of fruit and bottled water for his teammates. He became involved in an adaptive equestrian program and began assisting other veterans there. 
And he kept hiking.
"Ron was very clear that completing the Appalachian Trail would be a culminating point for him."
As plans for his thru-hike came together, Sanchez shared his vision with his care providers at the VA. He agreed to participate in a neurological study tracing how long-distance hiking helped with recovery from PTSD. He looked forward to who he might be when he was finished—and who he might be able to help along the way. He told his cycling buddies he was going on a journey to find himself again.
"Ron was very clear that completing the Appalachian Trail would be a culminating point for him," says Bond. "Like so many veterans, he saw the trail as a safe place to process his emotions and find the self-efficacy to meet internal challenges."
Sanchez knew he wanted to take his time on the trail. He wanted solitude and space to think. And so, just after the New Year, Sanchez and Kelley packed up her aging dog and traveled the nearly 900 miles to Springer Mountain, Georgia, the southern terminus of the Appalachian Trail. On January 19, they spent a freezing night at Amicalola Falls State Park and then hiked the approach trail leading up the snow-covered mountain. Kelley spent another night with him alone at the Springer Mountain shelter before returning to Oklahoma.
Meanwhile, Sanchez pressed up the trail. The weather was miserable for his first couple of weeks, and he'd text Kelley and Bond photos of ice-covered trees or gales so fierce he could lean into the wind with his full body weight. He told them it was hard going—that conditions were harsher than he imagined. "But that harshness was part of what he went out to seek," says Kelley. "He was thankful that he got to experience that."
A couple weeks into his hike, Sanchez settled on his trail name: Engineer. He thought it was a good moniker to represent him; it was unassuming, basic, and most of all, true. 
But that's not how it works on the Appalachian Trail, where fellow hikers dub one another with symbolic names based on traits and habits they observe. Leave your gear all over the place, and you'll get the title Yardsale. Eat jerky for breakfast and you'll wind up with something like Beefstick. When Sanchez told a father-daughter hiking duo about his time in Iraq, they came up with their own name for him: Stronghold. He resisted it—he worried it made him seem like a braggart, like he thought he was a badass. But other hikers liked it. And so the name stuck.
In early March, about a hundred miles into his hike, Stronghold's knees began bothering him. He got off the trail in Franklin, North Carolina, and made his way to the Gooder Grove Adventure Hostel. There, he befriended hostel owner Colin "Zen" Gooder, a former thru-hiker himself. Sanchez said he needed a break to heal up. Gooder offered free board in exchange for some work around the hostel.
Sanchez spent two weeks there, resting his knees and trying to get back on track. He was discouraged about his injuries and wondering if he could go on. Zen told him about his own challenges. He suggested that Stronghold just needed to rest for a while and then he'd be able to continue.
So Stronghold stuck around and helped Gooder turn over rooms and do laundry. He started looking after the hostel when Zen needed to shuttle other hikers around. Along the way, they became good friends.
"He was the sweetest, most compassionate hiker I have met on the trail," says Gooder. "Rarely have I met a more genuine person. He was a good soul."
And Sanchez was clearly dialed in as a hiker. He showed Gooder how he had made some of his own gear, how he'd employed military surplus and medical supplies to get his pack superefficient and superlight. When he left the hostel, he promised Gooder he'd return when they could spend more time together.
Sanchez made it as far as Damascus, Virginia—about 466 miles—before deciding to call it quits in mid-April. He phoned Kelley and told her he needed to come home. She made the round-trip to pick him up and bring him back to Oklahoma. He told her he thought the trail might be too much for him, that he was feeling lonely and that the time inside his own head was really hard. She listened and said there was no shame in quitting.
But after five days in Oklahoma, Sanchez told her he wanted to return. "That's the thing about the Appalachian Trail," says Kelley. "It has that draw. The trail always pulls you back."
Sanchez decided that, before getting back on trail, he'd need to get grounded again. He spent time with his therapists at the VA. He went for a few hikes with the Meetup group, where he was very frank about the challenges he had been experiencing. Still, he said, he knew he wanted to finish.
Kelley drove Sanchez back to Damascus in early May. Stronghold spent a few nights at a hostel there, gearing up to get back on the trail. There he met Bob Walker, a section hiker. The two shared a bunk room alone together that first night. Walker says he was initially surprised by how candid Sanchez was about the obstacles he had overcome. "He definitely saw himself as wanting to be an example," he says. "He thought that if he was open about the trouble he had gone through, that someone else out there who had had difficulties might see that there was a way to get past it."
The two teamed up with a few other hikers back on trail. Sanchez, they say, was the kind of guy who would rush ahead to hold a door for you at a resupply store or who made sure you got the best spot to sleep in a shelter. They spent their last night together on May 9. Sanchez told the group he was done with shelters for a while—he wanted to start tenting on the trail.
The next day, a Friday, was gorgeous, sunny, with temperatures in the seventies. By then Stronghold had made his way to Jefferson National Forest. He texted Kelley, telling her about the birds he'd heard that morning—a thrush, he said, and one that seemed to sing "drink-your-tea, drink-your-tea." Later he texted again to say he'd remembered the name of that bird, a towhee. As the day went on, he spammed her with photos of wildflowers, asking her to identify each one.
"He was so happy to be back on the trail," says Kelley. "He loved how everything was so green and alive compared to the browns and grays he was used to in the first part of his hike." He told Kelley and Bond that he was feeling more confident than ever that he could finish his thru-hike.
It's still not entirely clear what happened later that night. What we do know is that James Jordan, who had been arrested in April in conjunction with a series of complaints from other hikers, began harassing Sanchez and the small group of backpackers with whom he had been hiking that day. We know Jordan threatened them that night after they had retired to their individual tents, screaming that he would "pour gasoline on their tents and burn them to death."
We also know that the group decided the safest thing to do at that point was to pack and up and move elsewhere, even though by then it was after midnight. We know Jordan approached them as they were collecting their gear, this time brandishing a large knife. Sanchez managed to push out an emergency SOS call before the attack escalated.
"Ron had already come to grips with the idea of sacrifice."
His family and friends all agree that Sanchez would have done everything he could to have calmed Jordan. And that if attempts to de-escalate the situation didn't work, he would have done everything he could to help the other hikers. "With all his military service, Ron had already come to grips with the idea of sacrifice," says Gooder. "If God needed someone to step up, it would have been Ron."
Sanchez was fatally stabbed. He died of his injuries in the early morning hours of Saturday, May 11. He was 43 years old. He leaves behind a grieving family in California, friends across the country, and a trail community that had grown to love him.
This weekend, at the annual Trail Days in Damascus, hundreds of hikers plan to honor him with a candlelit memorial and bonfire. Back in Oklahoma, Sandy Bond and the veterans in Sanchez's cycling group are already trying to figure out how they can complete Stronghold's thru-hike for him. It's the least they can do, she says.
"Ron was a hero in war. He was a hero at the VA. And he died a hero on the trail," she says.
Lead Photo: Brenda Kelly
Trending on Outside Online