Backpack to the Future
Google wants to build the world's best off-road map. And they want your help.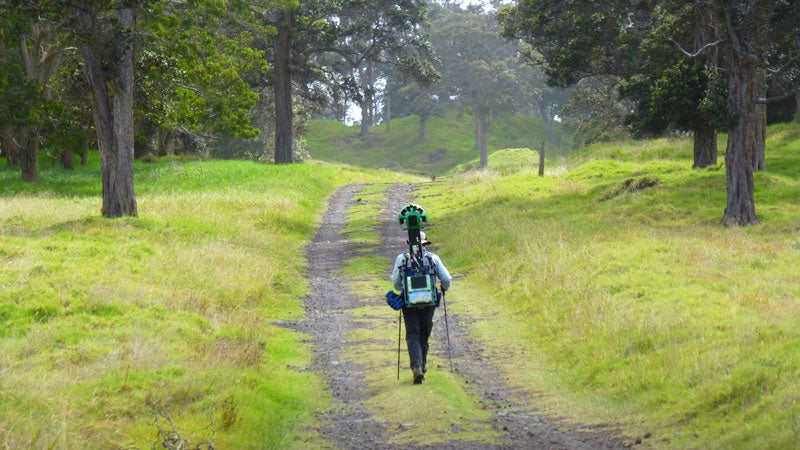 Heading out the door? Read this article on the new Outside+ app available now on iOS devices for members! Download the app.
Last summer, Google launched a unique program in which it loans out backpack versions of its car-mounted Street View cameras, called Trekkers, to intrepid explorers. It's an ingenious idea: put these devices in the hands of the people who know a trail, river, or stretch of wilderness best, and let them map it out.
Want to get involved?
Makeshift Trekkers are starting to emerge. Geologists in Alaska are using an array of GoPros on their cars and canoeists in Florida are rigging eight-foot tripods to their boats. Google has also introduced a backpack kit with a tripod mount and a fish-eye lens, which it loans to individuals as a kind of "Trekker Lite" (you can apply for one of your own at
goo.gl/SJjB8
). In October, 2012 Google released Photo Sphere—an app for shooting 360-degree panoramic images with your DSLR or Android phone or tablet.  
Google Trekker Sidebar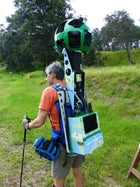 James Sturz with his Trekker pack. Several accessories and 15 lenses make the kit weigh well over 40 pounds.
Last August, the first loaner was taken to Hawaii's Big Island, where Rob Pacheco, cofounder of outfitter Hawaiian Forest and Trail, was charged with mapping the island's most important and accessible trails. Street View product manager Evan Rapoport says he chose Hawaii from "tens of thousands" of applications because of its ecological diversity, visual lushness, focus on preservation, and accessibility. "It's a place where people go, but it's also a place they dream of going," he says.
On November 25, 2013, I joined Pacheco for his final day of mapping the 116,000-acre Kahuku section of Hawaii Volcanoes National Park. We hiked past koa and ohia lehua trees, lava flows, and a 400-foot-deep pit crater. (Rangers were still talking about how a mouflon had recently tumbled into it.) The unit, which came with a 32-ounce Nalgene that dangled from one side at hip-level, was wired to a Galaxy Nexus, housed in a near-indestructible case that dangled from the other. The phone served as the pack's controller, letting users tap in their manner of travel, with options including everything from canoe, to dogsled, to horseback. It also streamed a checkerboard of images across its screen as we hiked. Then the GPS-stamped, 360-degree pictures were saved to an ejectable, 480-gigabyte SSD disk.
With all that gear, though, the Trekker gets pretty heavy. Google says the basic pack is about 40 pounds—but as soon as I put it on, I realized all the extras made the whole thing weigh considerably more. As I headed uphill, I had to work to keep a steady pace and stay upright. The soccer ball–shaped camera above my head made the device seriously top-heavy. And I definitely didn't want to be the one to drop it: Google's mum on what each Trekker costs, and I doubt I could afford to repair one.
Thankfully, I managed to get the hang of it after a few minutes. Pacheco and two rangers lagged a few hundred yards behind me as I took off down the Kahuku section's Palm Trail. I passed orchids, ferns, cinder cones, volcanic fissures, and two of the legendary mouflons (I can only hope the camera's lenses caught their image). Between my hike and Pacheco's, the Big Island project mapped 46 miles of images spanning 24 trails. Once Pacheco wrapped up here, his Trekker would be sent to local experts in Oahu, Maui, Kauai, Lanai, and Molokai—a collective effort that will one day provide the most comprehensive, and interactive, visual record of the state's terrain ever made.
But this project isn't just about pretty pictures. The Street View imagery lets hikers choose trails that match their skill levels or particular interests. Thinking about hiking in Hawaii this summer? You can view the trails ahead of time to pick the ones you find most scenic. Want to run whitewater in the Pacific Northwest? In the future, Google images could let you scout your lines ahead of time to make sure you're not in over your head.
The Street View imagery also provides baseline visual data from the ground, allowing scientists to track, for example, invasive species, climate change, or environmental degradation—then share their findings with colleagues worldwide. Take the Kahuku section we hiked. Just over a decade ago, this land had been a ranch overrun with grasses. In 2005, two years after the National Park Service took ownership, the agency began to test different methods for restoring native habitats. As those efforts continue, our imagery will serve as a detailed date- and coordinate-stamped dossier of their progress.
For Google, there's another benefit: in the tech world, those with the most data make the most money. The tech giant says that between its own contractors and the loan-program participants, there will be hundreds of Trekkers all over the globe by the end of this year. Each Trekker will add to Google's staggering stockpile of 45 billion Street View photos. "The world's always changing," Rapoport muses. "We're always going to want to show the way the world looks. There are always opportunities to show it at different times of the day—as well as in different seasons, during celebrations, or after natural disasters. We're never going to be done."
Lead Photo: James Sturz