10 Amazing Crowd-Free Trails
From day trips to five-month treks, hiking is more popular than ever. But as the old standbys become more congested each year, there's a new crop of trails waiting to be explored. Here are ten of our favorites, plus fresh finds for bikers, paddlers, and equestrians.
Heading out the door? Read this article on the new Outside+ app available now on iOS devices for members! Download the app.
Humans were born to walk. As a species, we've evolved a curved and forgiving spine, a skull set straight and upright, an efficient metabolism—all uniquely suited to propel us long distances. But it wasn't until the advent of the automobile that we began hiking long distances recreationally, says Robert Moor, author of On Trails: An Exploration. "Once the predominant form of transportation was no longer ambulatory, we realized what a precious thing walking really is," he says. "In the wilderness, hiking literally became the physical embodiment of freedom."
And it's never been more attractive. In 2013, about 34 million people walked our nation's countless trails. By 2017, that number had risen to over 42 million. Meanwhile the number of people completing through-hikes on major routes is booming: last year a record-setting 4,917 people set out to tackle the Appalachian Trail, and hikers are expected to shatter that number again this year. Last year hikers from all 50 states and more than 40 countries set out to trek the Pacific Crest Trail. And the Continental Divide Trail has witnessed a steady 25 percent increase in traffic every season for the past five years, with 300 people expected to attempt it in 2018.
It's getting crowded out there. But a sense of solitude and solace can still be found on all the trails we list here. "Hiking lets us disconnect for a bit and reconnect with ourselves," says Kathryn Van Waes, executive director of the American Hiking Society. "Then we are better able to go back and give our full selves to the causes we care about." —Kathryn Miles
---
Wild Rogue Loop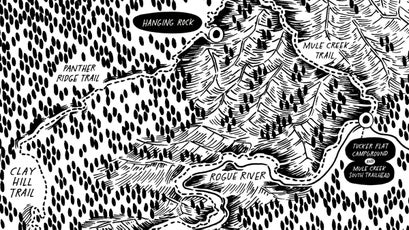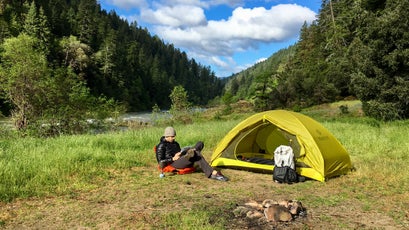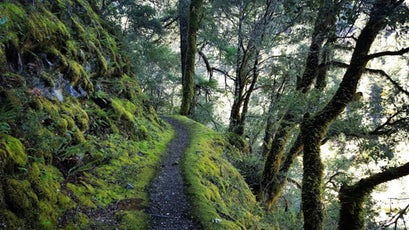 Location: Rogue River–Siskiyou National Forest, Oregon
Length: 27 miles
Duration: Three days
Permit: Not required
Intel: siskiyoumountainclub.org
This loop winds through the 35,539-acre Wild Rogue Wilderness, a rugged region steeped in Native American and 19th-century mining history. By 2015, much of the route had become nearly impassable, damaged by erosion, wildfire, and neglect. Then the Ashland-based Siskiyou Mountain Club scored around $30,000 in restoration grants from REI and the Oregon Recreational Trails Program, and the Wild Rogue Loop reopened to the public. Unlike the nearby Rogue River Trail, which parallels the federally designated Wild and Scenic waterway for 40 miles, the Wild Rogue wanders away from those banks and attracts fewer hikers. It's a steep, narrow trail, once used to resupply miners, with camping spots amid an old-growth forest, in the canyons of Mule Creek, and alongside the river. Day hikes are possible, but it's best done in full. Afterward, stop in Grants Pass, 67 miles to the southeast, for a beer and a burger at Climate City Brewing.
---
The Great Trail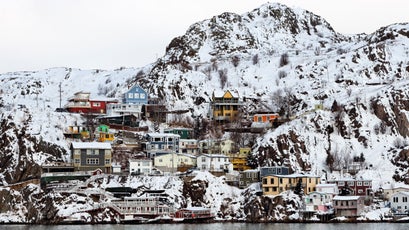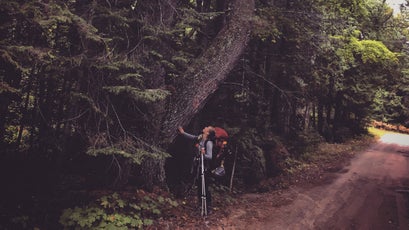 Location: Victoria, British Columbia, to St. John's, Newfoundland
Length: Over 14,900 miles
Duration: Three years
Permit: Required for some sections  
Intel: thegreattrail.ca
It should come as no surprise that the Great Trail, a web of singletrack, water routes, and rural roads that traverse all 13 of Canada's provinces and territories, became the world's longest recreational trail network when it was completed in 2017. Envisioned in the early 1990s to honor the country's 125th birthday, the project required 25 years of land negotiations and construction, plus millions of dollars. Today you can pedal converted rail trails through farms and vineyards and sleep in roadside inns in British Columbia, paddle a fur-trading route in the Northwest Territories, ride horseback among great horned owls in Manitoba, and walk gravel paths while camping outside quaint fishing villages across Nova Scotia. Entry points aren't hard to find: four out of five Canadians live within a half-hour drive of the trail. Our favorite section? The 280-mile Confederation Trail, a former railway that spans Prince Edward Island.
---
Sinai Trail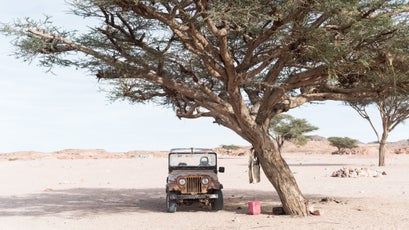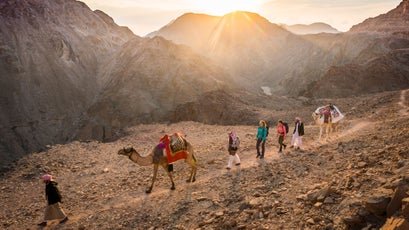 Location: The Gulf of Aqaba to the Gulf of Suez, Egypt
Length: 340 miles
Duration: Six weeks
Permit: Not required
Intel: sinaitrail.org
Egypt's first purpose-built long-distance hiking trail was completed in 2015 by three Bedouin tribes and funded by NGOs to boost tourism on the far-flung Sinai Peninsula. Initially it was a 155-mile path, but this year the trail more than doubled in length, becoming a 340-mile loop across the vast Sinai Desert that passes ancient petroglyphs, apricot and almond orchards, and a 1,500-year-old monastery. You can do some sections self-supported, such as day-hiking Mount Sinai or crossing the steep El Gardood Plateau, but through-hiking requires a trained Bedouin guide, as water and resupply points are scarce. Plus they'll cook, set up camp, transport your gear by camel, and teach you about their ancient way of life. The Sinai is just one of a growing number of long-distance trails in the Middle East. Another is the new 400-mile Jordan Trail, completed in 2017 and now attracting its first through-hikers.
---
Fjällräven Classic Hong Kong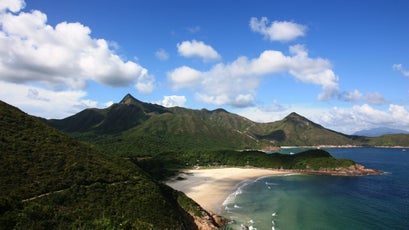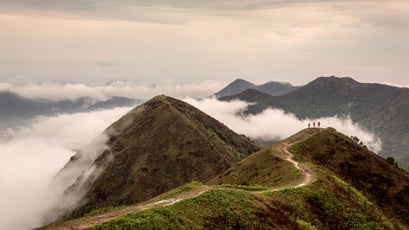 Location: The Sai Kung Peninsula
Length: 30 miles
Duration: Three days
Permit: $200 entry fee
Intel: classic.fjallraven.com
Hong Kong? Yep. Forty percent of the territory is covered by national parks, nature reserves, and some 185 miles of the world's most stunning hiking trails. That's why last year, Swedish gearmaker Fjällräven set out to showcase the island's wild side as its latest Classic—trekking trips designed to get more people outside. Company founder Ake Nordin launched the first Classic in Sweden in 2005 and soon added annual events in Denmark and Colorado before expanding to China. On this newest iteration, in October, you'll camp on beaches, amble through tropical forests, and catch the occasional glimpse of not so distant skyscrapers dwarfed by verdant peaks. The 30-mile traverse is self-supported, but there are aid stations along the way. Fellow Classic hikers will be on the route with you, but go at your own pace.
---
Great Eastern Trail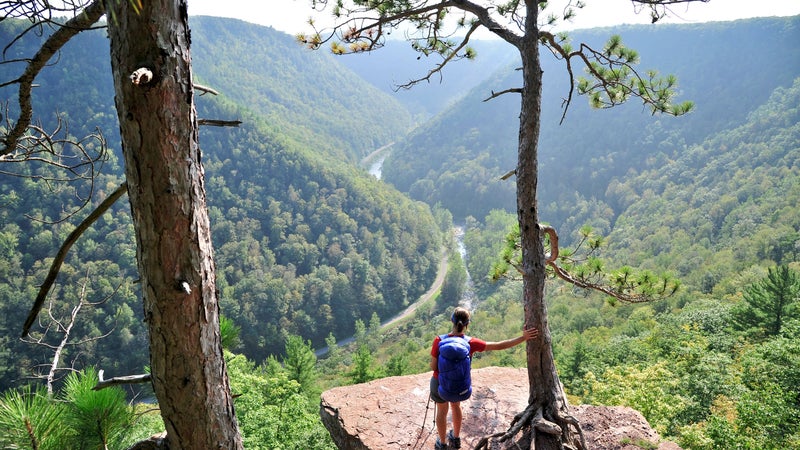 Location: Flagg Mountain, Alabama, to South Bradford, New York
Length: 1,600 miles
Duration: Five months
Permit: Required for some sections
Intel: greateasterntrail.net
This through-hike is on its way to becoming a new icon. Created in 2007 by the Great Eastern Trail Association, the route now links existing pathways through the mountains west of the AT, from Alabama's Pinhoti Trail to New York's Finger Lakes Trail. You won't find reliable markings yet, and crews across nine states are working to rebuild or redirect sections—about a quarter of the length remains unfinished, with paved and gravel roads serving as connectors—so at this point, it's best done in smaller segments. The payoff is an empty wilderness that's hard to find on the AT these days. There's no guidebook, but the trail's first through-hikers, Jo Swanson and Bart Houck, who completed the Great Eastern in 2013, offer extensive resources on their website GET Hiking. You'll camp most of the way, but you can stay a night at resupply points like C&O Bicycle's bunkhouse, in Hancock, Maryland.
---
Arizona Trail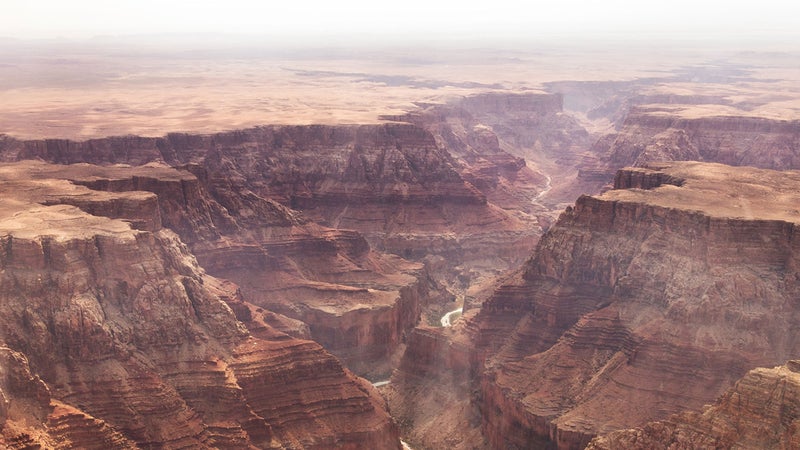 Location: Montezuma Pass to Page, Arizona
Length: 800 miles
Duration: Six weeks
Permit: Required for camping in some locations
Intel: aztrail.org
In the 1980s, a Flagstaff schoolteacher named Dale Shewalter walked the Copper State, loosely mapping a vision that would become the Arizona Trail. The multi-use path traverses the region from the high desert near the Mexico border to an elevation of nearly 9,500 feet in the Huachuca Mountains, then continues north across the Grand Canyon, and finishes at the Utah state line. Walk the whole thing in a month and a half, or take on one of the 43 designated sections, like the 26-mile Gila River Canyons Passage, southeast of Phoenix. The system was basically completed in 2011, but crews are tackling five major improvement projects this year to replace dirt roads with fresh singletrack. Be sure to stop by That Brewery and Pub, just off the path in Pine, for a pint of Arizona Trail Ale, the sales of which help support the route's building and maintenance.
---
Lechweg Trail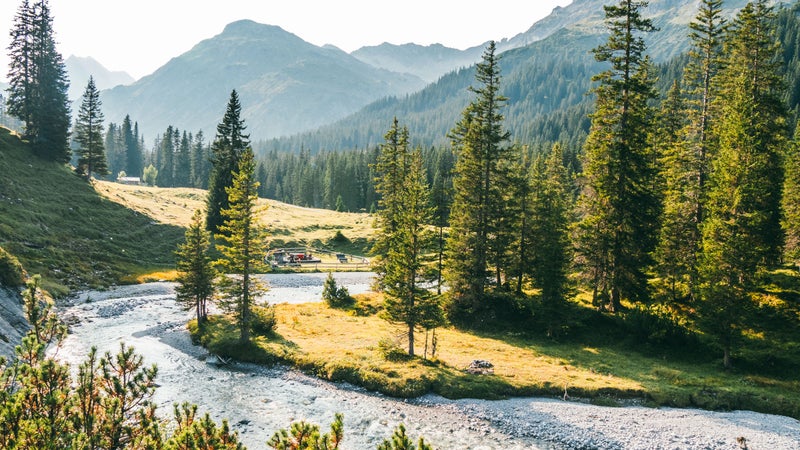 Location: Lech, Austria, to Füssen, Germany
Length: 78 miles
Duration: Eight days
Permit: Not required
Intel: lechweg.com/en
Trace the emerald Lech River from its source, outside the quaint Austrian village of Lech, across the border to a collection of waterfalls near the Bavarian town of Füssen. The route opened in 2012 and was immediately distinguished as the first transnational Leading Quality Trail, certified by the European Ramblers' Association, which vets long-distance treks for criteria like proper infrastructure and access to cultural sights. By day you'll meander through fields of wild orchids, spot alpine ibex, taste cheese at local dairy farms, and stroll past the royal castles of King Ludwig II of Bavaria before retiring each night to mountain chalets. You can even have your luggage shuttled from point to point. Stop for Tyrolean dishes like spinach spaetzle at Gasthof Kreuz, located trailside in Rieden, Austria. If you're more of a day hiker, you can pick from 15 easy-to-reach stages.
---
Three Capes Track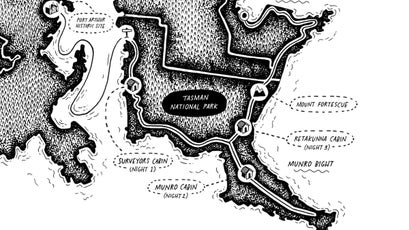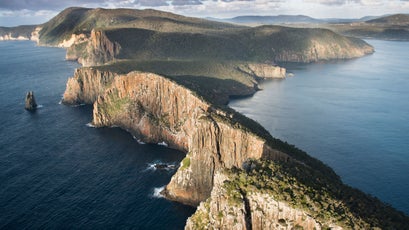 Location: Tasmania, Australia
Length: 29 miles
Duration: Four days
Permit: $380 entry fee
Intel: threecapestrack.com.au
In 2015, Tasmania's Parks and Wildlife Service opened the Three Capes Track as a way of drawing visitors to remote Tasman National Park. The best part? Only 48 hikers are Permitted each day, so you'll have the sea cliffs perched above the South Pacific essentially to yourself. The entry fee is steep, but it gets you a detailed guidebook and three nights at newly built solar-powered cabins stocked with kitchen supplies, yoga mats, and board games. The journey begins at the Port Arthur Historic Site, where a ferry will deliver you to an isolated beach and the trailhead. Spend the next three days traversing bluffs, crossing rainforest and coastal woodland, and climbing the route's highest peak, 1,585-foot Mount Fortescue. Starting this September, Outside GO will offer a new guided expedition of the trail, which includes overnight stays at private lodges, with on-site massage and three-course meals (from $2,175).
---
John Muir Way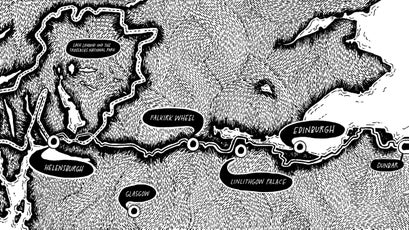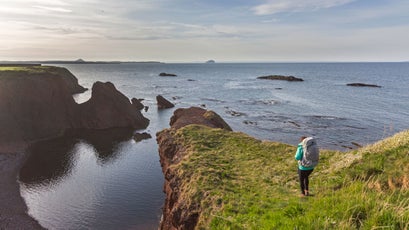 Location: Helensburgh to Dunbar, Scotland
Length: 134 miles
Duration: Ten days
Permit: Not required
Intel: johnmuirway.org
The Brits love long-distance hiking so much that it's practically their national pastime. They hike pub to pub along the 184-mile riverside Thames Path and spend weeks tramping the South West Coast Path through Devon and Cornwall. And in 2014, Scottish Natural Heritage and the Central Scotland Green Network completed a coast-to-coast trail called the John Muir Way (not to be confused with California's famed John Muir Trail). It bi-sects the country from the west coast town of Helensburgh to Muir's birthplace of Dunbar. You'll visit castles and canals, tour Scotland's first national park—Loch Lomond and the Trossachs—sip whisky at local distilleries, and sleep in farmhouse B&Bs or designated campgrounds. In Kilsyth, eat fish and chips at the Boathouse, a marina restaurant on the Forth and Clyde Canal. Book a self-guided trip with Glasgow-based Macs Adventure, which will plan your accommodations and take care of bag transfers along the way (from $1,430).
---
Violet Crown Trail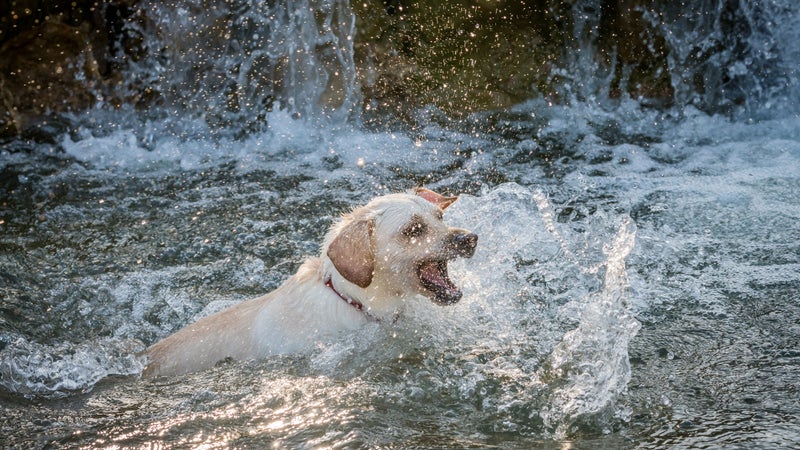 Location: Austin, Texas
Length: 6 miles
Duration: One day
Permit: Not required
Intel: violetcrowntrail.com
When it's finished in 2022, the Violet Crown Trail will be the longest of its kind in central Texas, a 30-mile pathway transporting hikers, bikers, and runners from downtown Austin into the countryside of neighboring Hays County. For now though, it's a six-mile route that begins in the capital's Zilker Park and rambles through the Barton Creek Greenbelt, passing swimming holes and limestone crags perfect for climbing. No camping is allowed along the route, so consider this a day hike. The trail was imagined in 1998, but it took decades for the Hill Country Conservancy and the City of Austin to raise the money to pay for it, purchase the 15,000 acres of land, and get the required voter approval before construction could begin in 2014. Three years later, work began on the next stretch—seven miles that will connect to the Lady Bird Johnson Wildflower Center. When all's done, the project will be a shining example of the power of urban trail systems.