Big State, Bite-Sized Trails
Sure, it's the biggest state in the union. But that doesn't mean every adventure in Alaska has to be an expedition. These six day-hike-friendly trails will give you a taste of the Last Frontier's wild beauty and still get you back in time for last call.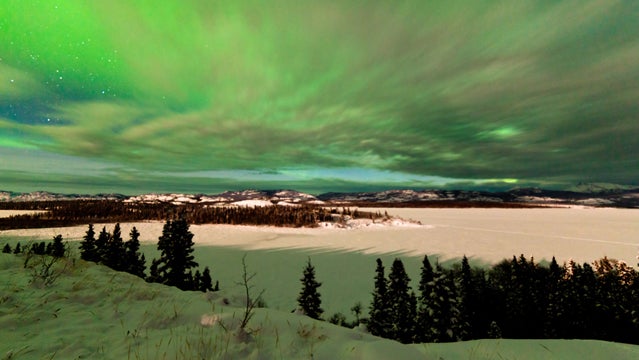 Heading out the door? Read this article on the new Outside+ app available now on iOS devices for members! Download the app.
Rugged terrain, frigid temps, formidable rivers and giant grizzlies lurking around every bend: Everything about Alaska's wilderness screams "epic." But remote though the state may be, not every hike here demands an Iditarod-like effort. These six conveniently-located trails let you take in Alaska's beauty in bits by packing gorgeous views and and wildlife into the space of just a few miles. Another bonus: They're all runnable (though not all easy). Put on your mosquito spray and get going.
Alaskan Day Hikes: Girdwood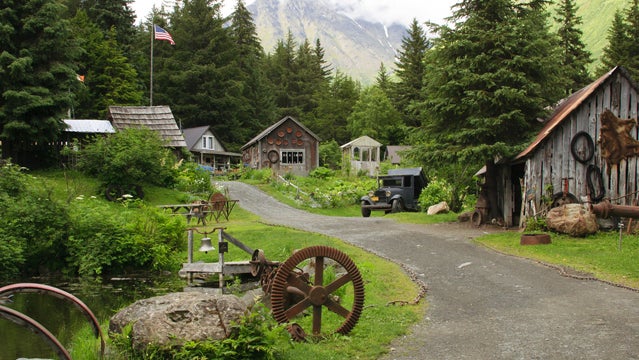 This tiny year-round resort community is nestled in a box canyon just 40 minutes south of Anchorage, which makes it an easy stop for travelers visiting Alaska's biggest city.
Trails
The five-mile Winner Creek Trail winds through moss-coated spruce trees on the way to Winner Creek Gorge, an intense, bubbling cauldron of glacial melt water. Cross via the exciting hand tram to connect with the Iditarod National Historic Trail for a longer eight-mile loop, or head back
If you're looking for a bigger challenge, try the rugged, 28-mile Crow Pass Crossing, which comes complete with sharp climbs, glacier crossings, a creek fording and breathtaking scenery. This one-way route cuts across the Chugach Mountains and provides a true Alaskan experience suitable only for savvy backcountry travelers: It's tricky to follow at times, and snow lingers late in the season. Bring a map, traction (we like Kahtoola Microspikes) and supplies that will keep you safe on a long wilderness day. If you do the whole thing, you'll emerge at the Eagle River Nature Center north of Anchorage, so you'll need to bribe a friend, drop a car, or arrange a shuttle.     
Getting There
Crow Pass: Drive south on the Seward Highway to Girdwood and turn left on Alyeska Highway. After two miles, bear left at Crow Creek Road (unpaved, but good condition).  Take the fork right after the bridge at five miles to reach the parking area.
Winner Creek: The trail begins at Alyeska Resort. Drive south on the Seward Highway to Girdwood and turn left on the Alyeska Highway. Travel for three miles, turn left at "T" intersection, and go one mile to The Hotel Alyeska.
Stay
If you're on a budget, the Alyeska Hostel offers more reasonably-priced accommodations that run the gamut from bunk beds ($25 per night) to private cabins ($112 per night, sleeps up to four people). If you're looking for something a little more upmarket, try any one of the town's countless B&Bs.
Eat
Follow the smell of fresh bread into the Bake Shop, a superb café serving omelets, gigantic sweet rolls, authentic sourdough pancakes for breakfast and sandwiches, pizzas and bottomless bowls of homemade soup for lunch and dinner.
Alaskan Day Hikes: Seward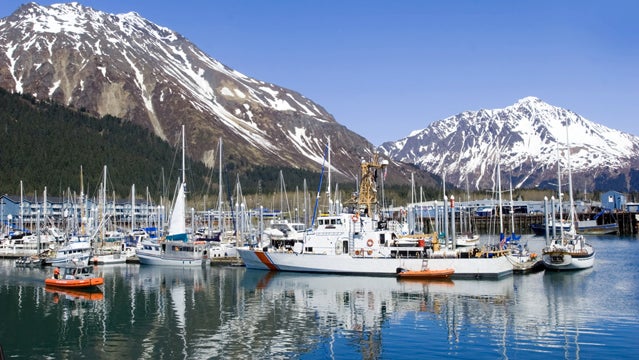 Perched at the edge of Resurrection Bay at mile zero of the Iditarod Trail, this historic community teems with marine wildlife, which feeds one of the busiest fisheries in the U.S.
Trails
The Lost Lake trail climbs gradually through dense spruce forest, meadows, and hemlock groves before cresting out on an alpine ridge with a vista of the turquoise waters of Lost Lake. After cruising through the rolling terrain along the lake's eastern shores, you'll hook up with the Primrose Trail to make your descent. The entire loop totals about 16 miles one-way.
Trailhead:. You can hike this from either direction, but we recommend from the Lost Lake trail side since you get on the ridge sooner (= breathtaking views). Lost Lake Trail access begins at Milepost 5, Seward Highway, at Lost Lake subdivision-up gravel road follow signs to parking.  
No trip to Seward is complete without a scramble up the infamous Mount Marathon, where each year on July 4 runners from all over the world take part in the 3.1 mile suffer fest to the peak (3022').  If you want the real racing experience, choose the official Runner's trail, a very steep and demanding route that climbs up a rocky cliff face. For a mellower experience, opt for the slightly easier Hiker's Trail, which switchbacks several times before reaching the mountain's sloping spine. Either way, try to maintain your balance long enough to enjoy the astounding views of the Bay, and descend with care: Each year, several racers end up with broken bones thanks to the harrowing descent.
Getting There
Lost Lake: Access begins at milepost five, Seward Highway, at the Lost Lake subdivision. Follow signs to parking.
Mount Marathon: The Runner's Trail begins at the end of Jefferson Street in Seward. Follow it toward the base of Mt. Marathon. Park at the Lowell creek Picnic area and begin your trek on the gravel service road beyond the gate.  
Stay
For luxury accommodations with a truly Alaskan feel, try the Seward Windsong Lodge, whose cabins have fantastic mountain views and are close the river (starts at $259). For something a little more historic, try the A Swan Nest Inn, a cozy and comfortable option convenient for exploring town (Standard room $135 from June 14 through August 18, sleeps four). 
Eat
The Resurrection Roadhouse, a mellow spot located on the river, offers delectable dishes featuring local, sustainably caught fish and range of Alaskan beers on tap. For the best cup of java in town, head to the Sea Bean Café; pick up a Marathon Bar or any of their other delicious treats.
Alaskan Day Hikes: Homer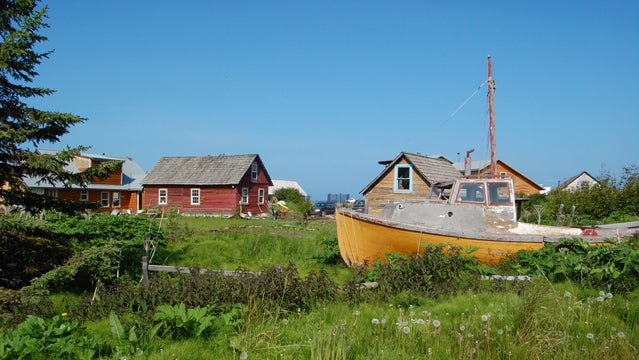 This little hamlet at the edge on Kachemak Bay exudes charms and borders the massive Chugach National Forest, making it an ideal base camp for day trippers.
Trails
The 6.5-mile Grewingk Glacier Trail begins with a meander through spruce and cottonwood forest, but eventually gives way to open flats and a dry, gravelly glacier drainage. After crossing Grewingk Creek, you'll climb Foehn Ridge and be rewarded with views of the icy blue glacier. Descend the ridge and cruise over flatlands to reach Grewingk Glacier Lake. Keep an eye out for black bears, which are plentiful in the area.
Trailhead: Take a water taxi across Kachemak Bay from Homer to Glacier Spit Trailhead in Kachemak Bay State Park. Arrange for pick-up later in the day or camp here and get picked up in the morning.
One of the most popular routes for local runners, the 6.7-mile Homestead Trail winds from the top of Baycrest Hill through forests, meadows and over streams to reach the city's reservoir.  The well-marked and maintained trail, which follows carless dirt roads for a few miles, is a great place to ogle Mount Iliamna and Mount Redoubt, two massive volcanoes looming on the other side of Cook Inlet.  
Trailhead: Head north out of town on the Sterling Hwy and turn right on Rogers Loop Rd across from the Bay View Inn.  Trailhead is 1⁄2 mile up the road on the right.
Getting There
Grewingk Glacier: Take a water taxi across Kachemak Bay from Homer to Glacier Spit Trailhead in Kachemak Bay State Park. Arrange for pick-up later in the day or camp here and get picked up in the morning.
Homestead: Head north out of town on the Sterling Hwy and turn right on Rogers Loop Road across from the Bay View Inn. The trailhead is half a mile up the road on the right.
Stay
The Alaska Beach House, a cozy bed and breakfast, provides awesome views of the bay, a hot tub, and a beachside fire pit (starts at $129, two-night minimum).
Eat
The Mermaid Café, which doubles as a bed and breakfast and used bookstore, serves up tasty local food like Thai halibut chowder and veggie panini's made with home-grown produce. If you're spent on fish, try Fat Olive's, where you can get solid Italian food in a pleasant atmosphere with good service. No trip to Homer is complete with a visit to the iconic Salty Dawg Saloon for a beer or bloody mary.
Lead Photo: Pi-Lens