What Carl "the Professor" Stanfield Learned by Trying to Hike the Most Miles Ever
Last January, Carl Stanfield set out to break the world record for the most miles ever hiked in a year. In failing, he found his temporary limit—and, he hopes, a renewed version of himself.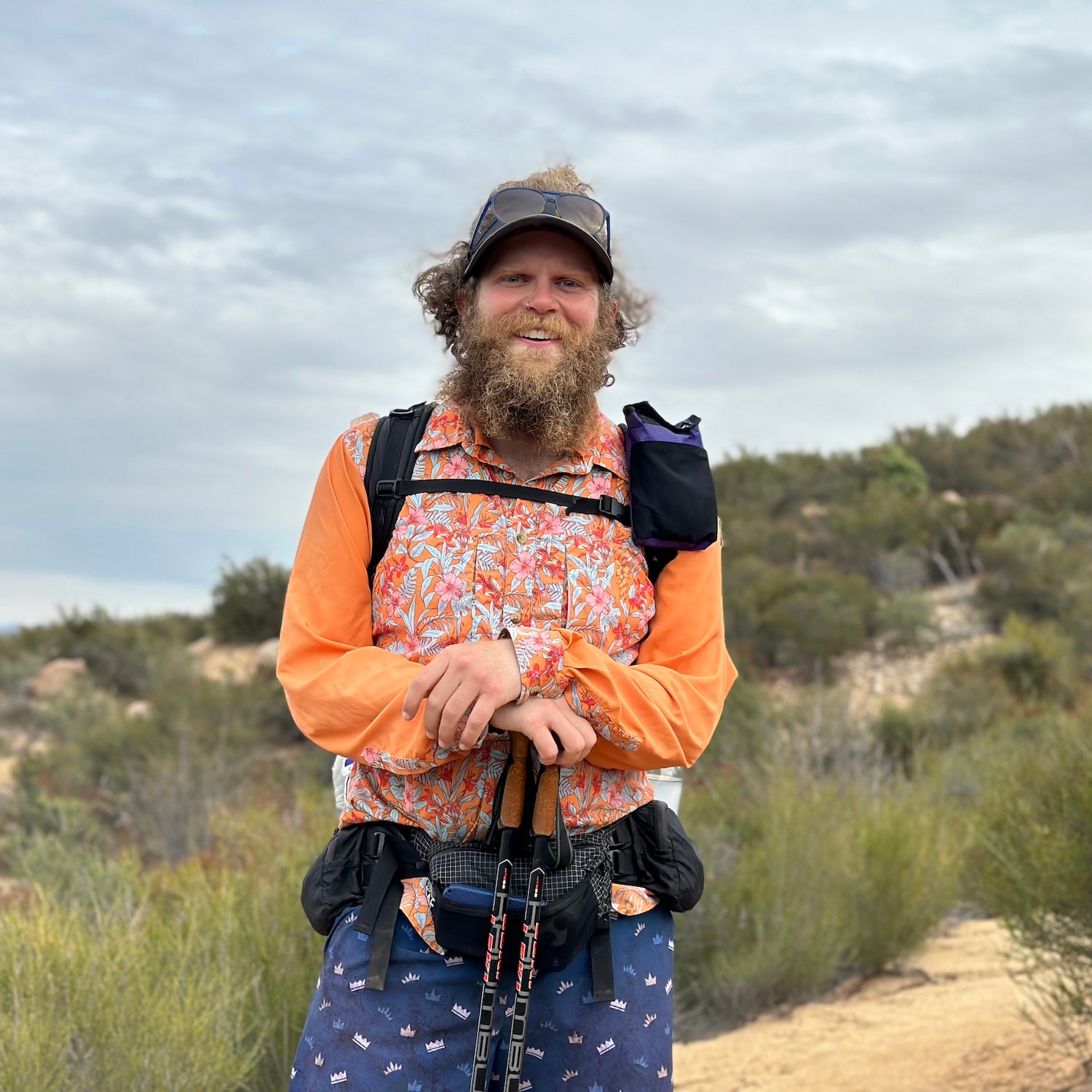 Heading out the door? Read this article on the new Outside+ app available now on iOS devices for members! Download the app.
In early November 2022, Carl Stanfield—trudging south through fresh snow near Bend, Oregon—admitted the math no longer worked.
Since New Year's Day, when Stanfield touched the striped Key West buoy that marks the United States' southernmost continental point, he had walked more than a marathon per day through some of the country's most formidable landscapes. On foot, he'd connected 1,200 miles of the Florida Trail's swampy morass to the Georgian start of the Appalachian (AT), reaching the Canadian border nearly 2,300 miles later in early June. After a quick break at home in Huntsville, Alabama, he raced through the Sierra Nevada and the northernmost 1,900 miles of the Pacific Crest Trail (PCT) in just 60 days.
Then, in late August, he headed south through Montana along the Continental Divide Trail (CDT), reaching Mexico in 73 days, condensing the arduous route to less than 2,000 miles by mostly walking on roads adjacent to the peaky wilderness. The route was fast but brutal on the feet, a compromise he had to take in stride. He was trying to set a world record, and he actually had a chance.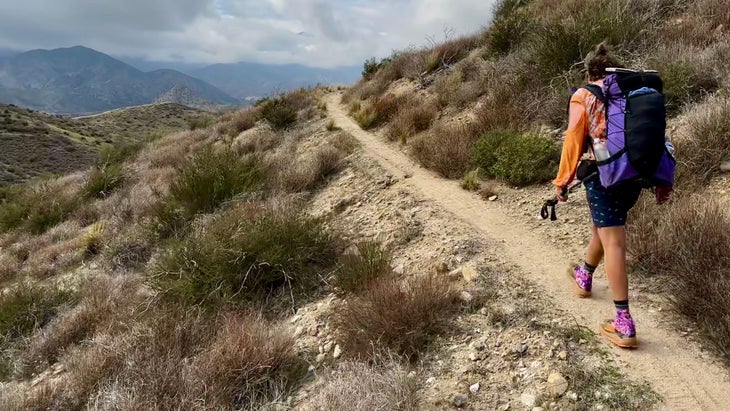 Stanfield, known on trail as "Professor," had been hatching and pursuing a seemingly impossible plan for two years: He hoped to walk more miles than any other human ever had, a record set at 10,244 by serial adventurer Cam "Swami" Honan a decade ago. Stanfield, 29, wanted to clock 11,000 miles, or, as he often put it, "30 miles a day for the 30th year of my life." By October's end, he had walked along the United States' three parallel spines—the Appalachians, the Sierra and the Cascades, the Rockies—and now he just had to get through 700 miles of California desert and a sliver of Oregon he'd skipped because of fire.
When Stanfield—wildly bearded, thoroughly beaten, absolutely elated—stuck out his thumb to hitch an airport ride from the Mexican border at the southern end of the CDT, he'd need to average about 40 miles per day for two more months to make his mark before 2023 began. It felt entirely absurd, completely feasible. Only a week later, outside of Bend in the snow, he'd walked far enough to know he could no longer walk that far, that fast.
"That stretch should be as easy as hiking gets, anywhere, but I was just moving slowly," Stanfield told me two weeks later. His body would no longer cooperate with his plans. "I realized I'm behind the pace I've been at, but I needed to be picking up the pace, starting that day. I knew I needed to give up."
The physical signals had grown urgent, too: Since March, he'd suffered through intense Achilles strains in both legs, though the throbbing knees of an Appalachian Trail slog had eased up out west. Still, those road walks below the Rockies—as many as 45 miles in one day, on four hours of sleep—had pulverized his feet. His toes were numb at the joints. His left foot might be broken?
"For a year, it had been the same cycle: I walk until I feel like I can't go anymore. I sleep, wake up, and keep going," he said, sighing. "And that just stopped happening. The hurt was different."
He was trying to set a world record, and he actually had a chance.
Stanfield did not give up. He rested for ten days in a trailside hotel, hoping to heal his feet as he readjusted his perception of success. His goal of 11,000 miles was long gone, but he could still fulfill three staggering dreams: Spend a calendar year on trail. Become the first person to walk border-to-border three times in one calendar year. And most important, find his limit.
So he pried himself away from that Holiday Inn Express room, trash bin overflowing with chip bags and juice bottles, to shuffle to Mexico one more time. When he reached the border just before his 30th birthday in late December, all 8,451 miles radiated through every aching joint. Stanfield had swiped success, or a new version of it, from the jaws of failure.
"I came out here to find my body's limit still in my youth, or at least in my twenties. And I found that," he said. "I'm proud of it."
---
Stanfield can pinpoint the moment he vowed to hike the Appalachian Trail, at least for the first time.
An East Tennessee native who had grown up among the foothills of those ancient peaks, Stanfield headed to Washington State soon after college for love and work. A Christian camp had recruited him to lead an adventure program into Pacific Northwest wilds; "religious and philosophical differences," he put it diplomatically, soon made it clear the gig wouldn't last. He left for Seattle to be closer to his girlfriend, with a replacement job leading kids at a YMCA waiting for him there.
The day he arrived in early December 2017, though, the gig fell through, and she dumped him. Only 30 minutes into their four-hour fireside, he tacitly vowed to head east, to the AT. "It suddenly seemed like the only thing I could do," he said. "I needed something to obsess over, or I'd be this depressed mess."
He loved it instantly, especially after he fell into a posse that dubbed him "Professor" because he always had a plan. A charismatic sort, quick with a grin, he loved the trail's mix of social connection, endurance athletics, and untrammeled nature, an adult version of what he might have found leading kids through the Washington woods. The Pacific Crest Trail followed in 2019.
"Our dad always told us to search for 'our light,'" his younger sister, Grace, told me. "All of the sudden, his spirit changed because he'd found his."
"The hurt was different."
Early in 2020, Stanfield was contemplating getting the final jewel for his Triple Crown of American Hiking, the CDT, when the Alabama outfitter where he'd been working asked him to manage a store. He agreed, feeling fortunate after early pandemic restrictions soon scuttled so many thru-hikers' ambitions. But living in a little Alabama apartment, working at a place that prepared others for adventures, Stanfield longed for something grand, hard, epic.
He daydreamed about the Triple Crown, specifically about how to make it harder. He'd loved the AT and the PCT, but they hadn't pushed him toward a breaking point. He pondered the newly vogue Calendar-Year Triple Crown, in which a dauntless and organized hiker completes the United States' big three within 12 months. Less than two-dozen people are believed to have finished.
Still, Stanfield wanted something more. "Could somebody hike border-to-border on all three of the Triple Crown trails in a calendar year?" he wrote in a March 2021 post on the hiking website The Trek, announcing his intentions nine months before he began walking. The idea would add more than 1,000 miles. "I'd like to find out."
He knew he couldn't do it alone. Soon after the clean-shaven and close-cropped Stanfield walked north out of Key West on January 1, 2022, the first day of his hopeful yearlong quest, he began staying with family friends, friends of friends, and total strangers, from Florida's saturated peninsula to Washington's saturnine Cascades. He'd meet them at trailheads, join for dinner and a guest bed, and return to his route as soon as they could deliver him the next morning.
Sure, such luxuries cost him time and miles, he admitted the first time we spoke, in September, but it was invaluable for someone whose idiosyncratic itinerary and pace meant he'd never have consistent company. People would sometimes join him for a few miles, not unlike Forrest Gump, slipping into his attempt to break a record while moving across the United States as his beard ballooned. "It has buoyed me, made it possible to feel like I wanted to keep going," he said of all those interactions back in September. "I could have done more miles each day without it, but they motivated me."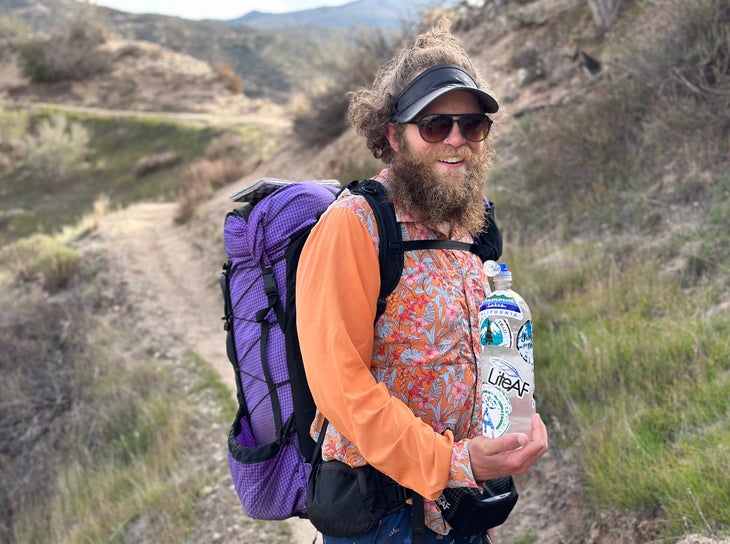 And rather than treat his trek like some monastic quest, Stanfield posted candid and detailed accounts of his days to Instagram. He'd talk into the camera as he walked, trying to take people along for what he often called "the most selfish year of my life." He vented about all the roads he walked in Colorado and admitted how much his body ached toward the end. When his dad and uncle joined him in California, cooking for him in an RV, he beamed. When they left, he told his growing audience about the letdown: "It was really, really hard to say goodbye after getting used to such a sweet and cozy routine."
And back home in Tennessee, Grace's high-school English students—who she'd told about her brother's journey—made him their computer background, inspired by his modern odyssey and flowing beard. They'd ask for daily updates.
"This is a space that's not known for being real," Stanfield said of hiking influencers who either make their adventures look like pleasure cruises or perilous crises. "I just wanted to be honest, to say 'I'm going to try to do this thing to the best of my ability.' That's exactly what I did."
---
I began chasing Stanfield on foot 20 days after he left Key West, with no expectation I would catch him. By the time I set foot on the Florida Trail in late January of last year, he was 400 miles beyond me, moving nearly 30 miles every day. Already, though, his myth lingered wherever he'd been, like Johnny Appleseed on the Apalachicola rather than the Ohio. Hikers and trail angels knew about the smiling man in the orange shirt, the big number on his mind.
I finally found Stanfield on the other side of the country, at the other end of the year. In early December 2022, he was hiding out again in a cheap hotel an hour outside of Los Angeles, where the PCT drops between the San Bernardino and San Gabriel mountains. He had about three weeks to walk his final 350 miles of the very long year, and he strolled up to a trailside McDonald's after noon in no hurry. "Not only is it OK," he answered when I told him I was running late, "it's ideal."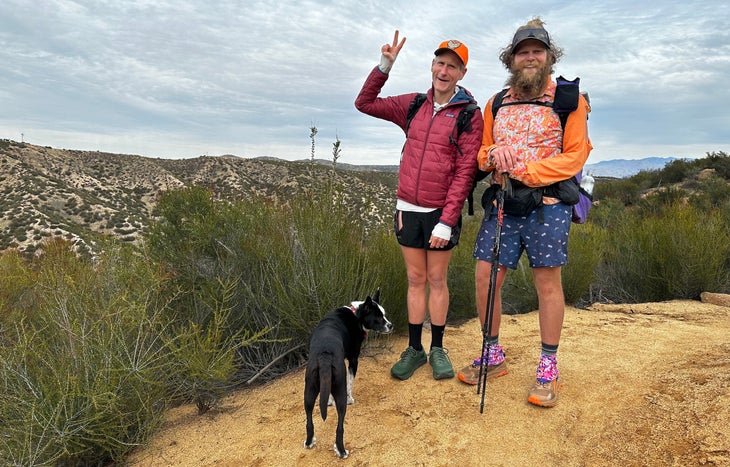 Stanfield moved deliberately as we climbed out of Cajon Pass, my dog, Alice, often racing ahead and staring back. Whenever Stanfield stepped down, he'd subtly shift his stride, swiveling and extending so that his entire foot hit the ground at once, distributing the pressure evenly. Around two miles per hour, down from more than three in Florida—this speed would have to suffice.
"I felt like I lost that advantage pretty early on, so most people have been flying by me," he said, shrugging, of his pace, which slipped away steadily as his Achilles tendons tightened. "I've been putting in hours just to stay out here, passing them back and hiking for another hour or two."
But I was stunned at how little Stanfield, after persevering through 11 months of voluntary punishment, sulked about the record or anything, really. He marveled at how nice nearly everyone had been to him on social media, even after he let his goal go. ("I'm always waiting for someone to be meaner.") He raved that his Volunteer-orange Jolly Gear shirt had held up for 11 months, despite the massive rip along his left arm. ("It's the first one to finish the Triple Crown!") He pointed out the stickers he'd plastered across the same SmartWater bottled he'd carried since Key West, for more than 11 months. ("I try to wash it…sometimes," he laughed.) He praised Grace for sending him supplies, strangers for buying him beer. When he said "It all just works out" with a grin, I didn't have the dastardly heart to remind him that the biggest "it" hadn't.
A month later, I asked Stanfield how he'd been able to maintain that positivity, online and in person, for so many miles. It is hard to do, not just to bear a thru-hike but to grin while doing so. Grace, after all, told me her brother doesn't have that same easygoing resolve at home.
He recognized, he said, that he had the chance to fail at something few people would ever have the means to try—a year off work, a year of a sister mailing resupply boxes, a year of hometown sponsors, a year of high-school students being intrigued enough to change their Chromebook backgrounds. To find his limit, others had forsaken a bit of theirs. Even in pain, his foot possibly broken, what could he have but gratitude?
"I don't have a job, a relationship, a ton of money. I have enough to do this, and that's my everything," he said. "Those are the choices I made, and I was fortunate to be able to make them. But I have this support network, people willing to help me. That is why I was able to do it and enjoy it—privilege."
---
Minutes after midnight on January 1, 2023, Stanfield crept upstairs to a bathroom in Huntsville, where he was celebrating the holidays—and several of his first ten days off trail—with his family. When everyone was asleep, he picked up a razor for the first time since December 30 of 2021, hacking at chunks of the light brown beard that had become his trail trademark. It had grown thick, coiled, and messy, an on-trail net for food and dirt. It was a relief to see a year of growth, all gathered there in his hand.
"I kept it for visiting my family, if anybody wanted to get a picture with me looking trail-crazy," he said, laughing. "But looking at myself in the mirror and seeing someone that's starkly different than who I have been looking at all year felt like a fresh beginning."
"I don't have a job, a relationship, a ton of money. I have enough to do this, and that's my everything."
Stanfield isn't done hiking. He dreams of New Zealand's majestic Te Araroa and, after a year of mostly walking alone, ponders starting a hiking club in Knoxville, Tennessee., where he shares a house with Grace. He ponders ways to become a professional hiker, whether through sponsors or as a guide or guru for the trails of the Triple Crown.
But at least for now, he wants to be more than that hiker, the one who chased a record and failed. He is trying to distance himself mentally with hours of Nintendo Switch, and physically with short runs that remind him of permanent damage he may have done. In a few months, when the savings he squirreled away disappear, he'll get a job. (At adventure's start, he was spending less than $1,000 per month; by year's end, when he sought solace in hotels at most chances, it ballooned to nearly $3,000.)
And he's trying, as Grace said, to incorporate the positivity and trust that became his other trail trademark into the rest of his life. He hopes it lasts longer than the beard. "There's so much more genuine energy about everything all the time when he's on trail," she admitted. "He tries to carry that over, but it is a different person."
I've sensed it, too. When we spoke a few weeks after he got home, he talked often about lingering imposter syndrome and speculated about preparations or choices that might have helped him nab the record—more stretching, better nutrition, less beer. "It's a difficult thing to go for," he said, shrugging. "It's unrealistic to think I'd get the record on my very first attempt, out of nowhere."
"Your first attempt?" I interrupted. "Does that mean there will be a second?"
He laughed and thought for a while. "I need to see how my body functions first after this year," he finally said. "I need to know if my body will ever feel as good again as it felt when this all began. But I would love to be able to."
Lead Photo: Tina Currin