What the Park Service Gets Wrong at the Start of the Continental Divide Trail
The CDT's traffic is ballooning. In Montana, the National Park Service isn't facing what that means for Glacier.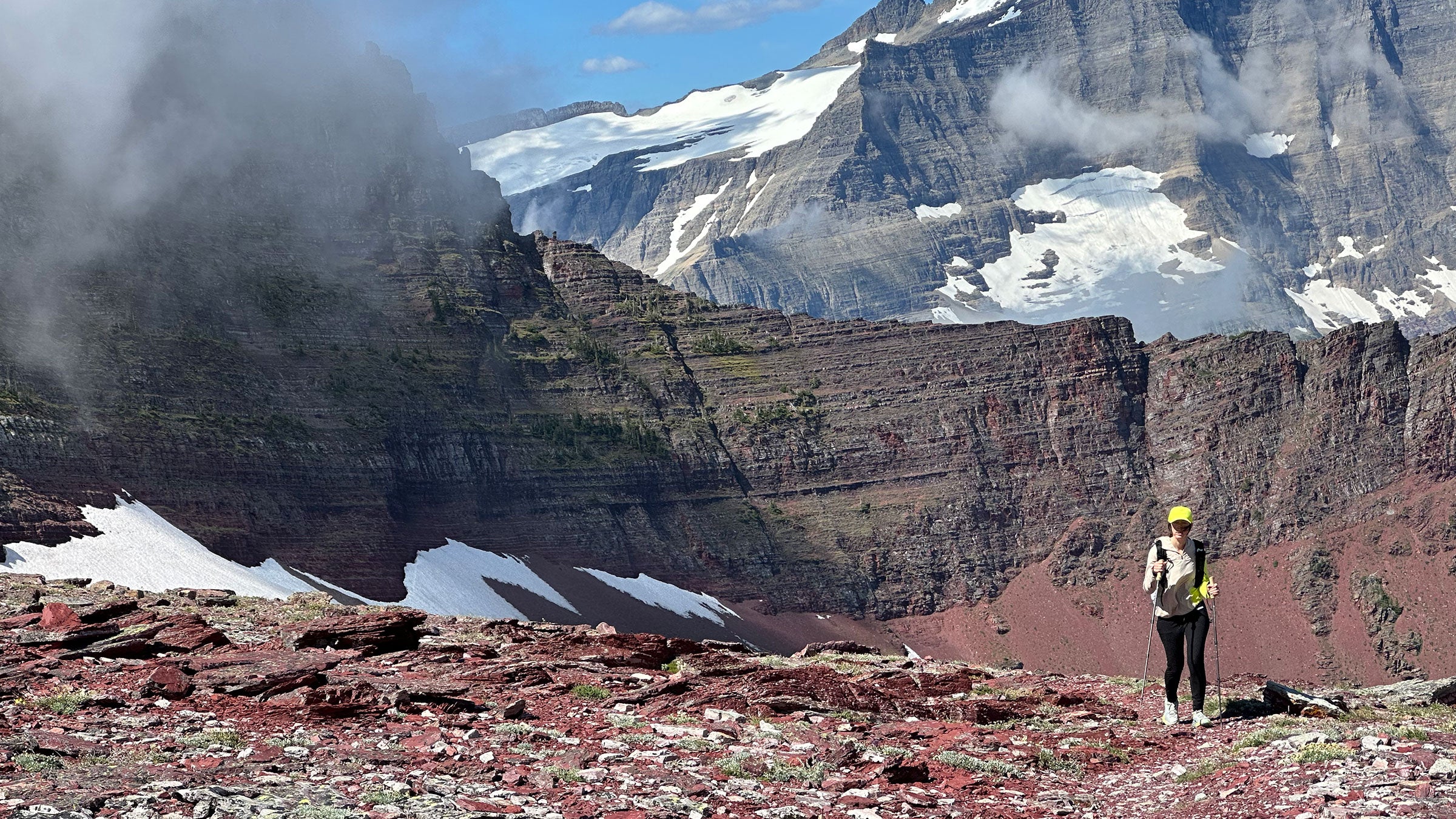 Grayson Haver Currin
Heading out the door? Read this article on the new Outside+ app available now on iOS devices for members! Download the app.
Outside's Trail Magic hiking columnist Grayson Haver Currin is attempting to bag the triple crown of hiking. He's already thru-hiked the Appalachian Trail and Pacific Crest Trail, with one more to go: the Continental Divide Trail. He'll share notes from the field as he walks with his wife for the rest of the year. Here's his second file, just after they finished hiking through Glacier National Park. Tune in on Outside's Instagram to follow his journey.
I'm sorry: I was to blame for that rain in the center of Glacier National Park two weeks ago.
Nearly 15 hours into the fourth day of my attempted thru-hike of the Continental Divide Trail, or CDT, heading south from the Montana-Canada border, I bemoaned not the 33 miles I'd already walked since 5 a.m. but instead the three more our trio needed to finish before we could finally crawl onto our sleeping pads again. It had been a stunning day, including a calm interaction with a young bull moose and an extended climb above a chain of alpine lakes and shrinking glaciers clinging to towering peaks. But we were tired. As we pushed through the burned-out valley between Red Eagle and Curly Bear mountains, I looked at the skies and thought, "Well, at least it's not raining."
You know what happened next. The clouds, long hovering near the parallel peaks, darkened and soured and suddenly encroached on our alleyway of old snags. Thunder rippled, now no longer in the distance. The wind gusted, nearly pushing my hat from my head. We raced for the campsite, piling rocks atop stakes we drove into the ground as if this were some extreme alpine expedition. The moment we pulled our bags into the tent, the familiar pitter-patter began—heavy raindrops against lightweight Cuben Fiber. Yes, it was starting to pour, but at least and at last, our 36 miles of the day were done.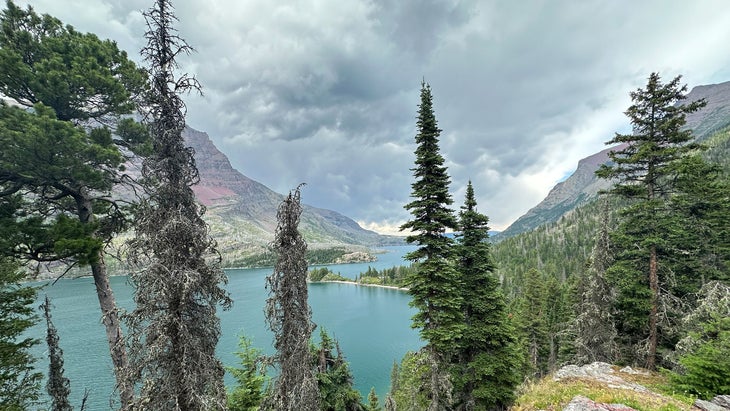 We had not, mind you, walked 36 miles on the fourth day of our 3,000-mile journey by choice. Conquering such mileage early in a thru-hike—especially one marked by the big mountain passes and steep descents of the CDT's northern end—is a swift route to injury, which may prevent you from finishing altogether. No, we were driven to the uncomfortable extreme largely by a solvable bureaucratic failure: the permitting system of Glacier National Park, and the National Park Service's reluctance to adapt to the increasingly popular trail that slices through its core.
Is the Continental Divide Trail's Increasing Popularity a Problem?
When I arrived at the northern edge of Montana two weeks ago after a 30-hour train ride, I expected to find a smattering of hopeful thru-hikers milling about East Glacier Park, the Blackfeet hamlet that serves as a gateway to the park. Instead, the town's one hostel—an erstwhile restaurant accidentally converted by overburdened restaurateurs into a blissfully chaotic hiker depot—teemed with our type. The backyard was a city of at least 25 luxurious ultralight tents, collectively worth more than a used midsize sedan. And every corner of the dining room, once the domain of tourists eating huckleberry pies and corn-filled tacos, housed hikers nested in lofty sleeping bags, their charging cables snaking to the nearest outlet. Still the most desolate and wild of the United States' Triple Crown trails, the CDT suddenly seemed as busy as its more-famous East and West coast brethren.
But this, I soon learned, was an illusion, the result of a glut of hikers waiting for permission to pass through the park along the CDT's northernmost 100 miles. A dozen or so backcountry campgrounds are scattered alongside the trail as it bisects Glacier, each with around a half-dozen campsites that can hold maybe three tents. Access is tightly regulated, not only to prevent the scourge of too many tents that scar the verdant lakeshores or riversides but also to ensure that everyone there has, at the very least, watched an unintentionally hilarious instructional video about keeping wildlife wild.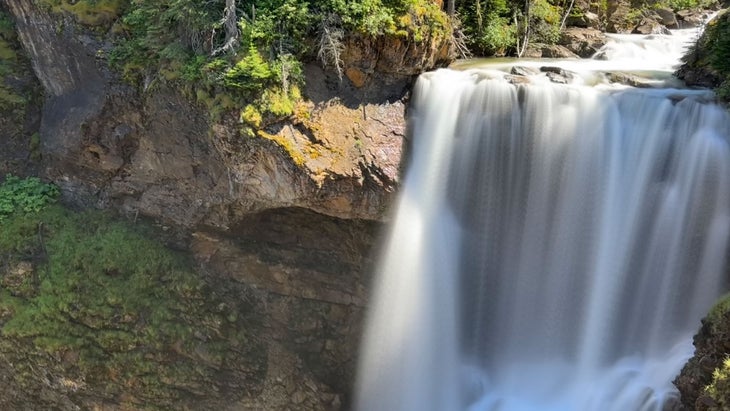 Such a system makes perfect sense: Glacier is one of this country's most pristine mountain landscapes, rivaled only by the deep folds of the Sierra Nevada or maybe the mantric repetition of the Basin and Range. And its abundance of animals, from mackinaw and mountain goats to grizzly bears and golden eagles, is itself a modern marvel. The process, however, no longer serves the needs of the increasingly trafficked CDT and, consequently, the park itself.
Glacier National Park Camping Permits for Thru-Hikers On the CDT
Some folks had been at the hostel the better part of a week, dutifully hitchhiking 20 minutes to a ranger station inside the park each morning to apply for camping permits that would allow them to get through Glacier, only to be told "no" repeatedly. Others had already done half the park and were simply killing time until the dates for their next campsites arrived. In many cases, what should have taken five days took almost two weeks. Still others were planning to head south for now, vowing to hitchhike back to the park when the crowd had thinned and the odds of actually securing a permit had grown.
We counted ourselves prepared and lucky, in spite of our 36-mile slog into a storm on day four. Back in March, my wife, Tina, secured a permit online for one campground the very day they became available. Before we even arrived in East Glacier, our hiking partner, Ezra, thumbed his way to the aforementioned ranger station and used that permit to cobble together access to other campgrounds. The itinerary was far from ideal—three piddly 10-mile days, the 36-mile ultramarathon (prompted, in part, by a campground closed for bear activity), and a 20-mile finale that included dual mountain passes. But he fared better than every other hiker in line with him that morning: No one else walked away with a single campsite. They went back to the hostel, waiting.
What Glacier Could Learn from Other Park-Service Approaches
This bubble of frustrated hikers ready to walk is a byproduct of outdated and byzantine bureaucracy, responding less to actual circumstances than its own steadfast regulations. It doesn't have to be this way. After all, this problem—long-distance hikers with unpredictable schedules requiring passage through already crowded national parks—is not unique to Glacier. The Appalachian Trail cuts through or across two of the country's three busiest national park sites, and the system mostly works. The Pacific Crest Trail has it figured out through Kings Canyon and Yosemite.
As the CDT's numbers continue to balloon, its administrators would do well to take a page from the Arizona Trail, which includes its own busy spectacle near its northern edge: the Grand Canyon. The iconic campgrounds deep between the rims include a small and self-contained overflow corral for long-haulers, slightly removed from families out for the weekend. A simple permit affords hikers access to this plot for a limited time, so long as they're willing to follow a few procedural rules. It's that simple.
Bottom Line: The National Park Service Needs to Figure This Out, and Fast
Without that reserved room, hikers would almost certainly squirrel away in some hidden canyon corner, hiding from rangers and inevitably leaving a trace in the process. That is already happening inside Glacier along the CDT, where hikers are tasked with 50-mile days (because that's the best permit they could get) simply stop because they can't make it. Their tents cut into the grasses of a glade or perhaps unintentionally block some hapless pika's hole. The National Park Service's mission to protect public land is hoisted by its own well-meaning petard.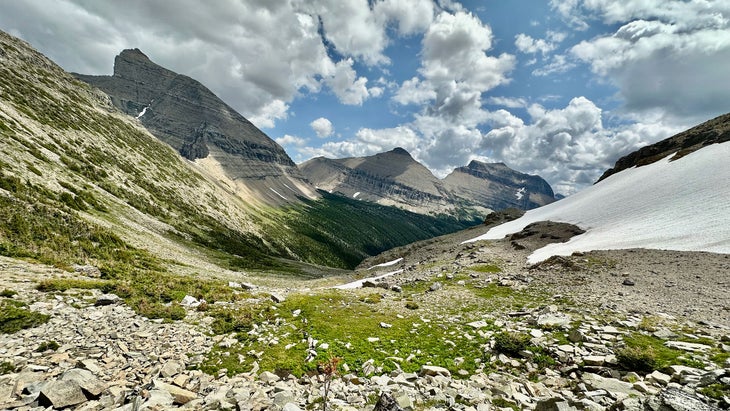 I am not some radical trail libertarian, dismissive of any permit that regulates a sense of wilderness freedom or backcountry fun. Even outside, we exist in a society; if we don't share public lands sensibly, so that more folks can enjoy them, we might as well not share them at all.
But everyone around the CDT these days—business owners, park rangers, fellow hikers—recognize that it is on the brink of a statistical explosion, that the most remote of the United States' big three trails is becoming a destination. As climate change transforms the PCT and the AT becomes more and more of a party, this isn't going away. Folks are increasingly staking their livelihood on that very notion. Until the National Park Service recognizes that, the logjam like the one I found in East Glacier will spill over into the park's seemingly virginal spaces, scarring a landscape whose very wonder stems from the fact that it feels so free of blemishes.
Lead Photo: Grayson Haver Currin