Officials Seek "Absolute Idiots" Who Were Photographed Vandalizing the Grand Canyon
Two men defaced the popular Moran Point overlook, and photographers caught them in the act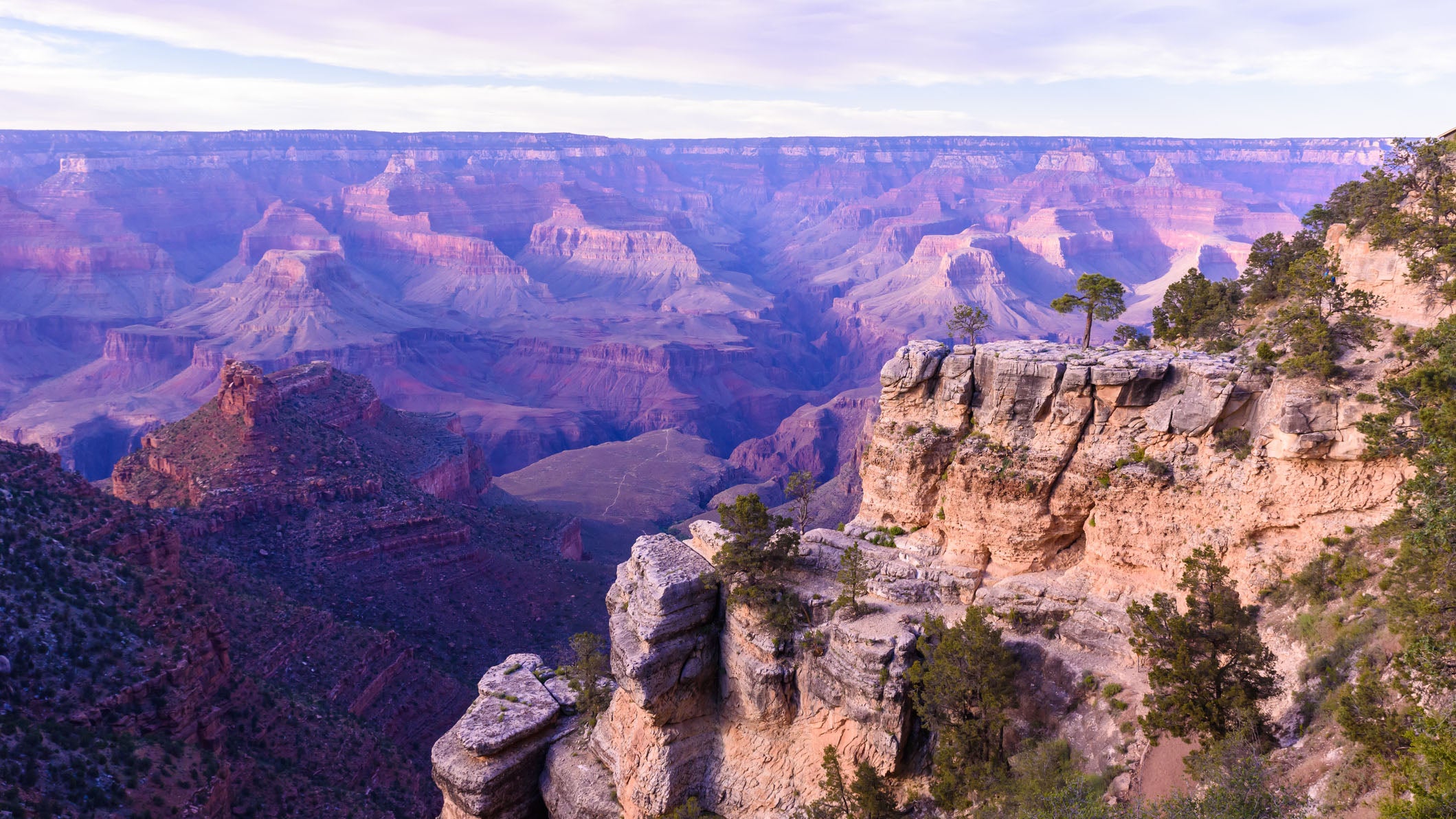 Heading out the door? Read this article on the new Outside+ app available now on iOS devices for members! Download the app.
Update: August 12, 11 A.M.: A Park Service spokesperson said that recent rainstorms washed the graffiti off of Moran Point, and officials now believe the young men were using chalk, not scratching the rock surface. NPS officials are no longer actively searching for the two men in question, however they are still fielding tips on their identities, because their actions did constitute vandalism. "It is still vandalism, but the severity of it has diminished, and we no longer have any evidence of it any longer at the location," said Joelle Baird, a public affairs specialist at Grand Canyon National Park. "We appreciate the public's outpouring interest in protecting sites like these."
Officials with the National Park Service are on the hunt for two vandals who defaced a famous overlook on the south rim of the Grand Canyon. Authorities know exactly what the vandals look like, because two photographers snapped pictures of them in the act.
"They were absolute idiots, quite frankly," Karen Wright, one of the photographers who spotted the vandals, told local news station Fox 10 Phoenix.
A few more pics. Any help identifying these worthless humans appreciated. Wednesday July 27, 2022 11:43am – noon. #MoranPoint @GrandCanyonNPS #GrandCanyon The NPS rangers are overwhelmed with this crap daily. If you see something, don't just walk away. Thanks. https://t.co/XbKFu3W9gm pic.twitter.com/tHl4e5wavI

— Paula Corrette (@pcorrettefay) July 28, 2022
Wright and a photographer friend named Paula Corrette were visiting the canyon on July 27 when they stopped at Moran Point to snap images of the canyon. The popular promontory, located 17 miles east of Grand Canyon Village, is named for landscape painter Thomas Moran, whose paintings helped popularize the canyon in the late 19th century.
As Corrette and Wright took photos, they looked over to a nearby plateau on Moran Point and saw the two young men standing on a rock. They appeared to be scratching something into the rock's surface, Wright said.
"It looked like they were writing something" she said.
Corrette, a nature photographer based in Tucson, had a better lens, and her detailed photos clearly show the two young men in question. One is wearing a green The North Face T-shirt, while the other is clad in a black shirt and is wearing running shoes by footwear brand On Running. She posted images of the men on Twitter, alongside a note: "Today at Grand Canyon National Park we witnessed two young men defacing the iconic rock at Moran Point. If you know them or see anyone damaging our shared public lands, please call or text the NPS Investigative services."
Wright said she and Corrette yelled at the two young men to stop, and told them that defacing the rock was illegal. She also called an NPS hotline to report the damage.
"They ignored us and kept going," she said. "The second boy stood up, took a picture of it, and at that point, we decided to leave. We didn't want to confront them."
NPS officials told local media that they are investigating the case, and that they plan to use Corrette's photographs to try and identify the vandals. According to the NPS, penalties for the vandalism include a fine of up to $1,000 and six months in jail.
"We were very angry about it and I think it's totally unnecessary to leave your mark on a national park property or anywhere. You need to come and enjoy the beauty of nature and respect it," Wright said.
Lead Photo: Simon Dannhauer/Getty Images