The Retirees Who Hiked Out of Suburbia and into the Long-Trail Record Books
In their fifties, Marcia and Ken Powers began long-distance hiking. Lessons they learned on trail prepared them for the next phase of their lives.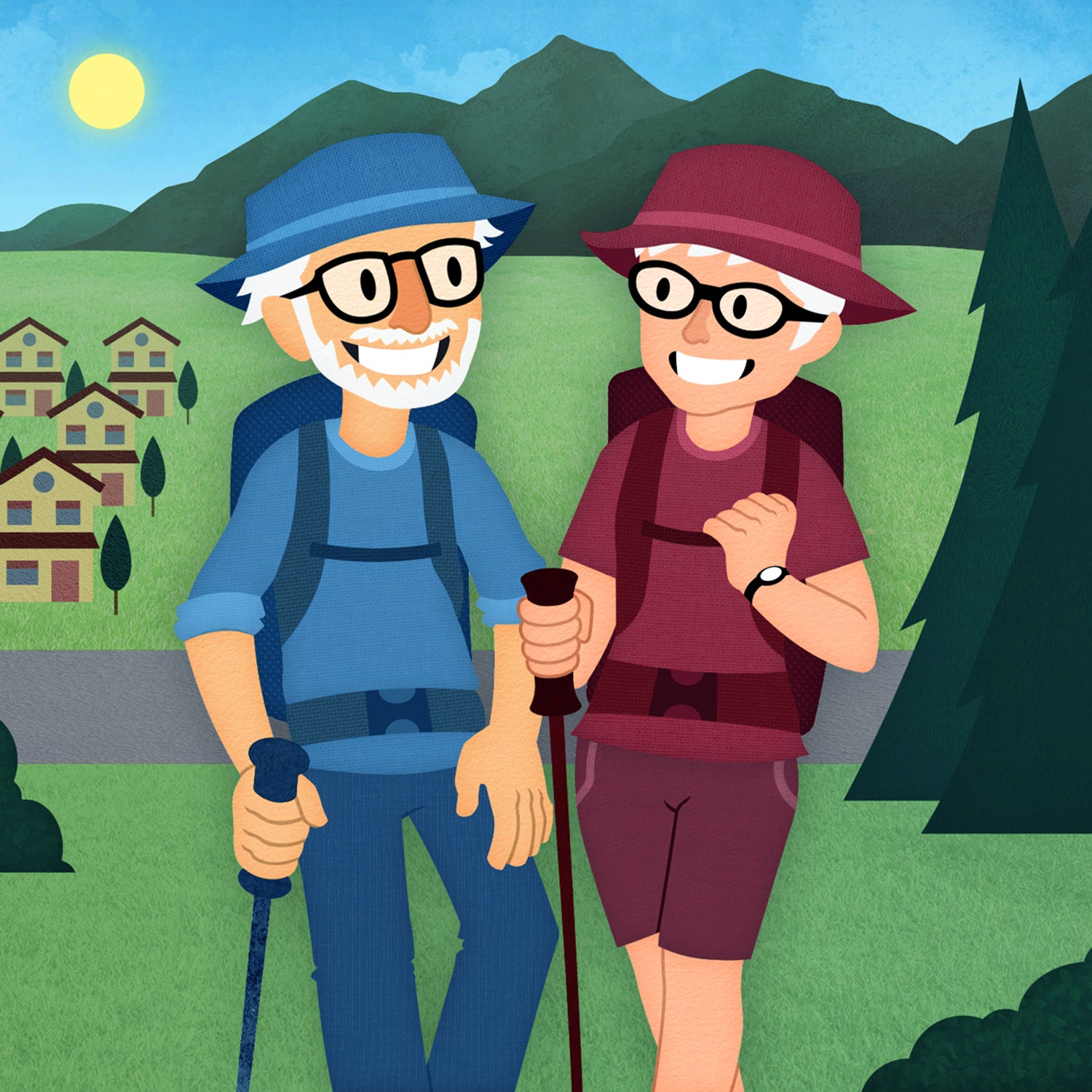 Eugene Dudyak
Heading out the door? Read this article on the new Outside+ app available now on iOS devices for members! Download the app.
Just before Ken Powers turned 55, in the fall of 1999, he had what may be the most coveted mid-life epiphany: he no longer needed to work.
More than three decades earlier, Standard Oil had recruited Powers out of college in Idaho as a computer programmer, luring him to California. He had since become an in-demand database analyst on the West Coast, consulting for large companies that paid well. His retirement accounts flourished in the second Clinton term, so he wanted out. What was the point, after all, of staying in? His wife of 32 years, Marcia, agreed, with one steadfast caveat—only if they trekked the entire Pacific Crest Trail together.
"The plan was to hike along and talk about what we wanted to do with the rest of our lives. Did we want to cruise like seniors do, or build a cabin in the forest?" remembers Marcia, an orchestral flutist and music teacher. "But about 1,000 miles in, we said this is it—backpacking."
In that moment, neither Ken nor Marcia knew that, during the subsequent decade, they would become two of the most extreme hikers in the United States. By 2003, they had completed the Triple Crown of American Hiking, moving some 8,000 miles along the Appalachian, Continental Divide, and Pacific Crest Trails. Then, in 2005, they became the first two people to complete a continuous hike of the 5,000-mile American Discovery Trail, a cross-country route that cuts through major cities and small towns, across towering mountains and into vast prairies. As the decade ended, Ken and Marcia—into their sixties by that point and dubbed "Gottawalk" by fellow hikers—trekked nearly enough to circumnavigate the Earth. After 40 years of marriage, they'd unwittingly learned a lot about how to navigate their future, too.
---
Both Ken and Marcia came from in outdoors outposts of the American West. Ken grew up in a tiny cabin near Idaho's Sun Valley, exploring the woods alone while the rest of his family hunted. Though born in Oklahoma, Marcia extols her childhood in Bozeman, Montana, where the surrounding wilderness became a second backyard. She loved hiking trips with Camp Fire Girls, a counterpart to Boy Scouts.
But after the two met in college and migrated to California, suburban adulthood superseded their shared sense of adventure. Married in 1967, they had two sons, Luke and Adam, 14 months apart in the mid-seventies. The kids were very active, so Marcia shuttled them between orchestral rehearsals in the East Bay and soccer practice. "It's incredible how busy we were doing the suburban life—just work and children," says Marcia. Suburbia was so predictable and pleasant that their California town, just 30 miles southeast of Oakland, is actually named Pleasanton, as if the homes were cast from ticky tacky.
Ken engaged his outdoor past through leading the kids' Boy Scout troop. A childhood Scout himself, he guided weekend camping trips and long hikes, leaving Marcia back home. She began to envy their outings, not to mention their mountains of specialized gear. In high school, decades before Title IX expanded athletics for women, she'd wanted to be a runner but had no opportunity. Now a mother and wife, she again felt left out of play.
"I was really active in high school, biking long distances. But there just weren't sports there for me," she says. "And then once I was a suburban wife, what did I do? Bike? That's basically it, until hiking happened."
On her 50th birthday, she demanded a change—she wanted to climb Mount Whitney in a single day, with Ken at her side. They did, but upon reaching the iconic Trail Crest at almost 13,700 feet, a new goal appeared: Ken told Marcia they could also climb the mountain from the other side someday, but they'd need to spend a few nights on trail to do it. The possibility thrilled her. "OK, count me in," she replied. "I'm going to start backpacking."
Within months after that epiphany on Whitney, the couple had spent a springtime week in a nearby state park and started planning the first of two consecutive thru-hikes of the John Muir Trail. When both kids finished college, they turned toward retirement and the lure of the PCT. "We had no money," Marcia says, laughing, "but we had time."
After completing the PCT, they began spending half of most years on trail, exploring the country in slow motion. Their sons mailed supplies to trail towns and shared concerns, like not knowing where their parents were on any given day. (The Powerses have long hiked without a GPS tracking device; in the early days, they suspected more than once the kids had snuck one into their packs.)
These hikes served as a sort of feminist awakening for Marcia, and Ken was happy to witness it. When they began, she faithfully followed his lead, depending on him for basic skills like navigation and equipment management. But she was a rapacious learner: she took outdoors classes, read books, and absorbed the trails' lessons in real time. On the Continental Divide Trail in 2002, she slipped a poncho over her body and backpack during a Montana snowstorm; Ken chose not to and almost suffered hypothermia after hail accumulated between his back and bag. It was scary, of course, but affirming for Marcia—she now knew enough to make smart decisions, independently.
"At that point, I was in charge. The playing field had leveled out," says Marcia. "Hikers who know us would describe me as driven. I had to sit on the sidelines, waiting for the guys, waiting for my turn. I had the desire to participate a long time before the opportunity came."
Of course, their adventures were as much about teamwork as individuation. Even after raising two sons, Marcia and Ken developed better communication as a couple on trail, from troubleshooting potentially dangerous situations to better letting petty grievances go. (I can confirm this is a forever-process, as someone who also thru-hikes with a spouse.)
"You are not going to alienate the only other person in the woods with you," deadpans Marcia. Over time, they realized the power of food breaks to alleviate conflicts—this was meant to be fun, after all.
In 2005, they decided to put nearly 40 years of marriage and five years of hiking to a test so daunting no one had ever done it: hike from the Delaware coast through 13 states to the California coast near their home in one continuous push—a thru-hike of the American Discovery Trail. The unprecedented nature of the journey inspired them, an ultimate retirement conquest. They spent months planning supplies and routes and resting points, believing that only experienced and calm Triple Crowners could pull it off.
They learned to improvise when it came to using the bathroom in busy cities. Marcia once extracted herself from quick sand. They took only four days off in 5,000 miles, and averaged more than 21 miles per day. They kept a detailed trail journal in case something went wrong, hoping to offer it up as an instruction manual for the next hiker.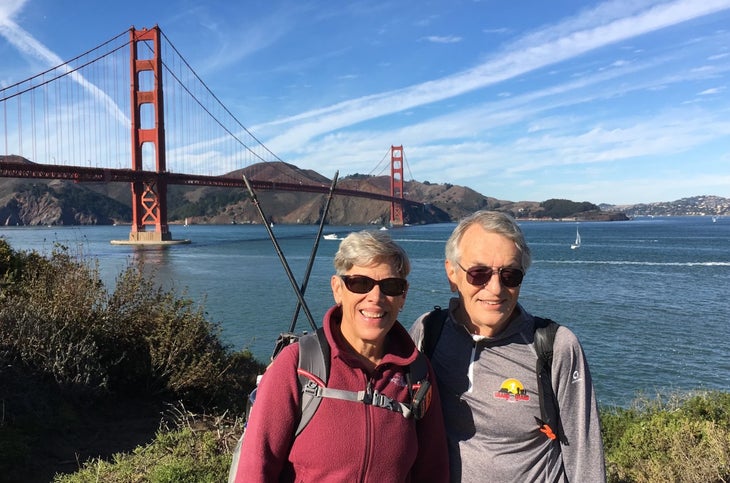 And on October 15, 2005, the Powerses waded into the Pacific Ocean—their historic bid successful. Their relationship had crucially evolved, Marcia says, from traditional spouse dynamics to those of hiking partners, each with their own expertises. Maybe that's why, nearly two decades later, they still own the trail's fastest-known time of 231 days.
The Powerses had transformative political, social, and economic revelations along the way, too. They had been a typical suburban couple, Marcia remembers, just stuffing more stuff into a big house, with two cars in a big yard. But after strapping their homes to their backs for six months at a time, they realized they didn't actually need much. "It's a different world where you're sleeping in a tent," says Ken, "as opposed to a two-story house."
They also reckoned with their privilege like never before. Ken had been hired out of college by his roommate's friend—not a favor, per se, but an act of kindness that enabled their white, middle-class suburban dreams. As more Americans wrestle now with the notion that they may never retire, while others take to RV-life not to relax but to migrate between seasonal jobs, the Powerses (who, yes, have read Nomadland) realized their luck, even alongside lifetimes of work.
"I worry about a feeling of entitlement I see a lot in people my age in suburbia," says Marcia. "We're not in this position because we were smarter than the average person our age. It was just fortuitous."
---
A few years ago, Ken began losing his short-term memory. It seemed slow at first, almost invisible. Marcia now frequently reminds him in conversation when he's repeating himself, especially about his past leading Boy Scouts. It is a new phase of life together, just as hiking was 20 years ago.
Lessons learned from troubles on trail, Marcia says, gave them insights to deal with this unexpected development. She recalls reaching water reservoirs in New Mexico where they encountered only mud. They had to brainstorm a solution and hitchhike to towns where they could replenish. Hiking is an immersion in improvisation—life is, too, especially now.
"One of our mantras for hiking is plan, plan, plan for the future, but adapt along the way," says Marcia. "We needed to adapt quickly and be resilient on trail. Those are the two skills that we're using right now. Life changes."
More than a decade has passed since the Powerses made their last major trek together as Gottawalk. They have completed the California stretch of the PCT again, and Marcia continues to hike long sections by herself. She insists she's not finished thru-hiking.
But they help take care of two grandkids now, and COVID-19 has largely made them homebound. Still, every afternoon, they drive somewhere nearby and go for a long walk. The circumstances are different for the couple on trail, but one rule remains. "We don't really care where we go," Marcia laughs, "as long as it's dirt and hills."
Passersby will often approach them on such hikes to ask a question she almost always predicts: "How old are you?" Marcia bristles slightly, as they've always been reluctant to be seen as an inspiration. Still, she hopes these inquisitive folks take her age—74, thank you—as a reminder that everyone still has time to hike, no matter how many years they've been at home, awaiting their turn. She was there once, you know?
"I don't think a hiker is a gender, an education, a paycheck, an ethnic group," she says, omitting age. "A hiker is someone who puts on a backpack and does the miles."
Lead Illustration: Eugene Dudyak
Trending on Outside Online