Colorado's Fourteeners Saw a Decline in Hiker Traffic in 2021
Driven by closures and new parking rules, Colorado's highest peaks saw a precipitous drop in hiker visits from 2020 to 2021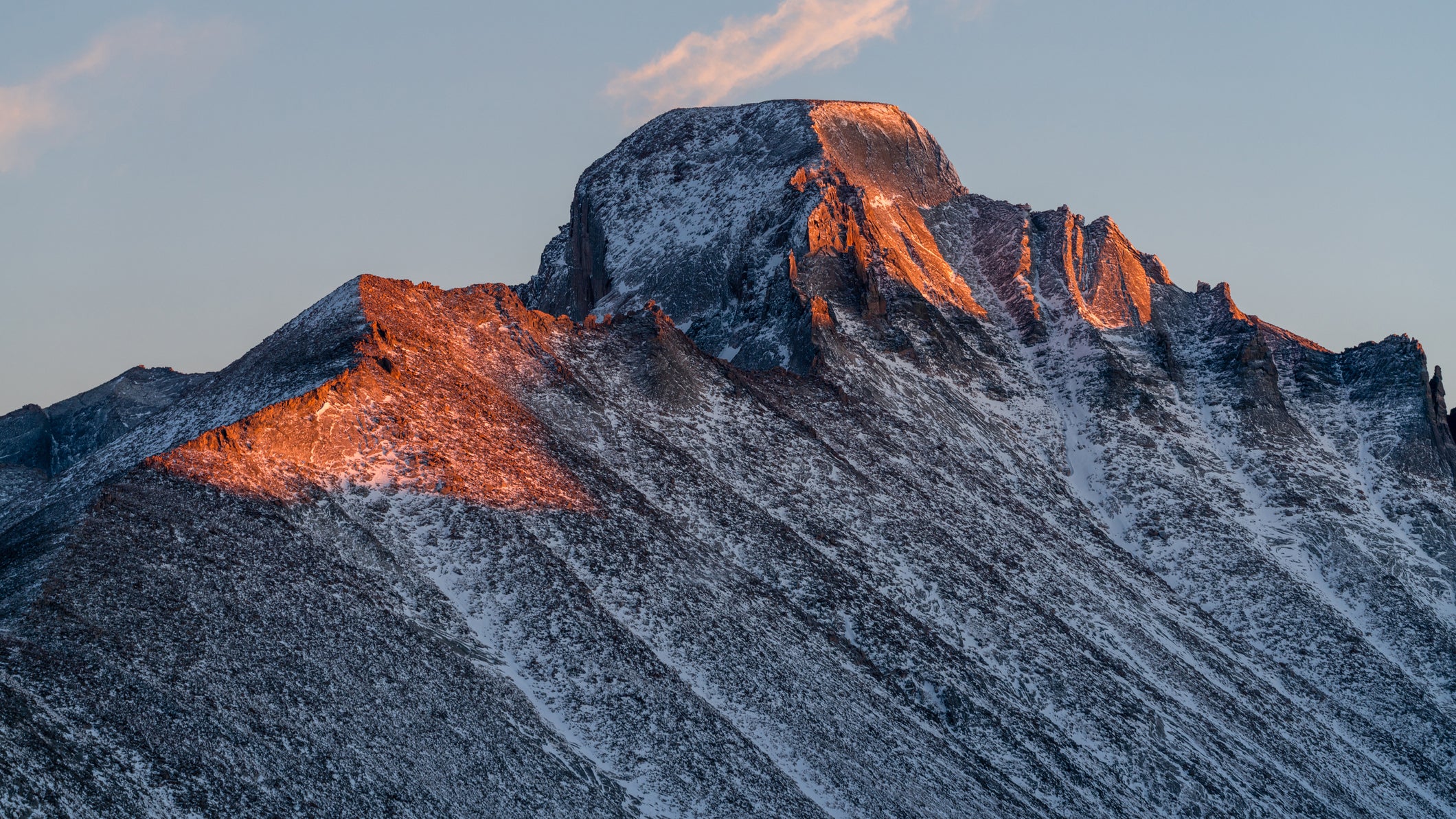 Heading out the door? Read this article on the new Outside+ app available now on iOS devices for members! Download the app.
Hiker visits to Colorado's fourteeners fell by more than a quarter in 2021, driven down by closures and new parking restrictions on the state's most popular peaks, the Colorado Fourteeners Initiative (CFI) revealed in a report this week.
The CFI has studied hiker traffic on Colorado's highest peaks since 2014, using a combination of remote thermal sensors and mathematical modeling to estimate how many people venture up the state's fourteeners every year. The organization estimates that visitors logged 303,000 hiker-days on those 58 peaks in 2021. That's a drop of 27 percent from 2020, when pandemic closures and travel restrictions drove hikers to collectively spend 415,000 days on the mountains over the course of the year, though last year's statistic still towers about the 288,000 days that visitors spent on fourteeners in 2019.
Behind the drop were several notable closures and new regulations that took effect in 2021. Last summer, landowner John Reiber closed access to privately-owned mountains Democrat, Lincoln, and Bross, citing concerns about litigation from hikers who wandered dangerously close to old mining infrastructure. (Although the summit to Bross is closed indefinitely, the Decalibron Loop brings hikers close to the top.) The loop has since reopened, but the two-month closure heavily impacted visitor numbers; the CFI estimates that the Mosquito Range, where the peaks are located, saw a 65 percent drop in visitation.
New parking restrictions, aimed at managing pandemic-era crowds, also contributed to the decline. Quandary Peak saw a 29 percent drop in visitation following the announcement of new rules that required high-season visitors to fork over as much as $50 for a parking permit, show up in the late afternoon, or take a shuttle, while restrictions on parking on the access road to Grays and Torreys peaks slashed visitors to those by about 38 percent. Only the 13 peaks split between the Elk Mountains and Sangre de Cristos saw an increase in visitation.
Welcoming visitors to Colorado's Fourteeners has long been a balancing act for land managers. Although fourteeners drive millions of dollars in visitor spending—$82.2 million in 2021 alone, the CFI estimates—they've also drawn crowds to some of the state's most fragile landscapes. In 2015, the CFI reported that building out fourteeners' trail networks to properly accommodate crowds would cost roughly $24 million.
The 2021 report also included estimates for hiker use days per peak, and a ranking of the most and least popular peaks.
Most popular Colorado fourteeners by hiker use days in 2021:
Quandary Peak: Between 35,000-40,000 hiker use days
Mount Bierstadt: 30,000-35,000
Mount Elbert, Grays/Torreys Peak: 20,000-25,000
Longs Peak, Pikes Peak, Mount Evans: 10,000-15,000
Least popular Colorado fourteeners by hiker use days in 2021: 
Little Bear Peak, Culebra Peak, Snowmass Mountain: Less than 1,000 hiker use days
Mount Lindsay, Humboldt Peak, Kit Carson Peak/Challenger Point, Crestone Peak, Crestone Needle, Blanca Peak/Ellingwood Point, Pyramid Peak, Capitol Peak, Maroon Peak, Castle Peak: 1,000-3,000
This story was originally published by Backpacker.com.
Lead Photo: Getty Images