How a Personal Trainer Claimed Records on the AT and PCT
Heather Anderson just crushed the record for the fastest known unsupported Appalachian Trail thru-hike. That makes her the biggest badass you've never heard of.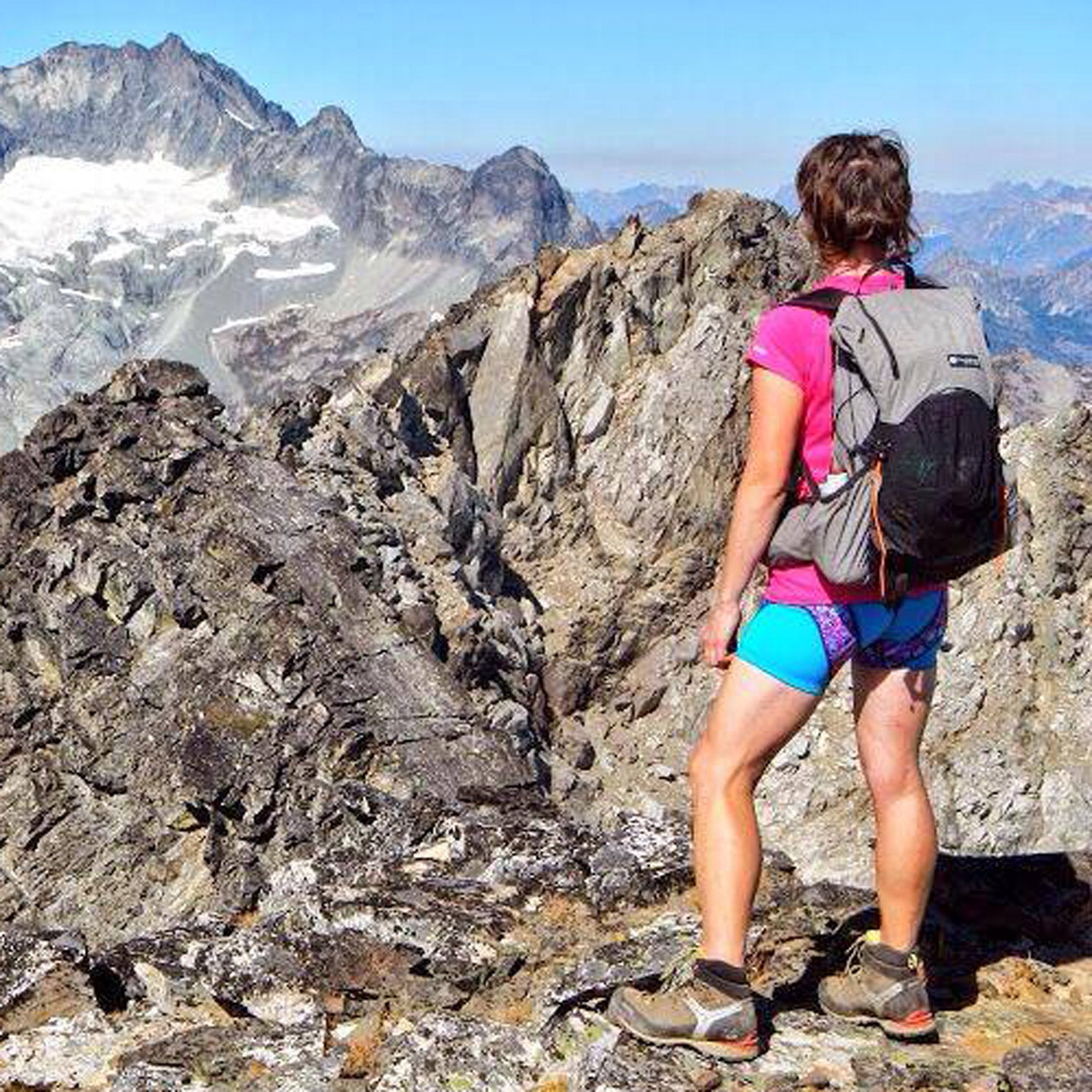 Heading out the door? Read this article on the new Outside+ app available now on iOS devices for members! Download the app.
A few days after finishing her unsupported thru-hike of the Appalachian Trail (AT) last month, Heather Anderson was wearing the strap from her headlamp to hold up her trekking pants—not because she's crazy, but because she'd dropped more than ten pounds over her record 54-day sprint down the 2,168-mile trail.
"I hadn't been on the AT for 12 years. In that time I forgot how terrible it can be—the humidity, the bugs, the endless rocky terrain," Anderson said afterwards. "Early on I almost gave up on the record. But mostly I just told myself it was a fun new adventure and kept going."
Before two weeks ago, there wasn't a reason you would have heard of Anderson. But in setting a fastest known time (also known as an FKT) on the Appalachian Trail, she has become the first woman to hold the unsupported thru-hiking records on both the AT and the Pacific Crest Trail (PCT). In 2013, she completed the PCT in 60 days, 17 hours, and 12 minutes. On September 24, Anderson hoofed up Springer Mountain in Georgia, the AT's southern terminus, thereby shaving four days off the existing record, which was set by Matt Kirk, a North Carolinian school teacher, in 2013. (She beat the existing women's record by more than five weeks.)
In spite of the achievement, Anderson seemed entirely circumspect about the lack of attention her Appalachian Trail record was receiving when I spoke with her earlier this month by phone. "I flew under the radar on purpose," says Anderson. "I didn't want to be seen as someone trying to break a record. I just wanted to be out there as a thru-hiker."
"I know how tough she is, so the only thing that surprised me about her record was that she wasn't even closer to Jurek's time," David Horton says.
But it's actually a pretty big deal. Consider this: Earlier this year, ultrarunner Scott Jurek set the assisted FKT on the Appalachian Trail in 46 days. His wife, Jenny, drove a support van tricked out with a bed and kitchenette and met him every ten miles or so with a hot meal and fresh supplies. Fans following his journey left food out for him. Running clubs paced him almost every step. Clif Bar sent out their chief nutritionist to help plan his diet, and a crew of friends and previous record holders planned all his logistics.
By contrast, Anderson packed 15 boxes worth of food and supplies and shipped them to towns along the trail. She carried all her own food, water, and gear, including a one-person tent she'd erect each night by draping it over her trekking poles. She did it all entirely by herself. No sponsors. No crew. Not even a ride into town to replenish her supplies. In total, she spent about $2,000 on the attempt—money she saved up while working as an online personal trainer based in Seattle.
David Horton, who has held the records for supported hikes on the Appalachian Trail, Pacific Crest Trail, and Vermont's Long Trail, says he wasn't surprised at all by Anderson's record. Her unassisted PCT record bested his supported record by five days. When he saw that she was trying for the AT, he says he predicted Anderson would beat Jurek's supported FKT of 46 days, too.
"I know how tough she is, so the only thing that surprised me about her record was that she wasn't even closer to Jurek's time," Horton said.
---
Anderson is 34, but easily passes for younger, thanks to her freckled cheeks and penchant for wearing her hair in pigtails. She's about 5'8" and 140 pounds and as broad-shouldered as a college swimmer. She goes by the trail name "Anish"–a shortened version of Anishinaabe, an homage to her great-great grandmother, who was born Ojibwa, one of the Anishinaabe tribes based in the Upper Midwest and Lower Ontario.
Anderson was raised in Michigan. Her dad moved between farm and factory work, and her mom had trained as a social worker but left the profession to raise her kids. The family's lifestyle was quintessentially rural middle America: the family had a couple of horses, and Anderson would sometimes work flinging straw and hay bales, but that was the extent of her outdoor experience. By the time she enrolled at Anderson University, a Christian college just outside Indianapolis, she was fifty pounds overweight and full of self-loathing. Then she discovered hiking.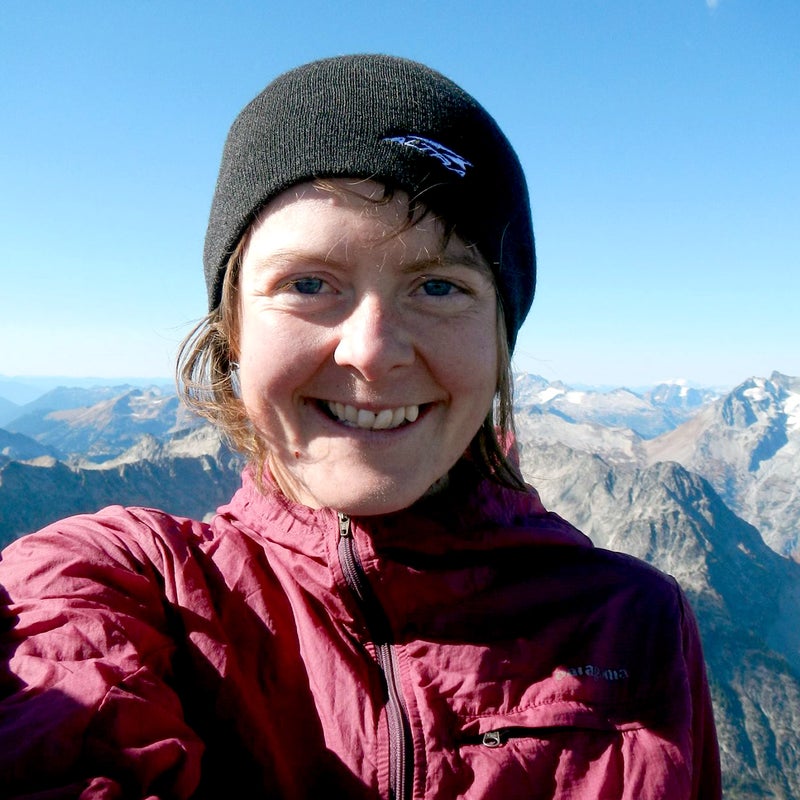 After her first year of college, Anderson took a summer job at the Grand Canyon. A few days into the new job, a group of co-workers asked her to join them on an eight-hour trek down to the Colorado River and back. She showed up wearing cut-off jeans shorts and Wal-Mart sandals. The only thing she carried was a small bottle of water.
"I didn't die, but I felt like I was going to," says Anderson. "It was miserable. But two days later, I wanted back out there. I literally had no idea that people don't hike the Grand Canyon in the summer."
That all-in attitude has since come to define everything Anderson does. Ask her if that's because she's tenacious or crazy, and she'll tell you it's more because she's a courageous dreamer.  "I've never been afraid to dream big and jump in feet first, no matter the cost or consequences."
Anderson's summer at the Grand Canyon taught her the value of being up close and personal with a wild place. She returned home thinner and in search of her next big adventure. It didn't take her long to settle upon the Appalachian Trail. "I didn't just want to look at a beautiful landscape," she says. "I wanted to really be in it. I wanted to challenge myself, too."
Nobody believed her—not even her mom, who found her filching a frying pan and an old pair of her dad's work boots for a practice hike along Lake Superior. It was supposed to be a four-day backpacking expedition. But Anderson crashed and burned on the first day out. "I had lost my water purifier, I was carrying 40 pounds of gear including a Coleman Stove, and I had no idea how to deal with all the tree blow-downs I came upon. I was completely unprepared.  The only thing I got right was making it back to my car without getting lost."
---
By the time she made it to the Appalachian Trail in May of 2003, she was a little better prepared, but not much. She made her way up Springer Mountain toting a gallon bag of oatmeal and a huge coil of thick farm rope (she had heard it was a good idea to hang a bear bag). She didn't pack a sleeping bag because she figured she wouldn't need one in the South. Four days into the trail, she was cold and hungry. She hopped off the trail long enough to raid a hostel's supply box, trading in her oatmeal for a handful of candy bars and a sleeping bag. Four months later, she made it to Maine. And at that point, all she really wanted to do was turn around and hike the trail again.
Instead, she returned home for the winter, then took a road trip to Damascus, Virginia, for an annual AT thru-hiker reunion. There she met Remy Levin, who was completing his own thru-hike that year. Shortly thereafter, the two married and settled in Seattle. Anderson began designing ebooks for a software company. But nothing sat right for her. "I realized I was never really interested in working in software. I was interested in being in the mountains," Anderson said.
She and Levin hiked the PCT in 2005 and the Continental Divide in 2006. Still, Anderson was always itching to be back on the trail. By 2012, her marriage crumbled.  So she quit her job and sold all of her furniture and most of her clothes. And then she did the only thing she knew she really loved: she hiked. She spent a couple of months backpacking on the northern half of the PCT, sometimes sobbing, sometimes elated. When winter came, she moved back to her family home in Michigan and considered her next move.
"I knew I wanted to make this my life," Anderson explained in a recent Ted Talk. "I wanted to immerse myself so completely that I would no longer be living on autopilot."
---
Having already hiked the big scenic trails, Anderson wanted a new challenge. And so, in early 2013, she decided to make a bid for the FKT on the Pacific Crest Trail.  "I wanted to push myself," Anderson said. "This wasn't about minimizing my time in the wilderness. It was about intensifying that time the best way I knew how."
She didn't have money for much gear, so she bought a couple of thrift store sundresses for a buck apiece. They've since become her signature out on the trail.  She wore two of them on this most recent AT hike. A white floral one that cost less than a dollar lasted her from Maine to Pennsylvania. She finished the trail in a lime green cotton one she had made herself.  Underneath the spaghetti straps, big patches of medical tape hid pack sores on either shoulder.
These dresses have drawn a lot of attention from other hikers, but Anderson said they're really just about utility. "They're cheap, they're comfortable, and they let me pee standing up." They also let her go super light on the trail, which is essential when it comes to shattering a record.
In addition to her trekking poles and ultra-light tent, Anderson carried a water filter, ground pad, and sleeping bag. She tore through six pairs of trail running shoes. She consumed about 122 pounds of food—mostly energy bars and nut butters (Anderson is gluten intolerant and a big proponent of whole, organic food).  Those 15 supply boxes allowed her to resupply every 130 miles or so. Each box also contained a few ready-to-eat Indian dinners that she'd scarf down at the counter of a post office or general store while stuffing new supplies in her pack.
"I really believe in trail magic," Anderson says. "I didn't want people to help because I was trying to set a record. I wanted people to help because I'm a human being on a beautiful journey."
The logistics needed to pick up each box became one of Anderson's biggest challenges. From the start, she had committed to walking the distance off trail required to fetch each one (most thru-hikers thumb a ride on town or have friends waiting to schlep them). Getting in to town in time was a constant juggling act.
"I'd wake up 40 miles away from the next box and know I'd have to get there before the post office or business closed at five'o'clock," Anderson said. "I'd be running all of the downhills to get to the town, which would really wear me out. Or I'd get there a couple minutes too late and have to burn eight hours of hiking time waiting in my tent or a cheap restaurant. I lost a lot of time that way."
One day, she miscalculated her food supply and went 12 hours without eating. By the time she reached North Carolina, she discovered that a drought had dried up otherwise reliable springs and streams. She ran out of water multiple times and even had to backtrack several miles to a hostel one time when things got really dire. So she started hiking with two liters of water—pretty standard for a thru-hiker, but a lot of weight for someone trying to break a speed record.
Still, she tried to avoid telling other hikers why she was out there. "I really believe in trail magic. I didn't want people to help because I was trying to set a record. I wanted people to help because I'm a human being on a beautiful journey."
Sure, she says, there were plenty of times when a supported hike sounded pretty appealing: like when a giant blister formed on the entire back half of her foot and she spent the night lancing it by head lamp. Or the one time she decided to provision in a big supermarket and miscalculated her calories, which meant she had to go a half day without any food. By contrast, when Jurek made it to his support van, his team was there to patch up his wounds, provide him with fresh socks, a hot meal, and strategize about his next day on the trail.
"I wanted that added challenge and responsibility," says Anderson. "That was the point."
---
Anderson crossed into Georgia on September 22 in record time—52 days—for the final stretch of the Appalachian Trail. Even still, she was reluctant to claim the FKT until she summited Springer Mountain. "I don't even like to think about a record when I'm ten miles away from it. There's just too much that could happen. I could break an ankle, get giardia, anything."
Anderson finished just as she started: alone and without fanfare.  She called her boyfriend, Adam, from the top of Springer after counting her days on the trail a couple of times on her fingers. "I'm so terrible with math," she said.  "I was like, 'check my work, check my work!' It's kind of comical."
After all of the effort, the miles, the nearly two months spent on the trail, the blisters popped, and hundreds of times peeing standing up, Anderson celebrated by quickly turning to another challenge.
The next day, Anderson hopped a plane back to Washington. The day after that, she and Adam left for a four-day peak bagging expedition in the Cascades.
"My feet were definitely saying, 'What are you doing?'" Anderson said. "But we really wanted to get some of the highest peaks at the height of larch foliage season. And in between trail adventures, climbing is pretty much my thing."
Anderson is currently on pace to become one of only a dozen women to climb Washington State's highest peaks. (She plans to finish in early 2017.) On this most recent trip, she and Adam summited three of the big ones—Seven Fingered Jack (9,101 feet high), Mount Maude (9,040 feet), and Mount Fernow (9,249 feet), the third highest non-volcanic mountain in the entire Cascadian Range. It was a punishing four days of hardscrabble scurrying and technical climbing.
If the weather holds, she'll be back out there this weekend, too. She says she'd rather do that than dwell on what the FKT means to her.
"Every girl has a fairy tale," says Anderson. "This just happens to be mine."