How to Plan a Day Hike
If you're just getting started on the trails, don't be overwhelmed. This 101 guide breaks down where to go, what to wear, and everything you need to know to stay safe and have fun out there.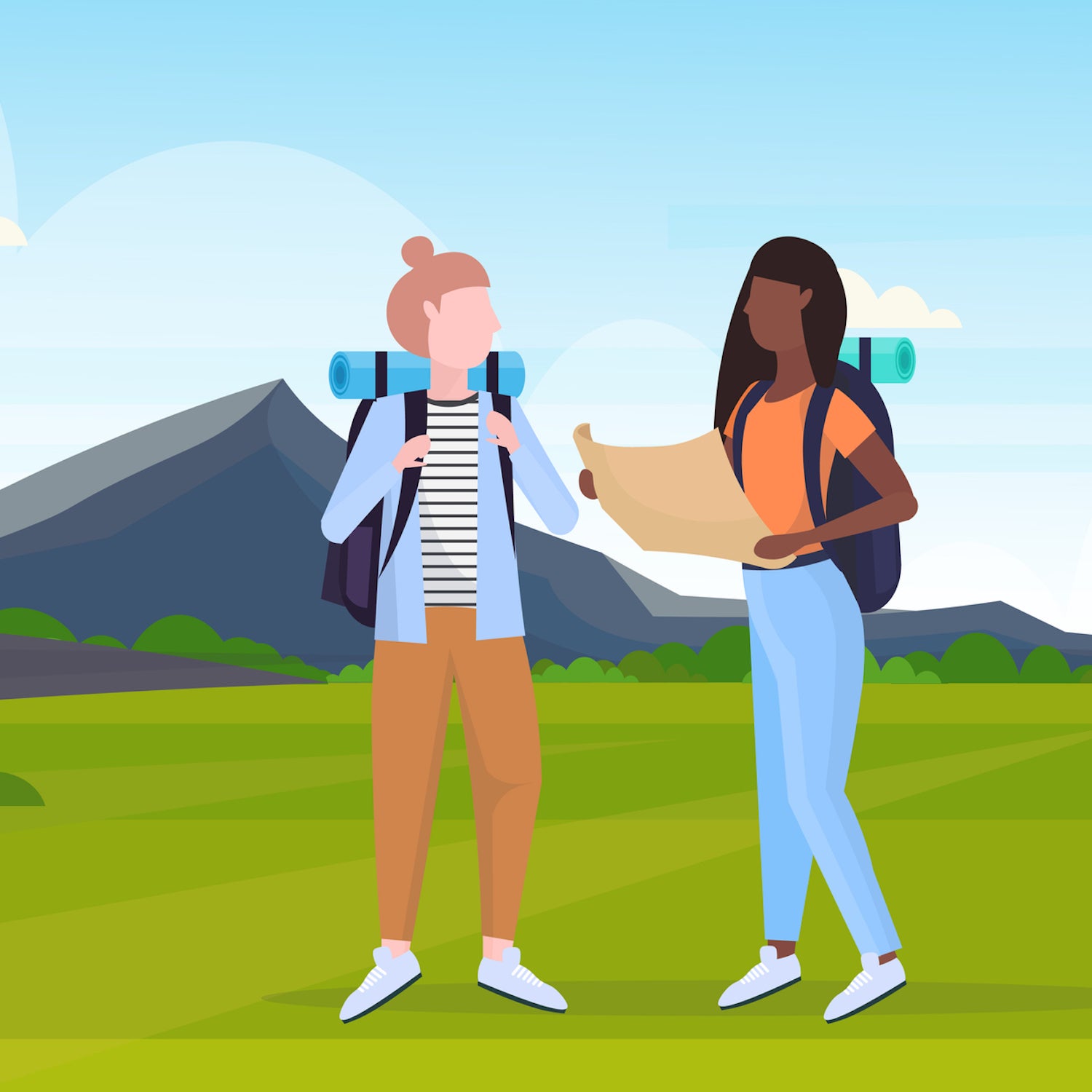 Heading out the door? Read this article on the new Outside+ app available now on iOS devices for members! Download the app.
Americans love to validate hobbies by professionalizing them, which is why the quintessential image of a hiker is someone decked out in head-to-toe gear, silhouetted atop a mountain, or an Instagrammer sharing photos of, like, a latte in front of a waterfall. I'm sure lattes in the wilderness are delicious, and I would very much enjoy drinking one myself. But given the natural tendency of the Internet to create ever-escalating aspirational Content, it's easy to forget that hiking—walking in nature—is one of the most accessible, cheap, and beginner-friendly ways to have fun outside. A day hike is simply a hike that can be completed in a day; it could be a 20-minute stroll after work, a grueling dawn-to-dusk affair, or anything in between. And if you've never considered yourself outdoorsy, but are curious about getting your feet wet, there are few better ways to start exploring.
Find a Trail
Odds are, you have multiple trail options in your area—we'll get to that in a moment. But if you haven't hiked much before, you might not have a great sense of what you're looking for in a trail. So before you start searching, think about (or jot down) the overall feeling you're hoping to get from the day. Would you prefer a gentle walk or a tough workout? Are you someone who prefers having a destination or goal—like a waterfall or a great viewpoint—or are you more about enjoying the process? Do you want to bring friends? A dog? If there's something about hiking that makes you nervous, you can jot that down, too.
Now you're ready to find some options for local trails. You can google "hiking trail [your city]," or use a trail directory like AllTrails, Hiking Trails, or TrailLink. Though they're not as plentiful, you can also search for wheelchair-accessible trails and/or braille trails, which offer informational signs in braille and physical guides, like rope handholds, to help visually-impaired hikers navigate.
Choose a trail distance that you know is within your athletic comfort zone, and keep in mind that walking on uneven surfaces is more tiring than walking on roads or a treadmill. When in doubt, pick a shorter, easier trail—or plan to hike partway, then turn back. You don't need to challenge yourself in multiple ways at once, and your first few hikes are not the time to test how far you can walk in a day. You can always try longer or steeper trails if you feel like it later.
Prepare Ahead of Time
Day hikes can be fairly spontaneous—there's not a ton to do ahead of time. But it's always wise to check the weather and plan accordingly. If your trail of choice has a written description (or map), print it out or screenshot it on your phone; you might not have service while you're out there. And always let someone know where you're going and when you expect to be back.
What to Wear
It's time to hike! Awesome! Put on some sunscreen, and wear clothes that you feel good moving in. Your clothes don't need to be fancy, just comfortable—for these purposes, an old T-shirt is just as good as some ultralight quick-dry top. Expect to warm up once you start moving, and plan to de-layer accordingly; it's better to wear a hoodie over a tank top than a single long-sleeve shirt. Similarly, it may get colder or windier while you're out there—especially if you're hiking uphill—so tie an extra layer around your waist if you start in a t-shirt.
Hiking boots are great if you want extra ankle support, or if you know you'll be traversing loose, crumbly ground, but for the majority of trails, sneakers—or even good, supportive sandals with adjustable straps—will work just fine.
What to Bring
There's a big difference between gear you can bring, if you enjoy geeking out over gear, and gear you should bring for safety—and the truth is that for a shorter hike, the kind that can be completed in an hour or two, you don't need much. But no matter the distance, you'll definitely want a water bottle. A good rule of thumb is to carry a half-liter of water, or just over two cups, per hour of hiking, and more if it's hot out or you're working hard. Plus a snack, or a few snacks. (Bonus points for a special treat that you plan to eat at the turnaround spot.)
Once you've drunk half your water, it's time to turn around—even if you're thisclose to your destination. It's always better to end a hike wanting more than to push yourself too far.
Hiking Etiquette
Hiking etiquette, as it were, mostly comes down to leaving nature as you found it and not being a jerk. If you have a dog, carry out their poop and keep them leashed around other people, even if leashes aren't required on your trail. Don't play music without headphones; don't leave trash; and appreciate flowers by taking pictures rather than picking them. Staying on-trail, rather than wandering off or taking shortcuts, will help protect your surroundings so that everyone can enjoy them.
What About Bugs and Ticks?
Ticks mostly live in vegetation, so if you're sticking to dirt trails and not wandering off in the grass or pushing through bushes, you're less likely to be exposed. But if you tuck your pants into your socks, and your shirt into your pants, it's much harder for ticks to reach your skin. You can also wash/dry your clothes on high heat after a hike to kill any stowaways—and a spray with DEET in it will help repel ticks and mosquitoes alike.
What About Wild Animals?
If you're lucky enough to see a wild animal, keep your distance, back away slowly, and keep in mind that they're trying to avoid you, too. If you're hiking with someone else, talking or making noise, animals will probably scatter long before you reach them.
What About Safety from Other People?
Being in the woods is uniquely vulnerable, especially if you're not a man. I know a lot of women in particular who have found great power in hiking alone—but that's not necessarily something to try on your first few hikes, before you're totally confident and comfortable. Remember: you don't need to challenge yourself in multiple ways at once. If you're concerned about other people, bring a friend, borrow a big dog, and/or stick to trails close to town so you'll have phone reception.
Will Other Hikers Judge Me?
It's possible that they might. But if they do, they're the ones who suck. After all, part of the reason nature is so great is because it allows us to step away from human judgments and just be ourselves. If someone shames you for your athletic ability, what you're wearing, etc., you can pull an UNO reverse and rest in the petty but totally accurate knowledge that by being judgy, they're missing the point, and therefore you're doing nature better than they are.
Find the Fun
Naturally, this is the cheesiest instruction. But it's true! You're doing this for you—not for anyone, real or imaginary, who might be watching. Hike at a speed that feels good. If you're tired, slow down, or sit and take a break. (There is no such thing as hiking too slowly. It's literally impossible.)
There are a million ways to make hiking yours. Bring a sketchbook and draw pictures along the way, or photograph interesting plants. Check your local bookstore or outdoors store for regional nature guides, and make a game out of identifying a few flowers, trees, or birds each time you go out. You can push yourself to go longer distances, or you can make the same trip each time. There's no hierarchy of hiking, no treks that are more or less legitimate. Are you outside, exploring and enjoying yourself? It's official, my friend: You're a hiker.