Jack Kuenzle's Speed Record on Denali Was No Cakewalk
The former Navy SEAL faced deep snow, gusting winds, and sheer ice on North America's highest peak. But he still smashed the previous records set by Karl Egloff and Killian Jornet.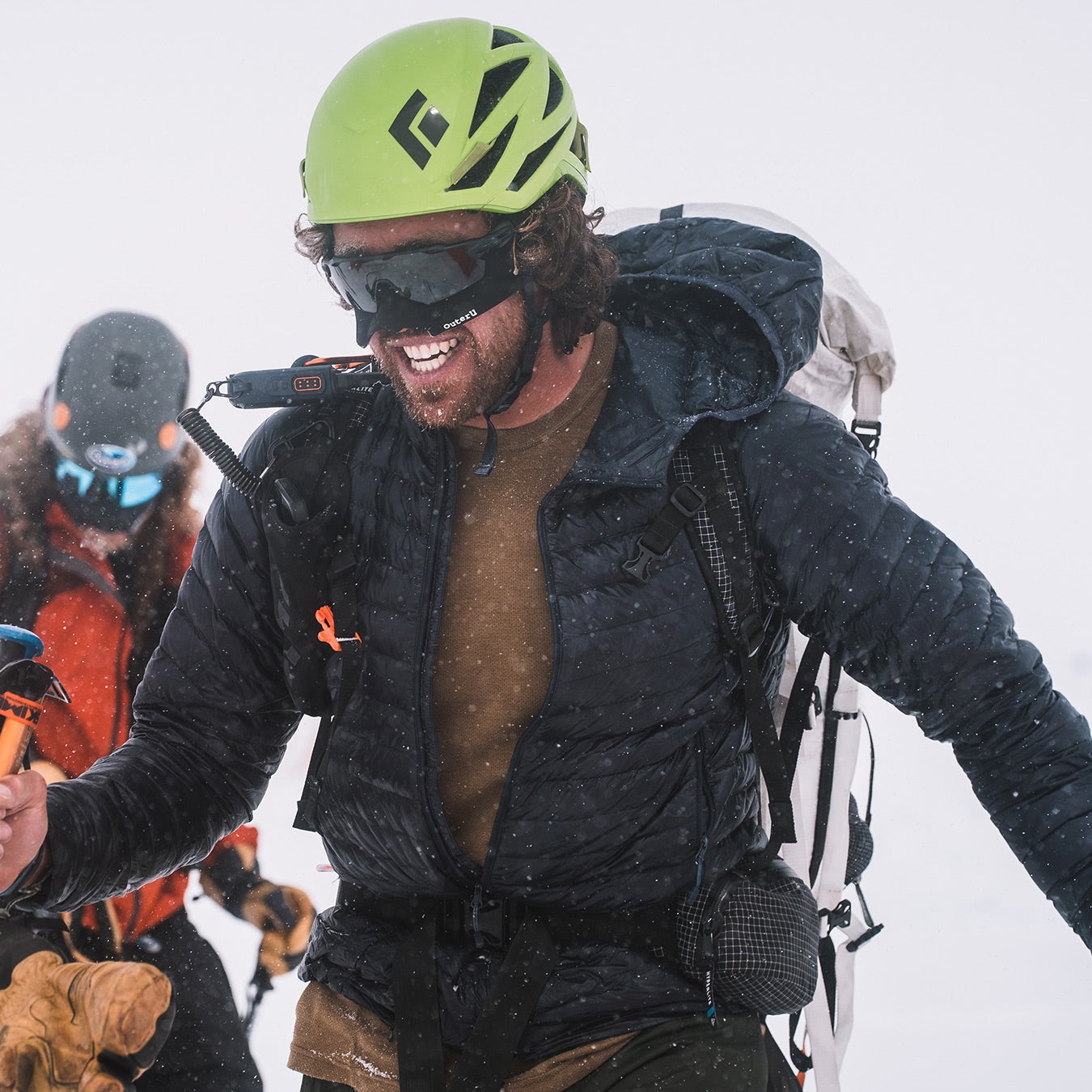 Zach McCarthy
Heading out the door? Read this article on the new Outside+ app available now on iOS devices for members! Download the app.
Three memories stand out in Jack Kuenzle's mind from his recent expedition to 20,310-foot Denali. On June 5, Kuenzle smashed the Fastest Known Time on North America's highest peak, climbing and then descending the West Buttress round trip route on skis in 10 hours, 14 minutes, 57 seconds. The time beat the previous mark of 11:44, set in 2019 by climber Karl Egloff, who did the round trip on foot, as well as the skiing record of 11:45, set by Spanish ultra-endurance phenom Kilian Jornet in 2014.
The trio of memories, Kuenzle says, are of the make-or-break moments from the voyage. The first was when Kuenzle boot packed through knee-deep snow to a ridge midway up the mountain and finally glimpsed Denali's snow-capped summit, which was shrouded in clouds and battered by winds. The conditions at near the top looked terrifying, and Kuenzle debated whether or not to continue.
"A tiny fraction of my brain said I should stop now and wait for a better day, because I was only two hours in at that point," Kuenzle told me. "But there have been so many previous efforts when I've had moments like that and things have ended up OK that I knew I could probably keep going."
The second memory is from Denali's exposed summit ridge, just a few hundred feet below the top. Having never climbed higher than 17,000 feet, Kuenzle struggled with the altitude, gasping for breath and feeling punch drunk. He began to question his decision-making skills amid the oxygen deprivation. Even though he was sweating through his thin hoody, Kuenzle stopped for several minutes to put on his puffy jacket.
"My thinking was that if I fell off the ridge wearing my hoody I'd freeze to death,"  Kuenzle said. "My legs were cooked and my brain felt like mush and I figured if I had my big coat on I'd have a better chance of survival if I fell."
View this post on Instagram
Kuenzle reached the top in 7:54:30, which was 14 minutes slower than Egloff's ascent on foot. Kuenzle knew he'd move faster down the mountain than Egloff, who had descended using crampons, snowshoes, and running shoes. But the Denali route was pockmarked by crevasses, and covered in a tricky combination of hardened ice and powdery snow. A crash or a broken ski could easily torpedo his progress—or worse. Kuenzle's third memory is from his descent of Squirrel Hill, at approximately 12,500 feet elevation. The steep face was covered in blue ice, with a dusting of powder on top, and a 3,000-foot cliff at the bottom. Several days prior, when conditions were different, Kuenzle had blasted down the section on his skis, completing the descent in about a minute. During the FKT, he nervously skidded down the ice.
"I think it took me more than ten minutes to get down it because I was so concerned with breaking my skis," Kuenzle said. "There was this narrow path of snow between the blue ice and I just kind of had to slide my way down."
After navigating the section, Kuenzle knew he was almost home free. He bombed down the rest of the descent, speeding past cheering climbers at Camp I at 7,800 feet, over the Kahiltna glacier, and onto the Base Camp finish line at 7,200 feet. He messaged a friend with his Garmin Inreach to share the accomplishment, and the time appeared on Kuenzle's Instagram page. News of the FKT spread quickly spread online, with posts circulating on Twitter and on Instagram of his time. The wide margin by which he beat Jornet and Egloff simply added to Kuenzle's legend as the new hero of FKTs on some of the world's hardest routes.
As the news spread to the outside world, Kuenzle had little time or energy left to party. Although he was drained from the climb, Kuenzle still had one final physical effort to do. Prior to his FKT attempt, Kuenzle had built a campsite at Camp III at 14,000 foot elevation, alongside another climber, Zach McCarthy, with gear, food, tents, and other supplies. But McCarthy had suffered a case of altitude sickness a few days prior and was airlifted from the mountain. That meant Kuenzle needed to climb back up to 14,000 feet, pack up the campsite, and the portage the gear supply down.
His celebration was more low-key than normal.
"After I did the Mount Rainier FKT I at least got to go have some lunch with my buddies afterward," Kuenzle says. "With Denali, I went back to my tent and ate some nasty dehydrated meal, and went to bed thinking about the fact that I was going to have to hike all the way back up to 14,000 feet again."
More Ascents in North America
We first wrote about Kuenzle about a year ago after he smashed the FKT on Oregon's Mount Hood by 13 minutes while wearing little more than a pair of underpants. Kuenzle stood out as the fast and unknown newcomer to the world of ultra-endurance: a former hockey player and runner who had recently picked up backcountry skiing and was toppling records on long and grueling routes. In September, Kuenzle validated his talent and leapt into the mainstream media when he beat Jornet's FKT on the mountainous 66-mile Bob Graham Round in the UK.
In October, writer Miyo McGinn profiled Kuenzle for Outside and brought more of his story to light. A former Navy SEAL, Kuenzle was living out of his van and coaching runners part-time while pursuing FKTs on foot and on skis. At the time, Kuenzle told McGinn that he had little interest in signing up for organized races, or even in attracting cash sponsors to fund his adventures.
Not much has changed since then. On Wednesday June 14 Kuenzle parked his van in downtown Boulder, Colorado and swung by the Outside office to share the tale of his Denali expedition. Sponsorship, he said, was still not a big concern. "I'm still turning brands down," Kuenzle said. "At the core of it is my stubborn independence. It bothers me that affiliation with a sponsor is validation for how fast someone is, and right now I don't want to give that power to a company to decide who is successful and who is not. I also just really like being able to use the best gear, regardless of the brand."
Kuenzle said he's unlikely to follow Jornet's path to attempt high-alpine routes in the Himalayas. The Denali expedition, he said, showed him  the amount of planning and luck required to topple speed records at extreme elevation.
"You have to be a bit deranged to take on records above 6,000 meters," he said. "It's a battle of acclimatization, and that's not something I want to be judged on. Leg strength goes out the window. I found out on Denali that I just don't love the high stuff."
Instead, Kuenzle wants to beat more punishing FKTs on ski and running routes in North America and beyond. This summer he will attempt the FKT on the Mountaineer's Route on California's Mount Whitney, which currently stands at 2:38:15 and was set by Matt Dubberley in 2015. He also will attempt FKT on Colorado's Longs Peak. Other big treks, like the Grand Canyon's rim-to-rim-to-rim (5:55:20, set by Jim Walmsley), are on his radar. Ascents that require mountaineering skills and rock climbing, however, are not.
"I'm still not totally comfortable on steep rock," he said. "It's intimidating and I just don't have the head for it yet."
Kuenzle may pin a number on in the coming years, should he become bored with FKT. But at the moment, he is still motivated by little more than personal satisfaction, and having his name appear in the top slot on the FKT website. Right now, Kuenzle holds some of the hardest routes in North America, and Denali is an impressive new entry on that list—even if the trip itself wasn't particularly fun.
That's one reason why Kuenzle believes his Denali FKT will last for a while. Racing up and down the peak requires tricky logistics and unpredictable weather windows. Plus, it's a painful and unforgiving slog. "The fun level was pretty minimal," he said. "The enjoyable part was being able to actually talk to people on the route because everyone is moving so slow."
One other memory that stands out in Kuenzle's mind from Denali: near the end of his final descent, Kuenzle climbed Heartbreak Hill, the final obstacle standing between himself and the finish line. Out of energy and nearing exhaustion, he trudged up the short incline, watching the clock tick past 10 hours, then onto 10:10. He topped out and ran toward the collection of tents that marked the official start/finish for the route. Two people stepped out of their tents and clapped for him, their applause marking the only acknowledgement of his incredible journey.
"With an FKT, you feel lucky when someone actually knows what you just did," he said.
Lead Photo: Zach McCarthy