Liz "Snorkel" Thomas Wants You to Thru-Hike Your City
The former fastest woman to hike the AT is stitching together ambitious routes right in the middle of urban civilization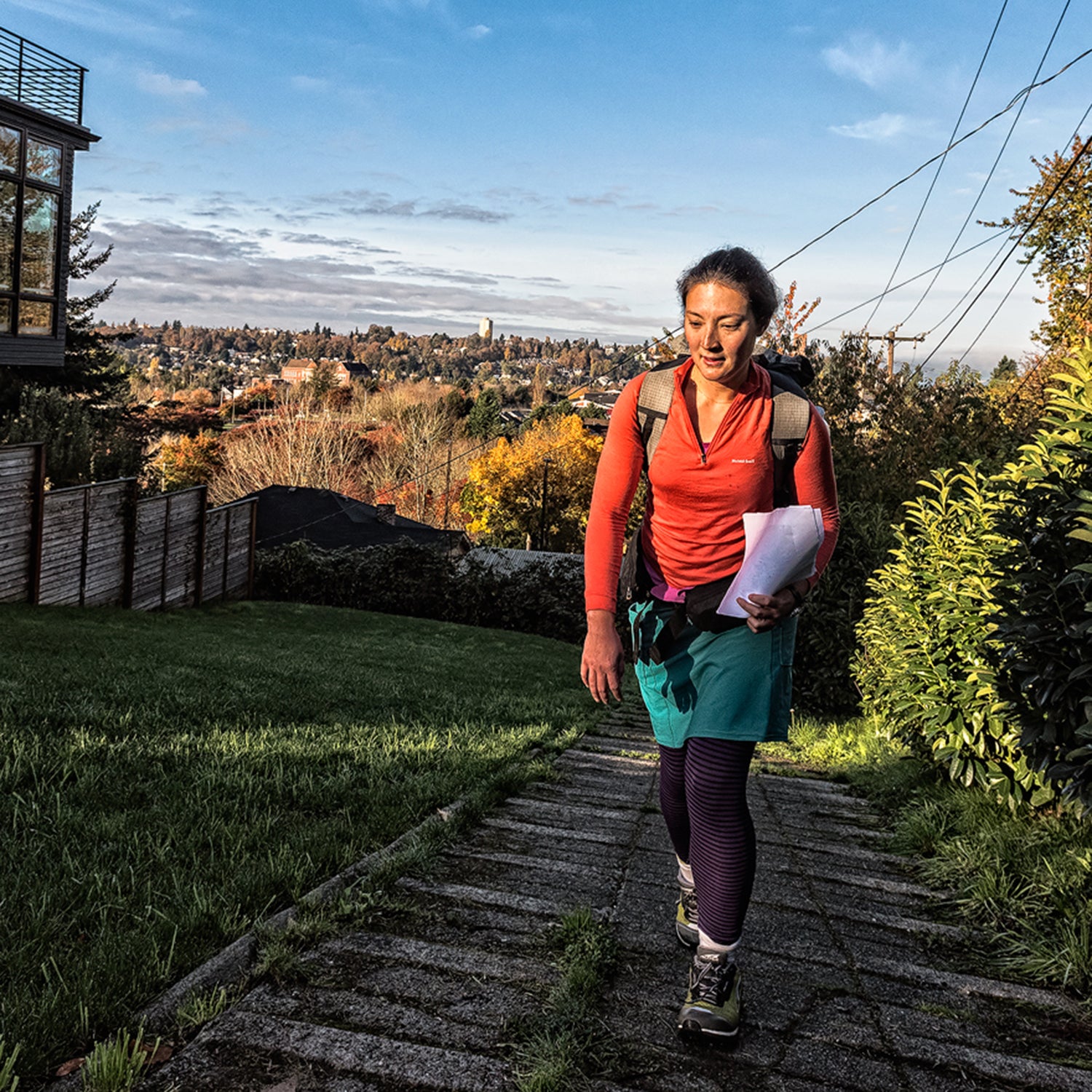 Glenn Nelson(Photo)
Heading out the door? Read this article on the new Outside+ app available now on iOS devices for members! Download the app.
With the sun about to kiss the horizon, Liz Thomas (trail name: Snorkel) needs the last rays to illuminate her path. She is ascending and descending steps during an urban thru-hike in Seattle, one of the hilliest and most public-staircased cities in the country. This is not a task to be executed in complete darkness, especially at her pace.
Thomas sheds her jacket. She hands off her pack, a maneuver known as slackpacking. Unburdened, the 31-year-old from Sacramento, California, is like a spacecraft engaging booster rockets. It's clear how she held the women's unsupported hiking speed record on the Appalachian Trail for five years.
Thomas' high profile in long-distance hiking circles has attracted an entourage in Seattle: a videographer recording the hike for posterity, a marketer from her footwear sponsor, and a couple local hiking groupies. The object of their admiration kicks into high gear, and the group starts to fade into an afternoon memory. The only one close enough to feel Thomas' tailwind is Vivian Doorn, an ultramarathon runner who was part of the first-day retinue. But as Doorn hits the bottom of an impossibly grueling sequence of staircases, Thomas nears the top, her arms pumping like a derrick.
Thomas is alone, out in front, a position to which she has become accustomed.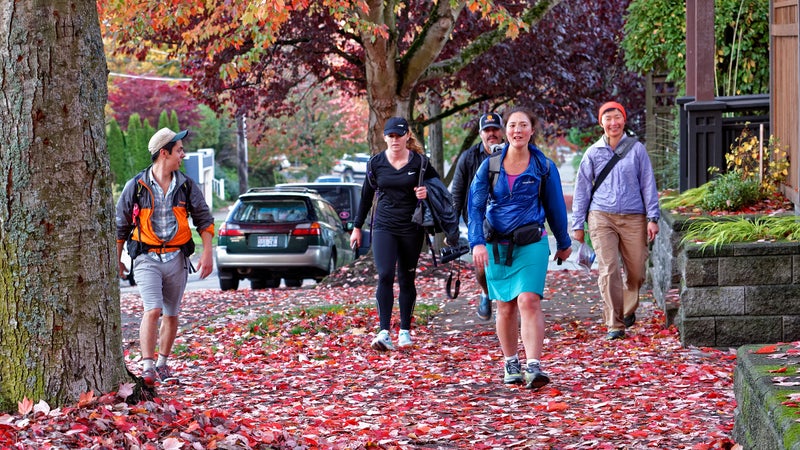 In 2011, Thomas, who is Japanese American, hiked the Appalachian Trail from Georgia to Maine in 80 days and 13 hours, cementing a reputation as a trailblazing woman in the American hiking community. She has completed hiking's Triple Crown, which in addition to the Appalachian Trail includes the Pacific Crest Trail and the Continental Divide Trail. Thomas estimates she has logged some 15,000 miles on long-distance trails. This summer, she published a book about the art of thru-hiking called Long Trails (Falcon). She is presently thru-hiking the Pacific Northwest Trail, which spans 1,200 miles from the Continental Divide to the Pacific Ocean. "I like the process of walking and seeing the world at two to three miles per hour," says Thomas.
She wants more people to experience the same, even those who live in cities, far from a good trail system. The past couple years, Thomas has logged concrete mileage in more places than anyone, hoping to show urban dwellers the ease of recreating, no matter where. Her so-called urban thru-hikes have stitched together landmarks, such as her Denver, Colorado, meander through 65 breweries (including one for kombucha) and one meadery. Thomas called it the Brew Thru.
Thomas is not alone in her cause. Powerful players like Michelle Obama and REI have been trying to get increasingly inert Americans, particularly youth and marginalized communities, into wide-open spaces—for their own physical and mental good. Trouble is, many of the prompts and programs for the back-to-nature movement are complicated and daunting and therefore don't have much lasting effect. Take Every Kid in a Park, for example: The federal program requires families of fourth graders to first recognize they are eligible for a free yearlong pass to federal public lands, and then figure out how to acquire one, then to use it, which often requires transportation and gear to which they often don't have access. Urban thru-hiking, on the other hand, is as simple as stepping out one's front door.
"There is that same aspect of exploration, of not knowing what's around the next corner. You have to go through the same planning process as you would for going out in nature."
In 2015, the fathers of urban thru-hiking invited Thomas to take on the Inman 300. They tout it as the world's first urban thru-hiking trail, linking more than 340 public staircases over some 220 miles in Los Angeles. The idea for it first came about when L.A. attorney Andrew Lichtman and his wife, Ying Chen, were thru-hiking the 211-mile John Muir Trail in California's Sierra Nevada. Dan Koeppel, a writer, had been tackling stairways while training for his own John Muir hike. Bob Inman had written a guidebook about public stairways in Los Angeles and, with prodding from Koeppel and Lichtman, connected the staircases into the urban route that bears his name. They found that hiking in the city had many of the same appeals as trekking the backcountry, including physical exertion and elevation gain, wildlife sightings, navigational challenges, even solitude.
"You see fewer people on the Inman 300 than you do on the John Muir Trail, so you're really getting more of what you're looking for in the mountains, but you're in a city," Lichtman says. "If we're going to have a mass movement, with REI selling us the gear and crowds of people enjoying each other's companionship, you couldn't pick a better place to do it than a city, rather than a wilderness area that's going to be destroyed by the attention."
Adding the dimension of thru-hiking to urban settings is kind of like publicizing marathons to promote jogging—it gets more people interested in the activity by bringing it closer to home at the highest level. Depending on when she's asked, Thomas might even say that she prefers the urbanized strolls. "I've hiked in rainforests, in deserts, and all kinds of ecosystems around the U.S., and yet there is something appealing about a city to walk through," says Thomas, who earned her masters in environmental science from Yale. "There is that same aspect of exploration, of not knowing what's around the next corner. You have to go through the same planning process as you would for going out in nature."
Thomas has been inventive in piecing together landmarks to create themes for her thru-hikes. In Los Angeles, San Francisco, and Seattle, she followed public staircases. Pittsburgh, the city with the most communal flights, is considered urban thru-hiking's holy grail. In Chicago, Thomas followed waterways. She crowdsourced city features in Portland, Oregon. In Denver, where she used to live, she's also followed Colfax, the longest boulevard in the country.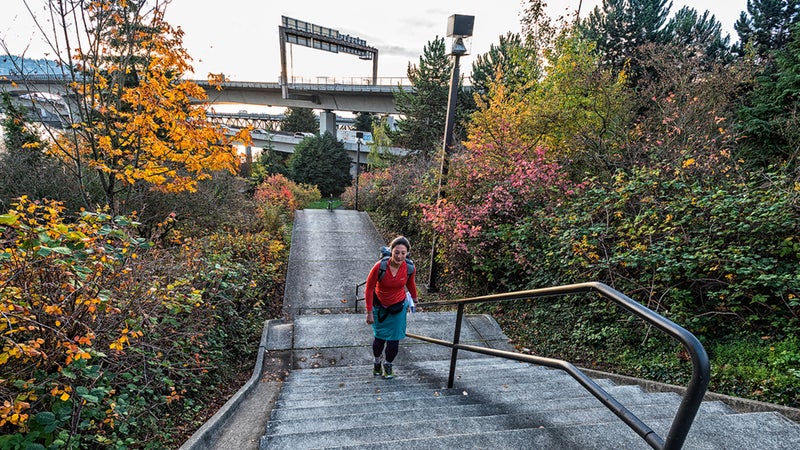 The city is not without its backcountry-like challenges. During the Brew Thru, Thomas imbibed at every stop. This necessitated a "designated hiker" who made sure Thomas safely navigated "urban fords"—crossing highly trafficked thoroughfares—which she considers urban thru-hiking's greatest hazard. Thomas discovered the urban equivalent of "cliffing out," which in nature means following a route to a ledge or drop-off where the only alternative appears to be turning around and backtracking. In a city, that can mean unmapped dead ends or reroutes due to construction. A man attacked Thomas and videographer Miguel "VirGo" Aguilar near one of the Portland's many bridges. "Not unlike a bear encounter in the wilderness, a person asserted his dominance," explains Aguilar. In Seattle, Thomas received a lesson in navigational redundancy after relying solely on the GPS in her mobile phone, which got wet and blinked out as evening began to fall.
I caught up with Thomas during her 200-mile, 65-staircase, seven-hill urban expedition in Seattle. I spent parts of two days on the municipal march, so technically I only was section hiking. That was enough to get a sense of the ease and allure, as well as experience some of the problem solving that rang familiar from my backcountry experiences.
One afternoon, during which we slip-slided on a boardwalk made slick with decomposing leaves, huffed up and puffed down staircases near the floating bridge across Lake Washington, and detoured for handcrafted ice cream, we emerged from a slim, muddy alleyway into a tony neighborhood called Madison Park. We exalted as if we'd just punched our way into Yosemite Valley and were hailing Half Dome for the first time.
It was a sight just as glorious: a remodel job big enough to require the presence of what they call in these parts a honey bucket. When you're on an urban hike, it's not like you can duck behind a bush for a restroom break.
Relieved, or about to be, Thomas swung open the door to paradise and declared, "The trail provides."
Glenn Nelson founded The Trail Posse to regularly cover race and equity in the outdoors.
Lead Photo: Glenn Nelson
Trending on Outside Online