Could Thru-Hiking Colorado's Fourteeners Become a Thing?
Pawel Szafruga recently did the unthinkable by summiting all of Colorado's 14,000-foot peaks in a single thru-hike. Will others follow?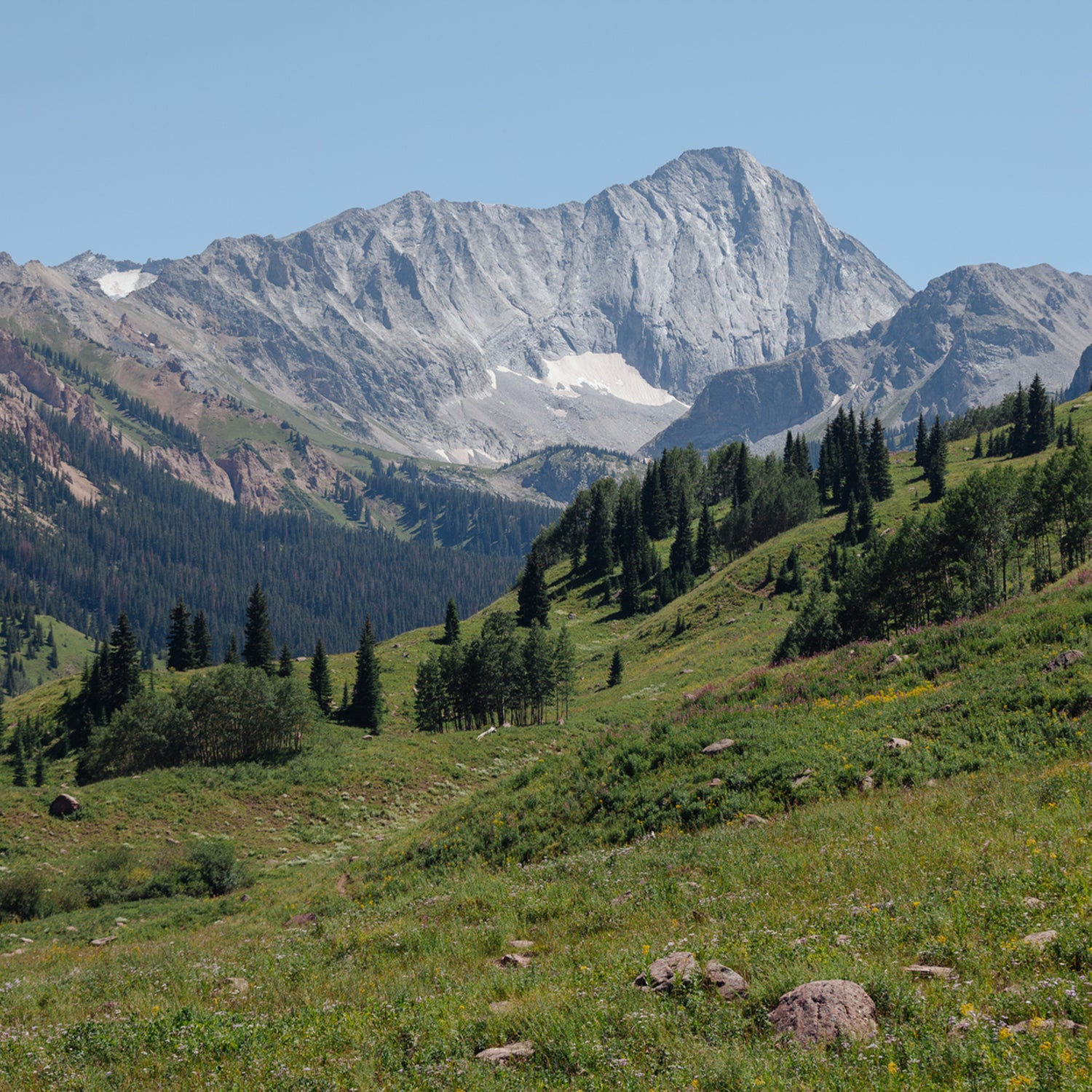 Casey McCallister/Stocksy
Heading out the door? Read this article on the new Outside+ app available now on iOS devices for members! Download the app.
It's been nearly a month since Pawel Szafruga summited all of Colorado's 14,000-foot peaks in one self-supported thru-hike, and Szafruga is still waiting to drink a celebratory cold beer.
That's because his body cannot yet handle alcohol.
"My bloodwork is still screwy, and I had some really bad liver numbers that looked like I was going into liver failure," Szafruga said. "Right now I'm trending in the right direction but it will be another few weeks until I can drink."
Szafruga pushed his body to extreme limits during the self-powered linkup of all 58 peaks, a dizzying feat that took him 43 days six hours and 50 minutes to complete. He started his trek on July 14 at the base of the Barr Trail, which links Manitou Springs with the summit of Pikes Peak. Szafruga then followed a circuitous route across the Sangre de Cristo and San Juan mountains, then up through the Sawatch and Elk ranges, and finally back to Colorado's Front Range, where he descended Longs Peak on August 26 to complete his journey.
Throughout his trek he averaged 27 miles and 6,800 vertical feet of elevation gain each day.
Szafruga's route encompassed 1,182 miles and nearly 300,000 feet of vertical gain. He is believed to have set the fastest known time for thru-hiking all 58 peaks, a challenge that perhaps fewer than ten individuals have completed.
"I was really ground down toward the end because I had some leg swelling, and I got diagnosed with a weird case of rhabdo," he said. "I was really thankful to my body for getting me through all of this."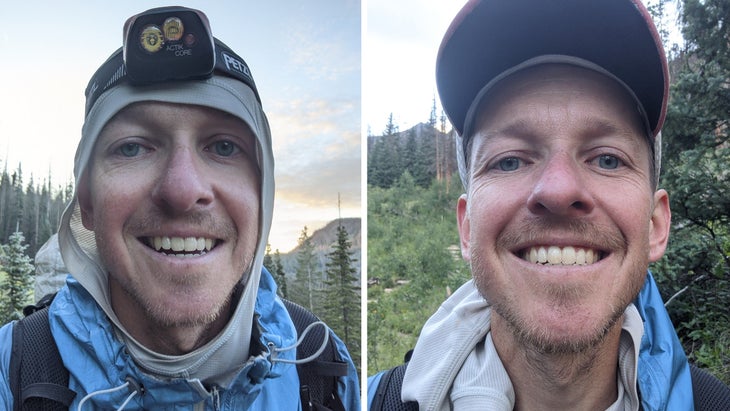 At the time of our interview in mid-September, Szafruga was still on vacation from his day job building out camper vans at a shop near his home in Fruita, Colorado. He told me that the daunting journey was a way to prove to himself that, at age 35, his body could accomplish what his mind and motivation could dream up. Szafruga is a dedicated rock climber and trekker who has previously tackled self-supported thru-hikes in Colorado and Utah.
"I feel like I don't have much more time to do the things that are groundbreaking in my own personal mind," Szafruga said. "On paper, this may be the correct challenge for me."
If the long hike is the correct challenge for Szafruga, the question now is whether it's a doable feat for hardcore or even casual thru-hikers. Szafruga's amazing hike has already generated headlines across Colorado, and now it's just a matter of when—and not if—others will follow in his footsteps.
Colorado's fourteeners have long been a proving ground for skiers, hikers, and ultrarunners. The record for hiking all 58 peaks in succession has been set and broken multiple times, with the latest record being set in 2015 by Andrew Hamilton at nine days 21 hours and 51 minutes. Hamilton traveled from trailhead to trailhead by vehicle.
Other athletes have left their own mark on the mountains. In 2007, famed ski mountaineer Chris Davenport became the first person to ski the peaks in one year. In 2018, an eight-year-old Siberian husky named Loki became the first dog to ascend all 58 peaks.
Self-supported treks have also become popular on the fourteeners, and some of the shorter routes have evolved from obscurity into well-trodden challenges. Every year several dozen ultra runners tackle Nolan's 14, the famed route across the 14 highest peaks of the Sawatch Range. And every year, it seems, more hikers find ways to create new routes and linkups of the mountains.
In 2014, climber Justin Simoni summited the peaks while completing the long transfers between trailheads by bicycle.
"I love to see creativity when it comes to these feats in the mountains," Simoni said. "There is a phenomenon we're seeing, that once someone does a difficult challenge, all of a sudden other people will do it afterwards."
Social media has popularized even the most obscure challenges on the peaks. In 2020, Simoni tackled what he thought would be a first-ever route across Colorado's Front Range, thru-hiking the highest ridgelines from Milner Pass in Rocky Mountain National Park south to Berthoud Pass, some 60 miles to the south. He wrote about his impending challenge on his personal blog, and did a flyby video on YouTube from sections of the route.
During his trek he encountered two other hikers who were traversing the same route.
"By the end of the year five other people had done the route," Simoni said.
Whether Szafruga's route attains even this level of popularity is yet to be seen. The physical punishment and extreme distance present a major deterrent to those wanting to break his record. The time frame required to complete the hike could scare off less ambitious hikers. Ultrarunner Meghan Hicks pointed to the relatively short windows of time required to complete Nolan's 14—and even the 500-mile Colorado Trail—when compared to the month-and-a-half window that Szefruga needed to connect the fourteeners.
"If you're a fast hiker you can finish the Colorado Trail in a month, and if you're a fast runner you can do it in under ten days," Hicks said. "You don't have to be a dirtbagger living out of the back of a pickup truck to do that."
Simoni pointed to the extreme physical toll of the trek, as well as the skills required to navigate exposed and dangerous routes as other deterrents. Nolan's 14 has grown in popularity, Simoni said, due to the establishment of a set network of trails, all of which have been mapped and scouted by thousands of hikers. Those routes are known to be safe.
"The amount of data that's out there for the best routes on Nolan's is vast and I definitely think the route today is faster and easier because so many people have done the optimized route," Simoni said. "It's less of a challenge than it was ten years ago."
By contrast, Szafruga's route included a mix of trail, dirt roads, and even highways. He encountered speeding cars while walking down Monarch and Independence passes, and he navigated the dry and hot San Luis Valley on dirt backroads.
Szafruga also traversed exposed sections of rock and scree fields across unmarked terrain in order to shorten the routes between mountains—terrain that requires some experience in mountaineering. During his pre-dawn ascent of Windom Peak, he navigated a class 5 scramble on wet rock while wearing his heavy pack.
"It felt really overwhelming to be climbing some pretty hairy terrain at night," Szafruga said. "I would not recommend it to anybody."
Still, the route does have several elements that could make it attractive to experienced thru-hikers. The route passed through multiple towns where Szafruga restocked on supplies and ate a hot meal.
"Every time I went into a town I ate a comical amount of good food," he said. "Anyone who is capable of going on a long thru-hike has a good shot at this."
While few may tackle the full 1,100-mile route, Hicks believes that hikers may look to Szafruga's route as a way to string together a handful of fourteeners in shorter, more manageable distances.
"I could see this inspiring people's own take on it," Hicks said. "People are getting creative and doing things in the mountains that they've never done before."
Plus, more experienced thru-hikers could look to Szafruga's extreme hike as inspiration for the next great American thru-hike. Even though Szafruga's body took a beating on the trail, others are likely to see that as a challenge worth taking on. After all, even the busiest routes were first traversed by just a few.
"It's a total outlier right now, but it could definitely get traction," Simoni said. "People complete the Continental Divide Trail and then go, 'well, what's next?'"
Lead Photo: Casey McCallister/Stocksy