Rippers' Trip Report: Climbing a Fourteener with Kids
Heading out the door? Read this article on the new Outside+ app available now on iOS devices for members! Download the app.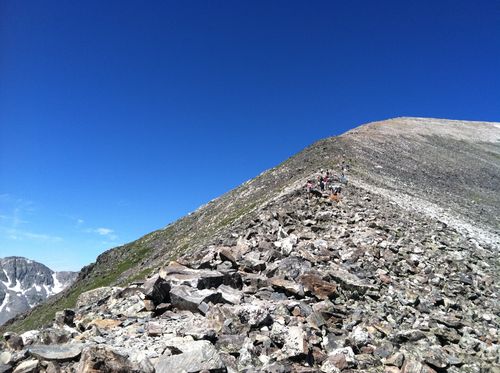 Quandary: an uphill battle
Earlier this summer, my husband, Steve, and I decided to climb one of Colorado's 14,000 foot peaks with our two young daughters, ages one and three. This was a tradition we started before they were born, and the last time we did it was two years ago—Redcloud Peak, outside of Lake City—when our older daughter, Pippa, was one. On that trip, Steve hauled the baby; I got off easy with a daypack with food and extra layers. This time, we'd both have kids and gear to carry. It seemed more daunting, but I figured our window for hiking fourteeners was closing fast: Next summer, Pippa might be too heavy to carry and still too little to walk the whole way. 
On the two Sundays before we left, we took the girls into the high country above Santa Fe. We didn't explicitly call what we were doing "training," but that's what it was. We were trying to train the girls to stay in the packs on a long hike without whining too much, and we were trying to train ourselves to buck up and hike for several hours with kids on our back without whining too much. We are not backpackers—a Camelbak with water, bantam-weight Patagonia Houdini wind jacket, and a few Larabars is a heavy load for me. On the first hike up Raven's Ridge, Pippa consumed half her body weight in dried mango but stayed in the pack without fussing. Maisy slept the whole way up. On the second hike, we went higher, to 12,300-foot Deception Peak. Pippa insisted on walking most of the way down while Maisy conked out in her carrier. Game on.
We chose 14,265-foot Quandary Peak, outside of Breckenridge, because it is relatively short (only six miles roundtrip) and it's easily accessible from the main road. We'd been advised to hike on a weekday to avoid crowds, but we didn't have that flexibility and, anyway, we are from New Mexico, where "crowds" mean anything more than a handful of people. Little did we know. 
We got some spiffy new baby carriers to test (which I'll report on in separate post), bought up nearly the entire dried-fruit aisle at Trader Joe's, packed a small mountain of foul-weather gear, and set off for Colorado last week. Here's what happened next. (Note: times are approximate; I wasn't wearing a watch.)
3:45 PM Friday: Northbound US 285 outside of Salida, CO, Steve says, "You want to hear something weird?" as he gestures to looming grey hulk of 14,000-foot Mount Princeton to our left. "Right now the thought of climbing one of those is kind of daunting." Dread fills my stomach like a big bowl of soggy Grape-Nuts.
5:13 PM: Outside of Fairplay, driving north on 9: We can't be higher than 9,500 feet, but I swear I'm feeling the altitude; there's an odd pinching in my nose and temples. We live at 7,000 feet, so maybe it's psychosomatic? On the upside, the sky is scattered with fair-weather clouds, and there's not a thunderhead in sight. 
5:15 PM: A thought: Do babies get altitude sickness? We climbed to 12,300 the past two weekends with no sign of trouble. (NOTE TO SELF: ASK A DOCTOR, PREFERABLY BEFORE LEAVING FOR THE CLIMB.) Patchy snowfields are surprisingly low on the mountains west of Alma. Keep reminding myself that the first line of the hike write-up in A Climbing Guide to Colorado's Fourteeners is: "Quandary is a fine family climb." 
5:32 PM: Breckenridge, at last. The place is crawling with visitors. We spend the next couple hours getting situated, buying a topo map at Mountain Outfitters and grabbing dinner on the deck at Empire Burgers while our daughters chat up a black lab at the next table. Retreat to fancy condo at BlueSky and get the kids to bed. Pre-climb organization consists of lumping rain gear and warm clothes, kiddy headlamp and snacks in an unwieldy pile by the door. Too tired to discuss our ETD the next morning.
Saturday, 6:49 AM: A three-year-old pouncing on the bed serves as our wakeup call. Steve rolls over as though to ignore her, but eventually the 13-month old chimes in from the Pack n Play in the bathroom. We reluctantly get up. Not exactly an "alpine start."
8:48 AM: Kids fed, parents caffeinated, gear stowed, we pull onto County Road 850, nine miles south of Breckenridge. The Quandary Peak trailhead is supposedly a mile up the road, but right at the turnoff we can see that the road is clogged with cars like the parking lot at a New Jersey mall on the last shopping day before Christmas. We take one of the last empty spots, but the idea of hiking an extra mile just to get to the trail makes me cranky. On the upside, the sky is perfectly clear, it's already 70 degrees, and there's barely a breeze. Maybe we'll get lucky and it won't storm today. 
9:01 AM: I won't lie. Cramming the kids into the two Deuter baby carriers and then cramming the carriers with snacks, water bottles, warm clothes, baby sunglasses, baby legwarmers, baby rain pants, half a glazed donut from Daylight Donuts, sunscreen, etc. is not exactly relaxing. The carriers hold a shocking amount of gear, and a few tense moments of whispered cursing and dirty looks ensue as we debate all the crap that is required to hike responsibly to 14,265 feet with two small girls. Fourth bottle of milk is jettisoned; extra pacifiers are not. The one-year-old passes the time, oblivious, lurching into the road or falling on her bottom in the dirt. Three-year-old's plea to walk is dismissed immediately. If we have to dodge a mile's worth of traffic with a dawdling pre-schooler in hand just to get to the trailhead, we'll never make it to the top. But, silver lining: At least we're not the only laggards on the mountain! 
9:06 AM: And we're off.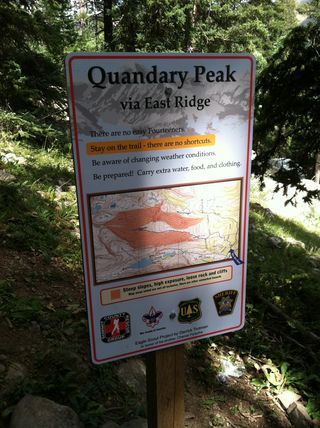 9:16 AM: Trail climbing gently through lodge pole pine forests, pack surprisingly light on my back. I'm feeling almost jaunty until we pass a couple already coming down. "What time did you start?" I ask. "3:30," the woman replies, a bit smugly to my ear. I do the math. With 50 pounds of kid between us and 3,200 feet of vertical, it's going to be a long day. 
9:45 AM: Steady stream of traffic in both directions. Old people, young people, wearing blue jeans, yoga capris, old-timey leather hiking boots, Reeboks, wearing Camelbaks, carrying plastic supermarket water jugs, toting nylon grocery bags. According to my highly unscientific estimates, eight out of ten people take one look at us and say some guffawing, cheerful variation of: "Boy, that's a nice way to get to the top!" or "Is there room in there for me?" It's funny at first, but pretty soon I start to tune it out. Because here's the reality: We are hiking a "walk-up" 14er less than two hours from Denver on a Saturday in August. There will never be a moment during this entire day when we won't be surrounded by dozens of other hikers. If I chit-chatted with everyone who passed, I'd lose my mind.  The girls, on the other hand, can't get enough of the attention. 
10:16 AM: At a small wooden bridge in a meadow ablaze with Indian paintbrush, purple monkshood, and alpine goldenrod, Steve lets Pippa out of the pack. The climb is still relatively smooth and gradual. She does some "trail running," declares that her sneakers are too small, and then, perversely, when we get to a jumbly scree field, refuses to get back in the pack. Gotta love toddler logic.
10:30 AM: We are above tree line now, and the trail is 100 percent rubbly talus that wobbles and squeaks when you walk on it. Maisy and I are leapfrogging a couple of guys from Michigan and New York, pausing every now and then so Steve and Pippa can catch up. When they appear, she's back in the pack, lured by the promise of snacks. Already consumed: half a bag of dried mango, at least one granola bar. Two minutes later, she announces that she is "still hungry."
10:36 AM: False summit. Tufts of tundra-grass blanket either side of the talus, which explains why a crowd of people has plunked down here to eat and drink and rest before the straight-up summit push. Kids are released from carriers, including a 14-month old named Emma, who is immediately befriended. Someone has a GPS and announces that we are at 12,900-or-so feet. The trail to the top from here looks as steep as an elevator shaft, hundreds of hikers strung out along the spine like tiny figurines on a snow-less model of Mount Everest. More snacks are consumed. The sky is clear and the weather appears to be holding, and the twin Blue Lakes straight below us are glittery and beautiful. 
11:15 AM: "How long to the top, do you think?" I ask Steve. The trail is so steep and Maisy has fallen asleep, her head sagging against my shoulders, that I can't lift my neck to see where the top is. I'm bracing for hours, but he says "about 45 minutes." Hikers ahead of us stop to gawk at scruffy mountain goats with patchy molting fur on the side of the trail. We are not so much walking as picking our way around other people going up and down. This is Colorado's version of the Hillary Step: one long, massive bottleneck. Thank God it's about the prettiest day imaginable.  
11:16 AM: Pippa falls asleep. 
11:27 AM: Pippa wakes up in a groggy panic, screeching, "Where am I?" 
11:28 AM: Maisy wakes up. 
11:29 AM: We're not going to set any speed records with this ascent, but there's no question: Hauling your kids to the summit of a 14er is a major ego boost. Now people are gawking at us: "You're an animal!" they shout to Steve. "Way to go, Dad!" "Way to go, Mom!" "Huge props!" You'd think we were climbing Everest or something. I'm eating it up. 
11:45 AM: More fist pumps and admiration from fellow hikers. I crane my neck and can just make out the last little bump before the summit. Pippa is out of the pack and hiking again. I resist the urge to ask people coming down that most desperate question of all: How much farther?
12:01 PM: We did it. The knobby peak is jammed with three or four dozen people, most of whom are clustered around the summit register, holding up handwritten cardboard signs that they made in advance and stashed in their packs: "Quandary Peak, 14,265 feet." People are hunched over their phones, Facebooking the crap out of the moment. Steve and Pippa are nowhere to be seen, so I ask a stranger to take this picture, which, in a burst of maternal pride, I promptly email to my mom.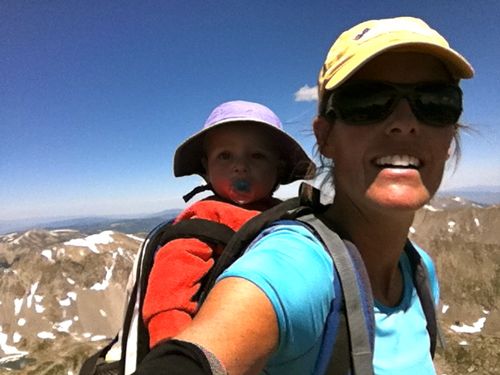 12:06 PM: Pippa crests the summit, practically skipping. Her grin makes the past three hours worth it. We take a few pictures, consume more snacks, and gawk at the masses gawking at the view. Jagged, snow-patched peaks wrinkle the horizon in every direction. Huge feelings of accomplishment all around. 
12:12 PM: You know what they say—the descent is the hardest part—so we load the kids into their packs and start down. Pippa shoves her pacifier in her mouth and promptly crashes out, her head lolling sideways against the carrier's foamy head pillow. Pretty soon, Maisy stops moving, and I can tell she's snoozing, too. It's all downhill from here—which turns out to be true on every level. 
12:36 PM: More mountain goats and more people, still climbing. 
12:50 PM: If one more person shouts "Wow, isn't it great that your kids are ASLEEP!" at the top of their lungs, I think I'm going to scream. I stop making eye contact and stare at my sneakers, simultaneously hoping to discourage the commentary and avoid face-planting in the scree. 
1:10 PM: Girls wake, consume more snacks on false summit. Pippa keeps pointing to the top of the peak, calling it "my mountain." I think about the calculus of hiking a crowded trail to the top of a mountain, and wonder if this is teaching her that the backcountry is a place thronged with people and buzzing with constant human distractions and technology. What about solitude and silence? Then I look down at the shimmery lakes far below us and the mountains all around, and decide that the beauty of it, and the pride of accomplishment, all more than cancels out the crowds. 
2:30 PM: You know trouble's brewing when the baby keeps flinging her pacifier into the dirt. On purpose. After five and a half hours in the pack and only 45 minutes of sleep, Maisy finally decides she's had enough. As she howls, I realize how lucky we are and how good they've been. Steve, aka Pack Daddy, carries her the half mile to the car.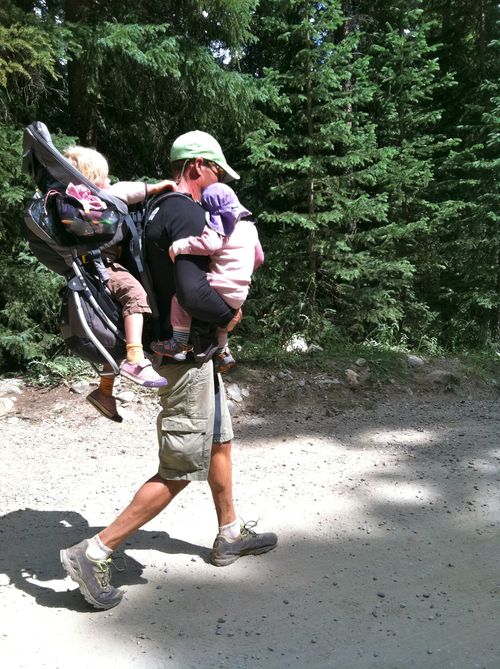 2:48 PM: Back at the car, just shy of six hours after we started. This calls for celebration. This calls for ice cream. 
4 PM: Both girls are crushed, bleary-eyed from the sun, altitude, and exhaustion. No question about it, the hike is catching up to us now. We retreat to the condo for naps, swimming, and—can't believe the girl still has energy for it—"mountain biking" on a mini single track next to the parking lot.
3 AM: The climb was easy compared to the bedlam in our condo. Pippa has been up and in our bed every hour or so, and Maisy is screeching in her crib. Steve and I have been taking turns trying to sleep. When it's my turn to deal, I sit in the dark holding Maisy with one hand and Googling "altitude sickness in babies" with the other. Symptoms, which can show up eight to 36 hours after reaching your high point, include irritability, inability to sleep, and lack of appetite. Check, check, and check. Her breathing is fine, but I turn on the light to see if she's turning blue. Nope. Still, I decide that if it gets much worse, we are going to pack up and drive home, even if it's the middle of the night. And forget about ever climbing at altitude again—from this vantage point, so not worth it. The condo's at 10,000 feet, and housekeeping has thoughtfully left a flyer for "mobile altitude doctors" on the kitchen counter. Just as I'm debating whether or not to dial the number, Maisy nods off. 
3 PM: Back in Santa Fe. The kids crashed out for the last two hours of the drive, while Steve and I tried to avoid doing the same. Now that we're home, I notice a long ribbon of drool sliding down Maisy's chin. I say "ahhh" and she says "ahhh" back and that's when I see it: the tiny, sharp, sharky tip of a baby tooth poking out of her gums. She didn't have acute mountain sickness. She was just had a new tooth. In that case….when can we climb again?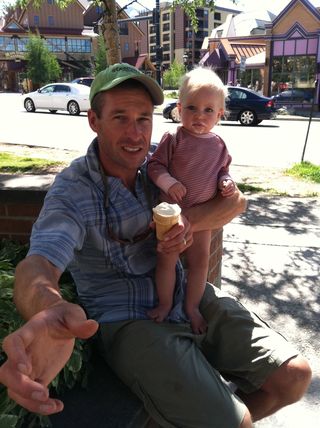 Seriously, now: 10 tips for hiking big peaks with little ones
1. Do trial hikes before the big day to see how long your kids will comfortably stay in the pack; we knew our girls could do 4 hours, so we figured six wouldn't kill them.
2. Then choose a hike of roughly that time/distance. Avoid technical routes in favor of walk-ups. 
3. Invest in high quality, comfortable carriers. We loved our Deuters—more on that later. 
4. Avoid weekends if you are going to high-traffic trails near major metropolitan centers. Then again, cooing hikers can be a welcome distraction for restless stowaways. Our girls loved all the attention (when they weren't being woken up). 
5. Get going early, ideally by 7 AM. We got lucky with the weather, but if it had started storming at midday as it does so often in the Rockies in the summer, we would have been screwed. It was a long way down to the tree line from the summit. 
6. Pace yourself. With 20-40 pounds on your back, you're not going to be setting any speed records. 
7. Hydrate the kids like crazy. I brought milk for Maisy, but she refused it during the whole hike. Juice or all-natural "Electro-ade" would have been more enticing. Now is not the time to worry too much about sugar.
8. Snacks are a parent's best friend. Pack twice as much as you think you'll need, and don't forget food for you. Steve and I had to make do on a single LaraBar and some dried fruit leather. Can you say bonk?
9. Julbo baby sunglasses block high-altitude glare and actually stay on. Don't carry your iPhone in your shorts pocket on the descent lest, wobbly-legged, you fall in the dirt and shatter the glass. Bummer. 
10. Make tracks in the beginning, but then encourage little hikers to walk as much and as often as they'd like. Seeing Pippa cruise to the summit on her own two legs has definitely been one of the high points of parenthood so far. 
–Katie Arnold