Sleeping Alone in the Woods While Female
Plenty of people are hesitant to camp solo, but for women, many of whom deal with catcalls during mundane morning jogs, it's harder to dismiss imagined sexual predators lurking in the woods. The author explores why she heads out alone anyway.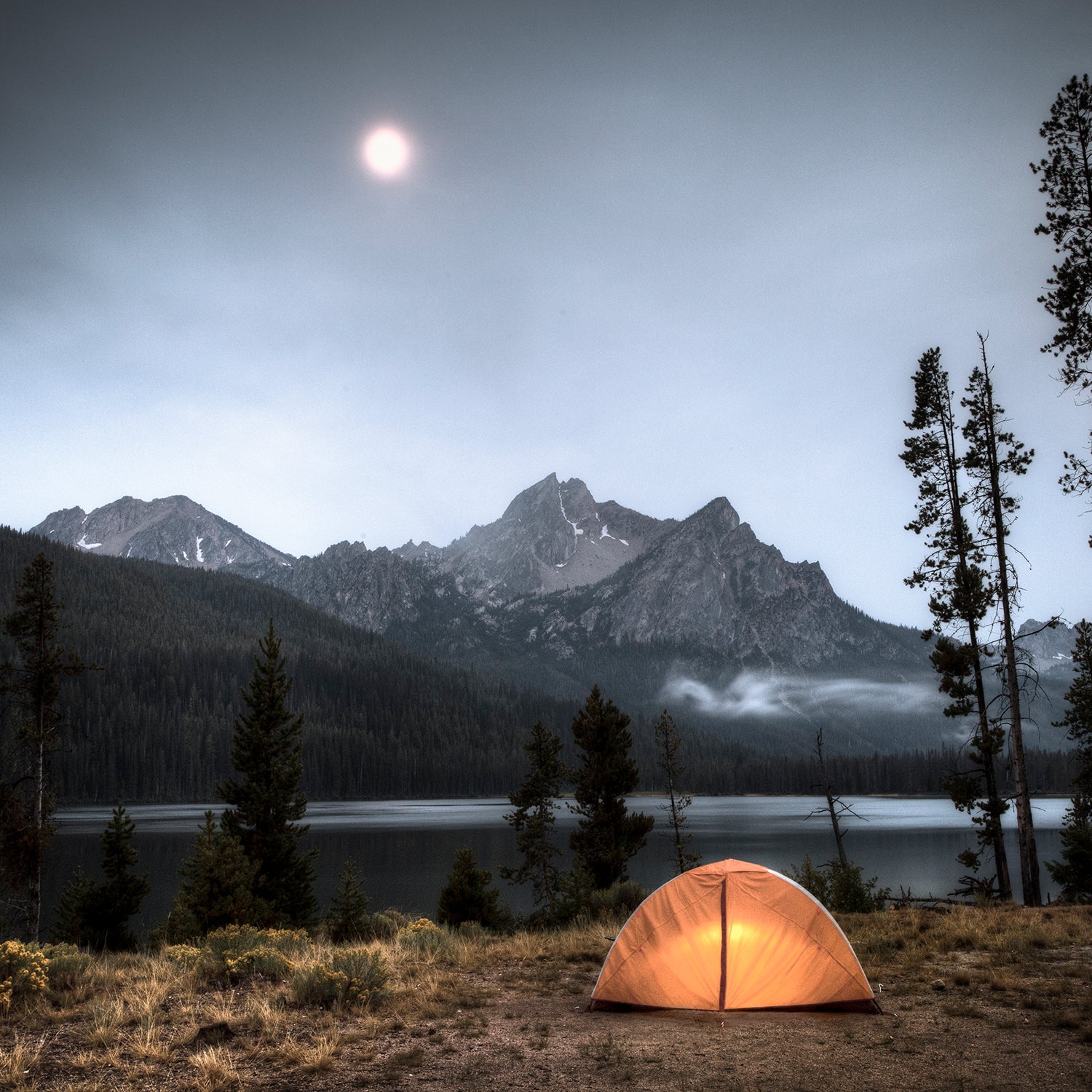 Patrick Brandenburg/TandemStock(Photo)
Heading out the door? Read this article on the new Outside+ app available now on iOS devices for members! Download the app.
When camping alone, I have a ritual that spans two or three nights. On the first evening, I stay up late with a novel, then half-sleep until sunrise, turning my ear toward every snapping twig. If one sleepless night doesn't exhaust me, a second is sure to do the trick. By my third solo night in the forest, I could sleep through a horror film marathon.
I've hiked and camped alone for 15 years, and my love of solitude balances out the stress of waiting for the dawn. A few seasons back, I began to talk with other adventurous ladies about my fear of sleeping outdoors by myself, and to my surprise, I heard similar stories from some of the toughest women I know.
Writer Kirsten Koza told me (between mountain biking Mongolia and leading trips to Transylvania) that she experiences a "nighttime head trip while alone in a tent," circling through memories of grisly newspaper headlines and horror movies until she's paralyzed with fear. Shey Kiester, a rock climber, adventurer, and undisputed badass, says fear of the dark infuses every camping trip she takes, a limitation she challenges so she won't miss out on the places she loves. "I'm a strong, independent woman, but I know that there's a certain point in my fear where I'm so scared that I can't talk myself out of it and there's no reasoning with my brain," she says.
It's difficult to unwind the tangle of fear we share about sleeping alone in the wilderness: a snapping twig could be a curious bear, a stranger, or an early warning that a tree is going to squish your tent. I've talked to both men and women about sleeping in the woods, and we have plenty of overlap in the things that keep us jumpy. Bears and trees aren't picky about who they maul. But like the other women I spoke with, my fears circle around people and contain an unmistakable sexual tinge.
If worrying about sexual assault and violence is what separates nervous female campers from the guys, it's not without reason. Growing up female means endless warnings about going out alone, and many women experience more sexual harassment as they begin to explore their outdoor interests, catching catcalls as they run, walk, or bike by themselves. The combination of those warnings and guys' creepy behavior sends a clear message: our society views solo women as sexually vulnerable and that going it alone is tempting fate.
I've hiked and camped alone for 15 years, and my love of solitude balances out the stress of waiting for the dawn.
You can't get much more alone than in the wilderness. Backpacking solo flouts all the usual precautions that women are told to adopt in order to protect themselves, like going out in numbers, staying close to home, and always keeping a cellphone within reach. When I share stories about hiking and camping by myself, I watch eyebrows go up and hear well-intentioned advice that I find a friend to keep me safe.
When people say a woman choosing to venture alone in the wilderness is reckless, it's very possibly due to a lack of understanding about the realities of sexual assault. Women are most likely to be assaulted in their own homes or in a private space, according to Jennifer Wesely, who studies violence against women at the University of North Florida. Fear of strangers seems like a misconception, too, considering that more than three-quarters of women who are sexually assaulted know their attackers.
Meanwhile, the woods turn out to be remarkably safe. The National Park Service reported 83 rapes (one in 3,527,951 visitors) on its public lands in 2014, compared with 84,041 reported rapes (one in 3,794 people) in the rest of the country. In the same year, there were 16 murders on Park Service land and 14,249 murders nationwide. Those numbers tell a very different story than my fears suggest. Like a person who fears airplanes and sharks over highways and heart disease, my nervous nights in the woods just don't reflect the world's real dangers. Knowing that makes me determined to take on the things that scare me.
A few years ago, I was backpacking alone on the Appalachian Trail in Georgia when a couple stopped me at a shelter and asked if I was by myself. "You better be carrying a gun," the woman said, then popped open her pack to show me a hefty-looking pistol. I don't carry a gun in the woods or anywhere else, but I (and the women I know) have found other ways through our fears. Shey uses her headlamp to keep her mind focused on the scene in front of her, attempting to switch off her imagination. Kirsten noted that she sleeps best when she spikes her hot chocolate with a bit of rum, and, like me, she appreciates the insulating, isolating feeling of a storm, when rain seems to shut out the world.
If I can't be wrapped up in howling wind, I'd just as soon sleep outside of the tent, where I can look around and match the rustling noises I hear to chipmunks or falling leaves. I picture the ludicrous, would-be attacker who would need to pack dehydrated meals and moisture-wicking clothing, then head into the forest to stalk unwashed hikers. And if all else fails, I just watch the stars tick by overhead on their way toward dawn. I do my best to enjoy the view, and the peace, and the quiet. It's why I'm there in the first place, after all. And it's why I won't stop sleeping in the woods by myself, even when my nights are sleepless.
Lead Photo: Patrick Brandenburg/TandemStock
Trending on Outside Online