The 20 Best Waterfall Hikes in the United States
No two waterfalls are exactly alike, but these will always capture our imagination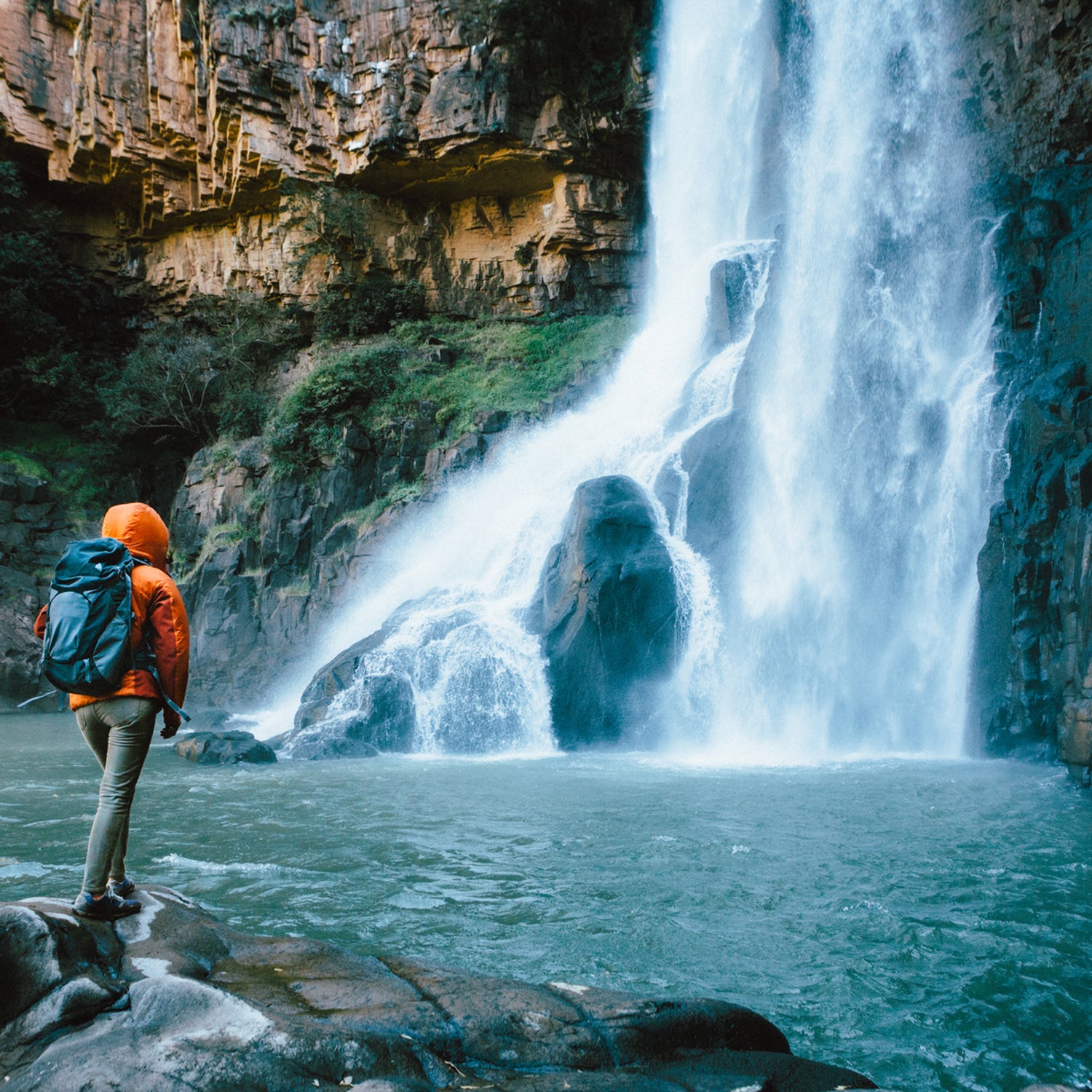 Juno/Stocksy
Heading out the door? Read this article on the new Outside+ app available now on iOS devices for members! Download the app.
This story was originally published at Backpacker.com. To get more of their premium content along with your Outside subscription, join Outside+.
---
We're drawn to waterfalls. The air around them feels fresh and rejuvenating, and science shows they have a calming effect on our mood by altering our serotonin levels. Some are pretty, others magnificent, and still others intimidating. And while just catching the view from a lookout is all right, earning it on a legit waterfall hike will always feel better. We picked our favorite jaunts to waterfalls across the U.S., from .8 mile to more than 20.
Silver Falls State Park, Oregon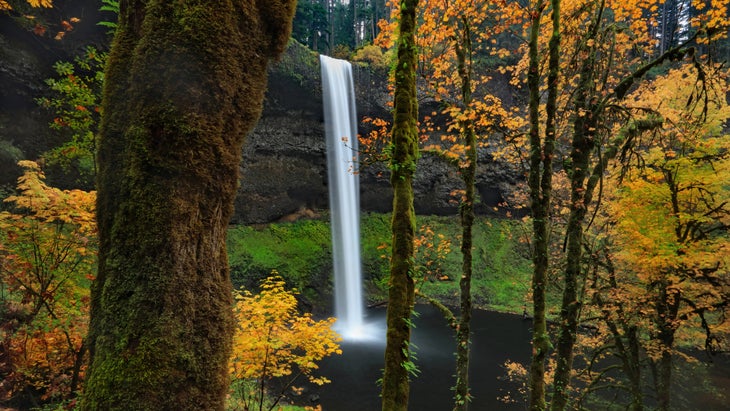 Can't decide on a single waterfall? Catch close-up views of ten on the aptly named Trail of Ten Falls in Oregon's largest state park. The relaxed 7.8-mile loop goes under, around, and even behind a series of cascades, the largest of which, South Falls, towers to 178 feet.
Upper DeSoto Falls, Georgia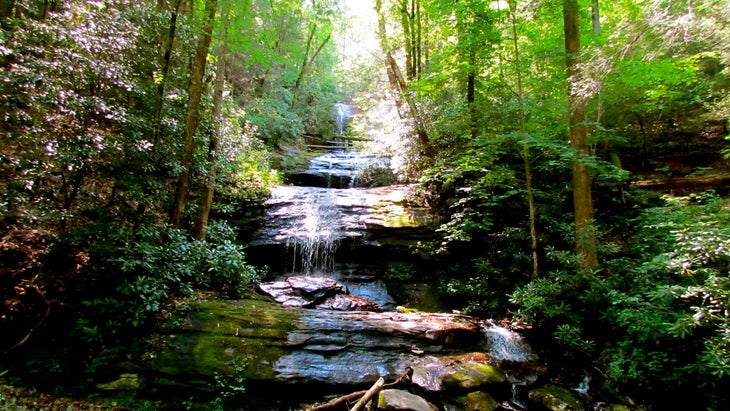 There's a little bit of history in DeSoto falls—literally. According to local legend, a piece of armor found at the falls belonged to a member of Spanish Conquistador Hernando de Soto's company in the 1500s. See it for yourself on an easy 2.2-mile round-trip hike starting at the DeSoto Falls Trailhead that crosses Frogtown Creek before meandering through a southern forest of deciduous trees and rhododendron (blooming in June).
Yosemite's Waterfalls, California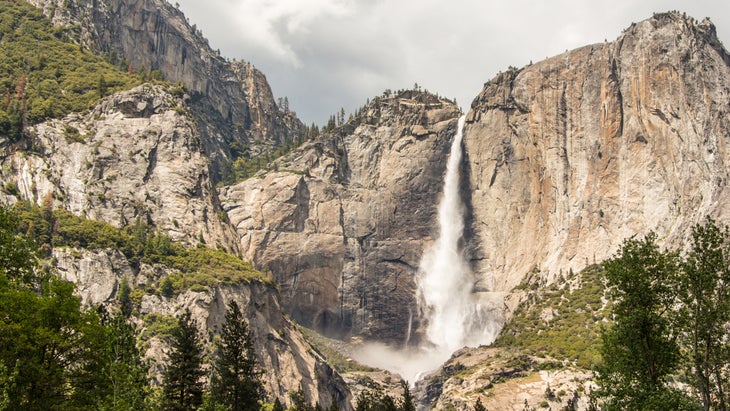 Yes, we're cheating a little here. But Yosemite is known for its massive cliffs, and the waterfalls that flow down them, from Horsetail to Vernal, are superb to a one. Start with 2,425-foot Yosemite Falls, the fifth tallest waterfall in the world and one of the most famous falls in the lower 48. Access the lower falls from a one-mile loop trail near the Yosemite lodge or take a day to hike the 7.2-mile (round-trip) Yosemite Falls Trail for views from the top of the upper falls. May and June have the most impressive water flow, while visitors can glimpse a little frost along its edges during the winter months.
Havasu Falls, Arizona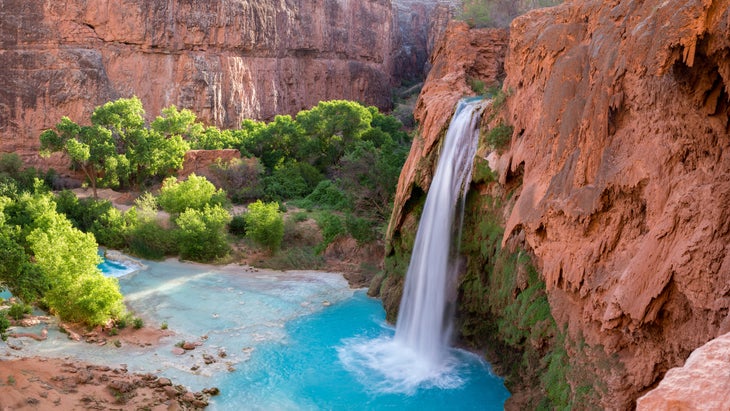 Not only is Havasu Falls stunning, but its blue-green water is a refreshing 70 degrees year-round, meaning visitors can take a dip no matter the season. The only catch? Permits to visit the falls must be acquired in advance, as it is located on the Havasupai Reservation. The 10-mile Havasupai Trail starts at Hualapai Hilltop. No day hiking is allowed: Grab a permit (starting at $125/person/night) and do it as an overnight.
Alamere Falls, California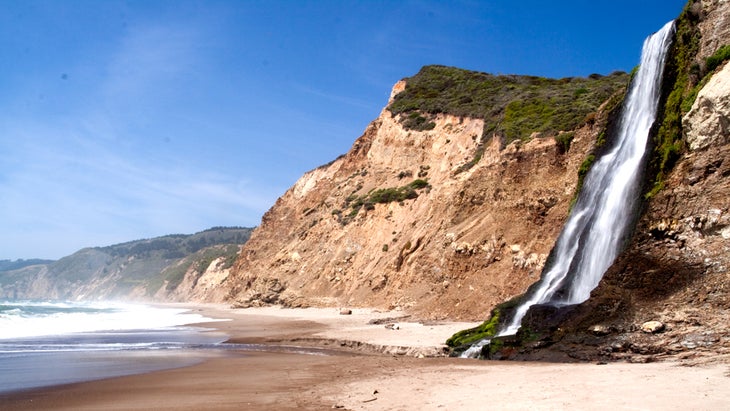 Located at Point Reyes National Seashore, this rare 40-foot tidal cascade empties directly into the Pacific Ocean. You'll have to work to see it: Check tide tables before tackling the 14.6-mile round trip from the Bear Valley trailhead, which offers lake and wildflower views before a final beach walk. Turn your hike into an overnight by camping at Wildcat Beach the night before or after ($20/night; reservations recommended).
Cumberland Falls, Kentucky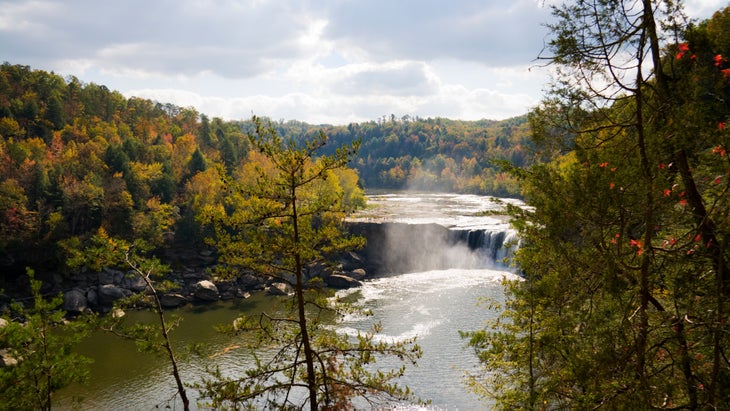 Nicknamed the "Niagara of the South," 69-foot Cumberland Falls does actually look like its more famous cousin in miniature. The view is impressive any day, but catch it at night during a full moon for a chance at catching a nocturnal rainbow (or "moonbow"). Take the leisurely 1-mile round trip to the cascade, or connect the path to the Moonbow Trail for a 10.8-mile jaunt.
Bridal Veil Falls, Colorado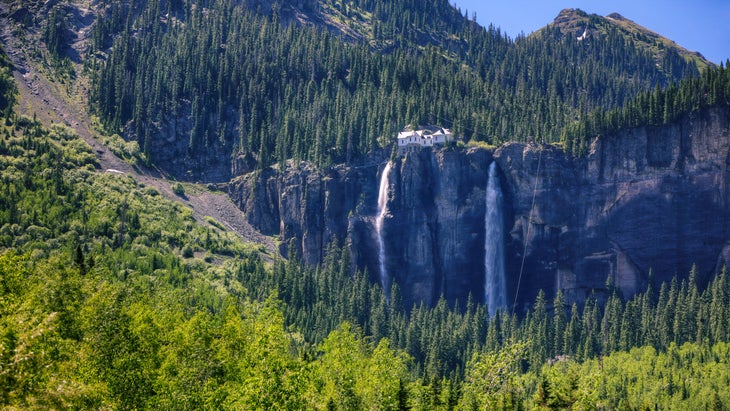 Colorado's tallest free-falling cascade tumbles 365 feet down from the head of a box canyon near Telluride crowned with a historic power plant. The best way to view them: From the top. Starting at a parking area just past the Pandora Mine, tackle a moderate, 4-mile round-trip hike along a four-wheel-drive road (watch for bikes and vehicles along the path).
Lower Yellowstone Falls, Wyoming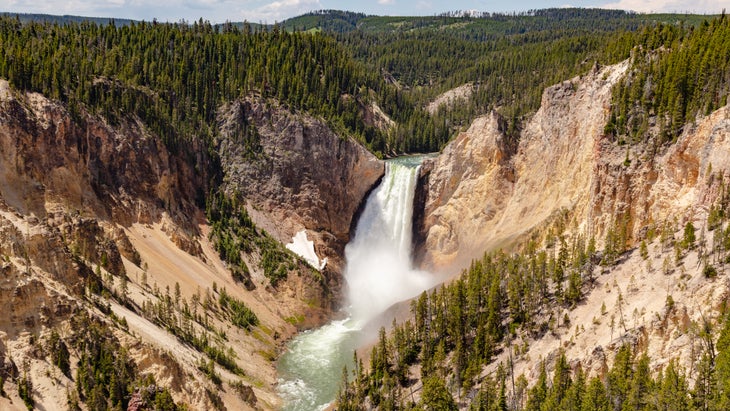 This massive cascade drops as much as 8,400 cubic feet per second of water 308 feet down a lava flow into the Grand Canyon of the Yellowstone, making it the largest waterfall by volume in the Rockies. View Lower Yellowstone Falls from four vistas on the one-way loop drive before getting up close via a steep .75-mile round trip trail to the top of the falls. From there, you can continue to the base of the falls via 328 steel steps.
Waimoku Falls, Hawaii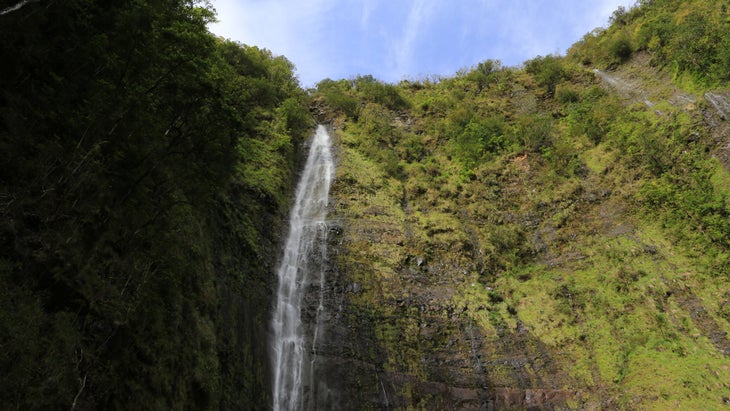 This towering, thin cascade drops 400 feet down a sheer, vegetation-topped lava wall on Maui. Get there via a four-mile round-trip hike on the Pipiwai Trail, passing through a dense bamboo forest, past guava trees, and around a huge banyan tree along the way. Bonus: Get a glimpse of another cascade, Makahiku Falls, just a half-mile into the trek.
Arethusa Falls, New Hampshire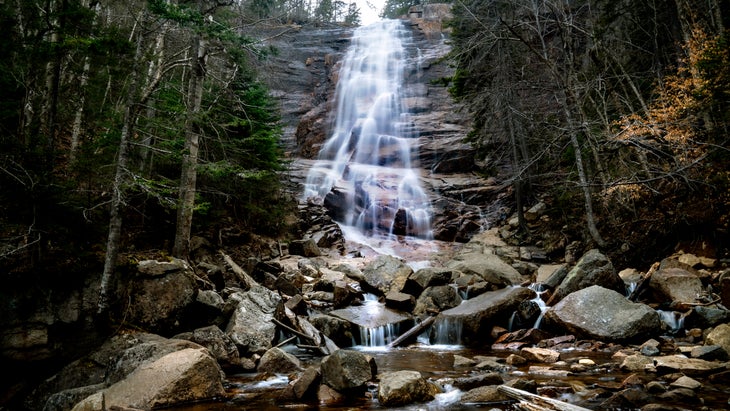 At 140 feet, Arethusa Falls is the tallest single-drop waterfall in New Hampshire, and from the bottom, it appears to fall from the sky. Visit the falls in May or June for the most impressive waterflow, or don your snowshoes for the 1.5 mile trek to watch ice climbers scale the frozen falls in winter. Add an extra 0.1 miles and two waterfalls to your hike by taking the Bemis Brook Trail cutoff, which rejoins the main trail .5 mile in.
Virginia Falls, Montana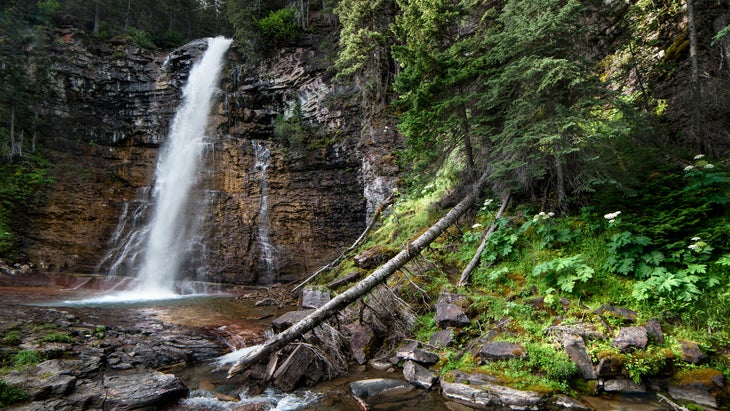 What's better than seeing a waterfall? Seeing three on a single hike. Enjoy two bonus drops on the 3.6-mile round-trip hike to Virginia Falls, one of the most beautiful cascades in Glacier National Park. Also on the menu: vistas of 8,064-foot Dusty Star Mountain. When you reach your destination, we recommend stopping to dip your feet in one of the turquoise pools below the falls while taking in the view.
Bushkill Falls, Pennsylvania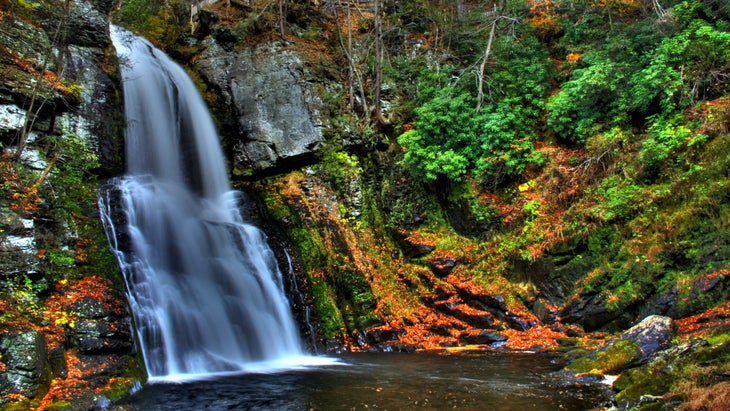 Want to see all of the eight waterfalls in this privately-owned park? Tackle the Red Trail, an easy 1.4-mile loop that traverses eastern deciduous forest and elevated catwalks and culminates in an elevated view of the main, 100-foot drop. The park closes for the winter, so make sure to plan your visit between April and November, and save a few dollars on entrance fees by viewing the falls on a weekday.
Multnomah Falls, Oregon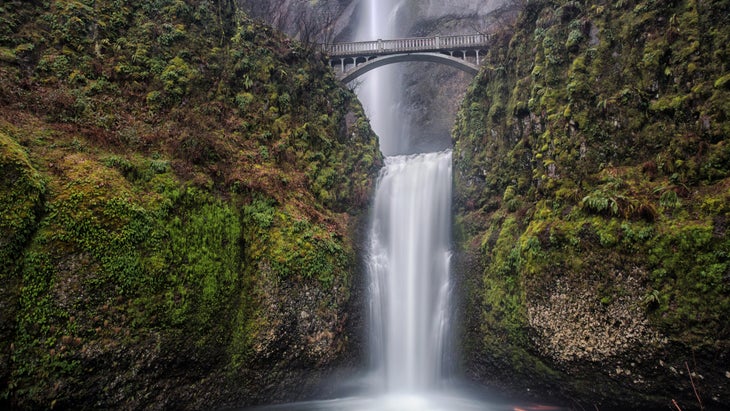 Oregon packs so many excellent waterfalls into its borders that any list is sure to be incomplete. Start with the tallest by hiking the 2.4-mile Multnomah Falls Trail to view Multnomah Falls from multiple angles, including the famous Simon Benson Bridge, which crosses in front of the waterfall. Double the length of your hike and see a second waterfall by taking the 5.5-mile Wahkeena Falls loop trail before returning home.
Niagara Falls, New York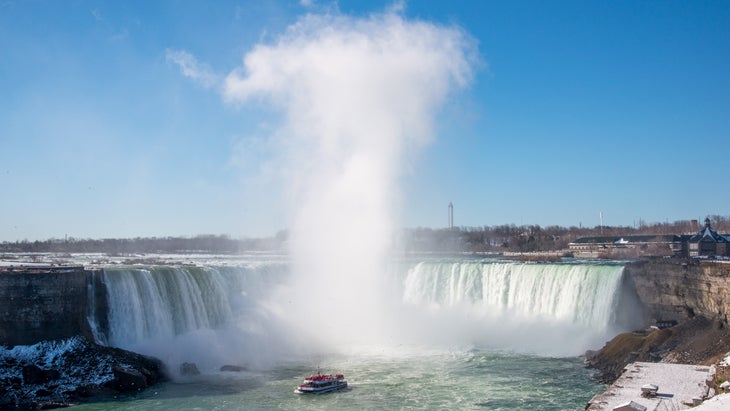 Niagara Falls can be a massive tourist trap, but take away the boat tours and schlocky souvenirs, and one fact remains: It's the most powerful waterfall in North America. While some say the Canadian side has the best views, the American side offers a variety of easy to moderate hiking trails with vistas of all three waterfalls, the American Falls, Bridal Veil Falls and Horseshoe Falls. Get a different view of the cascade on the 2.2-mile Goat Island Scenic Walk.
Bond Falls, Michigan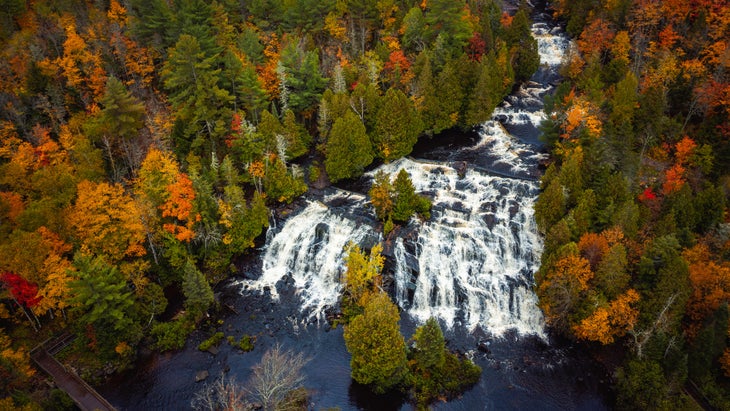 This .9-mile loop hike isn't exactly challenging. But if you're in the Midwest, craggy Bond Falls is the cascade you need to see. It's a pretty cushy experience too, with six viewing areas, including three viewing platforms and 600 feet of boardwalk strolling.
Deer Creek Falls, Arizona
Lace up your boots or paddle your way in: You can get to this remote 180-foot drop a number of different ways. For a walking tour of the scenery, tackle a 21.5-mile, five-day loop connecting the Thunder River and Deer Creek Trails. Along the way, you'll tackle steep descents (the trail drops 2,000 feet in 2.5 miles) and traverse over 100-foot-high drops.
Shoshone Falls, Idaho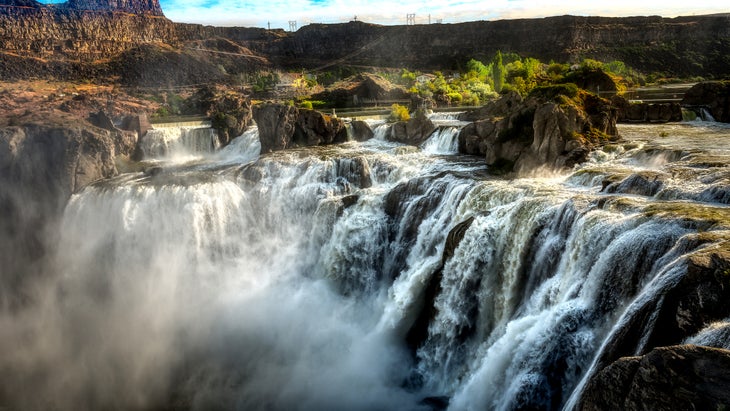 Can't visit the Niagara of the South? Meet the Niagara of the West: Shoshone Falls. Visit the falls in spring after heavy snow years for flows up to 20,000 cubic feet per second, making it one of the most powerful waterfalls in the country. (Avoid going out of your way to see the falls in summer or fall, when much of the water is diverted for irrigation purposes and used to recharge a reservoir upstream.) The most satisfying way to see the falls? Ditch the crowds and take the 12.6-mile out-and-back on the Canyon Rim Trail.
Lower Calf Creek Falls, Utah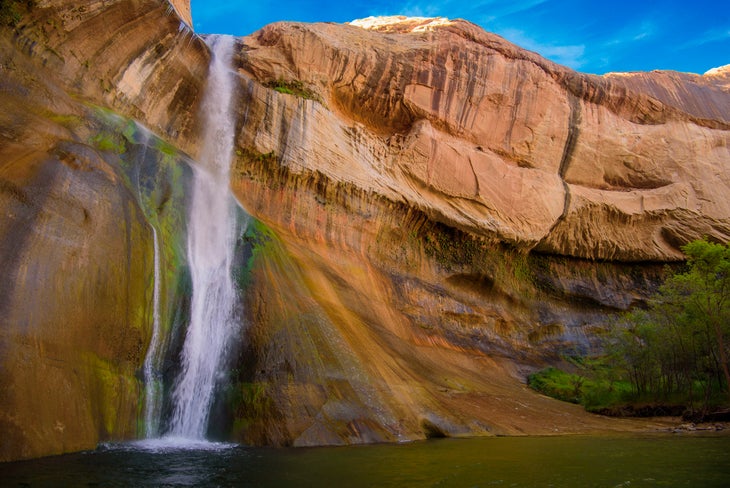 So named because it was used as a natural pen for livestock in the 1800s, Calf Creek Falls is a 126-foot sandstone cascade with a blue-green swimming hole at the very bottom. The 5.8-mile round trip takes in views of local beaver ponds, ancient granaries, and rock art along the way.
Union Falls, Wyoming
The 250-foot Union Falls are also located in Yellowstone, but get a fraction of the traffic of Lower Yellowstone. That's probably because most visitors aren't willing to brave the 16-mile round trip to visit it, including a heart-pounding ford of the Falls River (don't try it before July). Make your trip into an overnight with a stay at the Union Falls backcountry campsite ($3/person, reservations recommended).
Honorable Mention: Ruby Falls, Tennessee
The walk to this cascade doesn't really qualify as a hike—but for a location this spectacular, we'll make an exception. The only underground waterfall on this list, Ruby Falls tumbles 145 feet down a limestone cave inside Lookout Mountain. The site is privately owned, so prepare for a pricey entrance fee.
Lead Photo: Juno/Stocksy