This Bunny Hops Up 4,000-Foot Peaks
Meet Moose, the nine-pound Rex rabbit warming hearts along New Hampshire's scenic trails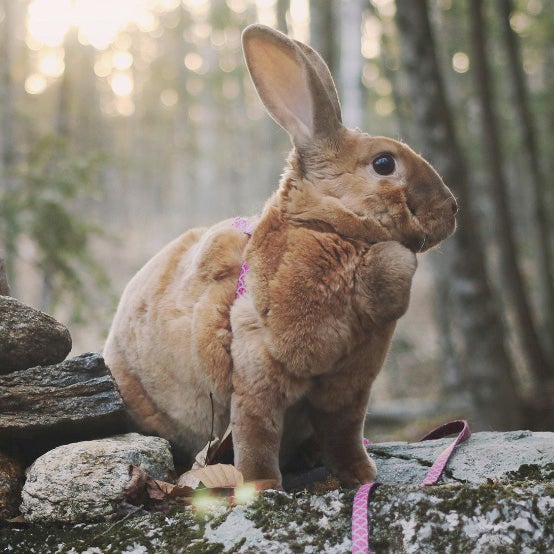 Heading out the door? Read this article on the new Outside+ app available now on iOS devices for members! Download the app.
Meet Moose, the hiking bunny from New Hampshire. 
Moose has become a celebrity on the social media platform TikTok, where her owner, Chelsea Eason, uploads videos of them hitting the trails together in New England. There are clips of Moose hopping over rocks amid the woods and others of her gazing out from mountain summits. Wherever Moose goes, hikers stop to view something they've never seen before: a leashed bunny bounding alongside its owner like a dog. 
"It's something that makes people smile," Eason told Outside. "People either just look at her or are like, Oh gosh, can I pet her?"
Of course, there are a few major differences between hiking with a canine and a nine-pound Rex rabbit. Moose typically spends the first hour resting in a backpack. Then she scratches at Eason when she's ready to roam. Sometimes Moose will hike continuously for up to a quarter of a mile or so; other times she will only hop for a few feet before stopping to rest. If Moose isn't feeling it, Eason simply places her back into the pack and continues on.
A typical trek takes about twice the time to complete with Moose than it does solo, Eason says.
"We have to start hiking before sunrise because, you can imagine, our pace is pretty slow," Eason says. "She's not like a dog that can go at its own pace. Hiking with Moose requires a lot of patience."
Despite their slow going, Moose and Eason have accomplished an incredible feat on the trails: they recently ascended all 48 mountains in New Hampshire that surpass 4,000 feet elevation. It took them nearly three years to complete, and along the way Moose encountered plenty of bewildered hikers.
While descending 4,420-foot Mount Hancock, Moose and Eason met a woman who asked to hold and pet the rabbit.
"All of a sudden she started crying, because she was so happy," Eason says. "Seeing someone react that way to Moose was probably the highlight of doing the 48."
Eason, 32, moved to New Hampshire in 2014 and began hiking as a way to explore the state. In 2019 she bought the rabbit and wanted to see if the animal would tolerate a walk along a trail. For their first hike together, Eason chose the route up 4,802-foot Mount Moosilauke. When the rabbit made it to the summit, Eason named her after the peak.
Eason had already hiked 32 of the state's 4,000-foot peaks but decided to hike all 48 with Moose, including the ones she had already summited. Now, with those treks behind them, the duo plans to hike the state's 52-with-a-View mountains, a collection of peaks less than 4,000 feet with scenic overlooks.
Eason began documenting their hikes with her camera, and last year she launched the TikTok page. The catchy videos caught the attention of New Hampshire Public Radio, which produced a segment on Moose earlier this month. Since then, hikers have begun to recognize Moose and Eason on the trails.
The attention can be tough on Eason, a self-described introvert. But she's accepted that people are drawn to Moose for the same reason she was.
"It's weird sometimes," she says, "but it's all good, because Moose makes people smile."