Flash Floods Turned This Utah Slot Canyon Into a Deadly Trap
Two hikers died and more than ten required rescue after heavy rains inundated Buckskin Gulch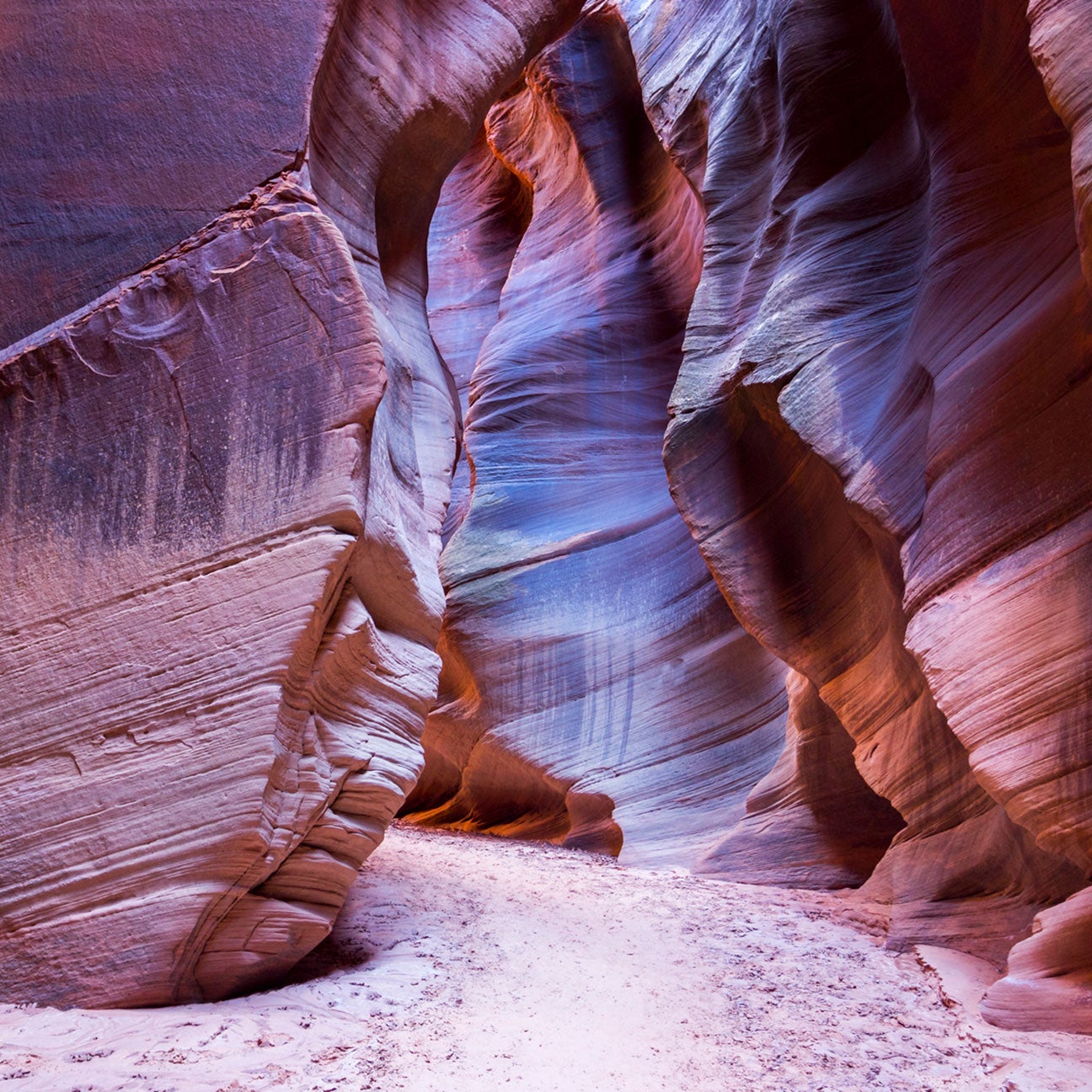 AutumnSkyPhotography/Getty Images
Heading out the door? Read this article on the new Outside+ app available now on iOS devices for members! Download the app.
Two hikers are dead and one injured after being caught in a flash flood in a slot canyon on the Utah/Arizona border on March 11.
According to Lt. Alan Alldredge of the Kane County Sheriff's Office, a group of three men began hiking towards Lees Ferry on Friday, March 10, for what was supposed to be a three-day expedition of Buckskin Gulch, a 16-mile network of narrow canyons. It's likely a flash flood caught the group on Saturday, March 11, as moisture from the atmospheric river that engulfed California last week flowed east.
One of the hikers' wives alerted authorities on Monday, March 13, when the group was scheduled to finish their hike. Authorities quickly launched a search, which led an air team to a campsite that likely belonged to the hikers.
"They were able… to find some areas where it looked like camping equipment, [like] a backpack [were located]," Alldredge told Salt Lake City's KSL.
Searchers soon found the body of one of the missing hikers. Airborne rescuers found the survivor with an infrared camera while investigating flood debris and winched him into a helicopter. The surviving hiker was hypothermic after spending days in an exposed and wet environment, and he had suffered bodily injuries, and was still in the hospital as of publishing time. On Wednesday, March 15, a team located a second deceased hiker on land in the middle of the Paria River, about four miles south of the Arizona border, while investigating a tip from a hiker who said they had seen a body.
Law enforcement reported the name of the survivor as Ed Smith. The two deceased hikers were Bill Romaniello and Jeff Watson.
The trio weren't the only hikers who got into trouble in Buckskin Gulch in recent days: the Utah Department of Public Safety said that it had rescued an additional ten additional hikers from two separate groups from the area. Alldredge told KSL that unusually heavy rain across the west meant that conditions in Buckskin Gulch would remain unusually dangerous "for probably a couple of months."
Although fatal incidents from flash floods are statistically rare, they occur nationwide every year. Nearly 2,000 people have lost their lives from floods and flash floods between 1995 and 2021. And fatalities seem to be on the rise, with 146 deaths in 2021 alone. According to one analysis, flash floods are the deadliest weather-related events in the United States.
Most flash flood fatalities occur when vehicles end up in flooded roadways. But slot canyons like Buckskin Gulch can also be extremely hazardous to outdoor enthusiasts.
Instagram-famous Buckskin Gulch is known for its beauty, featuring miles of narrow slot canyons with sheer walls. The entire canyon is more than 20 miles long, and it has very few locations that can be used as safe extraction or exit points, meaning that hikers who tackle the canyon are generally committed once they enter. As one of the longest continuous slot canyons in the world, it can be deadly when it floods. Thanks to its fame, it's not unusual for adventurers to wander in without a proper understanding of the mechanics of flash flooding. (Alldredge told Salt Lake City's Fox 13 that the stricken hikers were properly equipped, and that "the conditions were above and beyond what anybody expected."
Flash Floods: A Desert Danger
Flash flooding takes place when a large amount of rain falls faster than the soil can absorb it. It tends to happen most frequently in the spring, when the snow is melting, or during monsoon season. The longer it rains, and the more intense the rain, the more likely a region is going to receive a flash flood. In the arid southwest, the soil is also naturally less absorbent, making it particularly at risk of flash flooding.
While flash floods can be very dangerous no matter where they happen, canyons like Buckskin Gulch that have narrow, towering walls, can become inundated with a large amount of water in just minutes, potentially drowning those inside.
Canyons can even flood under blue skies: Since canyons are usually extensive networks, precipitation far away can quickly flow downstream. This means, for example, that a canyon like Zion's Narrows could flood if the Kolob Reservoir receives a lot of rain during a short period of time, despite the Narrows themselves never receiving a drop of rain.
To avoid being caught in a flash flood, hikers should speak with a ranger or someone else knowledgeable about local conditions prior to beginning their trip. They should also monitor the canyon's boundary waters and the forecast there to determine whether there's a risk of flash flooding during their trip's timeframe. As GPS units don't consistently work in steep-sided canyons, a paper map with potential escape routes is a must.
Lead Photo: AutumnSkyPhotography/Getty Images
Trending on Outside Online