What's the Weirdest Thing You've Ever Taken on a Backpacking Trip?
Editors list the bold and bizarre items they've stuffed into a backpack for a trip to the woods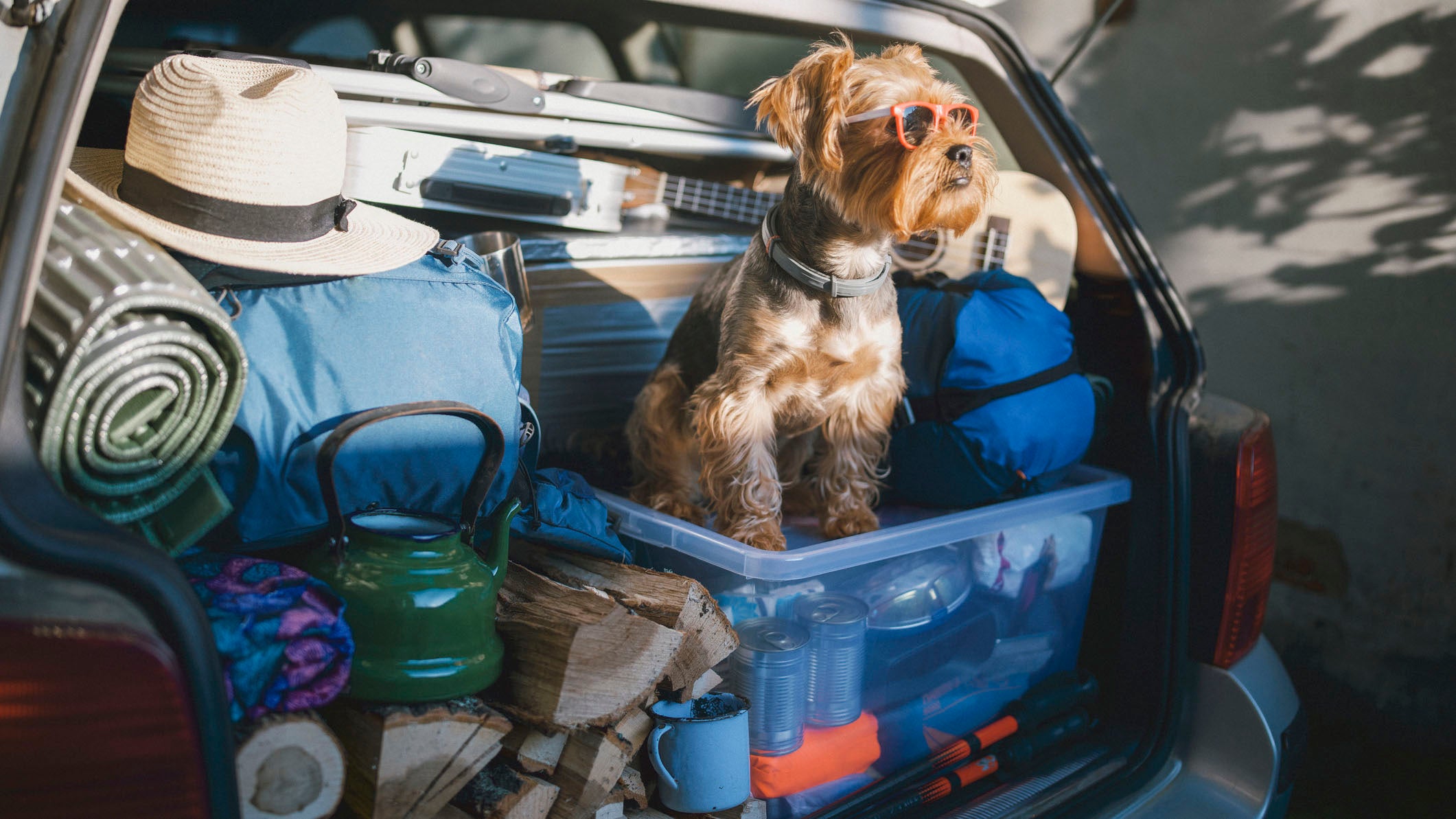 ArtistGNDphotography/Getty IMages
Heading out the door? Read this article on the new Outside+ app available now on iOS devices for members! Download the app.
In backpacking parlance, a "luxury item" is anything you bring that you don't need to—the gear that isn't necessary to keep you safe, nourished, or warm, but enhances your experience in one way or another. A common one might be a paperback book, a camera, or a couple cans of brew.
Then there are the weird luxury items: the gourmet meals, the photo ops, the "I dragged this up here just because I could" pulls. At best, it elevates your experience; at worst, you end up with a funny story about the time you lugged a beach umbrella up a mountain. We canvassed staff across Outside's magazines and asked: What's the strangest luxury item you've ever brought into the backcountry?
A Cat
I once took my (indoor, mostly) cat on an early-season overnight on the Continental Divide Trail in Colorado, a little bit on a leash but mostly in a carrier strapped to my pack. Don't ask me why; I think it was half because I felt sorry that I had turned this desert-roaming feral feline into a housecat and half because I was jealous of my friends who had trail dogs. It actually went OK. She doesn't love water, which was a problem because the trail was wet and it stormed overnight while we were up there. But she eventually got comfortable exploring—sniffing around for voles, scratching downed trees, and so on. It was fun to see her getting into it but I don't know if I'd make it a regular thing. That trail was rough—snowfields, deadfall, and so on—and thanks to years of lying in sunny windows, she's pretty chunky. —Adam Roy, executive editor, Backpacker
Several Bottles of Red Wine
For our first camping trip together, my then girlfriend (now wife) and I planned to hike to Conundrum Hot Springs outside of Aspen. We obviously had different visions for the experience: I pictured a no-frills backpacking trip and brought the bug spray and freeze-dried trail snacks. My girlfriend envisioned a romantic getaway with charcuterie, creature comforts, and fancy beverages. The nine-mile hike is mostly uphill, and after an hour I was exhausted and feeling weighed down by my heavy pack. I rummaged through the bag and discovered the ballast: multiple bottles of expensive red wine that she had wisely slipped into my pack. I didn't know whether to protest or shut my mouth, as I loved both vino and my girlfriend. But I didn't know if I'd survive the hike up 2,500 vertical feet with the heavy hooch in my pack. Mother Nature saved me, and a late-summer snowstorm chased us back to our car. We drank wine that night in a warm condo. —Frederick Dreier, articles editor, Outside
A Kids Playpen
When my son was about 6 months old, we took him on a weekend backpacking trip in Oregon with another family. He was a passionate crawler, a hornet's nest of energy, and hard to wrangle even in the safety of home. So was the child of the other family. Our solution: We packed in a portable playpen. It was bulky and not exactly light, but once we got to camp we set up a huge corfal (about 15 by 15 feet). The kids could crawl around in the dirt and duff and we could relax. Win-win. —Kristin Hostetter, head of sustainability and community partnerships, Outside Inc. 
A Battery-Powered Disco Ball
In the mid-1990s, during the first of my two different stints working for Outside in Santa Fe, there was a group of us who would occasionally take weekend backpacking trips that were really just an excuse to go on a bender. One time we chose Hermit's Peak, an amazing 10,267-foot mountain near Las Vegas, New Mexico, that looks like a cross between a classic alpine peak and a desert mesa. Hermit's is named after an actual hermit who lived in a shallow cave up there in the 19th century—we dishonored that spiritual legacy by hauling a lot of alcohol up there to fuel our night. I also brought along a portable disco ball to help get the party started.
On this trip, the less-fun guys (including me) got there first, and though we dutifully drank and talked and did some minor Iron John cavorting around the ball, the energy just wasn't there, and we moped. That changed when three more-fun guys—one of whom was backpacking in a kimono—showed up later that night. Round two ensued, and if I'm being honest, I don't remember much of it. We danced a lot, and we jumped over that ball a lot. I can't remember if we accidentally stomped it to pieces or intentionally destroyed it with a rock as a ritual farewell, but one way or another: its spirit is alive. And it's still up there. —Alex Heard, editorial director, Outside 
A Graduation Cap and Gown
I was an early-pandemic University of Missouri grad whose undergraduate years ended with a whimper of a virtual graduation ceremony (a list of names rolling through a Zoom screen, end-credits-style, that I watched as I folded laundry in my apartment). I wanted a semblance of the pomp and circumstance we all worked hard to get. So, when I was driving from California to my alma mater a few months later to start graduate school, I got a little creative. I decided to reenact Conan O'Brien's first Tonight Show cold open, where he ran across the entire country to Cheap Trick's "Surrender," except this time, it would be me running in my cap and gown. On that trip, we stopped for some hikes and overnight trips on the way, and I got a lot of weird looks as I sprinted down the trail in my full graduation attire and hiking boots. —Emma Veidt, assistant skills editor, Backpacker
An Entire Wedding
A wedding dress by itself isn't that heavy, but everything that comes along with it really adds up. That's what I learned the hard way when my wife and I opted for a backcountry wedding in Glacier National Park. We packed everything—dress, ingredients to bake a wedding cake, booze and food for 30 people, and plenty of bear spray—eight miles into the Granite Park Chalet. Even with wedding guests pressed into porter duty, my pack weighed more than 100 pounds. Some people might think we packed too many luxuries, but after three days, countless toasts, and one grizzly encounter, I'd say we had everything we needed. —Dennis Lewon, director of content, Outside Inc. 
A Hand-Crank Radio
Former Backpacker Editor-in-Chief Shannon Davis once brought a hand-crank radio on a weeklong backpacking trip so he could listen to a Big Ten championship football game between his beloved Ohio State Buckeyes and the Michigan Wolverines. As a fellow Buckeyes fan, I huddled next to him under a tree on a damp, drizzly night in the Oregon mountains, occasionally cranking as the Buckeyes surged from behind to a second half victory. —Jon Dorn, VP, Strategy Outside Inc. 
Lobster Tails
It was Y2K and my parents opted to take my brother, 6 at the time, and me, 10, into the backcountry in Rocky Mountain National Park to celebrate the new year—and the possible end of society—while winter camping. Like most things my parents did for us, we didn't appreciate it at the time. I was, in fact, highly concerned about snowshoeing back to the trailhead on New Year's Day to find we were the last remaining humans on the planet. To ease the "sting," my dad packed in four frozen lobster tails which we boiled in a pot for dinner. Melted butter included. If it had been our last meal on earth, it would have been a memorable one. —Sierra Shafer, editor-in-chief, Ski
Lead Photo: ArtistGNDphotography/Getty IMages