Why I'm Hiking the Continental Divide Trail
Four years ago, our hiking columnist didn't know the triple crown of hiking existed. Now he's on the verge of completing it—or at least trying to.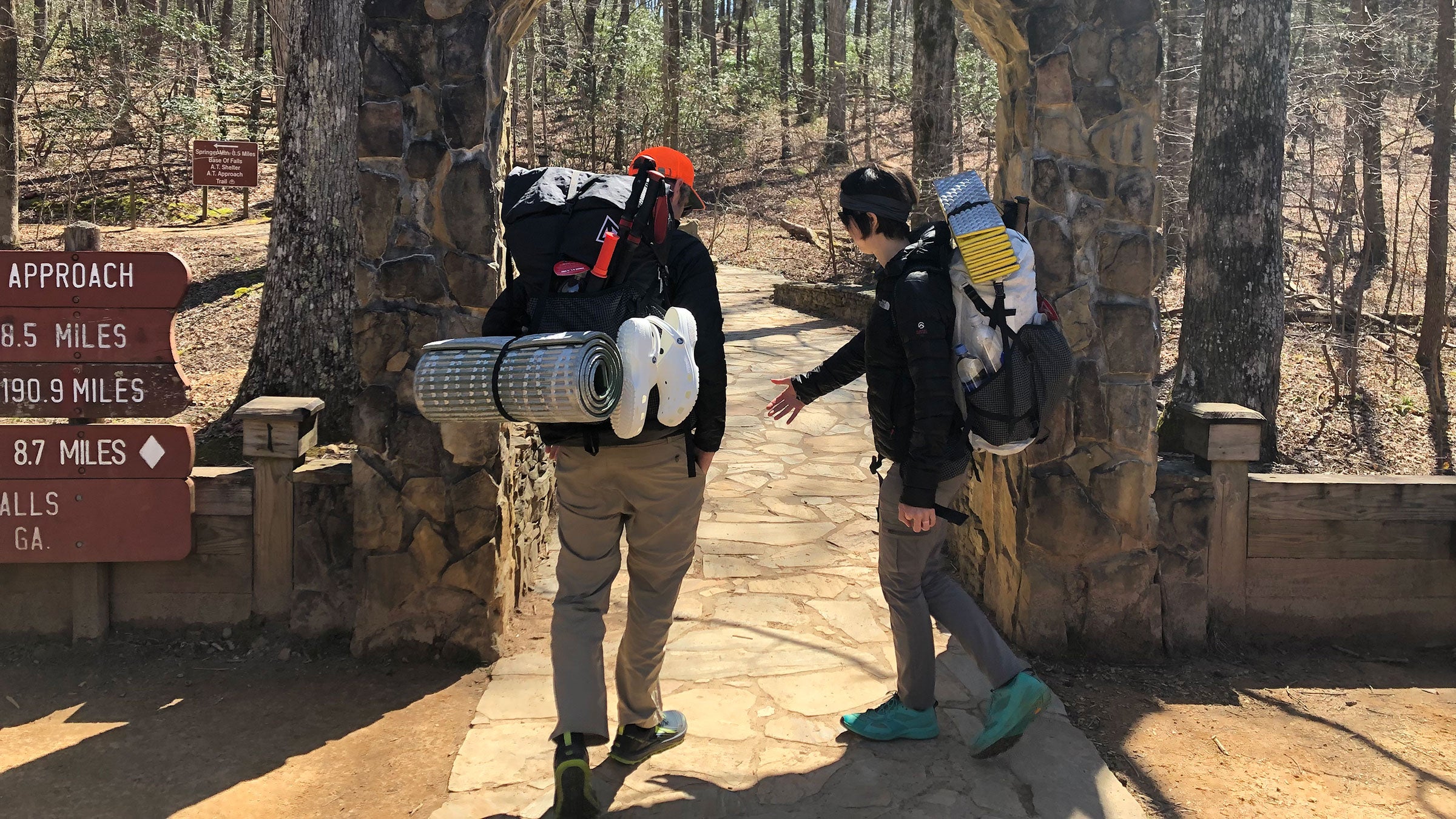 Courtesy of Grayson Haver Currin
Heading out the door? Read this article on the new Outside+ app available now on iOS devices for members! Download the app.
Outside's Trail Magic hiking columnist Grayson Haver Currin is attempting to bag the triple crown of hiking. He's already thru-hiked the Appalachian Trail and Pacific Crest Trail, with one more to go: the Continental Divide Trail. He'll share notes from the field as he walks with his wife for the rest of the year. Here's his first file, from the train ride to the trail's start at the Montana-Canada border in Glacier National Park. Tune in on Outside's Instagram to follow his journey.
Just after 3 a.m. yesterday, I heard my wife, Tina, yell: "Graysooooon!" from the next room, dragging out the second syllable of my name in unusual anguish. Our 48-hour window to travel from the east coast to Montana and begin our thru-hike of the Continental Divide Trail, or CDT, was shot.
A collision of Canadian wildfire smoke, staff shortages, and summer thunderstorms had scuttled thousands of flights in the preceding days. And as I slept before our predawn airport drop off to head to Chicago, where we'd catch a 30-hour train ride to the gates of Glacier National Park, Tina realized we were also screwed. There were no other flights. The train tickets were timed and nonrefundable. How could we possibly get to where we needed to go if we were to earn the triple crown of hiking?
I'm happy to report, though, that I'm writing now from the observation car of the archaically named Empire Builder—the 2,200-mile rail route that cuts a path through the plains and peaks of America's "manifest destiny." The verdant ranches of North Dakota are slowly sloping upward, as if reaching for the Rocky Mountains. They'll be our home for the next six months as we hike 3,000 miles along the country's great divide.
Getting here wasn't simple after our early-morning discovery, of course. But we found another flight two hours away, tossed our stuffed packs into our trunk, raced south on the interstate, and dropped our car with family members who accepted a 5 a.m. request to store it for us. We're now just east of the fabled 100th meridian and a few more hours away from tagging the Canadian border to turn south again—toward Mexico, toward the unknown, toward adventure.
The unknown actually began the moment Tina yelled to me, and the process of making sudden accommodations was, to be candid, a little thrilling. That unknown, after all, is the central reason I've walked 7,000 miles in four years, restructuring my life to make way for the continual visceral thrill of uncertainty and discomfort.
Of all the United States' major trails, the CDT perhaps best exemplifies this unknown. On the Appalachian Trail, you follow a 2,200-mile series of white blazes: 12-square-inch rectangles splashed onto towering oaks, ancient boulders, and highway bridges. On the Pacific Crest Trail, little metallic emblems painted with the PCT insignia have been marking some trees so long that the bark has started to regrow around the wound. It's not impossible to get lost on these trails, sometimes fatally so, but they're built to be followed with faithfulness, to ferry you along.
The CDT is not. Though there is an accepted route, it's a choose-your-own-adventure network of alternate options and side trails meant to be navigated based on whims of spirit and situation, like wildfires or blizzards. You can hike the Divide in a little more than 2,000 miles, hugging road shoulders and edging around towering mountains. Or, you can make it last for more than 3,000 miles, bagging the peaks of dreams as you move across Montana, Idaho, Wyoming, Colorado, and New Mexico. It's not meant to make you get lost so much as to encourage you to find your own way across the country's magnificent middle spine. If the PCT and the AT are connect-the-dot books, this is a live-action video game.
As you might have surmised by now, the notion that I could follow a conventional trail or do something entirely different, sometimes on the same day, thrills me to the core. It's, after all, the reason I fell in love with thru-hiking during my first extended adventure on the AT in 2019. As Tina and I walked from Georgia to Maine, we made three of our closest lifetime friends, forming bonds so deep I can recount their childhood traumas, current insecurities, and toilet paper preferences. Together, we slept behind dumpsters in a fancy Connecticut town only to wake up to the terrifying screech of a fox in heat. We cuddled on the floors of huts high in the White Mountains, working in the kitchen in exchange for food scraps and a place to rest our aching bodies. We borrowed a stranger's minivan to drive ourselves 40 miles to a Sunday brunch buffet on the Blue Ridge Parkway, then stretched out on the grass for hours like sunbaked lizards.
I can recall these memories, and many others, from each long trail I've hiked because they were different, surprising, and unexpected—a break with the rote repetition of reality I'd created back home. Putting words to paper and running paved trails does not give me the feeling of newness I crave. On trail, I'm often physically hungry. Off trail, I'm spiritually hungry. The latter is worse.
To that end, I know almost nothing about what I am about to do. I know that the Empire Builder will drop us in the tiny burgh of East Glacier Park Village sometime around 8 p.m. tonight, and Tina and I will find Ezra, our trusted hiking partner from the PCT. We'll sleep (I think) at a restaurant called Luna's and, tomorrow morning, begin hitchhiking to the Canadian border. Our schedule for the first few days will be dictated by the availability of campsites in Glacier National Park. And beyond that? We hope to reach Mexico by the holidays. I know it could get very dangerous. Everything between now and then is suffused with the power of the unknown, the best intoxicant I've encountered.
When we began the Appalachian Trail four years ago, I didn't know that the triple crown—hiking the AT, PCT, and CDT over the course of a lifetime or even a single year—existed. We learned about it within a week on the AT. That new challenge coincided with what was one of the happiest weeks of our lives, when the newness of the trail felt complete and all-consuming. Then and there, we decided that the triple crown was our destiny, and we've rebuilt our lives almost entirely because of that epiphany. We have no fixed address and no full-time jobs, on purpose, to be able to thru-hike these trails.
Now that we're nearing the edge of completing such a grand endeavor, or at least on the literal train to try, I can't help but wonder what life looks on the other side. But I've walked enough in the last four years to know I shouldn't worry too much about the future. I'd rather step ahead into the unknown and be dazzled by what I find there. For whatever is waiting for me beyond New Mexico.
Lead Photo: Courtesy of Grayson Haver Currin