Will 'Akuna' Robinson's Triple Crown Was Only the Start
After becoming the first African American male to complete the triple crown of thru-hiking, Robinson is sharing his own experience to encourage more people to get outdoors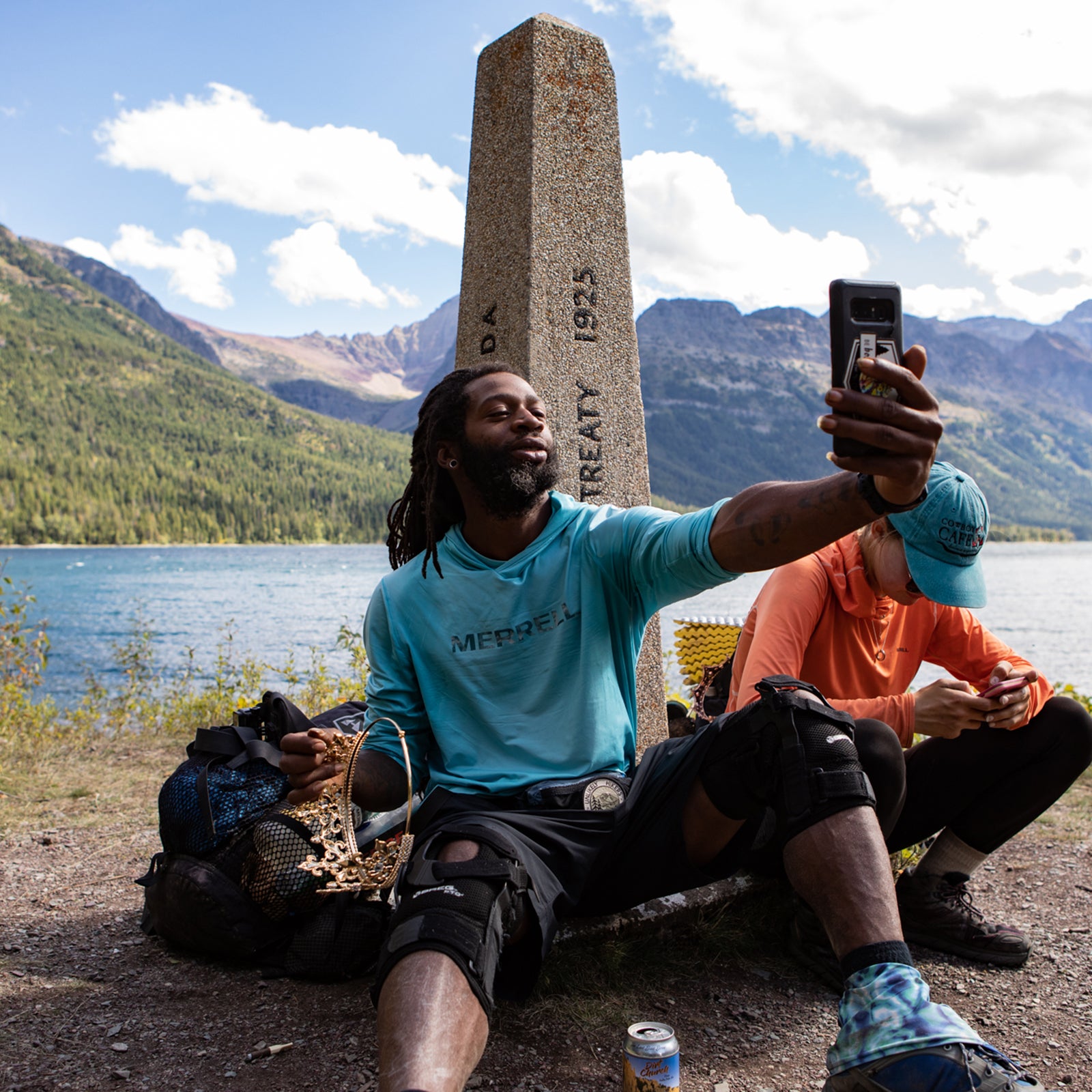 Heading out the door? Read this article on the new Outside+ app available now on iOS devices for members! Download the app.
When Will "Akuna" Robinson reached the northern terminus of the Continental Divide Trail in Glacier National Park on Sunday, September 15, he wasn't thinking about race and gender or PTSD or ceiling-shattering accomplishments. Instead, his first thought was one of mild terror: What if he was dreaming the completion of this 3,100-mile trail? Already there'd been high water to ford and nearly unprecedented snowpack. He'd strained his Achilles tendon, further complicating old injuries to his hips and knees. Maybe this moment, hugging the marker designating the U.S. border with Canada, was just a cruel figment of his imagination.
"I was literally thinking, God, what if this is a dream and I'm actually sleeping in a flooded tent back in Colorado?" he told me.
It took Robinson, who is 38 and a combat veteran, a few minutes to persuade himself he'd actually made it. And then, like any thru-hiker, his thoughts immediately turned to all the food he intended to eat: boiled shrimp, po'boys, sausage—real Louisiana fare.
When I caught up with him via cell phone, he was actually sitting in the parking lot of one of his favorite New Orleans take-out places, ready to make up for months of living on energy bars and instant noodles. He'd have gotten there sooner, he said, but he needed to finish doing some filming for a new documentary about his experience and a couple of TV appearances, along with an appointment at a Veterans Administration hospital.
And while all of this was preventing him from digging into classic Big Easy cuisine, it's also what makes the completion of his hike so extraordinary. Robinson is the first recorded African American male to complete hiking's triple crown—the Appalachian, Pacific Crest, and Continental Divide Scenic Trails (we say recorded because the American Long Distance Hiking Association, which maintains records of triple-crown recipients "on the honor system," does not maintain records regarding race, gender, or other demographics). Fewer than 400 people have logged their completed triple crown on the ALDHA web page. Last year, Elyse "Chardonnay" Walker became the first recorded African American woman to complete the same feat.
"It's pretty wild that it took until 2019 for this record to happen," Robinson says. "But when you get out on the trail, you kind of understand why."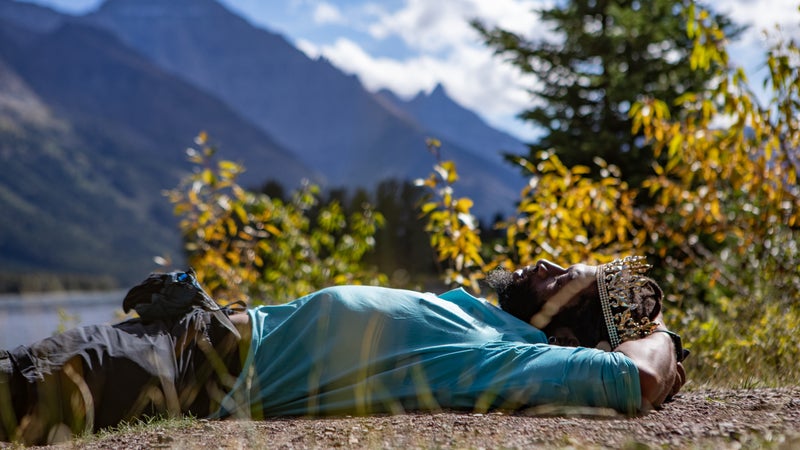 Growing up in coastal Louisiana, Robinson saw his fair share of racism and discrimination. When he began his first long-distance hike, in 2016, he was hyperaware that he was a minority on the trail. And he was also more than a little wary of the prejudice he might experience there.
"I didn't know if I'd be accepted on the trail," he says. "So I tended to isolate myself—I'd camp alone, I never shared rooms with anyone. I was definitely on guard."
Still, he knew he had to be there.
After graduating from high school, he enlisted in the Army. In 2003, he was deployed to Iraq, where he was tasked with repairing the electronic systems on Apache helicopters. He spent his downtime thumbing through boxes of books sent by well-meaning civilians. In one he found a discarded guide to the Pacific Crest Trail. He'd never heard of the PCT, but thumbing through that guidebook became his escape from the ugliness of war.
During his deployment, Robinson developed PTSD. He returned home physically wounded as well: a shattered right wrist required six surgeries to partially reconstruct, mostly out of metal. He walks with knee braces and a constant limp on account of a hip injury. And throughout all the surgeries and rehabilitation for his injuries, Robinson's PTSD became worse. It was further complicated by intensifying anxiety and depression.
"I came back broken. I didn't think I had a future at that point," he says in a short biopic documentary produced by Merrell, which sponsors Robinson.
Therapy wasn't working, he says. Neither were medications prescribed for the mental trauma. Over the next decade, he began to isolate himself more and more, sometimes staying in his room for days on end. He says he self-medicated with alcohol and painkillers.
"Nothing made sense anymore," says Robinson. "If I didn't do something drastic, it wasn't going to go much further."
Then, one night in 2016, he was channel surfing on his TV and stumbled upon a rebroadcast of Wild, the film based on Cheryl Strayed's bestselling memoir. There was Reese Witherspoon, shouldering an oversize backpack as she struggled down the trail. And as she passed a mile marker, Robinson had one thought, I bet she's on the PCT. He grabbed his phone and Googled the movie and the book. And sure enough: here was the trail that had kept him occupied in Iraq, now in living color in his bedroom.
"If more people of color, more LGBTQ people, more veterans start seeing themselves represented outside, they'll feel safer there. And then they'll be more likely to get involved."
"I had tried so many things by that point," he says now. "I had gotten really good at hiding things, but I still hadn't solved anything. And so I thought, Maybe this is what it's going to take."
Robinson admits he didn't know a thing about hiking. He'd never heard of Earl Shaffer, a World War II vet and the first person to thru-hike the Appalachian Trail, who famously said he did so to "walk the Army out of my system." Nor did he know about initiatives like Warrior Expeditions, a nonprofit organization that helps other veterans complete the big three scenic trails, along with other endurance opportunities (though he did contact the group later for tips on gear that veterans could afford).
But he did know this was the only option left. And so he spent that entire night and much of the next morning ordering gear online and reading about how to be a thru-hiker.
In the spring of 2016, three weeks after seeing the movie, Robinson was at the southern terminus of the Pacific Crest Trail. His only experience with having a pack on his back were ruck marches in basic training.
"I literally had no idea what I was doing," he says.
But as soon as he was on trail, he fell in love with the experience. A fellow hiker quickly dubbed him "Akuna," a nod to the Swahili phrase Hakuna Matata meaning "no worries," popularized by a song in The Lion King.
Still, the physical demands of the trail caught up with him. Recurring knee problems sabotaged that first PCT attempt, in 2016, but he returned and completed the trail the trail the following year. Before he had even returned to Louisiana, he had committed to doing the other big two. Last year he tackled the AT. About 40 miles in, he ran into Dawn "Undecided" Potts, another thru-hiker. They'd met for about five minutes on the PCT in 2017, and both remembered the encounter. They spent the rest of their hikes together and became romantic partners along the way (they also hiked the Continental Divide Trail together this year.)
Some 7,000 miles later, Robinson says he's become accustomed to the stares and even eye rolls prompted by his being a hiker of color. And he thinks the lack of diversity still seen on our national trails can make being there a heavy burden for racial and ethnic minorities.
"I still encounter so many people who say they've never hiked with a person of color," says Robinson. "And so I feel like I have to be an ambassador for my race. That can making hiking tough. In addition to all the hiker logistics, I'm also always trying to make sure I'm on my very best behavior so that things are easier for the next African American on the trail. That can be super stressful."
He says he's heartened by some of the diversity initiatives launched by Merrell and other outdoor brands.
"If more people of color, more LGBTQ people, more veterans start seeing themselves represented outside, they'll feel safer there. And then they'll be more likely to get involved."
Back in coastal Louisiana, Robinson has begun volunteering with LOOP NOLA, a nonprofit organization dedicated to addressing the lack of outdoor opportunities for kids in New Orleans. He's been sharing his own trail experience in schools there, hoping he can inspire the next generation of hikers of color.
"Growing up, a lot of kids don't get that experience. We're told that we don't belong outside or that's not what we do. And so we decide that it's altogether off limits for us."
More than ever, Robinson wants to change that. He says there's no doubt in his mind that hiking saved his life.
As he and Potts neared the end of the CDT last week, he decided to forego the fast-food-restaurant paper crowns that a lot of people wear when they complete their third big thru-hike. He wanted one that really reflected who he was—a legit crown, with some real bling, and a fleur-de-lis to pay tribute to his beloved New Orleans. He found the perfect one online and had it shipped to a resupply stop just outside Glacier National Park.
Donning it near then northern terminus, Robinson says he knew that crown was made for him. "I put it on, and all I could think was, I'm somebody in this moment. I'm actually, truly somebody."
Lead Photo: Courtesy Merrell/Myah McNeill