Will the Nation's Longest Trail Ever Be Completed?
Decades of political infighting have stymied construction of the North Country Trail, which, if finished, would run for 4,600 miles. Now it looks like Congress may finally be ready to get its act together.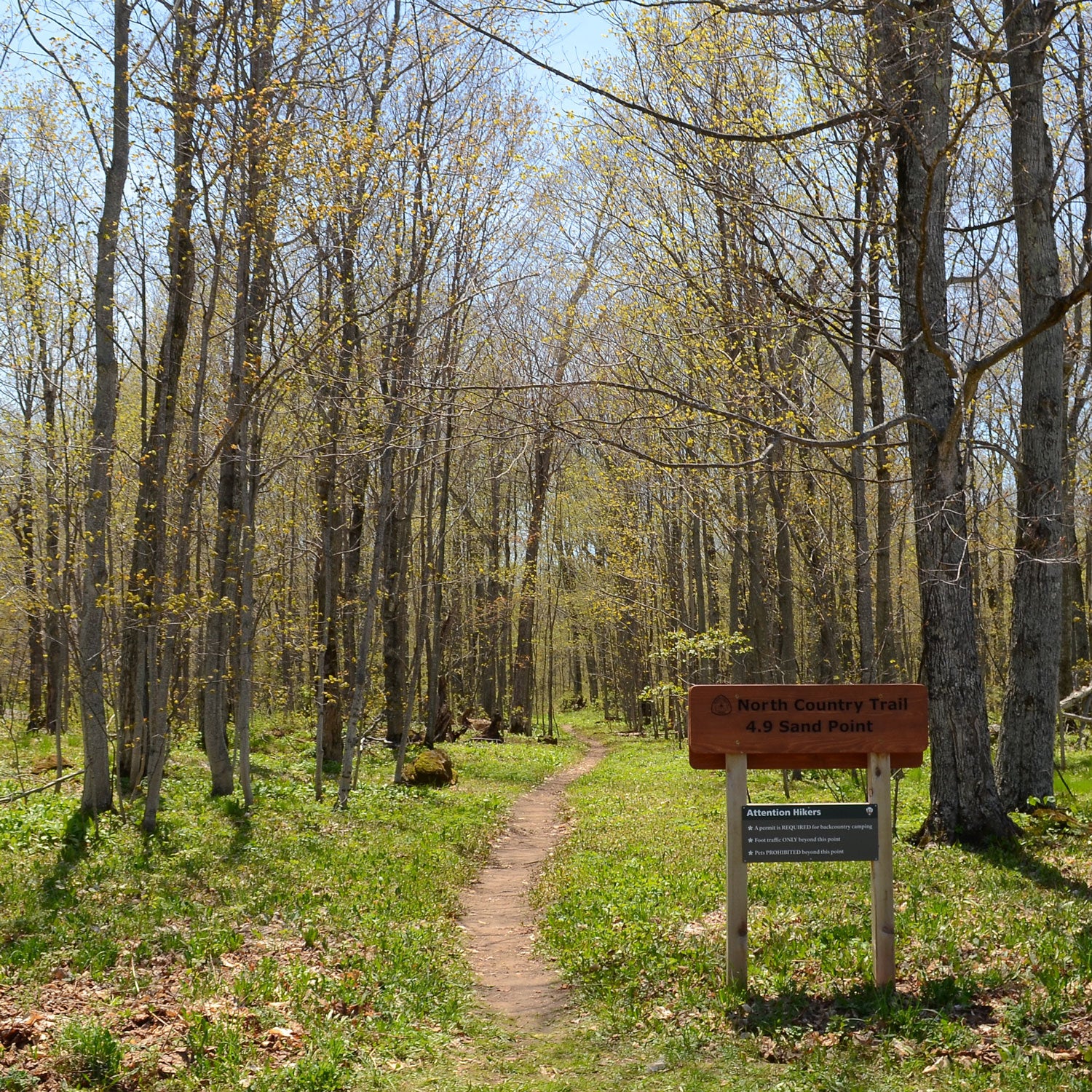 yooperann/Flickr/CC BY-NC-ND 2.0(Photo)
Heading out the door? Read this article on the new Outside+ app available now on iOS devices for members! Download the app.
Late last month, the House Committee on Natural Resources unanimously approved a bill to revise the route of the North Country Trail. Under most circumstances, this kind of legislative action would hardly seem noteworthy. But for the long-suffering national scenic trail and its supporters, this committee approval represents a major victory in a 50-year battle to make North Country a reality.
"We're super excited," Andrea Ketchmark, executive director of the North Country Trail Association (NCTA), told me over the phone. "We've never made it this far in Congress before."
If that statement doesn't give you pause, it should. The North Country Trail was first proposed in 1966 and received federal approval as a scenic trail nearly 40 years ago. It is nowhere near finished today. Why? Turns out there are many reasons.
First are the financial considerations: If completed, the North Country Trail would be twice the length of the Appalachian Trail, but with only half the AT's budget. Staffing is also an issue: Its National Park Service office has only three staffers, all of whom were gone when I called.
But historically, the biggest hurdle of all has been figuring out where the trail itself should lie. In its original iteration, the North Country Trail was envisioned as a 3,170-mile multiuse trail connecting the Appalachian Trail in Vermont to the Lewis and Clark Trail in North Dakota. Yet legislators in Vermont balked at the idea of locating another major trail in that state, presumably because supporting another major footpath would prove onerous for the already stretched trail clubs and an equally encumbered state budget. So the plan was revised to locate the eastern terminus in New York's Adirondack Mountains. The location of the rest of the trail was limited to a ten-mile-wide possible corridor, an idea on a map that stretched through seven states.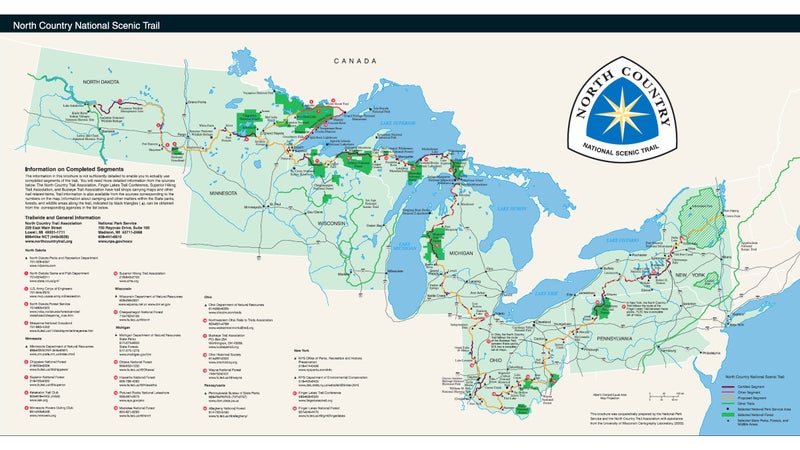 As construction of the trail began, one thing became obvious: The path they chose was lousy. Of particular concern was a 100-mile stretch through Minnesota composed entirely of swamp. Situating the trail there would require elaborate boardwalks that were expensive to build and difficult to maintain. The NCTA looked for a work-around and found what they thought was a no-brainer: They'd use existing trails instead. Meanwhile, Vermont's legislators got on board with having the trail in their state and the additional recreational revenue it would generate.
By the turn of this century, the North Country Trail had—at least on paper—grown to about 4,600 miles. It would be far easier to maintain, but as it turns out, rerouting a proposed route for a National Scenic Trail isn't as easy as just saying you want to do it. Instead, doing so requires a byzantine process that begins at the committee level in both the House and the Senate and must end with presidential approval.
The NCTA tried to get that in 2009 but was shut down at the committee level. The group tried again a year later, and every year after that. Each time, the trail was blocked by Republicans who feared the trail would be an excuse for the federal government to acquire private land and that it would block energy projects. (National Scenic Trails come with specific requirements for locating infrastructure projects in a way that does not hamper the aesthetics or ecology of the trail.) Construction of the trail languished.
Then, last month, Republicans on the house committee changed their tune when they approved the new route. "This bill helps get more Americans outside and is a win for recreation, public access, and the enjoyment of our nation's beautiful scenic trails," Rob Bishop, the Republican committee chairman from Utah, said in a written statement to Outside. "This legislation demonstrates our commitment to working in a bipartisan fashion to enhance public access to public lands."
Last week, Republicans on the house committee changed their tune when they approved the new route.
Ketchmark, the trail association director, says that kind of endorsement is a very big deal. "It shows that we've been successful in changing minds and hearts on a committee with very strong Republican leadership," she says. "This has never been about a big federal land grab. We're finally being understood."
Enthusiasm for the trail extends beyond the NCTA. Michael DeBonis, executive director of the Green Mountain Club, which maintains Vermont's Long Trail System, says his group is ready to participate in any way it can, whether it's helping to plan and build the trail or assisting in its maintenance once complete. "The GMC is poised to help provide its staff and volunteer capacity to support this effort," DeBonis says. "It will help make the mountains of Vermont play a larger role in the life of the people."
Whether they get the opportunity remains to be seen. The full House and Senate still need to approve the relocation of the North Country Scenic Trail.
And then, of course, there's the question of whether President Donald Trump will sign it. As for the trail itself, Ketchmark says there are still about 1,500 miles left to be completed—regardless of where it's routed. She can't even estimate a finish date, but she'd like to see a commitment to one soon.
"We've been at this for over 20 years, and there is a good amount of local support," Ketchmark told me. "Everybody is ready to finish this trail."
Lead Photo: yooperann/Flickr/CC BY-NC-ND 2.0