Will Pipelines Destroy Our Thru-Hikes?
A proposed 300-mile natural gas pipeline would cut a swath across the Appalachian Trail and could undermine protections for other National Scenic Trails across the country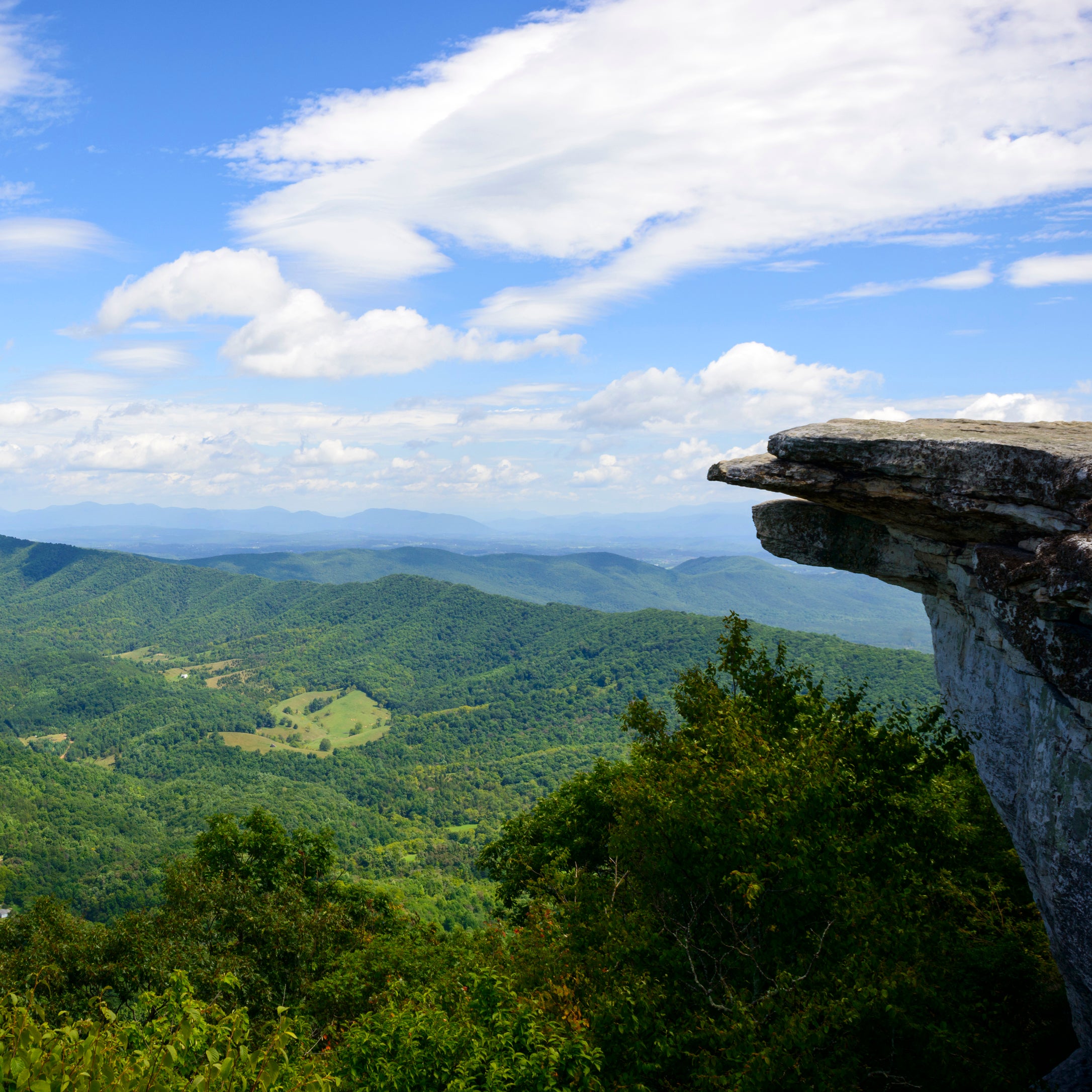 Heading out the door? Read this article on the new Outside+ app available now on iOS devices for members! Download the app.
In Virginia, where the Appalachian National Scenic Trail is crossed by more black bears and wild boars than humans, where the trail runs through hardwood forest, dark rhododendron thickets, and mountain laurel tunnels, long-distance hiker Jennifer Pharr Davis soaked her feet in a cold creek before traveling beside Burke's Garden, aka God's Thumbprint. "Out of the 14 states that the Appalachian Trail travels through, as a hiker, Virginia is my favorite," says Pharr Davis, who held the speed record on the trail six years ago.
But the remote stretch of trail that Pharr Davis loves could soon change irreparably. Pennsylvania oil and gas company Mountain Valley Pipeline LLC is attempting to build a 300-mile, 42-inch-wide natural gas pipeline—the largest ever proposed for the 2,190-mile trail. It would run from shale reserves in the Appalachian Basin southbound through the Appalachian Mountains in West Virginia and Virginia and then east into connecting pipelines in North Carolina.
For West Virginia and Virginia governors Jim Justice and Terry McAuliffe, the $3.5-billion proposal represents a cheaper energy alternative to coal, plus jobs for their constituents. But for the thousands of people who hike and thru-hike the AT each year, including Pharr Davis and Ron Tipton, executive director of the Appalachian Trail Conservancy, the pipeline means a significant disruption to one of the country's most pristine avenues for engaging with nature.
If approved, construction could last 18 months or more, says Andrew Downs, regional director of the ATC. Development would introduce a 150-foot-wide permanent right-of-way across thousands of private properties as well as through Jefferson National Forest, says Downs. It would also mean boring beneath parts of the AT: hikers would see the pipeline route for at least 80 miles.
"The pipeline would be more than just an eyesore and environmental risk," Pharr Davis wrote in email. "There is something woven into our individual fiber and our identity as a country that relates to undisturbed mountains meeting the horizon. When you cut through that with a pipeline you limit our ability to explore our thoughts, our land, and our potential."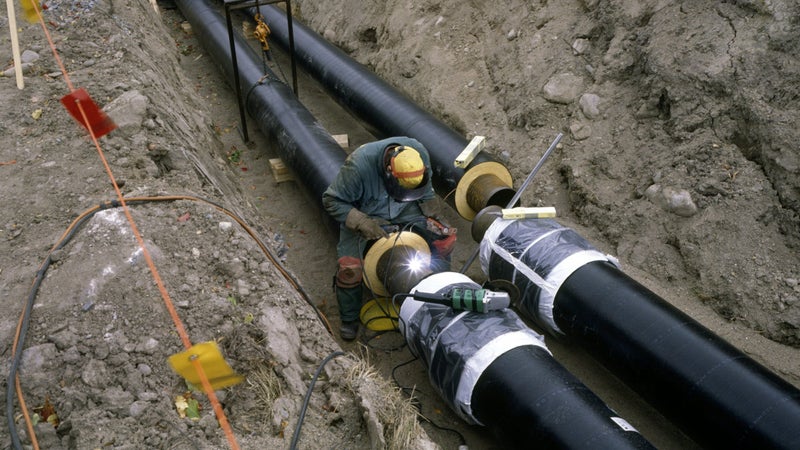 Last September, the Federal Environmental Regulatory Commission released a 781-page draft environmental impact statement on the project, announcing it might cross federal lands run by the Forest Service and the Army Corps of Engineers. The statement concluded that the project would have "some adverse environmental impacts," though it said they could be reduced via mitigation measures such as building structures to reduce downstream sedimentation and purchasing credits from approved wetland mitigation banks to "compensate" for conversions of wetlands.
The developers, for their part, say that they have already made adequate adjustments to the pipeline's route. EQT Corporation spokeswoman Natalie Cox says Mountain Valley Pipeline "adopted 11 route alternative segments and 572 minor route adjustments, the majority of which were based on various landowner requests, avoidance of sensitive and cultural and historic resources, or engineering considerations."
But government agencies in West Virginia and Virginia, along with the Department of Interior, National Park Service, and Bureau of Land Management, informed the FERC that the statement lacks analysis of whether the pipeline is even needed. They also say it fails to study economic impacts on landowners and the visual impact to iconic viewpoints such as Angel's Rest and Dragons Tooth. On January 26, the FERC submitted a 28-page letter delaying release of a final environmental statement on the project, citing inconsistencies in the company's data on impacts to historic districts and wildlife and compensation for property owners with water rights along the pipeline route.
Today, the Appalachian Trail is crossed by 58 pipelines, most of them buried underground and carrying gas and water. But soon there could be many more. Over the past four years, expanded gas extraction in West Virginia and Pennsylvania has increased the number of proposed pipelines to cross the AT. The Mountain Valley Pipeline project is only one of as many as 10 more proposed to be built along some portion of the AT, including Dominion Energy Inc.'s $5.1 billion, 600-mile Atlantic Coast Pipeline. The companies behind these projects say the pipelines will create thousands of jobs, bring tax revenue to local governments, and support future energy needs for the areas.
Opponents contend that neither project is needed for the states' energy futures. A May 2016 study from Key-Log Economics, a research group analyzing costs of forest, water, and pipeline projects, found the industry-sponsored studies promising financial gains "use inappropriate methods and unrealistic assumptions that result in over-inflated estimates of the potential benefits of the [Mountain Valley Pipeline]." In July 2016, Ernest Kastning, a former geology professor at Radford University, submitted a report to the FERC showing the pipeline would pass through karst-heavy terrains, creating building hazards due to "land instability, weak soils, and potential seismicity." Opposed landowners say there are risks of leaks, explosions, and damage to drinking water, and protest the proposed use of eminent domain.
Environmental groups based in West Virginia and Virginia say they recognize the region's need for energy and jobs, but argue the pipelines could be built using established transit and trade routes near the trail rather than through the mountains. Energy companies have worked with the ATC and stakeholder groups to avoid disturbing the trail by rerouting pipelines or rerouting the actual trail. In 2014, for example, Texas technology and chemical company Celanese Corporation and trail advocates agreed to move the trail to a "more scenic location on permanently protected lands" on the border of West Virginia and Virginia—an area the Mountain Valley Pipeline would pass through. "That was partnership," says Downs. "But the Mountain Valley Pipeline is different. They haven't talked to us. They aren't working with us at all. They haven't done adequate analysis on visual impacts and we weren't involved in the citing process so the outcome is hugely more impactful than it has to be."
What's more concerning to pipeline opponents is that the Mountain Valley Pipeline, if it were to be approved, could have ramifications for protections of ten other National Scenic Trails across the country, including the Pacific Crest Trail. Approval would require amending the Jefferson National Forest Plan, according to Mike Dawson, director of trail operations for the Pacific Crest Trail Association. Forest plans guide all management of national forests and sometimes take years to develop. Dawson and others say that amending such a plan retroactively could set a precedent of changing plans across the country anytime a new development is proposed.
Amending the forest plan would also impact areas protecting wilderness, old growth forest, and roadless areas. There are other ways to deal with rerouting the Mountain Valley Pipeline project without having to modify the management plans, as has previously happened with numerous energy transmission projects, wrote Dawson to the FERC.
The ATC and Dawson warn that approving the Mountain Valley Pipeline project indeed necessitates amendments and that reality weighs heavy on the minds of park enthusiasts across the country. "If you can come and throw a monkey wrench in the situation and set aside the commitments then the system is really broken," says Dawson, who spent over 20 years leading the ATC's office in southwest and central Virginia from 1980 to 2001. "Just about anything you can think of to develop someone will try to do that even on public lands, but also on private land that's adjacent to the trail," says Dawson. "We're worried because if the Forest Service does this, there's no reasons for other national forests to give protections, because they're not worth the paper they're written on."
Corrections:
(06/01/2023) A previous version of this article incorrectly stated that the Mountain Valley Pipeline, in approved, would introduce a 50-foot-wide permanent right-of-way across thousands of private properties. Outside regrets the error.
Lead Photo: Getty Images/iStockphoto