You Don't Need to Watch Hiking Videos to Hike
Hiking remains a rare modern opportunity to be stunned by the unknown. Don't spoil it by obsessing over a bunch of YouTube videos.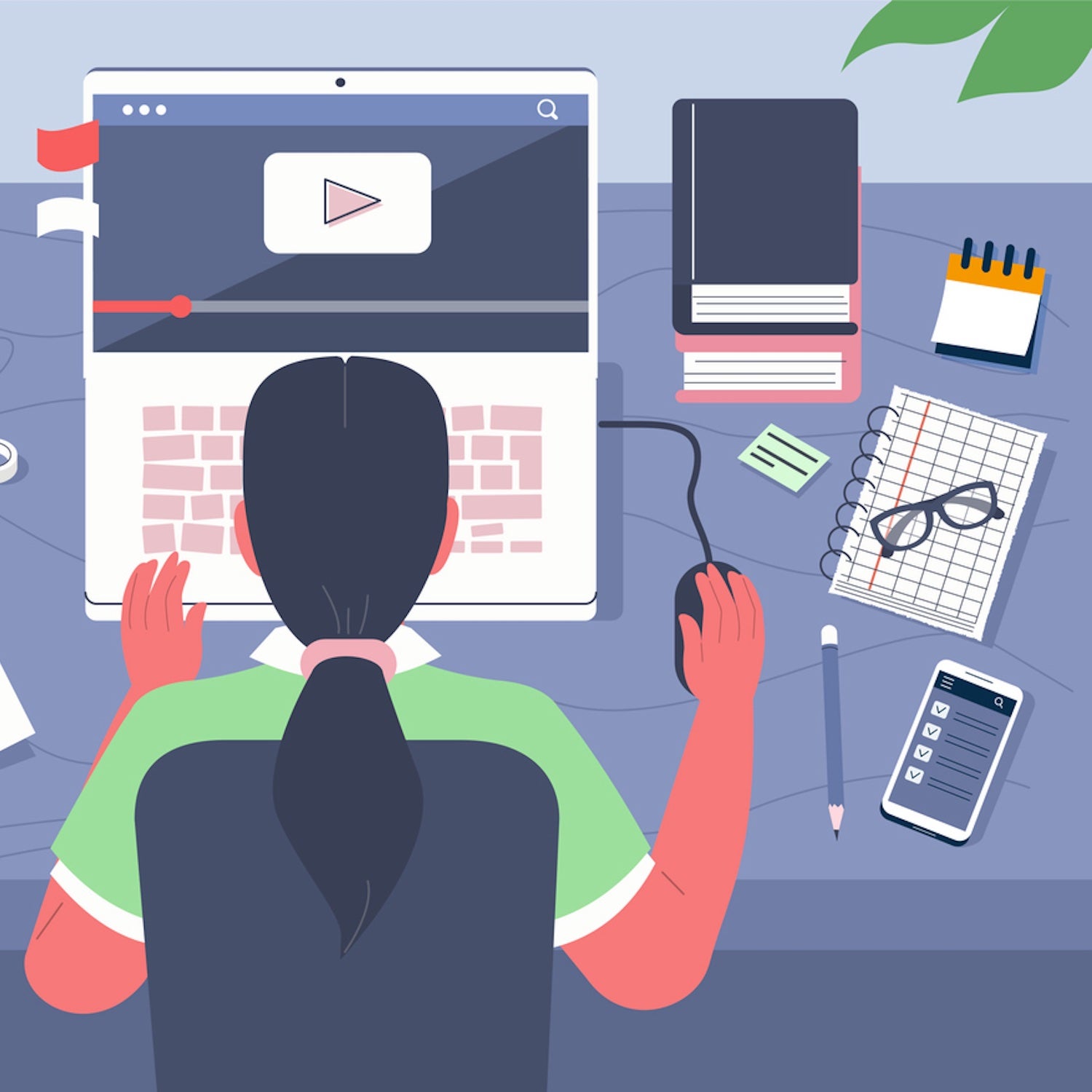 Heading out the door? Read this article on the new Outside+ app available now on iOS devices for members! Download the app.
I had walked several hundred miles of the Appalachian Trail in 2019 the first time someone asked me just how many Dixie videos I'd seen. A native Southerner, I was confused by the question and the archaic term with its nasty racist pedigree: Was my pal talking about Florida-Georgia Line videos? Civil War cosplay? Turn-of-the-last-century jazz?
They soon explained, though, that Dixie was a 30-something hiker from Alabama who documented her arduous adventures along the United States' long trails through well-produced, semi-exhaustive YouTube videos, flexing her y'alls and yes ma'ams like a Cracker Barrel advertisement. She'd become incredibly popular in the thru-hiking community, my friend continued, a star borne of sweat, tent stakes, and twang. In fact, the friend explained, there was a burgeoning network of other hikers who videotaped and broadcast most every step they took along trails, hoping to rise like the next Dixie through the ranks of aspirational YouTubers-cum-hikers.
In the years since, I have watched lots of these videos, largely because they seem to be such a media cornerstone of a community into which I've literally walked. And here's my definitive index of which hiking YouTubers you should watch as you prepare for your own adventure: as few as possible.
Please, indulge in technical how-tos, primers that show you the best way to make sure your sleeping bag doesn't slip from your air mattress while you rest (my constant trail foible) or how to spot potential deadfall in that tree you're considering tenting beneath. If you find joy in making YouTube diaries that chronicle your every riveting footfall, as a few of my dear friends do, don't let me crash your #contentparty. And hiking videos, of course, are a critical service for those who may never get to the trail they're observing, whether because of accessibility issues or life exigencies.
But if you're planning on hiking the trail, please leave as much as possible to your imagination. Your own experience will always be different than that of an online influencer in search of sponsorships or clicks, and likely better in ways you cannot begin to comprehend from your computer screen. One of the best ways to prepare for an adventure is to lean into the beauty of the unknown and the unpredictable, diminishing commodities for our data-drunk days.
We live in a time of almost unfettered access to information, the encyclopedia of the known universe just a few keystrokes and mouse clicks away. I could queue the sound of Mars, find a three-dimensional rendering of the strata of the Grand Canyon, or watch fish feed deep inside the Mariana Trench by the time you finish the next paragraph. There are few greater testaments to the power of our humanity than the democratization of all this knowledge, let alone the discoveries that enabled it.
Not knowing is more sublime, however, the impetus not only of science but also of wonder. These days, I find myself compelled by fields that rest upon the assumption that we don't yet know everything—we are only beginning, for instance, to understand the deep-time mechanisms of our planet's splendid geology or what goes on in outer space. We wrap our heads around bits and pieces, and wonder about the possibilities of all the rest.
At its best, that's exactly how hiking feels for me: I understand the basic shape of what it is I'm doing, like the gross elevation change, the general weather patterns, and the gear I might need to keep me alive or comfortable. But I want—no, need—for the trail to unfurl like a string of surprises, each moment another pearl of personal discovery.
When we see someone else live our dream first, we extend a gold-embossed invitation to that kind of disappointment, a FOMO we will never live down.
When I began thru-hiking the PCT in late April, I mostly knew that the first 700 miles passed through the desert, or rather through a composite of a few distinct deserts. I knew nights and mornings would feel like an icebox, days like the blue flames of a bonfire. I read a few books that described the terrain. But I assiduously avoided looking at pictures, let alone watching videos of some dude huffing and puffing up a ridgeline. I wanted to see the thing with virgin ideas, to be fully immersed in my own impressions and experiences, without the preemptive bias of some digital stranger.
In the first week alone, I was stunned by skyscraper-tall badlands and silvery snakes that glinted like holograms in the sunlight. I was floored to see flowering ocotillo bushes, waving like serrated knives with ruby-encrusted handles over bunches of barrel cacti springing up from the sand like little mittens for fat fingers. I was charmed by the kindness of the gold-rush town Julian, California, where I cowboy camped in an empty field downtown as a thick mist draped over my wife, Tina, and me.
I did not want to know prematurely that the mayor of Idyllwild, a bucolic Southern California town, was a golden retriever named Max or preview the splendor of Kings Canyon National Park the moment I crested Forester Pass, the trail's apex. I was, instead, glad to discover these things for myself, to be stunned by what I had not known. (This is implicitly hypocritical, of course, since these very examples should come with spoiler alerts for that hike I hope you'll one day take. But words, photos, and even daily Instagram updates leave more to the imagination than movies scripted to some didactic monologue.)
Had I sat around for weeks, watching some obsessive documentation of that stretch of trail, I would have had expectations that would have dulled my surprise or given me the sense that there was another way to do it. I was content, even enraptured, with the singular splendor of my own experience.
An impossible burden of our digitally intertwined lives is the omnipresent specter of inadequacy, or of seeing someone else's life and wondering why ours can't be that cool. I am, once again, on the adventure of a lifetime, and even I feel that sting when I find a scoche of on-trail phone service and scroll through Instagram. When we see someone else live our dream first, we extend a gold-embossed invitation to that kind of disappointment, a FOMO we will never live down. "Hike your own hike" is a mantra familiar and dear to most every backpacker; I can imagine nothing more antithetical to that axiom than watching someone else suggest what your hike should be by showing you all of theirs.
A few days ago, while filtering water from a trickling stream in the mid-morning blaze of the Anza-Borrego Desert, I spotted a familiar shape on the tanned arm of a fellow hiker—it was the PCT, ingrained in her skin in a thin black line. I pulled up my sleeve and showed her that I had a similar rendering of the AT running from my shoulder to my wrist, etched into my skin weeks after I finished my 2019 thru-hike. "Does that mean you have hiked this trail before?" I asked, assuming she'd been inked to commemorate a life ambition.
"No, this is my first time here," she replied in a strong German accent. "It is my motivation."
For a day, I balked at the notion, equating it to receiving a college degree before your first day of classes ever began. I thought of it as an enormous albatross for an experience where so much could go wrong, that most people don't even finish. But the more I pondered her permanent 2,653-mile map, the more it made complete sense: she would always know the basic layout of the trail, or the general premise of the work she had done and the work that remained. She could fill in the blanks as she headed north, finding something surprising with each new squiggle.
That, to me, is the true joy of hiking. I've never found it on YouTube, and I sincerely hope I never will.
Trending on Outside Online