Hollywood and Vines
Filmmaker Tristan Bayer brings a new spirit of adventure—and a touch of glam—to the wild kingdom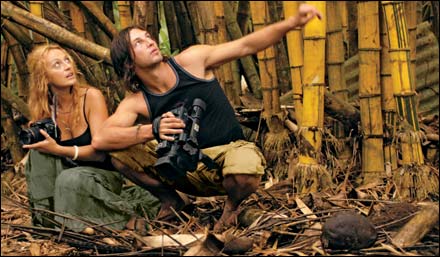 Heading out the door? Read this article on the new Outside+ app available now on iOS devices for members! Download the app.
WHEN YOU'RE LIVING WITH THE MASAI at 18 months old, learning the Swahili words for lion and hippo at two, and making your own travel videos at 12—all while your dad shoots films for National Geographic and PBS—chances are you're not going to grow up and take a desk job. And Tristan Bayer, son of renowned cinematographer Wolfgang Bayer, didn't. Now 29 and addicted to globe-trotting, he's living his dream as a filmmaker—and bringing new energy to the world of nature documentaries.
Bayer's new Animal Planet series, Caught in the Moment (premiering June 20 at 9 p.m. EDT), features plenty of rare creatures, from spirit bears in British Columbia to snow monkeys in Japan. But the show—co-hosted by Bayer and Vanessa Garnick, a 28-year-old naturalist and actress he's known since childhood, and featuring footage shot by Bayer—is as much about the couple's adventures as it is about the animals. With these two, there's no standing in the jungle whispering esoteric facts: Their mostly unscripted banter is more along the lines of "God—it's the money shot" (when they find capuchin monkeys gobbling clams in Costa Rica) or "I love it when every plan goes out the window" (when they find themselves arriving a month early to film an annual olive ridley turtle migration).
"We're showing that you can go to wild places, live a wild lifestyle, and still try to make a difference," Bayer says. "You don't have to be a dorky tree hugger or an old scientist with a beard to deal with conservation."
Indeed. Bayer's rugged good looks have won him modeling jobs for Vogue, Nike, and Abercrombie & Fitch. But, he's quick to note, he used the money he earned to buy camera equipment, and he's building up the credentials to confirm that he's more than a pretty face. Earthling—the feature-length documentary he co-wrote, directed, and, with his father, filmed in locations around the world—won the 2005 EarthWatch Film Award (past recipients include David Attenborough) and prizes at numerous film festivals. He hopes to find a national distributor in 2006; meanwhile, he's off to India, Mongolia, and Thailand with Garnick to film Caught episodes, and he's editing the 300-odd hours of additional Earthling footage for a second movie, code-named Moonling.
"The world is my base," he says. "I don't have a car or a house, but I have passion, the desire to inspire—along with cameras, airplane tickets, and friends with couches."