It's Show Time!
The Brightest Stars of Stage and Scree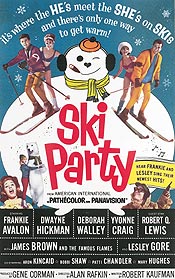 Heading out the door? Read this article on the new Outside+ app available now on iOS devices for members! Download the app.
MEET THE AWE-INSPIRED, death-defying men and women who took movies from backlot to backcountry. The envelope, please.
The Big Idea
Get the
inside stories
behind the gear and technology of the 21st century.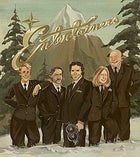 Left to right: Brown, MacGillivray, Breashears, McDonald, and Miller.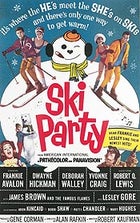 The original good-times snow flick, 1965's
Ski Party
.

In 1949, when Warren Miller started directing his signature ski flicks, there were only 15 chairlifts operating in all of North America. After 53 annual films—from the original Deep and Light to 2001's Cold Fusion—Miller, 77, has sold Warren Miller Productions to his son Kurt. He still writes and narrates, and remains forever jazzed by the slopes. "I firmly believe," he says, "that a person's first turn on skis is their first real taste of freedom in the outdoors."
If Bruce Brown hadn't gone to Kansas in 1966, his classic surf film The Endless Summer might have beached and died. In an effort to get a distribution deal, he rented a theater in Wichita, convinced that if the movie killed in the parchland, it would murder on the coasts. Brown, now 64, was right—the original surf-quest epic played Manhattan for a year straight. He's since passed the torch to his son Dana, whose surf movie Liquid will be released this summer.


Fifty-six-year-old Greg MacGillivray blew the lid off the IMAX industry in 1976 with his first feature, the Smithsonian-commissioned To Fly!, the most profitable large-format film of all time. Twenty-six years and approximately 230 IMAX theaters later, MacGillivray Freeman Films is still on top, backing ventures like 1998's Everest and last year's top IMAX grosser, Journey into Amazing Caves.


Frankie Avalon? Yeah, baby. It may not be high art, but 1965's Ski Party—in which Frankie dresses in drag to crash a "chicks only" ski weekend—moved the beach-blanket formula to the slopes, paving the way for other schlock snow classics like Hot Dog: The Movie, Ski School, and the more recent Out Cold—all of which were robbed at the Oscars.


When Bernadette McDonald, 50, took the helm of Alberta's Banff Mountain Film Festival in 1988, the postfestival "World Tour" traveling show was a popular attraction—in the three Canadian cities where it played. As Banff prepares to host 10,000 outdoor cineastes for its 27th incarnation next October, the tour is scheduled to visit 250 spots around the globe, including, for the first time, Antarctica and India.


"My core identity is still that I'm a climber who became a filmmaker," says David Breashears, 46, the Emmy-winning cinematographer and director whose 20-year career has taken him to Everest for the first broadcast from the summit, into the barrens of Tibet to film part of Seven Years in Tibet, and high in the Andes to document ancient Incan mummies. In 1996 he codirected the IMAX hit Everest. His latest: Kilimanjaro: To the Roof of Africa.


Greg Stump's The Blizzard of Ahhs left the ski world slack-jawed when it premiered in 1987. "It was like a rock band coming together," recalls Stump, 41. "We broke open freeskiing in North America." Stump's "band" put six more reels of pow-porn in the can, including cult films like 1991's Groove Requiem: in the Key of Ski and 1997's Fistful of Moguls.


"There were only five guys doing this kind of freeriding when I started," says 39-year-old Christian Bégin, creator of the Kranked trilogy of extreme mountain-bike films. "No one thought people could ride like that." The native Quebecois is now dedicating himself to a top-secret project, due out in the next two years, that, he says, will make Kranked look like The Sound of Music. "It'll be a big surprise," he says, refusing to tell more. "It will be extreme."


Thirty-five-year-old Liesl Clark broke into adventure films 12 years ago as a lowly production assistant, eventually carving out a niche as Nova's go-to director for high adventure. In the next two years, she will serve up a full slate of documentaries on trips up Everest, Denali, Mont Blanc, and Antarctica's Vinson Massif with Conrad Anker and Jon Krakauer.


Dirk Collins, 31, Todd Jones, 29, Steve Jones, 31, and Corey Gavitt, 33, founded Teton Gravity Research in 1996 after working knee-deep in guts on Alaskan fishing trawlers. Six years and a dozen pix later, they're catching some of the steepest lines ever put on celluloid, and expanding into new adrenaline caches with surf flicks and kayak films.