James Bond Will Revolutionize Diving
$1.3 million Exosuit will take divers to depths of 1,000 feet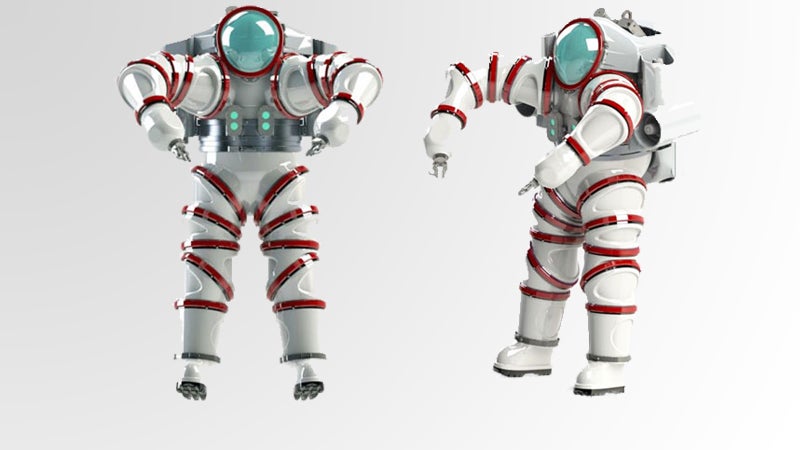 Heading out the door? Read this article on the new Outside+ app available now on iOS devices for members! Download the app.
Despite decades of scuba sessions and submersible trips, about 95 percent of the world's oceans are still waiting to be examined. A new technology called the Exosuit will have us swimming in undersea exploration possibilities as soon as the end of this month.
One of the biggest hindrances to research has been the isolation of submersibles. When you're in a submarine, it's difficult to interact with and examine your environment. Most no-decompression scuba suits—those that enable divers to avoid the hurdle of acclimating to pressure differences as they descend and ascend—can be used only within 100 feet of the surface and for short periods of time. The $1.3 million, 530-pound Exosuit, which can descend to 1,000 feet and remain underwater for 50 hours, removes most of that hurdle. 
"In a normal submersible, you're kind of just sitting inside a sphere, and you can't really reach out into the environment other than being some kind of robotic arm or something," said John Sparks, curator in charge at the American Museum of Natural History's department of ichthyology, in an interview with the Guardian. "This is much more tactile and much more maneuverable than that would be." Sparks tested the suit at Woods Hole Oceanographic Institute in Massachusetts earlier this month.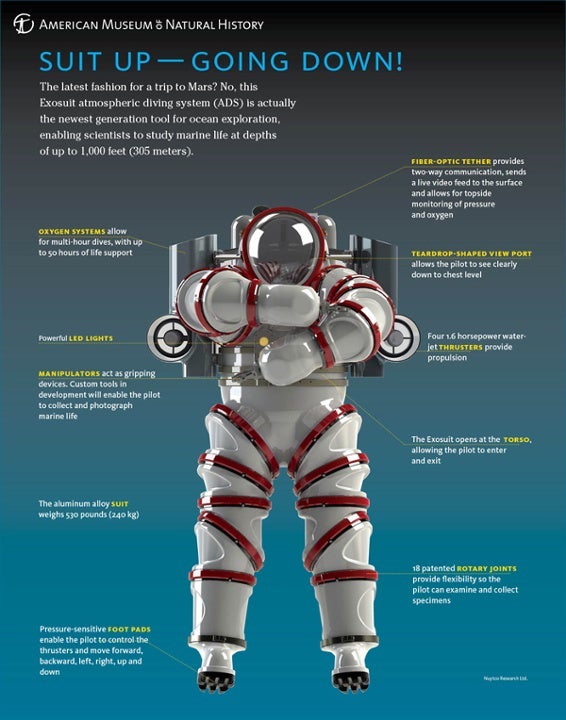 The result of 35 years of research by Canadian firm Nuytco Research, Exosuits greatly extend researchers' range of motion and ability to get close to their subjects. Reminiscient of JIM suits (of James Bond fame), the suit's 18 rotary joints enable motor movements fine enough to pick up dimes from the ocean floor—and, more important, sea creatures. 
Sparks hopes to pilot use of the suit in research on the Stephen J. Barlow Bluewater Expedition at the end of July, when he will look for new medically relevant bioluminescent molecules, as well as fish, off the coast of New England.
"[The suit will be great for collecting] on real deep reefs, getting the face of the suit right up against the reef, almost lying down in the rubble and kind of picking through it for fish," Sparks said.
The dive will be the first with an atmospheric suit working in tandem with a remotely operated underwater vehicle (ROV). The Exosuit pilot will be able to trap the specimen in a chamber, and then enable high-resolution images via a camera on the $600,000 DeepReef-ROV operated by researchers at sea level.
Lead Photo: Courtesy of Nuytco Research