Live It Up
They say you have to have a goal. Whether it's climbing Everest, sailing across the Atlantic, or just raising a happy, healthy family, it's good to keep life exciting and the synapses firing. Here, see what some of the best and brightest in the world outside have to say about what they'd like to accomplish before it's all said and done. And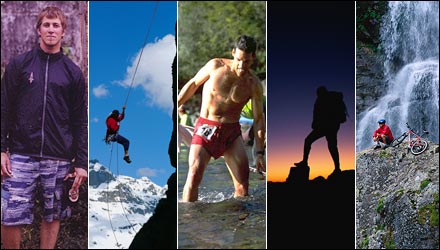 Heading out the door? Read this article on the new Outside+ app available now on iOS devices for members! Download the app.
When we tapped some of the biggest names in the world outside and asked them to break down their top ten things to do before they die, we didn't know what to expect. From altruistic ambitions to good old-fashioned values to the daunting and comical, we were surprised and inspired by how these individuals choose to live. Freeskier Ingrid Backstrom probably put her finger on it best when she sent us a disclaimer to her list saying "This list is in no particular order of importance, and is subject to change at any moment, depending what season of the year it is, how old I am, and my mood at the time."
The Life List Top 50
Read Go Big in the January issue of Outside, now on stands, for tips on how to climb El Cap, sail across the Atlantic, and more.

Hey, with any luck, you're checking your list off as you go too, and adding more to-dos to take their place. That's what we call living&$151;no one wants to be in the same spot they were ten years ago. Check out item number five, (in no particular order) on Backstrom's list: "Stick a 360 and a back flip off a cliff (skiing)." Ultrarunner Dean Karnazes just finished running 350 miles nonstop but his number one goal is to "Raise a million dollars, for charity." Tommy Caldwell wants to write a book, Beth Rodden wants to improve her French, and Brad Ludden wants to teach an extreme sport to at least 1,000 young adults with cancer per year.

So what are you waiting for? Grab some inspiration here and share your own life lists in this exclusive online forum.


Beth Rodden and Tommy Caldwell

Brad Ludden
Brad Ludden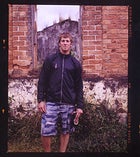 Brad Ludden
Professional freestyler/extreme kayaker Brad Ludden's long list of titles and accomplishments would be a noteworthy achievement for any seasoned pro. To think that Ludden is just 24 and has ample reserves of ambition still waiting to be tapped makes his resume all the more impressive. The two-time freestyle world medalist has notched over 100 first river descents in more than 40 different countries and been a featured athlete in films by Teton Gravity Research and the iconic Warren Miller. Ludden however is not content to merely effect change on the record books: he is the founder and president of First Descents, a kayak camp for young adults with cancer.
1. To have a family and teach my kids what I have learned.
2. Do my part to find a cure for cancer.
3. Teach at least 1,000 young adults with cancer per year an extreme sport such as kayaking.
4. Own a jet.
5. Host my own TV show.
6. Find happiness in each day of my life.
7. Never stop playing.
8. Never have a "real" job.
9. Have my own building on the Nike Campus.
10. Die happy and proud of the life I lead.
Dean Karnazes
Dean Karnazes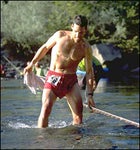 Dean Karnazes
Over countless miles of pounded pavement and thousands of dollars raised, 42-year-old ultrarunner Dean Karnazes has elevated the act of goal-setting to an art. Karnazes is the six-time winner of the 199-mile Saturn Relay Ultra, the first and only person to run a marathon to the South Pole in running shoes, and winner of the 2004 Badwater Ultramarathon, the "World's Toughest Footrace," to name just a few. But his list of mind-boggling physical achievements is just a footnote to the solo efforts he has embarked on to raise money and awareness for causes such as organ donation and AIDS. Most recently, Karnazes completed a 350-mile continuous run through the San Francisco Bay Area to raise money for a two-year-old's heart transplant.
1. Raise a million dollars, for charity.
2. Reinvent fast food (a healthy version).
3. Run a marathon, with both my kids.
4. Windsurf to Hawaii, from California.
5. Coach a high school cross-country team.
6. Design a pair of running shoes (there are some good ones out there, but none that are perfect).
7. Go for a bike ride with Lance (a short one).
8. Found a not-for-profit organization which supports childhood health & fitness and environmental restoration & preservation.
9. Go for a jog, with Jack La Lanne.
10. Give away everything I own (to charity, or whoever will take the stuff).
Ingrid Backstrom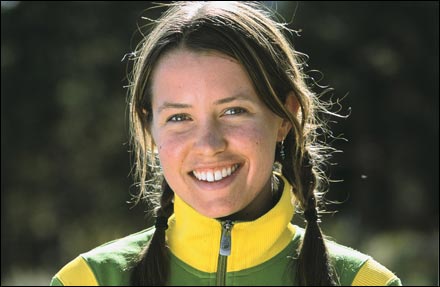 One of freeskiing's most consistently- successful competitors, 27-year-old Ingrid Backstrom has an undeniably impressive track record—she's finished in the top three of 12 out of the 14 freeskiing competitions she's entered—and an equally exciting career as a "ski pornstar." Her performances in Matchstick Production's 2004 Yearbook and 2005's The Hit List have earned the humble Seattle native the unofficial title of reigning freeskiing "It" girl. With a fistful of freeskiing titles (five to be exact) and a well-earned reputation for tackling gnarly first descents with panache, Backstrom has become the ultimate reigning champion-cum-starlet. With this much success and this much ambition, even Backstrom knows that fitting every goal into a top ten list is almost impossible. In fact, she even provided us with this disclaimer:
****Disclaimer*****This list is in no particular order of importance, and is subject to change at any moment, depending what season of the year it is, how old I am, and my mood at the time, and is by no means meant to be a definitive list!
1. Climb and ski a first descent in the Himalaya.
2. Climb Mt. Rainier with my whole family.
3. Write a book.
4. Complete a (50-mile) ultramarathon.
5. Stick a 360 and a backflip off a cliff (skiing).
6. Live in the Alps for a year (or at least a winter).
7. Take my parents on a bike tour of New Zealand.
8. Hike the PCT all the way through.
9. Learn more about sustainability, and build a "green" house.
10. Inspire more people to enjoy and protect the world's mountains.
Beth Rodden and Tommy Caldwell
"The First Couple of Rock" is no cutesy moniker for this fearless duo—considering their roster of both individual and joint achievements in the rock-climbing world, a legitimate coronation just may be in order. Married for two years, the couple met back in 2000 at a climbing slide show—Beth a then-20-year-old former child climbing prodigy just breaking into the world of traditional climbing and Tommy, a life-long adventure-climber known for his challenging routes. Matrimonial bliss has boded well for their careers; the trust and familiarity which is so vital between climbing partners is evident in the success the two have had belaying each other on some of the most formidable faces in the world, including a 31-pitch ascent of "The Nose" of El Capitan this past October. Marriage has also translated into greater commercial success; their film (aptly titled The First Couple of Rock) recently won Best Climbing Film at the Vancouver Mountain Film Fest and the couple has been commissioned by Marmot to design a clothing line set for launch in Spring 2006.
Despite all the trappings that inevitably come with power couple status, there is no denying their impressive individual achievements. Rodden, widely-considered one of the best women climbers in the U.S., completed the toughest-ever first ascent for a woman, a 5.14b slab of volcanic rock called "The Optimist" in Oregon's Smith Rock State Park. She is the youngest woman to ever climb a 15.4a and she has also established numerous big wall free routes in Madagascar including the longest and hardest one to ever be established by an all-female team. Caldwell is famous for such record-setting feats as free-climbing Salathe Wall in a single day and making a free ascent up the staggeringly difficult, 5.15d Dihedral Wall of El Capitan in May of 2004, a climb considered to be the most difficult in North America. See more on Caldwell's accomplishments in the February issue of Outside.
Tommy Caldwell
1. Raise a functional family.
2. Build a house (not have one built for me).
3. Write a book.
4. Bigger and better things in Yosemite.
5. Apply my Yosemite-learned big wall free-climbing skills to the bigger mountains of the world.
6. Truly give back to the climbing world that has given me so much.
7. Do an Iron Man triathlon.
8. Explore the world, always. 9. Learn another language.
10. Boulder V14.
Beth Rodden
1. Raise a great family.
2. Improve my French.
3. Build the house with Tommy.
4. Graduate college.
5. Learn to sail.
6. Travel the world (safely).
7. Volunteer.
8. Continue to push myself climbing.
9. Learn to fly a plane.
10. Be a good daughter to my parents and a good wife to my husband.