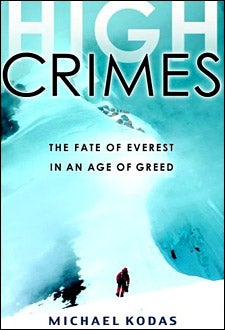 Heading out the door? Read this article on the new Outside+ app available now on iOS devices for members! Download the app.
NEARLY 12 YEARS after the infamous Into Thin Air tragedy, books about Everest's ever-increasing chaos are still being squeezed out like freeze-dried sausages. The latest is High Crimes: The Fate of Everest in an Age of Greed (Hyperion, $25), by Michael Kodas, a Hartford Courant writer who made an unsuccessful attempt to climb the world's tallest mountain in 2004. Here, once again, the gist is that bad behavior runs rampant at 29,000 feet. But Kodas takes it further, arguing that not only is Everest rife with commercialism, greed, and general asshole-ism but it actually becomes a crime zone each spring, when a few bad apples show up at Base Camp and commit fraud, theft, extortion, and perhaps worse. Kodas tells two stories: that of Nils Antezana, a climber who was allegedly left to die by his Argentinian guide during their descent in 2004, and his own experience on the 2004 Connecticut Everest Expedition, a trip beset with petty disagreements that devolved into rock throwing and death threats. The discord seems largely due to the behavior of team leader George Dijmarescu, whom Kodas describes as being tyrannical, volatile, and even violent. Of course, it didn't help matters when Dijmarescu caught Kodas dishing about the team's woes on the Courant's Web site. Though the book's structure is disjointed at times, Kodas's writing is clear and forceful, and he creates several gripping moments of suspense. In the end, there's no getting around his conclusion: Everest, now more than ever, is a place any sane person would avoid.
High Crimes: The Fate of Everest in the Age of Greed by Michael Kodas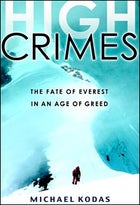 Want it? Get it
here
.