Make Your Playlist a PED
Bass-heavy music empowers, boosts performance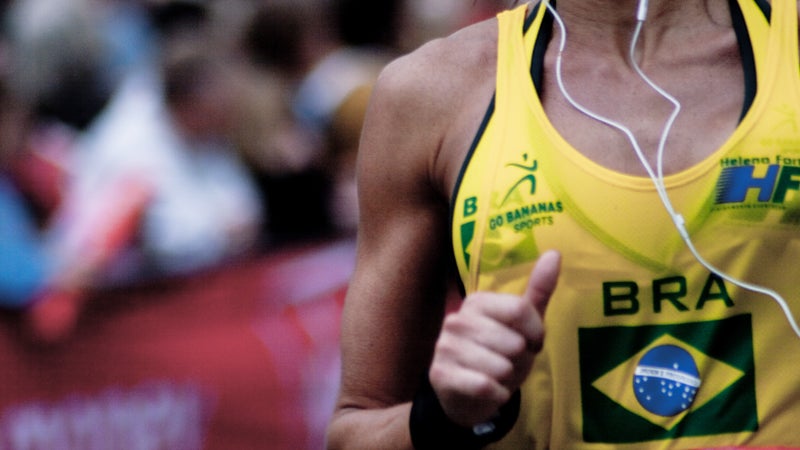 Heading out the door? Read this article on the new Outside+ app available now on iOS devices for members! Download the app.
If you play to win, ensure your pre-game playlist is full of bass lines deeper than your squats. Previous research has found that music can enhance learning and even reduce pain, but a new study reports that listening to music—especially music that goes heavy on bass—can boost feelings of empowerment and control.
Dennis Hsu, a doctoral candidate at Northwestern University's Kellogg School of Management, and his coauthors decided to test whether music has empowering effects after noticing athletes listening to music right before stepping onto the field.
"The ways these athletes immerse themselves in the music—some with their eyes steely shut and some gently nodding along the beats—seem as if the music is mentally preparing and toughening them up for the competition about to occur," Hsu said in an interview with EurekAlert. 
To test whether music—any music—was in fact empowering, the team had a group of participants report how powerful they felt after listening to 30-second clips of 31 songs, from genres including hip-hop and arena rock. After ranking the songs from most- to least-powerful, and controlling for the effects of lyrics, new subjects performed a series of tests while listening to three songs from both groups. 
As subjects completed the tasks, the researchers judged how high- and low-power songs affected subjects' sense of power and three effects of power: the illusion of control, willingness to make the first move in competition, and thought abstraction (big-picture thinking). Hsu's team found that high-powered music did elicit feelings of power, and that subjects listening to high-powered songs showed all three consequences of power. Notably, they were almost twice as likely to take charge in hypothetical debates (i.e., make the first move), and were more likely to complete "fill-in-the-blank" word tasks with powerful words. 
But why? The team hypothesized that strong bass levels, which existing literature associates with dominance, might be at play. They performed a second round of testing in which subjects listened to instrumental pieces with digitally varied bass levels. Those subjects who listened to bass-heavy songs reported feeling more powerful and used more power-related words to complete tasks. 
The research adds credence to the contagion hypothesis: that when people hear music that expresses feelings of power, they mirror those feelings. Conversely, it could also support the conditioning hypothesis: that we feel powerful when we hear certain songs—fight songs, for instance—because we associate those songs with powerful experiences such as rallies and athletic events. 
High-Powered Songs
"We Will Rock You" Queen
"Get Ready for This," 2 Unlimited
Low-Powered Songs
"Who Let the Dogs Out," Baha Men
"Because We Can," Fatboy Slim
Lead Photo: Kai Chan Vong