Mr. Clean
Elon Musk has the savvy and the cash to invest big. His latest venture: bringing earth-friendly power—and a race-ready, zero-emissions sports car—to the people.
Heading out the door? Read this article on the new Outside+ app available now on iOS devices for members! Download the app.
It's 7 p.m. on a warm, made-for-convertibles summer evening in Los Angeles, but Internet entrepreneur Elon Musk is still at the office. Not that he doesn't have better things to do. A million-dollar McLaren F1 sports car sits idle in his Bel Air garage. And with a pilot's license and a vintage Russian fighter jet in a nearby hangar, he could be doing loop-de-loops above Malibu right now. More important, his wife, Justine, had triplets two days ago, and they already have two-year-old twins—he really should be at home. But the round-faced, boyish 35-year-old, who has a net worth of $328 million and is ranked 12th on Fortune's 40 Richest Under 40 list, is hunkered down in his modest cubicle at SpaceX, the rocket-launch company he started in 2002, trying to explain to me why everything he's done in his young life—including cofounding the online payment service PayPal, in 1999—has simply been a preamble to this moment.
Elon Musk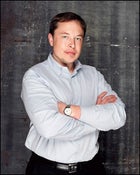 Clean-tech visionary Elon Musk
green investing

"Oil has humanity's head in a tightening vise," he says, glancing at the photo above his desk of Muhammad Ali, enraged and glowering midfight. The image seems to provoke him, serving as a reminder that anger is sometimes necessary. "There's the escalating price and its ability to destabilize the world, but most of all there's a limited window of time to reverse its impact on our climate. We need to move away from it right now."
When online-auction giant eBay bought PayPal for $1.5 billion in October 2002, Musk had the means to act on his outrage. He saw his wealth not as a ticket to retirement but as a way to help build a new economy—one fueled on alternative energy and based on the promise that eco-friendly technology, or clean tech, can help solve the world's environmental problems. In March 2004, he invested nearly $6 million to start an electric-car company, Tesla Motors, in San Carlos, California. Soon after, he founded SolarCity, a photovoltaics company that aims to make solar technology affordable and accessible to the masses.
"Clean tech will be the biggest growth sector of the 21st century," Musk says, leaning toward me. "Put it this way: Energy is way bigger than the Internet, and almost all of it will have to convert to renewable generation. That's a big deal."
Musk isn't the only dot-com-era leader to bet on clean tech's potential. Google founders Larry Page and Sergey Brin have come aboard as investors in Tesla Motors, as has former eBay head Jeff Skoll. Page, Brin, and Skoll, along with venture capitalists like Vinod Khosla, a cofounder of Sun Microsystems, and John Doerr, the backer of home runs like Compaq, Netscape, and Amazon, have all invested heavily in the sector, which includes innovative companies in biodiesel, wind power, water purification, and recycling.
"I think a Google or Yahoo will be built in this area," predicts Khosla, whose San Francisco venture-capital company, Khosla Ventures, focuses almost exclusively on ethanol. "The next decade will be huge."
Indeed. In 2000, the global clean-tech sector had a market capitalization—or total stock-market value—of $7 billion; today, it's nearly $25 billion. As of August 2006, the WilderHill Clean Energy Index, a Dow Jones–type barometer that monitors the value of stocks in the clean-tech world, was up 50 percent since its inception in 2004. (The S&P 500 posted a 23 percent increase over the same period.) What Musk and his deep-pocketed cohorts hope to demonstrate is that we can't afford not to explore the clean-tech sector. Because there are, after all, two kinds of green.
WHEN MUSK set out to establish a new electric-car company three years ago, he had no experience in the auto industry. But he wasn't about to take advice from the boys in Detroit. "Look at the EV1 debacle," he says, of General Motors' electric vehicle, available from 1997 to 2001 (and subject of this year's hit indie exposé Who Killed the Electric Car?). "It wasn't attractive, it had terrible range, and the speed was mediocre. It was, frankly, a punishment car. Driving it was like wearing a hair shirt."
Musk interviewed existing electric-car manufacturers but decided to put his money behind Martin Eberhard, a 48-year-old Silicon Valley electrical engineer best known for inventing the Rocket eBook, a handheld electronic book-reading device, in 1998. Eberhard had found a battery to radically extend the eBook's life, and that was just the sort of knowledge Musk needed to reinvent the plug-in. "Electric skills are not Detroit skills," Musk points out. "They're Silicon Valley skills."
Musk may have inherited his maverick streak from his grandfather, an adventurous Canadian who emigrated to Africa in the 1950s to search for the Lost City of the Kalahari. Elon was born in apartheid South Africa in 1971 and raised in a liberal family. He left Pretoria in 1989, refusing mandatory enlistment in what he called his country's "fascist army," and eventually accepted a scholarship from the University of Pennsylvania's Wharton School of Business. He planned to pursue a doctorate in physics when he moved to California in 1995. But after less than a week at Stanford University, he traded school for the software industry, founding several companies—PayPal among them—in the late nineties.
His latest venture captures the essence of clean-tech philosophy: Environmental problems demand technological solutions. People may want to live greener lives—they'll give lip service to driving less and carpooling more—but unless transportation solutions are easy and attractive, change is hard to embrace. "Sometimes there is an antihuman element to environmental thinking, as if the earth would be better off without us," Musk says. "But to be an effective environmentalist, you also have to be a good businessman. You have to be pro-human and give people a car they'll actually want to drive."
This past June, Musk and Eberhard unveiled the Tesla Roadster, a sexy two-seater sports car powered by lithium-ion batteries, the same kind that run your laptop. Rather than shelling out big bucks to develop their own batteries, Musk and Eberhard cleverly harnessed the computer industry's existing technology. The result is a car with a 250-mile range (compared with the EV1's 90 miles), atop speed of 130, and a zero-to-60 acceleration of roughly four seconds. "What we've done is combine the moral high ground of the Prius with the performance of a Ferrari," Musk says. "You no longer have to compromise to be an environmentalist."
But, at least for now, you have to have a lot of cash. The first production run of 100 limited-edition Tesla Roadsters went for $100,000 apiece to buyers like George Clooney and Leonardo DiCaprio and sold out within a month. The same model will be offered to the public at $89,000 through Tesla dealerships, the first of which will open in Los Angeles in early 2007. And Musk says they're only laying the groundwork for more mass-market models: A four-door electric sedan for less than $50,000 is in the works for 2008; by 2010, he hopes to have prices below $35,000.
MUSK IS THE FIRST to admit that electric cars aren't sin-free: Most electricity is produced using fossil fuels, which release carbon into the atmosphere, or with nuclear power, which has its own set of troubling issues. A Tesla will run 100 percent clean only if its electricity comes from a clean source—a solar cell, for instance. For Musk, however, this isn't a glitch in his business plan but another clean-tech opportunity: to make solar power a viable resource.
According to Musk, the solar market today is like the computer industry of the eighties. The microchip was a great invention, but until Microsoft and Macintosh found a way to bring it to the consumer, it had a limited impact. "We have dozens of solar-equipment manufacturers," he explains, "but they're so focused on ratcheting up production, in part to meet the growing demand coming from Europe, that few are working to bring their products to the average American consumer."
His newest company, SolarCity, which launched in July at solarcity.com andis scheduled to open its first retail outlet in December, in San Francisco, sells photovoltaic panels from multiple manufacturers, as well as installation and maintenance services. Among its promises: "Full-service clean-energy solutions that save you money." Says Musk, "We want to become the Dell of solar." The company's first target= customers are Tesla owners, who are the type of trendsetters Musk hopes will inspire others to follow suit. For $6,500, SolarCity technicians will install a small solar-panel system on a Tesla driver's residential rooftop. "It closes the loop," says Musk. "It makes the car fully eco-friendly."
Even better, it's a foot in the door of a much bigger market: photovoltaic systems for the whole family. Solar panels powerful enough to generate electricity for an 1,800-square-foot house typically cost $12,000 to $17,000, but, as Musk explains, the investment will repay itself over eight to twelve years. In 30 years, it could generate as much as a 350 percent return on the initial purchase price—in part because public utility companies are starting to buy back privately produced solar-energy surpluses. And since going green will be increasingly essential as the future unfolds, a solar system will undoubtedly raise resale values. "In the modern world," Musk says, "clean energy production should be part of a diversified investment portfolio."
It's a new way of thinking, even for consumers who already consider themselves progressive. But as Musk sees it, we'd all be crazy not to jump on the clean-tech bandwagon. "There's more money to be made," says Musk. "It just makes economic sense."