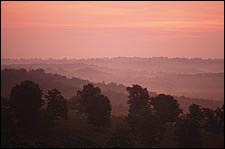 Heading out the door? Read this article on the new Outside+ app available now on iOS devices for members! Download the app.
THIS DREAM OF LAND, of owning it—where does it start, how deep is it rooted?
Go Stake Your Claim
Ever fantasized about heading off into the country and building a little place with good views and a porch for the rocking chair? Here's your blueprint on
how to make it happen
.

"To be at home in a landscape requires reverence"

The nomad plants a row of barley, the warrior crowns himself king, the explorer blazes a trail for the pioneer and—voilà—land is a mighty big issue. Certainly the quarrel between those who have simply used the land, or inhabited it, and those who have possessed it, or desired it, has given us much of the world's history, much of the world's injustice, and remains a passion passionately unresolved. (First deserve, then desire, an old English proverb advises.) Land for peace? Good luck—there's never enough of either to go around. Borders vanish in the dust of invading armies; the very mention of land reform plunges nations into civil wars. Plant a tree on your neighbor's side of the property line, my friend, and you're going to court.
Ah, but for a little patch of ground out yonder that is indisputably mine, where I might lift my heart and bury my dogs and study a horizon to see what's coming over it.


Beyond the yearnings of love or money, this vision of owning land persists, humanity's most comforting and yet most blood-soaked dream, the dream that set America in motion, that made America and still makes America, 40 acres and an SUV, please, Lord, and at the same time the nightmare that unmade it for the continent's native tribes, and now too a human storm unleashed against the not-so-endless magnificence of nature, battering that magnificence, wearing down its bounty, devouring, degrading. And still the power of the dream abides, undiminished, and I don't blame a soul who, like me, succumbs to it.


But how much is enough? How much do you need? How frigging much, Ted? At first glance, benevolent zillionaires buying up vast tracts of property in the name of conservation seems like a fine idea. I'm inclined to vote for it myself, sort of, conditionally, keeping in mind the axiom that property has its duties as well as its rights. Mark Twain said few things are harder to put up with than the annoyance of a good example, and I don't want you to get the wrong idea about me. A vein of gold ore running through my land, or an oil deposit as big as Lake Erie—you'd probably have to tie me down to protect me from myself. Honestly, I don't know what I'd do, and neither do you, but I've never had to face such temptations. My resources are modest, as are my proprietary aspirations, and perhaps therein lies the path to grace.


Five years ago my wife and I scooped together a down payment of $5,000 and made the dream come forth, buying a little place in northern New Mexico, off the high road between Santa Fe and Taos and way off the grid, four acres of alpine meadow and ponderosa pine wedged up against the Sangre de Cristo Mountains at 8,000 feet. Head out the back gate and there's the Carson National Forest. Keep walking and you'll come to the Pecos Wilderness: 12,000-foot-plus elevations, aspen and fir, mint-green lakes, elk, trout, bighorn sheep, bliss.


There were two buildings on the property—a one-room guest cabin and a one-room main cabin, poured-pumice walls plastered with mud, floor-to-ceiling windows facing south. No water, no electricity, no phone. For months we hauled buckets from the creek while we drilled a well, read by candlelight while we wired in a solar-energy system, drank warm beer until we found a propane refrigerator. I built a dandy composting outhouse, complete with a picture window in front of the throne. A few summers ago lightning struck one of the tall pines on the ridge, and when, the following year, I chainsawed down a dozen big ponderosas to clean out a beetle infestation I thought, What the hell, might as well start a house, since I had the logs. That's the auxiliary dream to the dream of land, the more intimate ambition: I don't want to have lived my life through without building something solid and good, a welcoming space that makes me feel I'm where I belong.


To be not only in a landscape but at home in a landscape requires reverence, keen attention, a custodial sensibility, faith in the future. The romance is with permanency, a necessary illusion, because we have to believe that the pure things we tend to will be here tomorrow. I could grade the meadow and seed a lawn, but why? Croquet? Nah, the meadow's a luxury. I wake up in the morning to the magpies teasing the dogs, and when I step outside hummingbirds are like a wreath around my head. I know the history of the land I'm on and it kicks at me every day, but it can't stop the throb of life, this basic appetite. I soak up the sunlight and the stillness, plant some chiles, and feel at peace.


My place, I say. My trees, my dirt, my birds. Nature mocks me in her own sweet time, but I love saying these things.