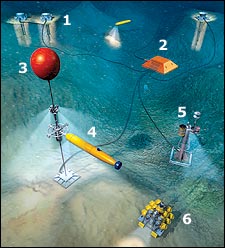 Illustration by Michael Llewellyn
Heading out the door? Read this article on the new Outside+ app available now on iOS devices for members! Download the app.
So far, scientists studying the deep sea have gathered mere snapshots of the largest ecosystem on earth. Submarines and unmanned submersibles—for the past 20 years the vanguard of oceanography—are limited by battery life and storms that can make deployment or recall impossible. All that's about to change, with the development of unmanned seafloor observatories capable of continuous data collection, come hell or high water. This fall, scientists at California's Monterey Bay Aquarium Research Institute (MBARI) plan to install the first such lab, 20 miles offshore on the upper flanks of 4,000-foot-deep Monterey Canyon. Dubbed the Monterey Accelerated Research System, or MARS, it will cost some $12 million. "We're entering a new era of oceanography," says MBARI scientist Jim Bellingham. "Out of the expeditionary mode and into a technological mode." Here's an advance look at what's in store.
Monterey Academy Research System
Monterey Academy Research System

1.) Three proposed 1,000-foot-deep BORE HOLES are packed with instruments. One linked pair studies the movement of fluids through sediments, providing clues into how salt water can invade coastal aquifers and how the seafloor can function as a filter. The third houses a seismometer—a boon for the state's earthquake researchers, as it is the first to be positioned west of the San Andreas Fault.


2.) A central NODE, connected by cable to a land-based lab, serves as the power strip and communications hub, distributing energy and relaying data. Weighing almost ten tons, the unit has a kilowatt output equivalent to that of five single-family homes, while its data-transfer rates are on par with the fastest Ethernet connections.


3.) Raised and lowered with buoys and internal motors, MID-WATER STATIONS study the rarely observed waters between the seafloor and the surface. With cameras and bioluminescence detectors, they track passing critters, while chemical monitors detect any chlorophyll and suspended nutrients—sure signs of ocean plant life.


4.) A team of AUTONOMOUS UNDERWATER VEHICLES stalks free- floating life forms to gauge their responses to changing ocean conditions, and uses sonar for high-resolution mapping of the ocean floor. Able to dock at the mid-water stations to upload data as well as receive new mission instructions, they can remain submerged indefinitely.


5.) By measuring chlorophyll concentrations, as well as currents, temperature, salinity, and clarity, REMOTE INSTRUMENTS indicate the amount of biotic material moving through the water—critical info for scientists studying the diets of deep-ocean organisms.


6.) A cross between a tank and a chemistry set, the BENTHIC ROVER provides the first long-term data on seabed sedimentation and may transmit findings to the node via an acoustic modem. Its cameras also keep digital eyes out for creatures of the abyss.
Trending on Outside Online